A very popular finger food in America, these mild buffalo chicken wings are packed with flavor and not too much heat. Traditionally, buffalo wings are often served with ranch dressing or blue cheese dipping sauce. It is also fun to serve them with celery sticks, for crunch and a cooling effect.
Some buffalo wing recipes call for 100% hot sauce. This version is half and half with barbecue sauce, which helps pulls back the heat and gives a larger depth of flavor. This ratio can be further adjusted to your personal taste.
There is a variety of doneness when it comes to chicken wings. Possibly the best is when they hold together well but the meat easily comes off the bone. To achieve this you will need to turn the wings regularly as they cook.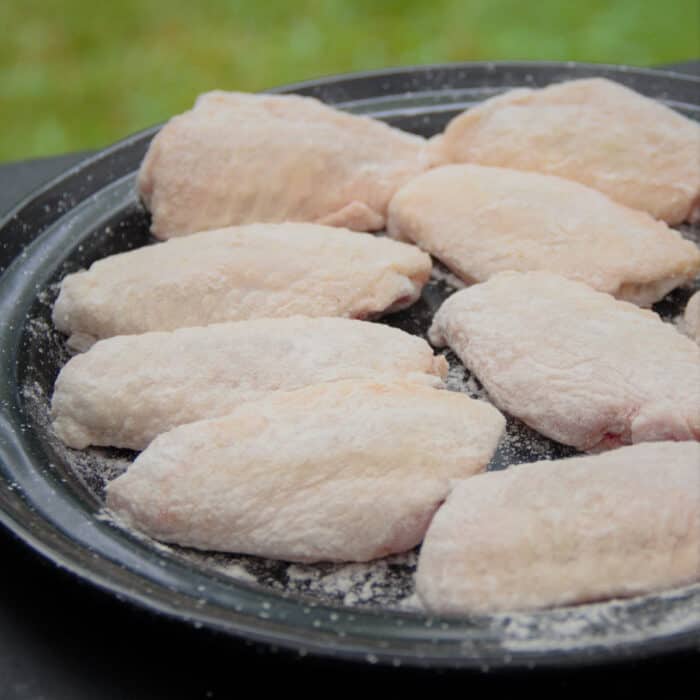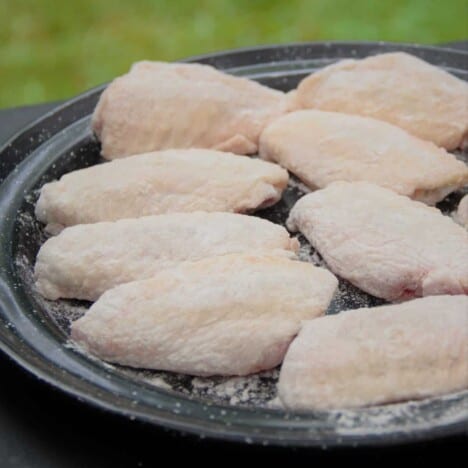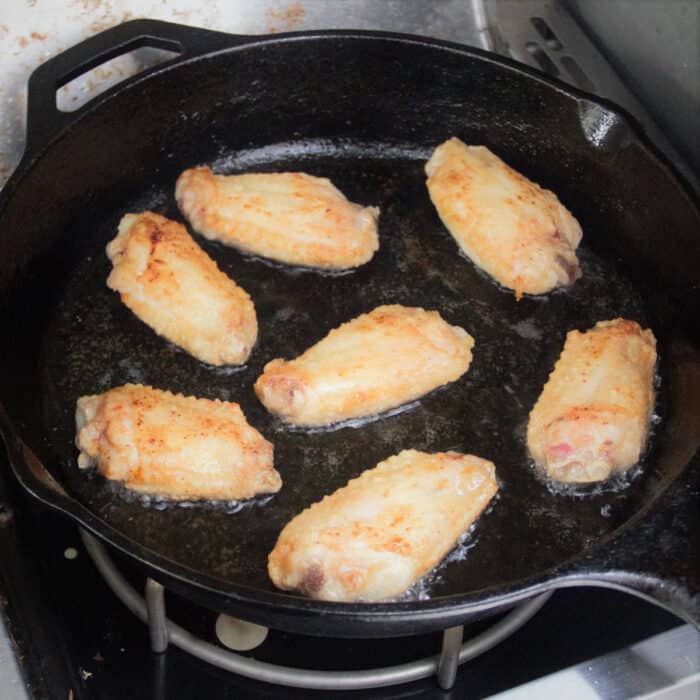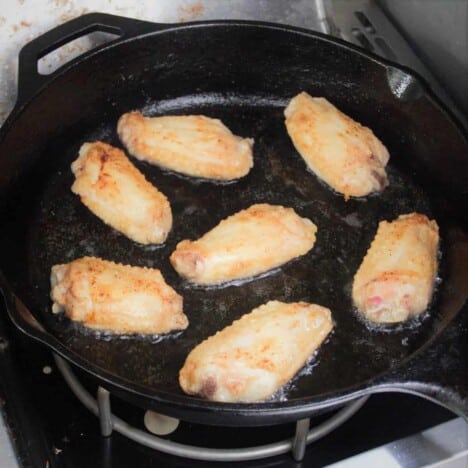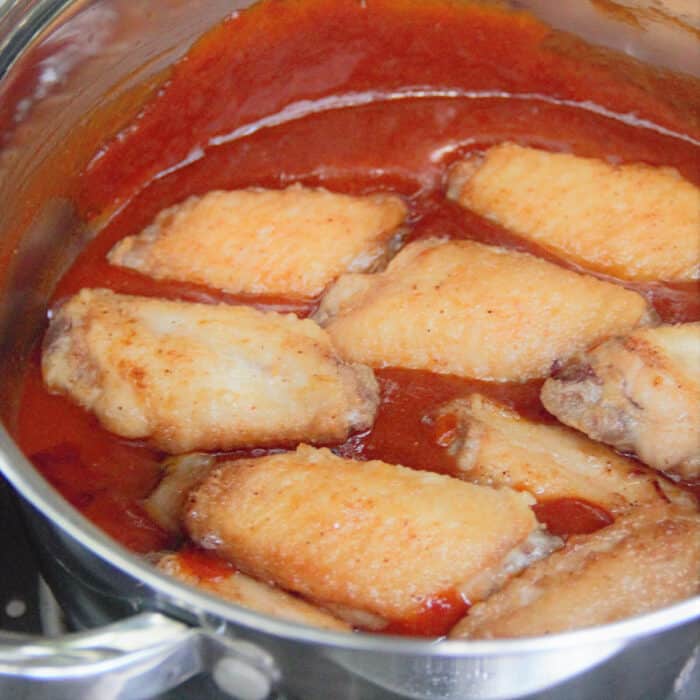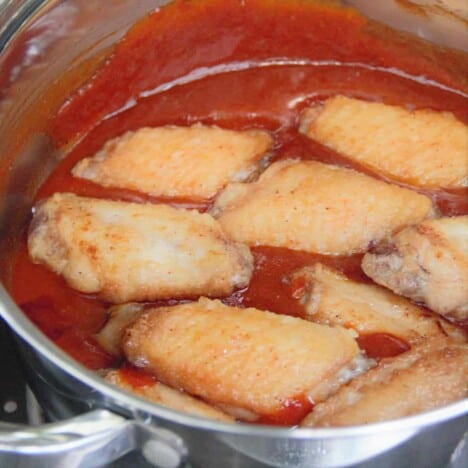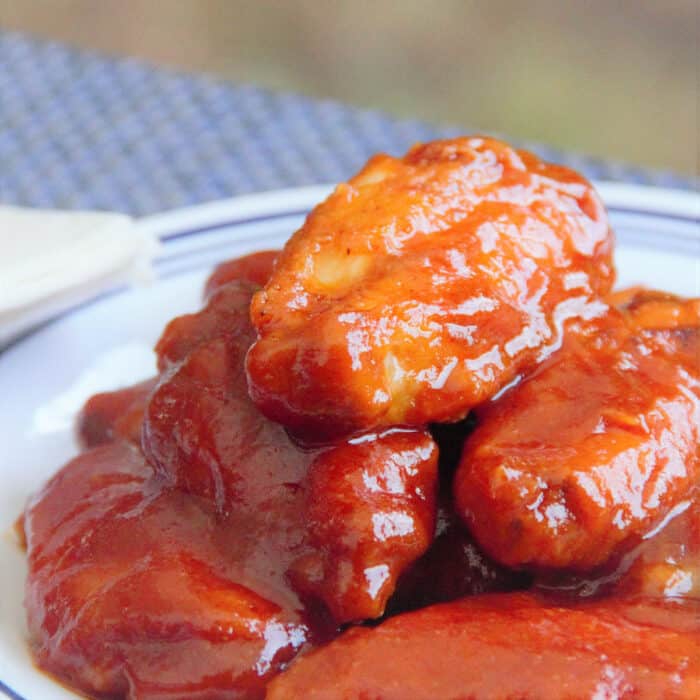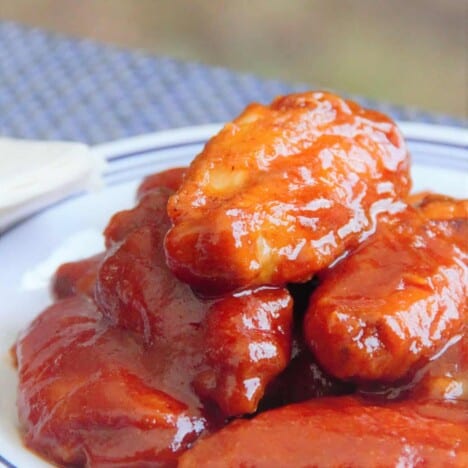 Mild Buffalo Chicken Wings Recipe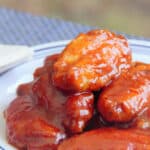 A very popular finger food in America, these Mild Buffalo Chicken Wings are packed with flavor and not too much heat.
Ingredients
Buffalo Sauce
1/2

cup

siracha

1/2

cup

barbecue sauce

1/2

cup

butter

1

tablespoon

white vinegar

1

teaspoon

Worcestershire sauce

1/4

teaspoon

paprika

1/4

teaspoon

garlic powder
Chicken Wings
1/2

cup

all-purpose flour

1/2

teaspoon

fine salt

1/2

teaspoon

white pepper

2

pounds

chicken wings

oil

as needed to fry
Directions
Buffalo Sauce
Add to a saucepan the siracha, barbecue sauce, butter, vinegar, Worcestershire sauce, paprika, and garlic powder.

Gently heat the buffalo sauce while whisking until the butter melts and starts to bubble, then remove from the heat. Put aside until needed.
Chicken Wings
In a plastic bag add the flour, salt, and pepper then mix so well combined.

Add the chicken wings to the flour mixture and shake well to cover. Put aside until ready to fry.

Tip: If you don't have access to party wings you can make them yourself by taking normal chicken wings and cutting at the two joints. The wingtips are not used.

Heat the skillet over medium-high heat. Add the frying oil until about 1/2- to 1-inch deep to shallow fry the chicken wings.

When the oil is hot, cook the wings until golden brown and cooked through. The wings will need to be turned multiple times during this process.

Tip: Depending on the size of the skillet this may need to be done in a number of batches. Don't be tempted to put too many in at once, otherwise, they will crowd and pull too much heat from the oil and make them greasy.

Add the cooked chicken wings to the buffalo sauce and stir until well covered, serve immediately. 
Nutritional Information
Calories:
418
kcal
Carbohydrates:
29
g
Protein:
26
g
Fat:
21
g
Saturated Fat:
6
g
Polyunsaturated Fat:
4
g
Monounsaturated Fat:
8
g
Trans Fat:
1
g
Cholesterol:
98
mg
Sodium:
1587
mg
Potassium:
390
mg
Fiber:
1
g
Sugar:
14
g
Vitamin A:
369
IU
Vitamin C:
24
mg
Calcium:
69
mg
Iron:
2
mg
More Chicken Wing Recipes
BBQ Smoked
If you love hot and sweet finger food then you need to try these quick-cook siracha and honey chicken wings.…
BBQ Grilled Appetizer
Perfect finger food for your next backyard BBQ these crispy grilled chicken wings are great in texture and flavor. Make…
BBQ Grilled Appetizer
This fried-not-fried method of cooking chicken wings takes advantage of the hot dry air moving in a barbecue to cook…