Pulled Jackfruit gives a very similar look to pulled pork making it a popular vegetarian or vegan substitute at a barbecue. It also is very flavorsome also contributing to its popularity.
When menu planning it is well worth keeping in mind however that there is no significant protein so the pulled jackfruit slider should be accompanied by a high-protein side dish like a chickpea salad or tofu fries to create a well-balanced meal.
This recipe uses a very simple cabbage and mayonnaise slaw however this can be upgraded to your favorite slaw or include a storebought cabbage vegetable mix or a fancier mayo such as wasabi or sriracha styles.
Pulled Jackfruit Sliders Recipe
This recipe is sponsored by Slap Yo' Daddy.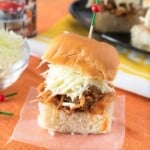 Jackfruit is a popular barbecue substitute for those avoiding meat as it provides a similar look and a flavorsome meal.
Ready in
1

hour
15

minutes
Ingredients
2

cans

young green jackfruit

1

tablespoon

oil

1

cup

finely sliced cabbage

2

tablespoons

mayonnaise

12

sweet dinner rolls

(Hawaiian bread rolls)
Directions
Remove and drain the young jackfruit from the can then remove any residual seeds or hard bits.

Simmer at a low temperature the jackfruit with barbecue sauce for 5-10 minutes to infuse the fruit with the flavors of the sauce.

Grill the jackfruit or sear in a skillet to get char marks.

Combine the finely sliced cabbage with the mayonnaise to create a simple slaw.

Assemble sliders with the sweet dinner rolls, a pulled jackfruit base then topped with the simple slaw. Drizzle more barbecue sauce if desired and secure with toothpick to garnish.
Nutritional Information
Calories:
460
kcal
Carbohydrates:
83
g
Protein:
8
g
Fat:
12
g
Saturated Fat:
2
g
Polyunsaturated Fat:
4
g
Monounsaturated Fat:
5
g
Trans Fat:
0.02
g
Cholesterol:
2
mg
Sodium:
984
mg
Potassium:
325
mg
Fiber:
5
g
Sugar:
18
g
Vitamin A:
145
IU
Vitamin C:
5
mg
Calcium:
221
mg
Iron:
4
mg
BBQ Smoked
A staple at any cookout, Pulled Pork Sliders are messy and delicious bite-size sandwiches filled with pork, barbecue sauce, and…
BBQ Smoked
Pulled pork sandwiches have many variations across America and now the world. This version includes a simple slaw and scratch-made…
Skillet
This pulled pork and ham sandwich is inspired by the Cuban, but with a few barbecue twists. It maintains the…