A delightful English side dish, cauliflower cheese is a recipe that showcases cauliflower in a rich cheese sauce cooked to perfection in a skillet. A whole head of cauliflower is covered in a creamy sauce and baked until tender. You can scoop it from the skillet onto your plate as a savory side dish.
Unlike traditional bechamel sauces (cheese sauces) this is a simplified version. It uses cornstarch (cornflour) to thicken rather than a traditional and more cumbersome butter and flour roux.
This is perfect for family-style dining where everyone can serve themselves. Personally, we like one whole cauliflower, but it can also be made with florets from a broken down cauliflower.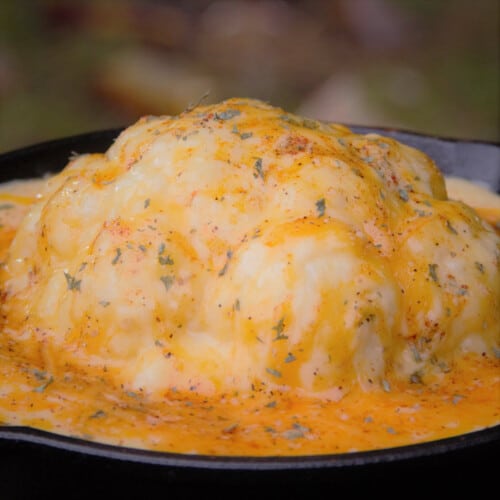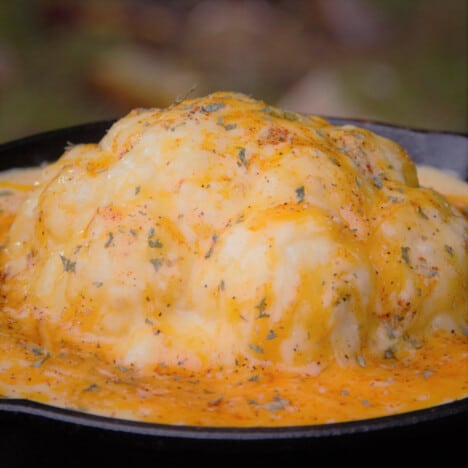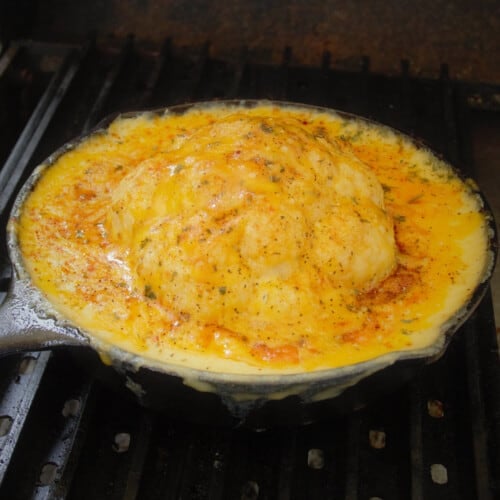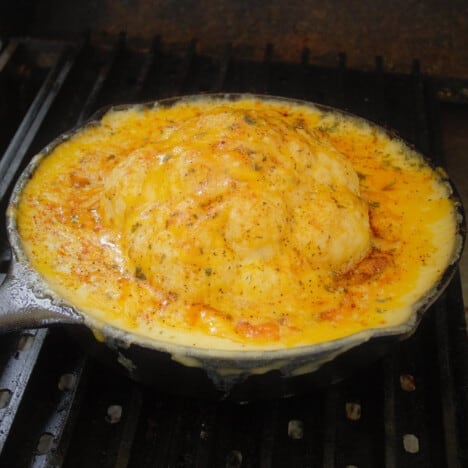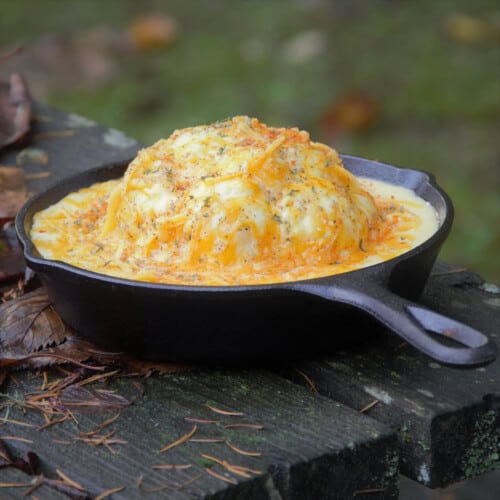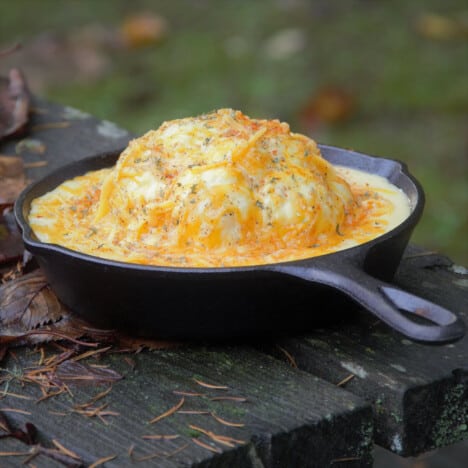 Cauliflower Cheese Recipe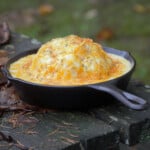 A delightful English side dish, Cauliflower Cheese is a recipe that showcases cauliflower in a rich cheese sauce cooked to perfection in a skillet.
Ingredients
Bechamel Sauce
2 1/2

cups

milk

3

tablespoons

cornstarch

(cornflour)

2

cups

shredded cheddar cheese
To Assemble
1

cup

shredded cheddar cheese

1/2

cup

breadcrumbs

½

teaspoon

smoked paprika

1

teaspoon

herb rub

1

teaspoon

dried parsley
Directions
Cauliflower
Remove the cauliflower leaves and thick inner core being careful not to lose its structure.

Place the cauliflower in a pot of boiling water about 1-inch (2 1/2cm) deep. Place on simmer until the cauliflower starts to soften.

Remove from the pot and place on a rack and allow to drain.
Bechamel Sauce
Place 2 cups of milk in a pot over medium heat and gently heat. Keep an eye on it because when milk boils it froths over in a spectacular and messy fashion.

Combine the remaining ½ cup of milk and cornstarch to create a slurry.

As the milk comes to a boil add the cornstarch slurry and keep stirring as it thickens creating a white sauce. As it reaches a simmer again add the grated cheese and stir to melt to create a bechamel sauce.
To Assemble
On the bottom of the skillet, pour a small amount of the bechamel sauce. In the center place the cauliflower head. Drizzle the remaining bechamel sauce over the top of the cauliflower.

Sprinkle evenly in turn with the shredded cheese, breadcrumbs, paprika, herb rub, and parsley.

Place in a camp oven, smoker, or closed barbecue until the cheese is melted and starting to brown.
Nutritional Information
Calories:
368
kcal
Carbohydrates:
21
g
Protein:
20
g
Fat:
23
g
Saturated Fat:
13
g
Polyunsaturated Fat:
1
g
Monounsaturated Fat:
5
g
Cholesterol:
69
mg
Sodium:
503
mg
Potassium:
507
mg
Fiber:
2
g
Sugar:
7
g
Vitamin A:
822
IU
Vitamin C:
46
mg
Calcium:
566
mg
Iron:
1
mg
BBQ Griddle
Philly cheesesteak is super tasty and a great lunch option for the BBQ, especially when camping. Marinated steak, veggies, and…
BBQ Smoked
Super creamy and rich macaroni is cooked in a cheesy béchamel sauce and sprinkled with bacon. This dish gets extra…
Pie Iron
If you are looking for a simple make-it-yourself meal, look no further than this easy ham and cheese toastie sandwich…