If you are looking for a simple make-it-yourself meal, look no further than this easy ham and cheese toastie sandwich cooked in a pie iron. You can play around with the types of cheese used, from mild to strong. Or, add a smear of mustard or horseradish if you like a bit of spice. 
There are so many types of ham and cheese combinations that everyone is certain to find one they like. We lean towards some of the plastic shrink-wrapped options as they last a bit better in a cooler when camping. Of course, you can always use fresh ham, if stored properly.
The true art of making a good ham and cheese toastie isn't the ingredients but being able to manage the heat to get the bread browned and the cheese gooey melted. So pay close attention to the pie iron when you toasting the sandwich. Turn it often and evenly for the best golden-brown result.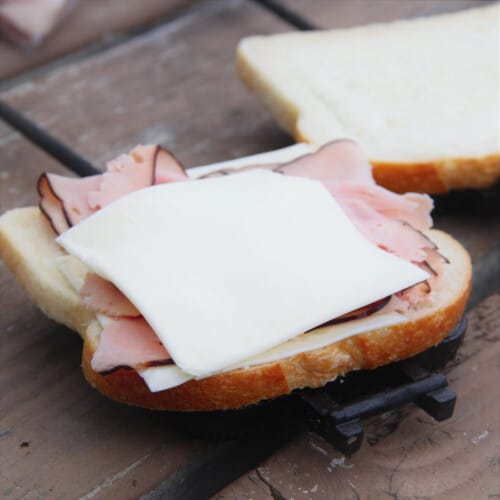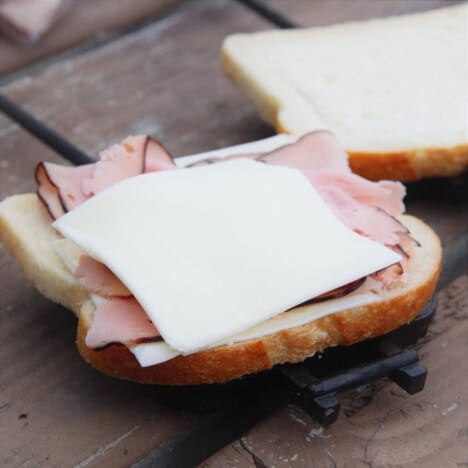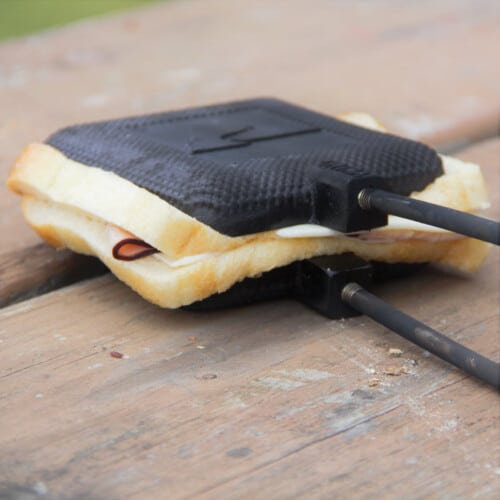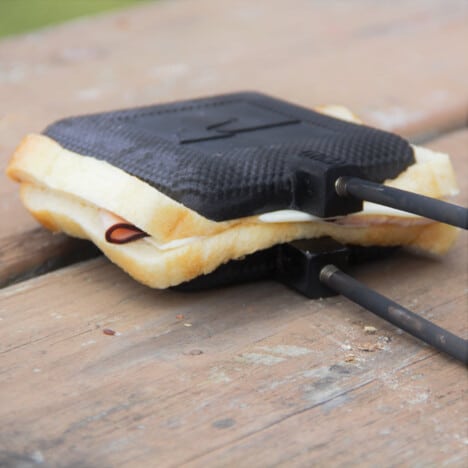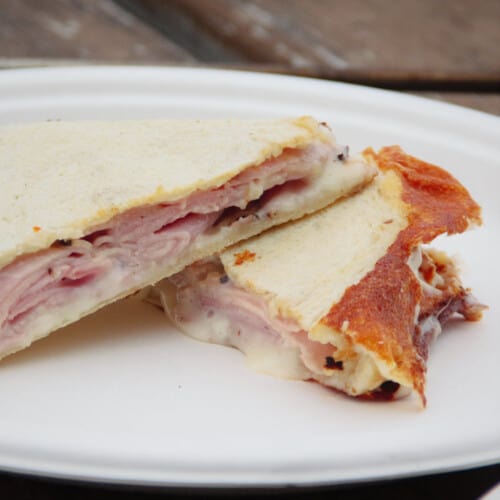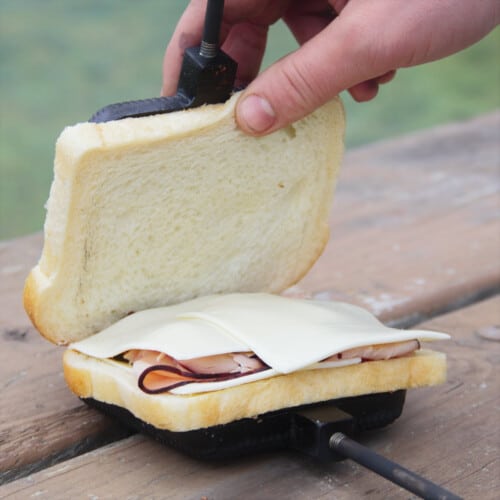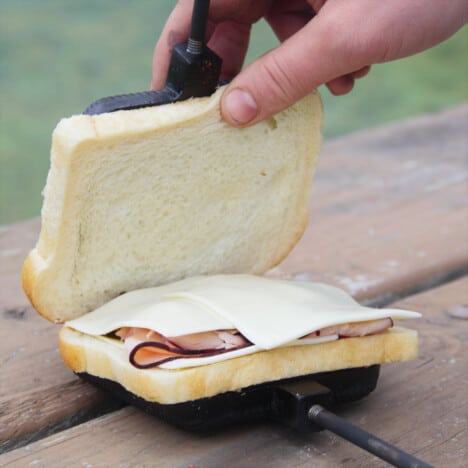 Ham and Cheese Toastie Recipe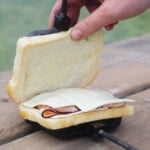 If you are looking for a simple make-it-yourself meal look no further than this easy Ham and Cheese Toastie sandwich cooked in a pie iron.
Ingredients
2

slices

bread

2

slices

ham

2

slices

cheese
Directions
Preheat the pie iron in the fire so it is ready to cook in.

Tip: Not preheating the pie iron takes longer and increases the chance of sticking and making the sandwich soggy.

Make a sandwich with the order of bread, cheese slice, ham, another cheese slice, and bread.

Tip: Placing cheese on both sides of the toastie makes it melt better.

Place in the pie iron and close.

Tip: There is no butter on the outside of the sandwich as our pie iron is well seasoned so it doesn't stick. If using a newer pie iron, feel free to add this step.

Cook over the coals in the fire. If you cook directly in the hot red flames it can make the pie iron black and heat up too quickly burning the bread without melting the cheese. The best spot is over some hot fresh charcoal.

It takes about 5 minutes to cook. This time varies widely based on the heat of the fire and the build of the pie iron so check frequently until you get an idea of the time needed. 
Nutritional Information
Calories:
513
kcal
Carbohydrates:
28
g
Protein:
32
g
Fat:
30
g
Saturated Fat:
16
g
Polyunsaturated Fat:
2
g
Monounsaturated Fat:
10
g
Trans Fat:
1
g
Cholesterol:
94
mg
Sodium:
1303
mg
Potassium:
317
mg
Fiber:
2
g
Sugar:
4
g
Vitamin A:
562
IU
Vitamin C:
1
mg
Calcium:
485
mg
Iron:
3
mg
Pie Iron
Popular with kids, this campfire pop tart toastie makes a quick and easy breakfast while camping. At its simplest, this…
Pie Iron
This decadent dessert of a chocolate and raspberry ricotta toastie is easily cooked in a pie iron over a campfire.…
Pie Iron
The camping meat pie is cooked over a campfire in a pie iron. This traditional cooking method produces wonderful outdoor…