If you love the idea of making homemade sushi, but not the idea of using raw fish, this smoked salmon sushi recipe is a great compromise. You can serve this with wasabi, pickled ginger, soy sauce, or just eat them as is. 
You can use pre-made commercial smoked salmon that travels quite well due to it being sealed. Alternatively, you can use a salmon that you have cured and smoked yourself.
Feel free to add thinly sliced vegetables to the sushi to add a change the color, texture, and flavor. We love to use sliced cucumber or avocado.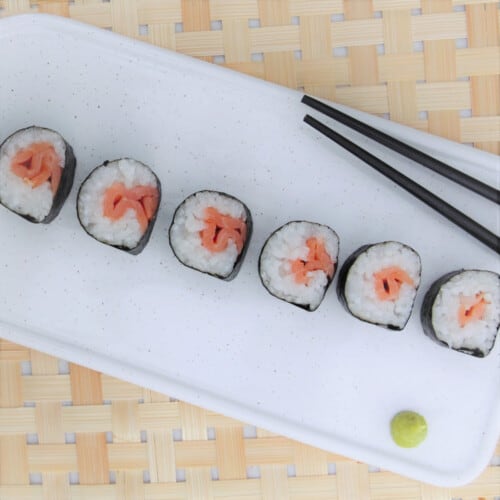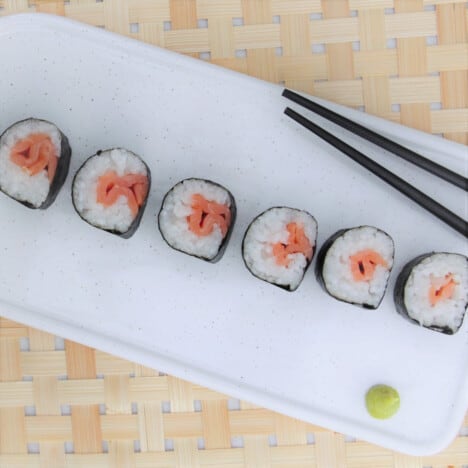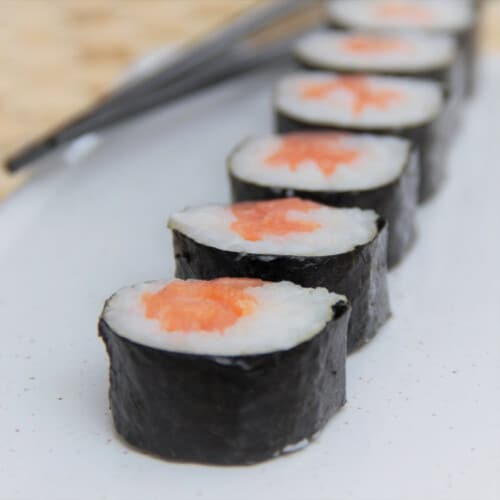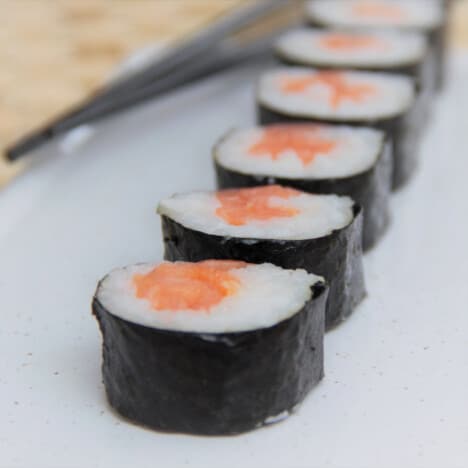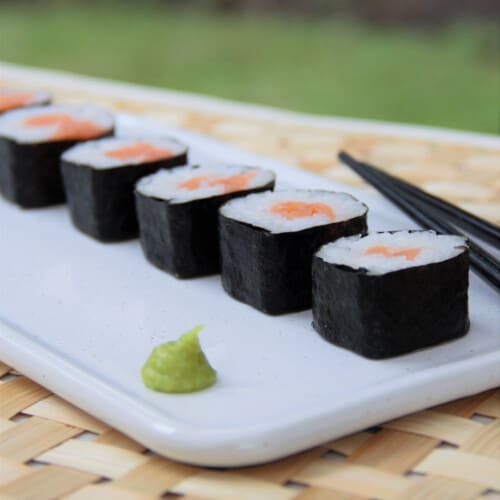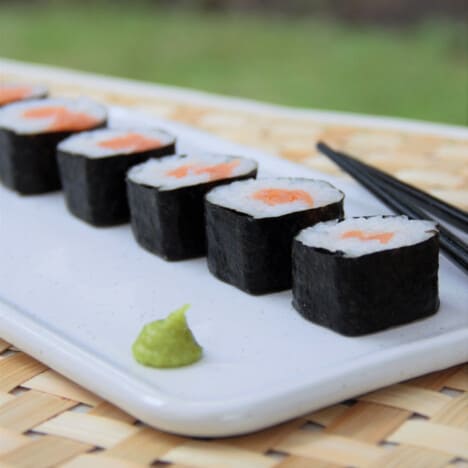 Smoked Salmon Sushi Recipe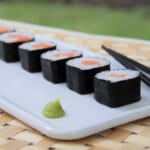 If you love the idea of making homemade sushi, but not the idea of using raw fish, this Smoked Salmon Sushi recipe is a great compromise.
Ingredients
1

cup

sushi rice

1 1/2

cups

water

3

tablespoons

sushi vinegar

6

sheets

toasted seaweed

(nori)

10

ounces

smoked salmon

sliced

pickled ginger

for serving

wasabi

for serving
Directions
Rinse the rice in plenty of cool water, then add to a saucepan with 1 ½ cups of water. Bring to the boil with a lid on then turn off the heat and leave for 20 minutes. Add the vinegar and stir to fluff up.

Place one of the pieces of seaweed on a sushi mat, shiny side down. Place a thin layer of rice over the sheet leaving a 2-inch (5cm) gap at one end. At the opposite end of the gap lay the slices of salmon.

Moisten the gap of seaweed with water. Roll the sushi starting at the end with the salmon. The moistened end with no rice will seal the sushi and keep it together.

Chill the sushi to let the rice and seaweed set for about 10 minutes or until needed.

Wetting a knife between each cut, slice the roll into your desired serving size, about 1-inch (2cm) is ideal.

Tip: If taking on a picnic or hike pack the roll whole and slice just before eating.

Serve with the traditional accompniemnets of pickled ginger and wasabi.
Nutritional Information
Calories:
180
kcal
Carbohydrates:
27
g
Protein:
11
g
Fat:
2
g
Saturated Fat:
1
g
Polyunsaturated Fat:
1
g
Monounsaturated Fat:
1
g
Cholesterol:
11
mg
Sodium:
378
mg
Potassium:
156
mg
Fiber:
1
g
Sugar:
1
g
Vitamin A:
177
IU
Vitamin C:
2
mg
Calcium:
16
mg
Iron:
1
mg
Picnic
Canned tuna sushi is a great addition to a picnic or packed lunch. Though it takes a little practice to…
Camp Cooking
Spam is a hardy meat option that travels well, these Spam musubi sushi is a popular Hawaiian dish with obvious…
Wok
This is perfect fried rice for camping. It uses primarily canned ingredients like spam and peas to make a dish…