Canned tuna sushi is a great addition to a picnic or packed lunch. Though it takes a little practice to get the roll correct, it is easy to make.
Tinned tuna, with a bit of sweet chili sauce and onions, works really well together and you have no worries about working with raw ingredients as is the case in traditional sushi.
If you would like to add a bit of flavor and crunch to the canned tuna sushi include chopped cucumbers, capsicums, or spring onions.
Canned Tuna Sushi Recipe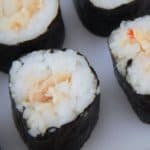 Canned tuna sushi isn't the first thought for camping, picnics, or packed lunches, however, it is easy to make, and as there are no raw ingredients it travels well if kept cold.
Ingredients
2

tablespoons

sugar

1

teaspoon

mirin

1 1/2

cups

cooked sushi rice

1

can

tuna

in brine or water, drained

2

tablespoons

sweet chili sauce

1/2

small onion

finely diced

6

sheets

toasted nori

seaweed

1

teaspoon

wasabi

optional
Directions
Add the sugar and mirin to the cooked sushi rice. Leave to cool.

In a bowl, combine the drained tuna, sweet chili sauce, and finely diced onions.

Place a nori sheet, rough side up, on a sushi mat. Spread the rice over the nori, pressing firmly and leaving a 5cm gap on the side furthest from you.

Place the tuna on the closest edge. Using the mat to get started, roll the sushi tightly to form a roll. Moisten the 5cm gap at the end of the nori with water to help seal the roll. Chill until needed.

Just before serving, slice the rolls into ½ inch (1 1/2cm) slices.

Option: You can add wasabi into the sushi before rolling, or serve it on the side and let people decide how much they want.
Nutritional Information
Calories:
101
kcal
Carbohydrates:
18
g
Protein:
7
g
Fat:
1
g
Saturated Fat:
1
g
Polyunsaturated Fat:
1
g
Monounsaturated Fat:
1
g
Cholesterol:
10
mg
Sodium:
129
mg
Potassium:
82
mg
Fiber:
1
g
Sugar:
7
g
Vitamin A:
152
IU
Vitamin C:
2
mg
Calcium:
11
mg
Iron:
1
mg
Two Pot Meal
Tuna mornay is a family favorite while camping that is warm and hearty. It is very much like mac and…
Camp Oven
Tuna casserole bake is an easy-to-make comfort food both at home and the outdoors with this slightly modified version. Noodles…
Picnic
If you love the idea of making homemade sushi, but not the idea of using raw fish, this smoked salmon…