There are a lot of parts to this recipe, but when brought together it creates a single amazing dish known as a Korean-inspired beef bowl. It is a flavorful and healthy option for the outdoors. Layers of braised beef, vegetables, rice, and eggs are topped with spicy condiments. 
Each ingredient can be bought pre-made or you can use other recipes on this website to make everything from scratch. Making the separate components from scratch allows you to tweak the recipe slightly to your preferred tastes. You can also do a combination of both, to make it partially homemade.
If you don't like a particular component to this it is easy to swap it out for similar but different ingredients. Try braised pork for beef, or pickled cabbage instead of suey choy.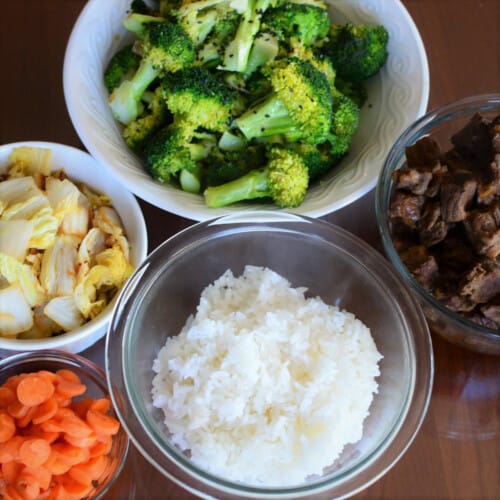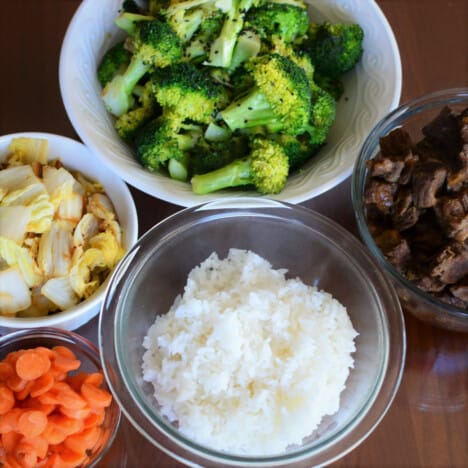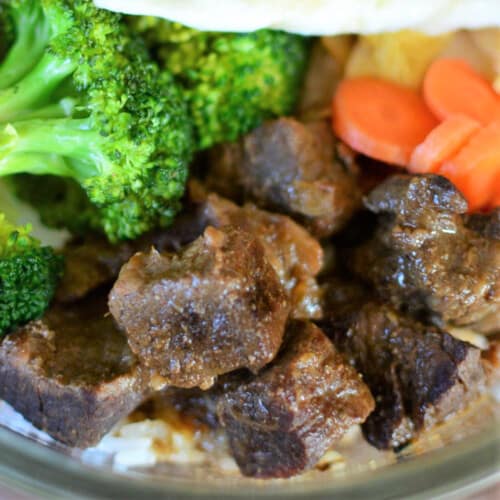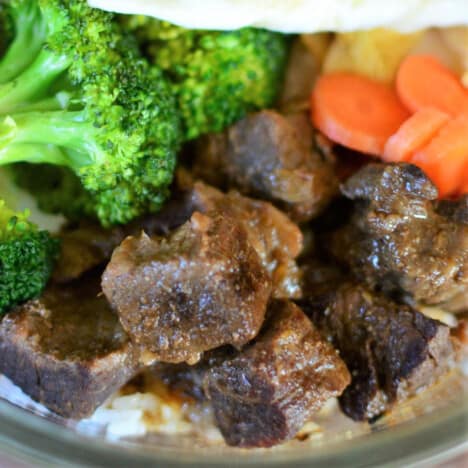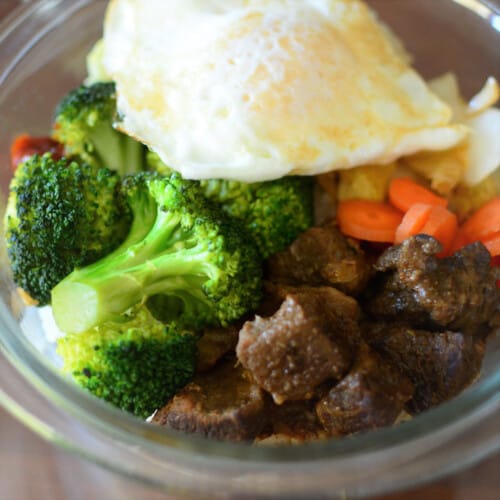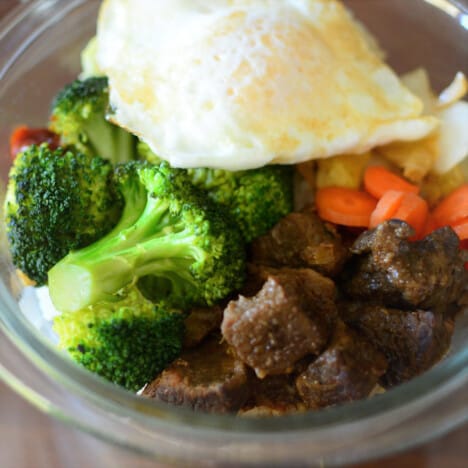 Korean-Inspired Beef Bowl Recipe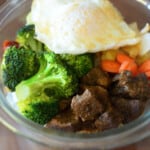 Ingredients including braised beef, pickled carrots, and sesame broccoli when brought together create an amazing Korean-Inspired Beef Bowl.
Directions
Prepare or gather the Asian braised beef, sesame broccoli, pickled carrots, steamed suey choy, and steamed rice.

Place a quarter of each in a serving bowl.

Cook the eggs over easy or to your preferred doneness, then place on top of the items in the bowl.

Serve immediately while hot along with the kimchi and spicy Korean sauce (Gochujang) for people to add to their personal tastes.
Nutritional Information
Calories:
605
kcal
Carbohydrates:
55
g
Protein:
32
g
Fat:
27
g
Saturated Fat:
10
g
Polyunsaturated Fat:
2
g
Monounsaturated Fat:
12
g
Trans Fat:
1
g
Cholesterol:
244
mg
Sodium:
326
mg
Potassium:
670
mg
Fiber:
3
g
Sugar:
5
g
Vitamin A:
10117
IU
Vitamin C:
96
mg
Calcium:
193
mg
Iron:
4
mg
Wok
This quick-cook stir-fried beef in black bean sauce is an easy and flavorsome way to cook beef while camping. The…
Two Pot Meal
Rendang curry is a flavorful and spicy stew that is great for any cut of red meat, including beef and…
Camp Cooking
The steak is first marinated in an Asian-influenced marinade before being braised to create this Asian Beef and Cucumber dish.…