Hanger steak requires only very gentle cooking and is best kept simple as shown in this recipe. Season it only with a pinch of salt and pepper. Once cooked, it's served with an equally simple asparagus and parsley butter sauce.
Hanger steak, a cut from the diaphragm, is also known as Butcher's steak. This cut is known for its flavor although is still not commonly found. The butcher tends to keep it as there is a lot of time in removing the various sinews to get to the meat.
When cooking, be careful and watch the steak closely. It cooks super fast, so you don't want to leave it on the grill for too long otherwise it will overcook and become tough. Turning it frequently helps make sure the inside is cooked, yet the outside is not burnt.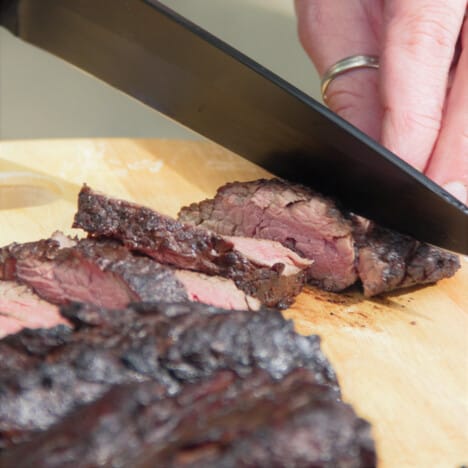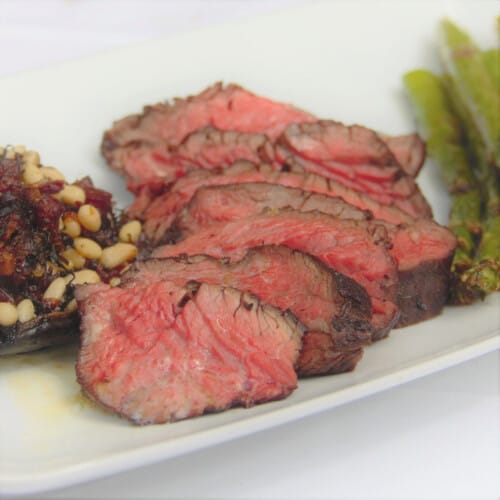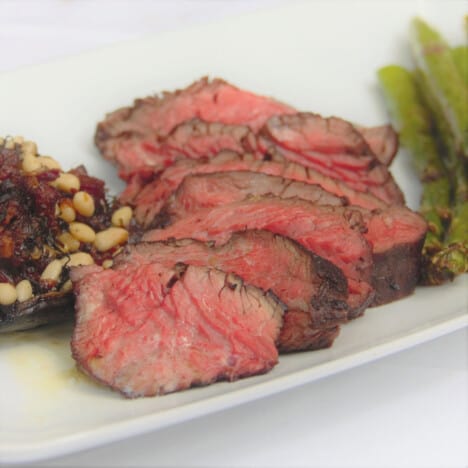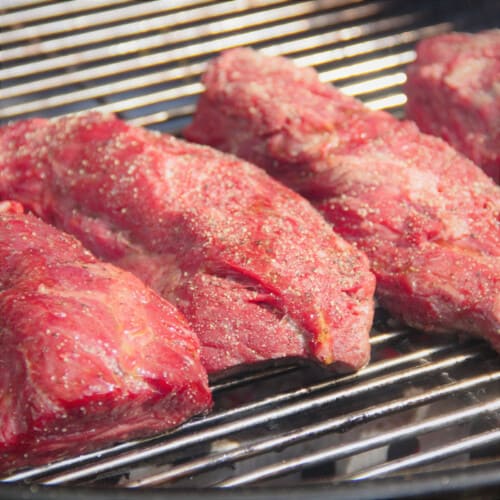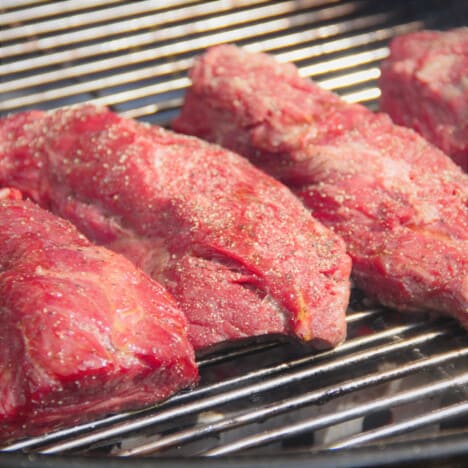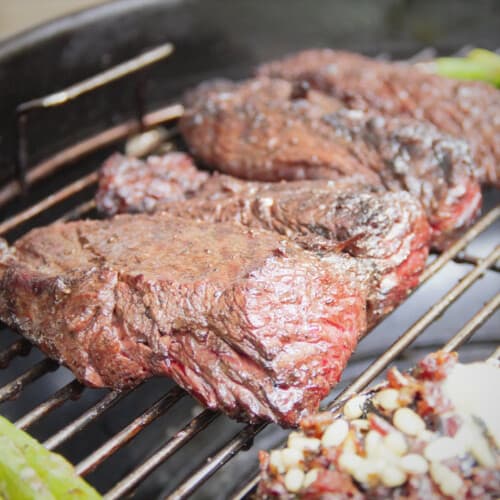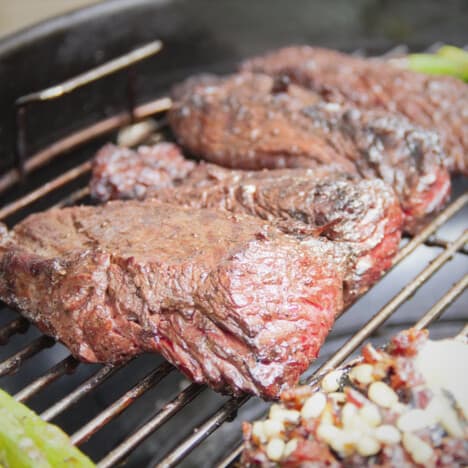 Quick Sear Hanger Steak Recipe
This recipe is provided by Dipper's Backyard BBQ Wars.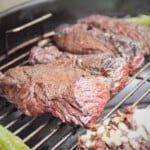 Hanger steak requires only very gentle cooking and is best kept simple seasoned only with salt and pepper.
Ingredients
2

full hanger steaks

salt and pepper

to taste

8

spears asparagus

1

tablespoon

olive oil

1/2

cup

butter

1

sprig

parsley

finely chopped
Directions
Set up the grill for direct hot heat at about 400 degrees F (205 degrees C).

Trim the hanger steaks by removing the center sinew, then cut down the conversion in the steak to create two smaller steaks.

Season each steak with salt and pepper.

Snap each piece of asparagus at the base the stringy tough part of the asparagus will be removed. Toss the asparagus in the olive oil.

In a small skillet melt the butter then add the finely chopped parsley. Let rest but keep warm so it doesn't solidify.

Grill the hangar steaks. Flip the steaks every 30 seconds until the desired doneness. At the same time cook the asparagus by also flipping them a few times on the grill until cooked through.

Remove the steaks and asparagus from the grill. Let the steaks rest for a few minutes.

To serve, thinly slice the hanger steak against the grain. Place on the serving plate with the asparagus. Drizzle with the parsley butter sauce.
Nutritional Information
Calories:
476
kcal
Carbohydrates:
1
g
Protein:
24
g
Fat:
43
g
Saturated Fat:
22
g
Polyunsaturated Fat:
2
g
Monounsaturated Fat:
16
g
Trans Fat:
1
g
Cholesterol:
130
mg
Sodium:
242
mg
Potassium:
376
mg
Fiber:
1
g
Sugar:
1
g
Vitamin A:
989
IU
Vitamin C:
2
mg
Calcium:
23
mg
Iron:
3
mg
BBQ Grilled Meat
This recipe covers cooking a Scotch steak, also known as a ribeye, using the reverse sear method. This is a…
BBQ Grilled Meat
Yes, you are reading that title correctly. This cooking method has the meat sit in the marinade after it is…
Skillet
A homemade three pepper rub tops this ribeye steak, which grills up in just a few minutes. The rub is…