With only three ingredients, kids love to cook and eat this Grilled Nutella Banana Wrap. A tortilla is stuffed with hazelnut chocolate spread and layered with bananas, then grilled until warmed through. It makes a tasty breakfast, dessert, or fun supper.
Super easy to make, kids can take their turn with the cooking to make this for the whole family. Depending on their age, parents may need to do the hot grilling part for them. Kids can also experiment with different fruits or add special toppings, like sprinkles or coconut flakes.
The grill can be a dedicated barbecue or simply grill grates added over a campfire. Using live fire such as charcoal or wood adds additional flavor to the wrap. In a pinch, you can also cook this in a skillet or Dutch oven.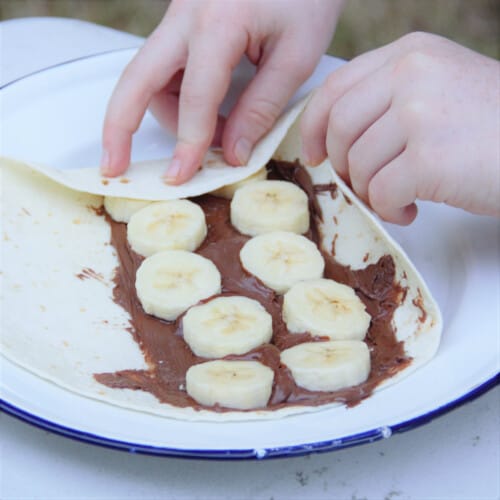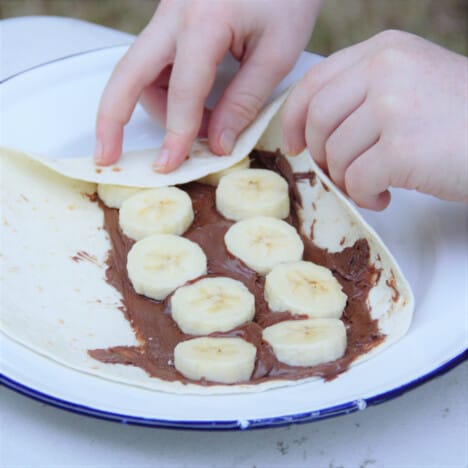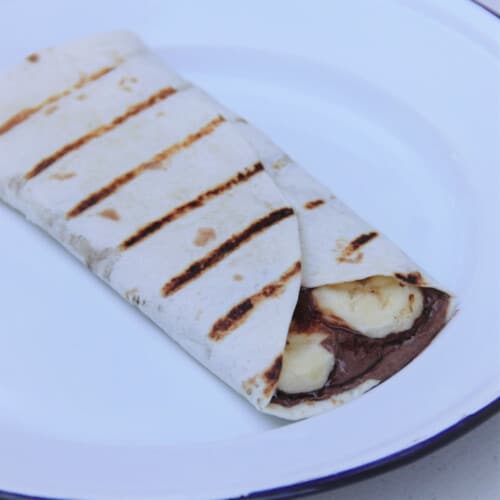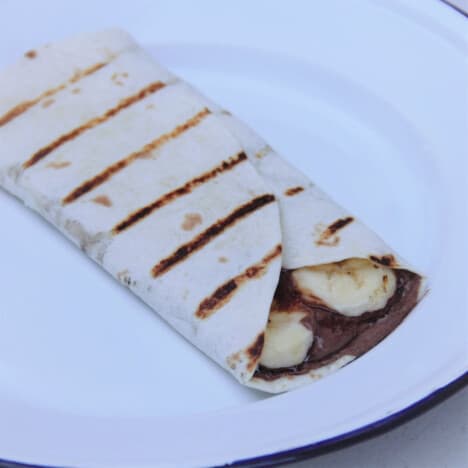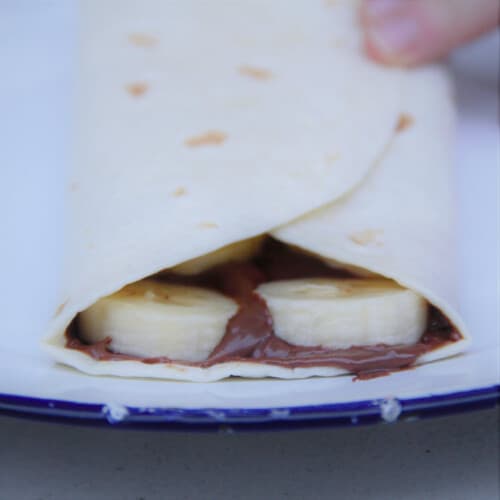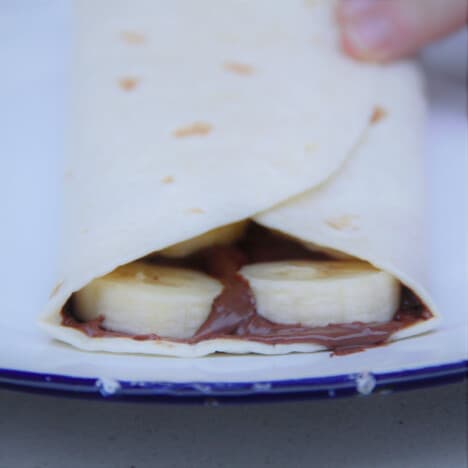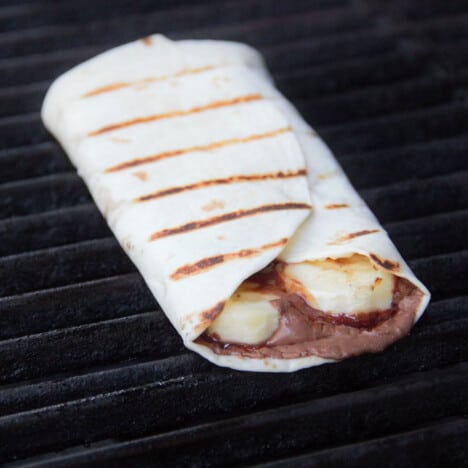 Grilled Nutella Banana Wrap Recipe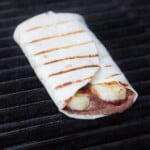 Kids love to cook and eat this Grilled Nutella Banana Wrap which makes a tasty dessert or supper.
Ingredients
1

flour tortilla

3

tablespoons

chocolate hazelnut spread

1

banana
Directions
Preheat a grill to a hot temperature.

Lay out the tortilla and evenly apply the hazelnut chocolate spread.

Peel and slice the banana, then lay it out on top of the chocolate hazelnut spread.

Fold the tortilla bottom-up first then fold in either side. Place fold side down on the preheated grill to hold it together.

When there are browned grill grate markings, turn and cook the other side until it too has golden brown grill grate marks. By this stage, the inside will also be heated and the bananas softened.
Nutritional Information
Calories:
496
kcal
Carbohydrates:
77
g
Protein:
7
g
Fat:
19
g
Saturated Fat:
16
g
Polyunsaturated Fat:
1
g
Monounsaturated Fat:
1
g
Sodium:
230
mg
Potassium:
694
mg
Fiber:
7
g
Sugar:
46
g
Vitamin A:
77
IU
Vitamin C:
10
mg
Calcium:
98
mg
Iron:
4
mg
Backyard
This simple and easy lunch or dinner is a great way to help children transition from chicken nuggets into more mature…
BBQ Griddle
Philly cheesesteak is super tasty and a great lunch option for the BBQ, especially when camping. Marinated steak, veggies, and…
BBQ Griddle
This Cajun Shrimp Po'Boy includes the full instructions for cornmeal crumbling and making the Remoulade sauce. Crispy-crusted shrimp is tucked…