Cooked in foil and placed in the campfire coals, these creamy baked potatoes are a delicious camping dish packed full of flavor. They are a step up from the traditional baked potato, which is simply cooked as-is. These potatoes are layered with onions and cream, then cooked until perfectly tender.
Similar to a potato bake or potato au gratin, they include cream, onions, and cheese to create a rich potato dish. Changing the size of the potatoes used determines whether this is something to share or an individual portion. A large russet potato can serve to one person as part of a smaller meal, or be shared by two people if part of a large meal.
The flavor can be varied by the cheese selection and the amount of herb rub used. If you want to scale this up to a full meal, consider adding additional protein to the foil pack such as bacon, ham, or sausage.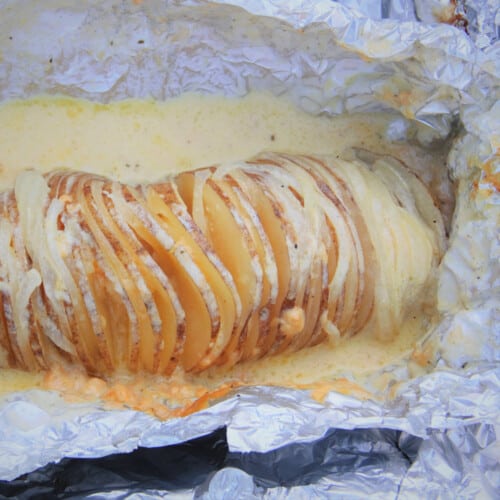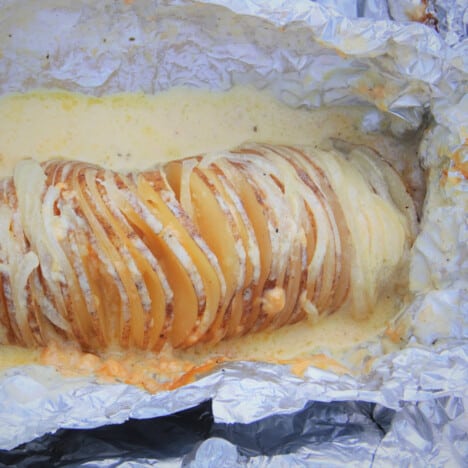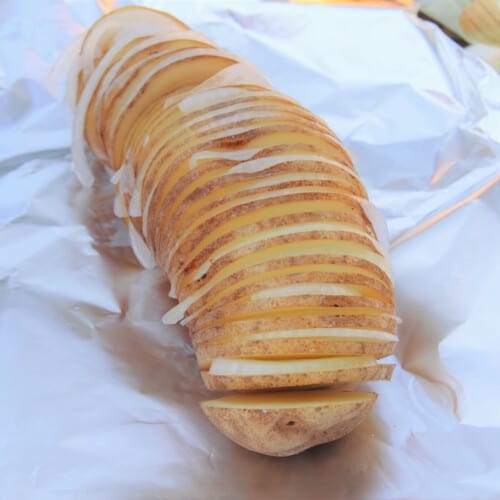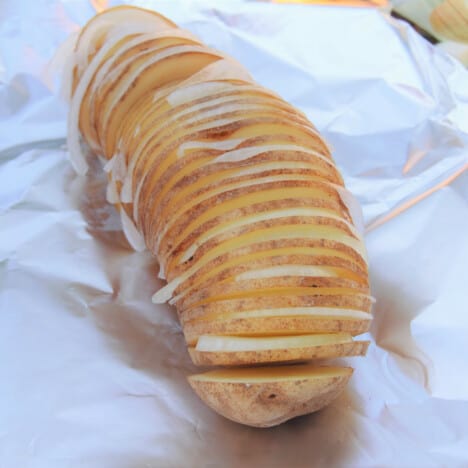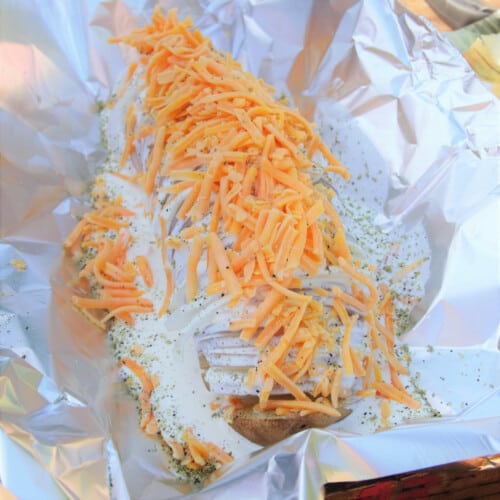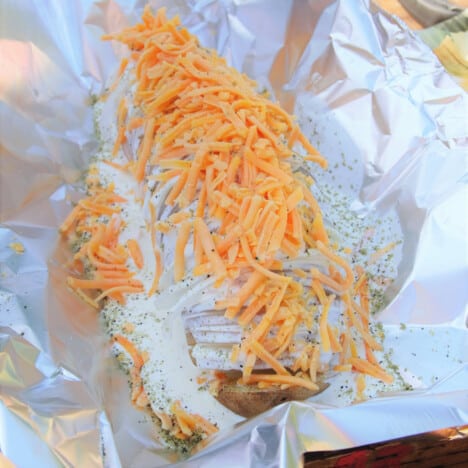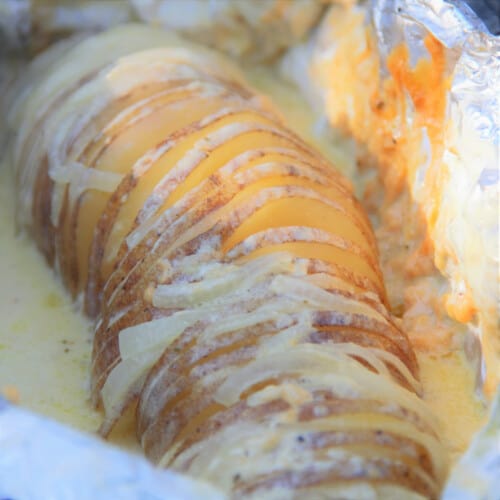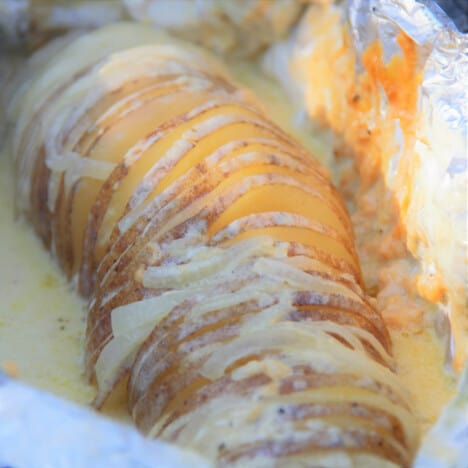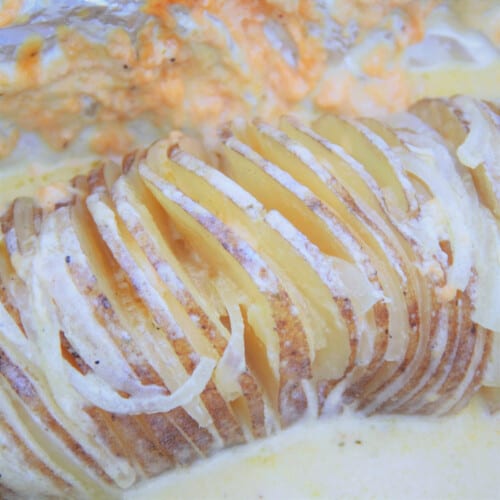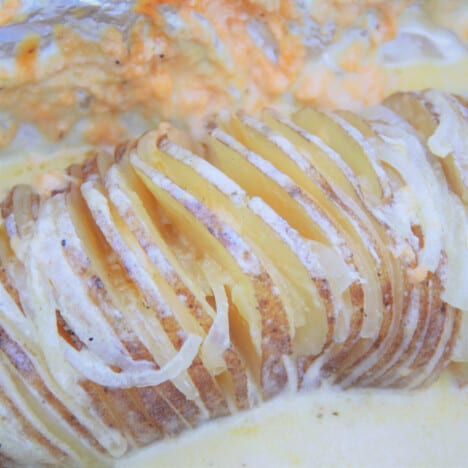 Foil Creamy Baked Potato Recipe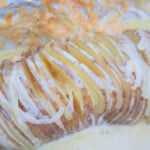 Cooked in foil and placed in the campfire coals, these creamy baked potatoes are a delicious camping side packed full of flavor.
Ready in
1

hour
55

minutes
Ingredients
1

large

potato

1/2

yellow onion

1/2

cup

heavy cream

1

cup

shredded cheese

1

teaspoon

herb rub
Directions
Wash the potato, removing any dirt. Slice the potato in a Hasselback style, cutting most of the way through but not quite, leaving a small bit connected to the potato so it remains whole.

Thinly slice the onion and place it in between each potato slice.

Place the onion-filled potato onto two sheets of foil and pull up the foil slightly to act as a bowl around the potato.

Drizzle the cream onto the potato making sure it has the opportunity to get into the gaps between the potato slices. Top evenly with the grated cheese, then sprinkle with the herb rub.

Wrap the first sheet tightly around the potato. Turn 90 degrees then wrap the potato in the second piece of foil, this time focusing on creating an air-tight seal, rolling the foil in.

Place the foiled potato in the coals, but away from the burning part of the fire. Leave for 45 minutes then place into a fresh set of coals to finish the cooking process.

When cooked the potato will be soft when squeezed. Remove from the coals, make sure there are no hot lumps of coal still attached, then rest 5 minutes before opening.

Carefully open the foil being cautious of any steam that may escape. Serve on a plate or eat directly out of the foil.
Nutritional Information
Calories:
589
kcal
Carbohydrates:
38
g
Protein:
19
g
Fat:
41
g
Saturated Fat:
26
g
Polyunsaturated Fat:
1
g
Monounsaturated Fat:
12
g
Cholesterol:
141
mg
Sodium:
386
mg
Potassium:
924
mg
Fiber:
5
g
Sugar:
3
g
Vitamin A:
1471
IU
Vitamin C:
39
mg
Calcium:
484
mg
Iron:
2
mg
Salad
It is nice to know that there is more to potato salad than heavy, fatty dressings. This potato salad is…
Camp Oven
An incredibly decadent side dish, loaded mashed potatoes includes bacon, cream, and three kinds of cheese all baked in a…
Dutch Oven
A flexible side dish for most mains, these Dutch oven bacon potatoes are flavored with onions and garlic. It is…