This unique main dish will have your guests coming back for more. A pork loin is stuffed with Polish Kielbasa, then wrapped in a bacon weave. The entire thing is surrounded by sauerkraut and roasted in a Dutch oven.
The pork is surrounded by sauerkraut while it roasts in the Dutch oven. The sauerkraut can be swapped out for a range of side vegetables, like carrots, baby potatoes, or greens. Fresh cabbage could also be used if sauerkraut isn't available, however, the preserved version does travel better while camping.
Once cooked the effect is quite special, with slices exposing the sausage within. But isn't too much of a surprise as the Kielbasa flavor permeates every part of the dish and is the first aroma that hits you when you remove the lid. Make sure to have some nice stone-ground mustard on hand for serving.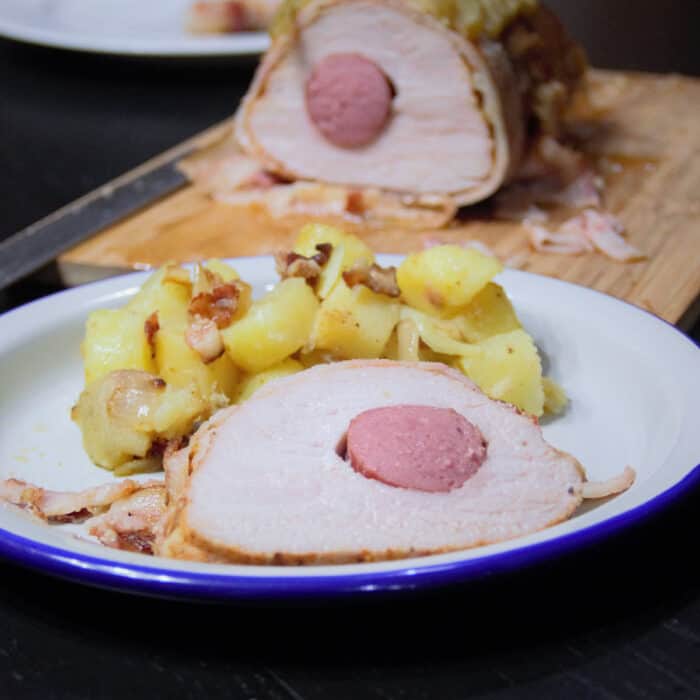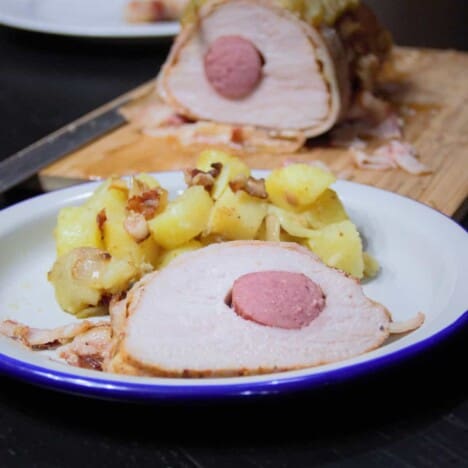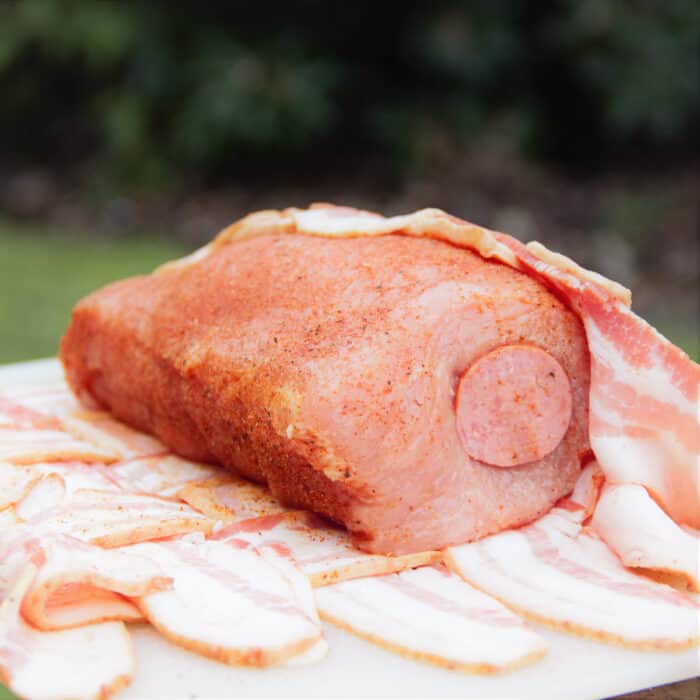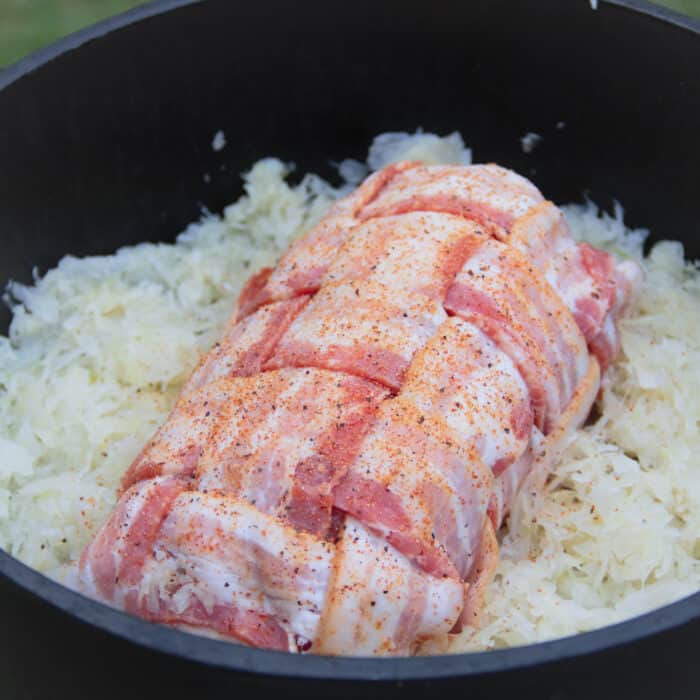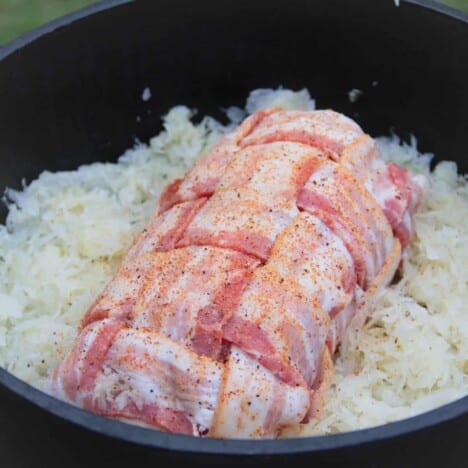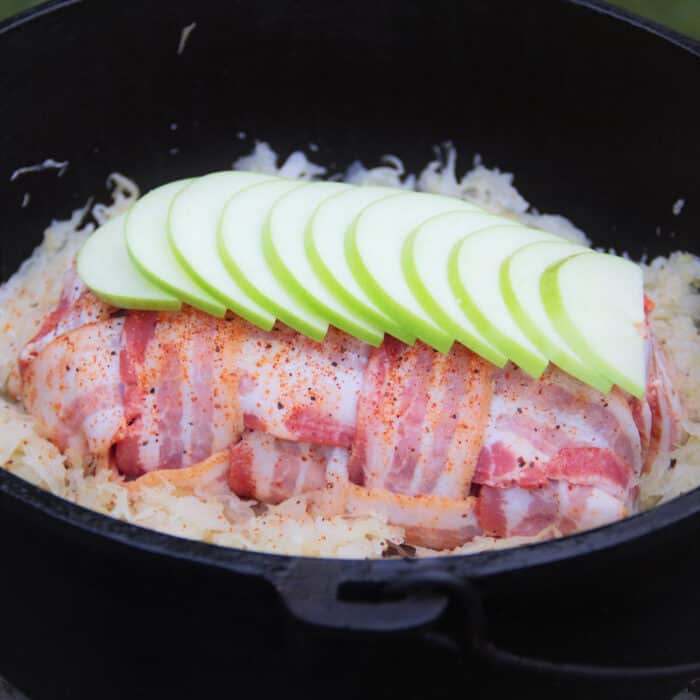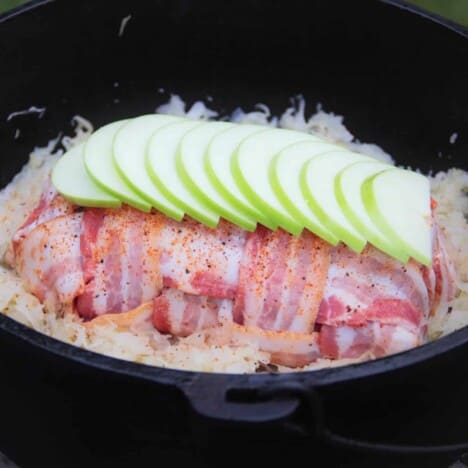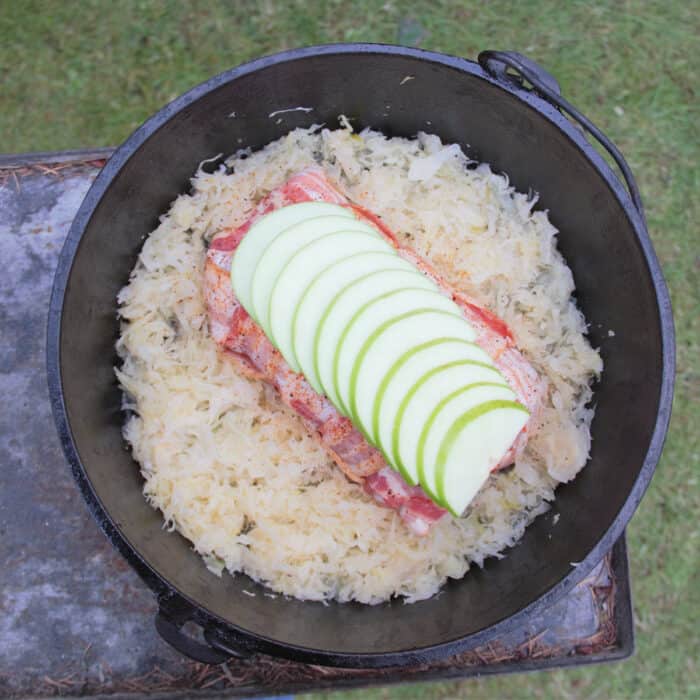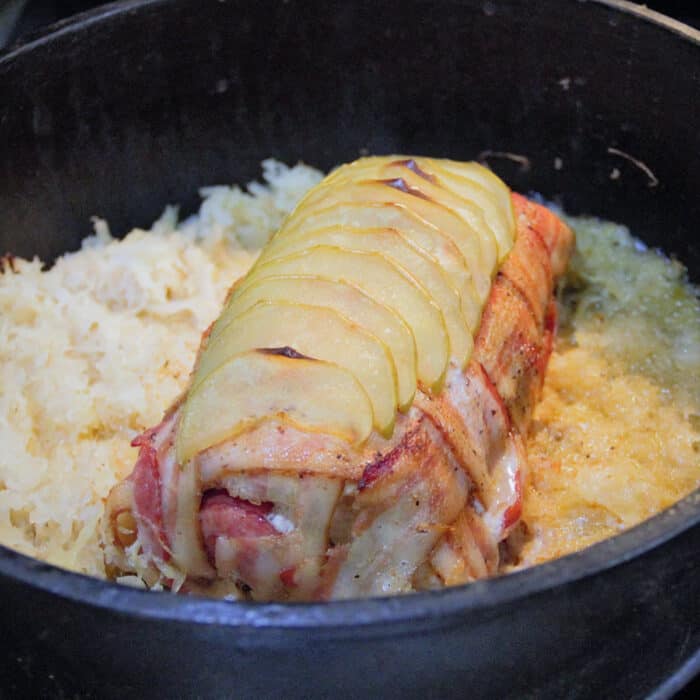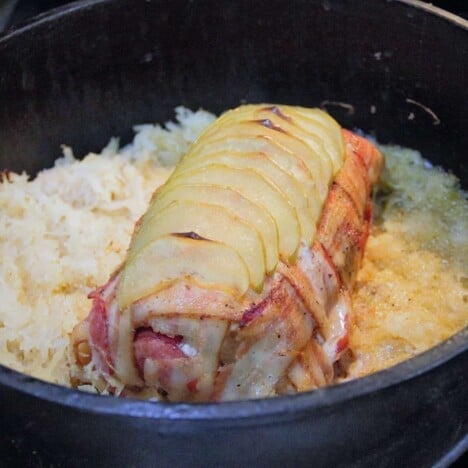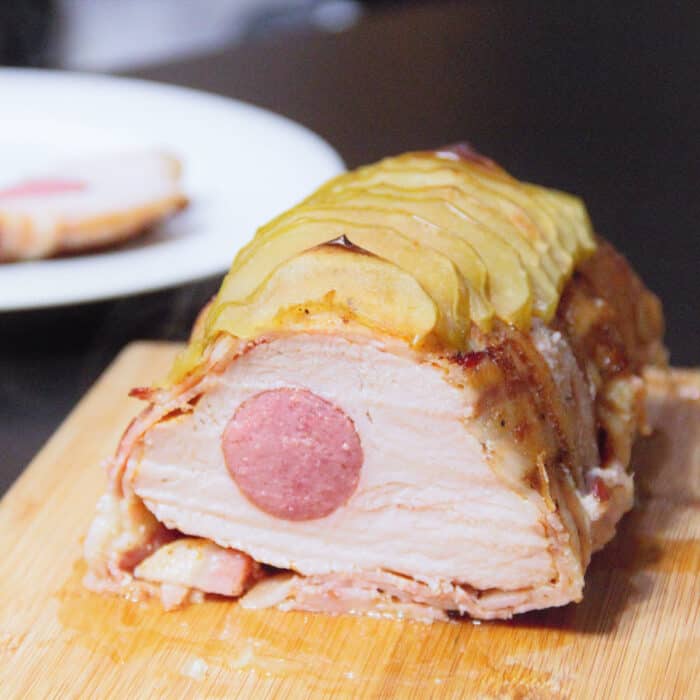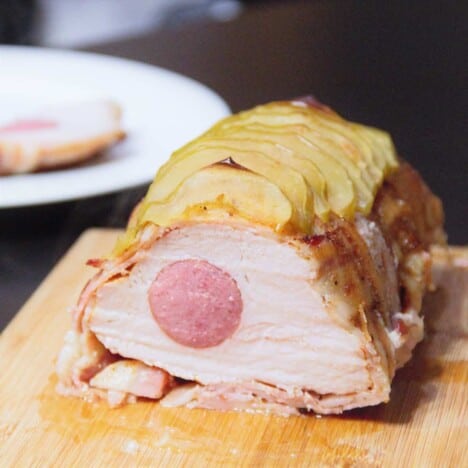 Dutch Oven Pork Sausage Roast Recipe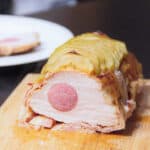 This unique main meat Pork Sausage Roast cooked in a Dutch oven includes stuffing Polish Kielbasa and wrapping in a bacon weave.
Ingredients
3

pound

pork loin

1

Polish Kielbasa

favorite pork rub

to taste

1

pound

bacon

1

jar

sauerkraut

1

apple

cored and thinly sliced

1/2

cup

brown sugar
Equipment
14 inch Dutch oven

(deep if available)
Directions
Trim the pork loin removing any silver skin and excess fat. Using a narrow knife insert it longways through the pork. Take the Kielbasa sausage and insert it into the hole so it passes through the whole pork loin.

Sprinkle the rub onto the pork loin.

Lay the bacon strips on a chopping board then weave the bacon. When done place the pork loin on top and roll to wrap around the whole pork loin.

Gently heat the Dutch oven. Add any bacon not used in the weave on the bottom as a protective layer. Place the bacon-wrapped pork loin on top with the join at the bottom. 

Place the sauerkraut around the base of the pork loin.

Top the pork loin with the sliced apple and evenly sprinkle with the brown sugar.

Bring the Dutch oven up to 350 degrees F (175 degrees C) with heat from above and below. Roast the pork loin for 45 minutes or until the internal temperature reaches 145 degrees F (63 degrees C).

Serve hot, slicing the pork to expose the sausage inside.
Nutritional Information
Calories:
1092
kcal
Carbohydrates:
29
g
Protein:
52
g
Fat:
85
g
Saturated Fat:
32
g
Polyunsaturated Fat:
9
g
Monounsaturated Fat:
38
g
Cholesterol:
215
mg
Sodium:
1231
mg
Potassium:
1162
mg
Fiber:
5
g
Sugar:
24
g
Vitamin A:
44
IU
Vitamin C:
24
mg
Calcium:
74
mg
Iron:
4
mg
Dutch Oven Main Dish
Looking for a simple main for your next camping dinner? Look no further than this easy yet flavorful Dutch Oven…
Dutch Oven
Chili is a popular meal around the campfire because it is easy to make, hearty, and warming. This spicy Dutch…
Dutch Oven One Pot Meals
There is nothing like a roast cooked in a Dutch oven. Because of the cooking properties of the Dutch oven,…