The popular combination of ham and pineapple meets again in this Dutch oven bake which is a great camping main meal. With only three ingredients (ham, canned pineapple, and pork rub), this dish is easy to prepare but looks impressive. The flavor and texture is pleasing to adults and kids alike.
Both the ham and pineapple are individually packed in a way that makes them easy to take to the outdoors without too much fuss. It is then quick and easy to assemble at your campsite to create a visually pleasant meal with a familiar flavor. The aromas while roasting will draw everyone towards the Dutch oven.
This recipe uses a simple pork rub to add additional flavoring. For a more complex set of flavors try adding a bourbon glaze over the top while cooking. Glazing the ham would also give it a holiday feel, perfect for Christmas or Thanksgiving.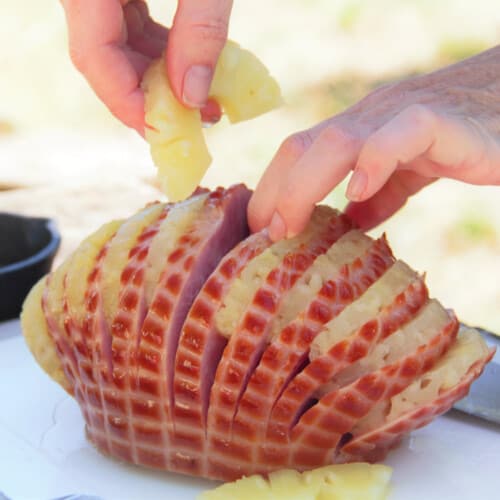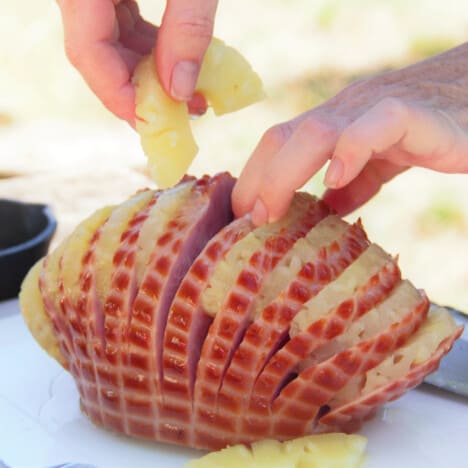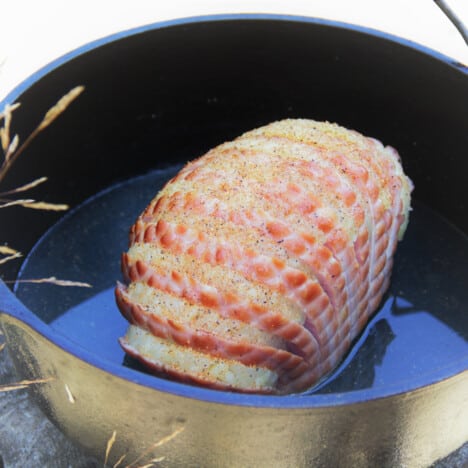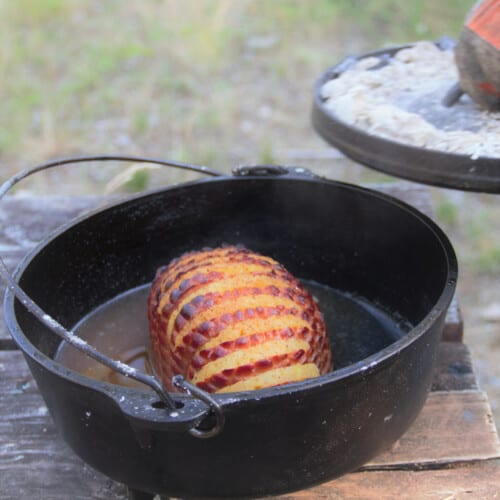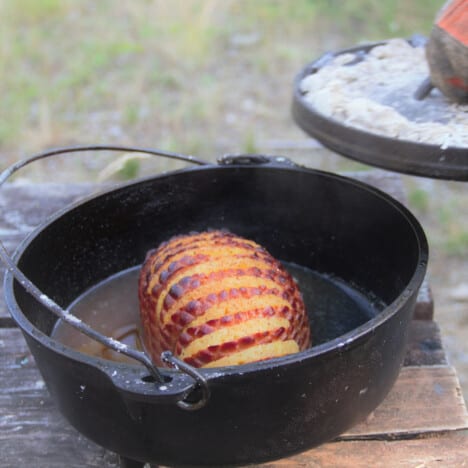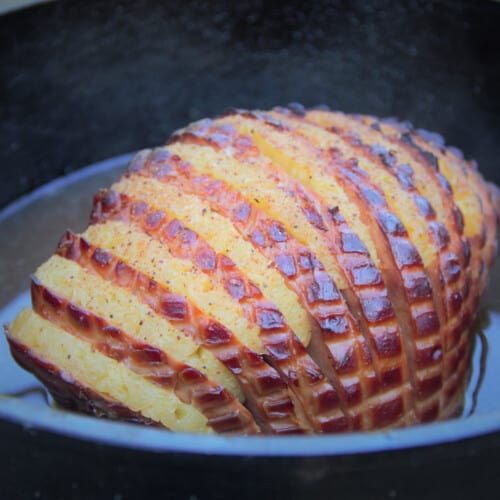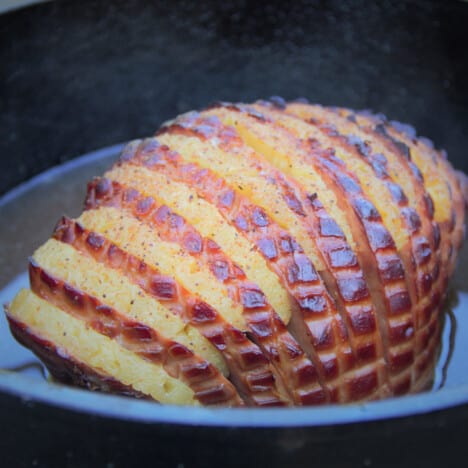 Dutch Oven Ham and Pineapple Recipe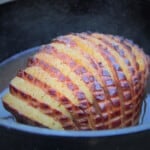 The popular combination of ham and pineapple meet again in this Dutch oven bake which is a great camping main meal.
Ingredients
1

small

boneless ham

1

can

sliced pineapple

1

tablespoon

pork rub
Directions
Preheat the Dutch oven to 350 degrees F (175 degrees C).

Prepare the pork by partly cutting slices into the ham. Each cut is the same width as a slice of pineapple and stops about 1/2-inch (1 1/2cm) above the base in a Hassleback style.

Open the can of pineapple and remove the pineapple rings while saving the juice. Cut each pineapple ring in half.

Carefully put each half of pineapple into the slices in the ham, until all the cuts have been filled.

Place the stuffed ham in the preheated Dutch oven. Pour the reserved pineapple juice over the ham, then sprinkle with the pork rub.

Set the Dutch oven to cook at 350 degrees F ( 175 degrees C) and roast the ham for 45 minutes.

After 45 minutes check the ham and pineapple. You are looking for color on the top and bottom of the ham and the ham to be warmed through.
Nutritional Information
Calories:
799
kcal
Carbohydrates:
16
g
Protein:
66
g
Fat:
51
g
Saturated Fat:
18
g
Polyunsaturated Fat:
6
g
Monounsaturated Fat:
24
g
Cholesterol:
187
mg
Sodium:
3591
mg
Potassium:
999
mg
Fiber:
2
g
Sugar:
14
g
Vitamin A:
112
IU
Vitamin C:
9
mg
Calcium:
61
mg
Iron:
4
mg
BBQ Grilled Kebab
There are just some combinations in the world that work. Ham and pineapple are one of these. This recipe is…
This is a grilled ham and pineapple pizza, which is sometimes referred to as a 'Hawaiian pizza'. It is both…
Pie Iron
Very similar to a Hawaiian pizza, this classic ham and pineapple sandwich is toasted in a pie iron over the…