Perfect as a snack, dehydrated bananas are both an easy thing to make and enjoyable to eat. It is best to work with yellow bananas. Green bananas may not be sweet enough, and bananas with brown spots might be too soft to work with. 
If new to using a dehydrator this is a good recipe to start with. You can vary the texture of the dehydrated bananas by how thinly or thickly you slice them. These are also sometimes known as banana chips.
Once made, the dehydrated banana can be eaten as a snack or combined with nuts and other dried fruits to make a trail mix, scroggin, or gorp. They also can be used to decorate cakes or other baked goods.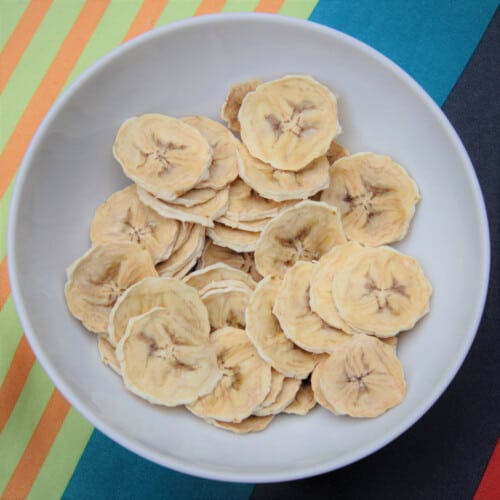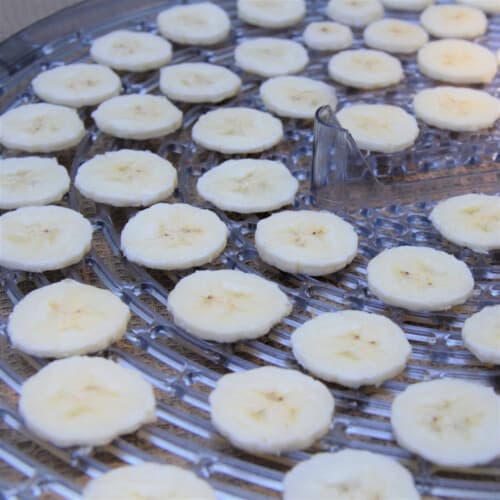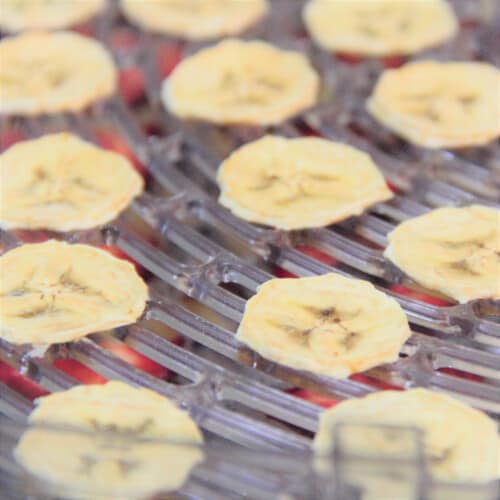 Dehydrated Bananas Recipe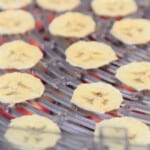 Perfect as a snack dehydrated bananas are both an easy thing to make and enjoyable to eat. Once made they can be added to a trail mix, scroggin, or gorp.
Ready in
8

hours
20

minutes
Ingredients
8

bananas

fruit dehydration protection

(optional)

oil

(optional)
Directions
Peel the bananas. Slice the bananas to your desired thickness. Thin as possible (2mm to 4mm) creates a quicker dry time and crispy result. Medium thickness (5mm to 8mm) creates a soft banana or longer dry time. A thick cut (9mm +) creates a softer product more like a banana chew

Lay the pieces of banana out evenly across the dehydrator racks with enough space for the air to circulate around them.

Optional Additional Steps: Lightly sprinkle the banana slices with a fruit dehydration protection. This can stop browning and add additional sweetness. Very lightly rub oil over the racks to stop the bananas from sticking. This is more important when creating softer bananas.

Set the temperature to 175 degrees F (80 degrees C) then set it to cook for 8 hours, or until the bananas reach the crispness you prefer.

Note: This temperature may need to be adjusted based on the characteristics of particular dehydrators and local environmental conditions.
Nutritional Information
Calories:
105
kcal
Carbohydrates:
27
g
Protein:
1
g
Fat:
1
g
Saturated Fat:
1
g
Polyunsaturated Fat:
1
g
Monounsaturated Fat:
1
g
Sodium:
1
mg
Potassium:
422
mg
Fiber:
3
g
Sugar:
14
g
Vitamin A:
76
IU
Vitamin C:
10
mg
Calcium:
6
mg
Iron:
1
mg
Hiking and Trekking
This is a great lightweight and very tasty noodle soup perfect for any hike, whether you are going just for…
Hiking and Trekking
Homemade Asian beef fridge jerky is easy to make and a good high protein snack option for low-fat cuts of…
BBQ Smoked
Jerky could be considered a food group around our house. Fortunately, for our children, we are always testing out new jerky…