Homemade Asian beef fridge jerky is easy to make and a good high protein snack option for low-fat cuts of meat. This jerky is perfect as a snack while hiking, or part of a grazing outdoor lunch. One of the key ingredients is ponzu sauce, giving the final product a bright citrusy profile.
The fridge is in the title as it is recommended that this recipe is kept in the fridge. The cooking process doesn't address components like meat fat content, chemical preserving, or final moisture amounts. This would need to be considered when making a safe shelf-stable product.
The marinade uses a lot of Asian ingredients that complement the final jerky product without overpowering it. Make sure you allow yourself plenty of time to make this recipe. You'll need to marinate it for several hours, then cold smoke it for more. But, it is worth the wait.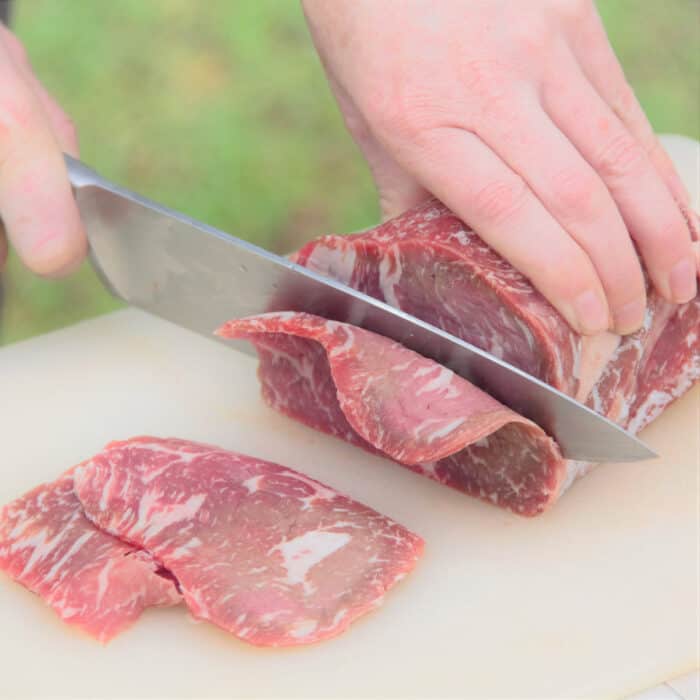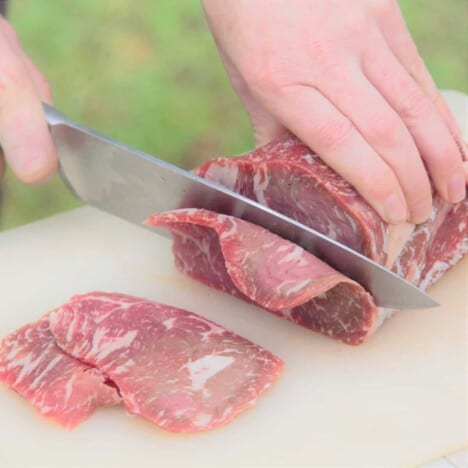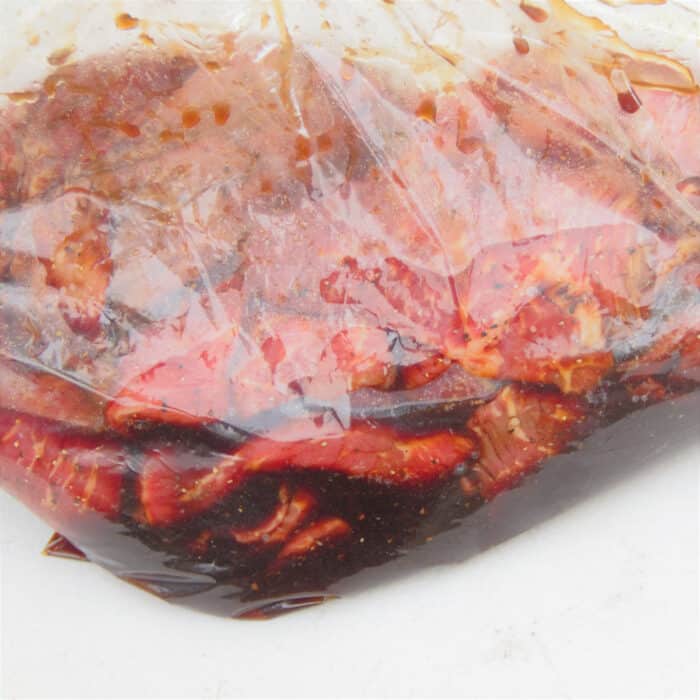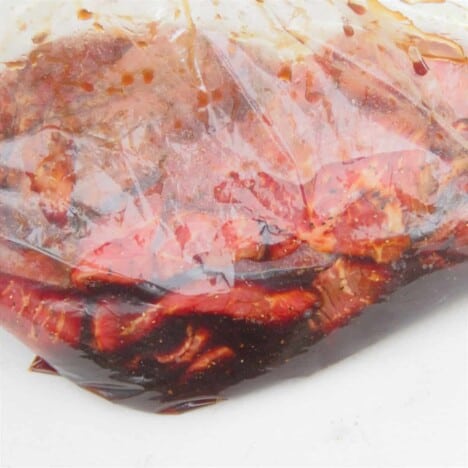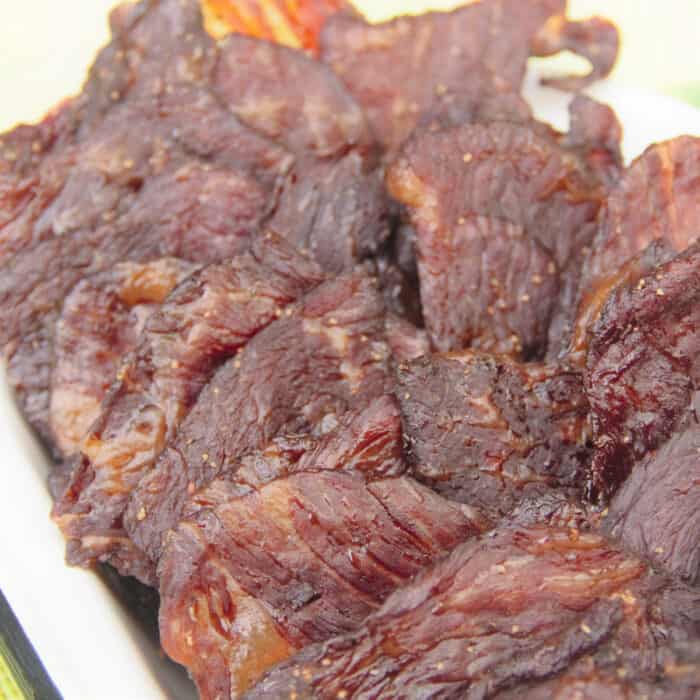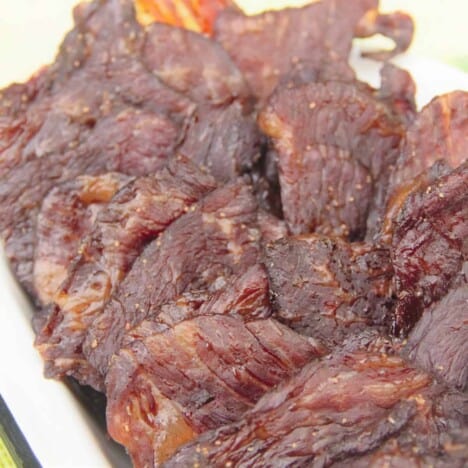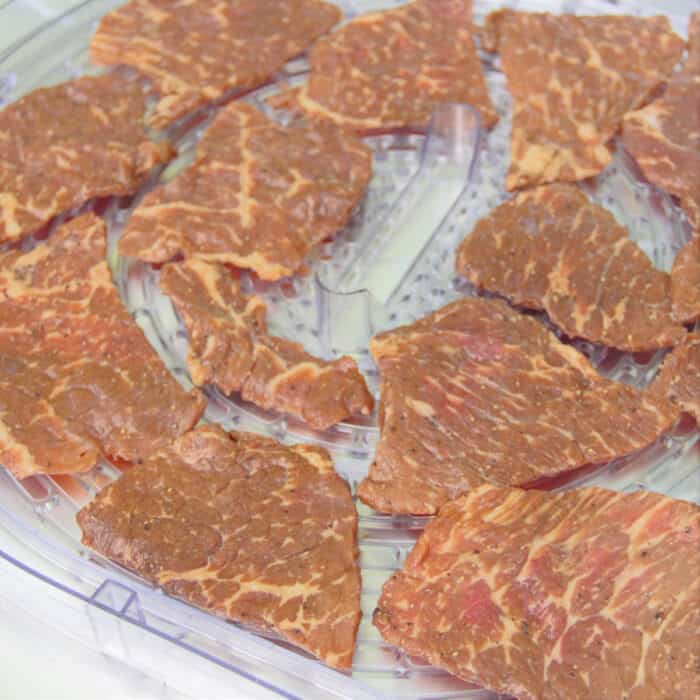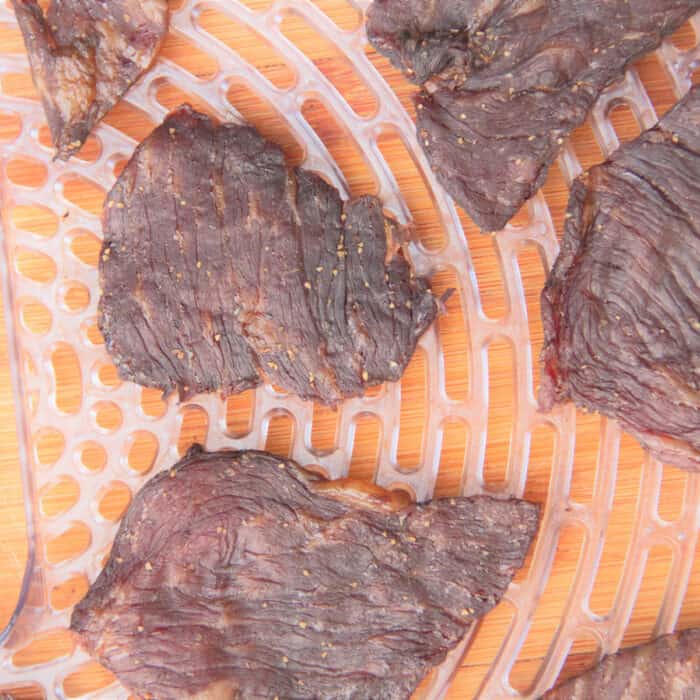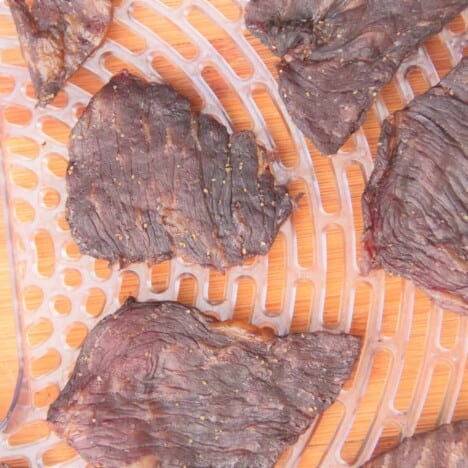 Asian Beef Fridge Jerky Recipe
This recipe is provided by Gary's BBQ Supplies.
Homemade Asian Beef Fridge Jerky is easy to make and a good high protein snack option for low-fat cuts of meat.
Ready in
4

hours
30

minutes
Ingredients
Marinade
1

cup

soy sauce

1

cup

Worcestershire sauce

3/4

cup

Ponzu sauce

3/4

cup

liquid amino seasoning

1

teaspoon

onion powder

1

teaspoon

granulated garlic

1

tablespoon

black pepper

1/4

cup

brown sugar

1/4

teaspoon

liquid smoke

optional
Equipment
dehydrator

or cold smoker
Directions
Place the beef in the freezer to partly freeze.

Remove the beef from the freezer when firm but not frozen solid, about 45 minutes (this allows the meat to be cut thinner). Slice the beef as thin as possible with a sharp knife.

Note: If frozen too hard it will be hard to cut and quickly blunt the knife.
Marinade
In a plastic bag add the soy sauce, Worcestershire sauce, Ponzu sauce, amino seasoning, onion powder, granulated garlic, black pepper, brown sugar, and liquid smoke (if using).
Jerky
Place the beef in the marinade one at a time to ensure that the beef is covered completely. Chill and leave for 8 hours.

Lay the beef out on the drying racks of a cold smoker or a dehydrator. Leave space for the hot air to easily circulate around the meat.

Set the cold smoker or dehydrator to 170 degrees F (75 degrees C) and dry for 4 hours or until your preferred level of moisture is reached.
Note
These are designed to be stored in a fridge for not more than 7 days and are not considered shelf-stable jerky, which has more specific instructions around fat content of meat, ingredient science, and finished moisture levels.
Nutritional Information
Serving:
8
g
Calories:
364
kcal
Carbohydrates:
2
g
Protein:
35
g
Fat:
24
g
Saturated Fat:
11
g
Polyunsaturated Fat:
1
g
Monounsaturated Fat:
12
g
Cholesterol:
104
mg
Sodium:
358
mg
Potassium:
495
mg
Fiber:
1
g
Sugar:
1
g
Vitamin A:
31
IU
Vitamin C:
1
mg
Calcium:
20
mg
Iron:
3
mg
Hiking and Trekking
Always the first to go in our house, we can't keep enough Sweet Teriyaki Venison Jerky on hand. It is loved…
BBQ Smoked
Jerky could be considered a food group around our house. Fortunately, for our children, we are always testing out new jerky…
Hiking and Trekking
Our motto for jerky, "Never leave home without it!" It's a great source of protein while on hikes and easy to…