Beef Bourguignon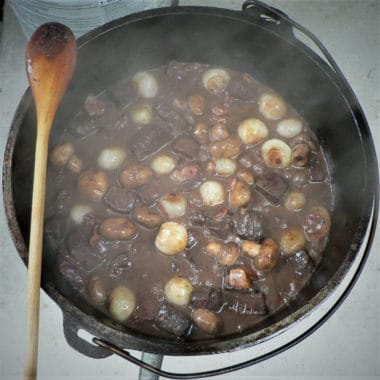 ×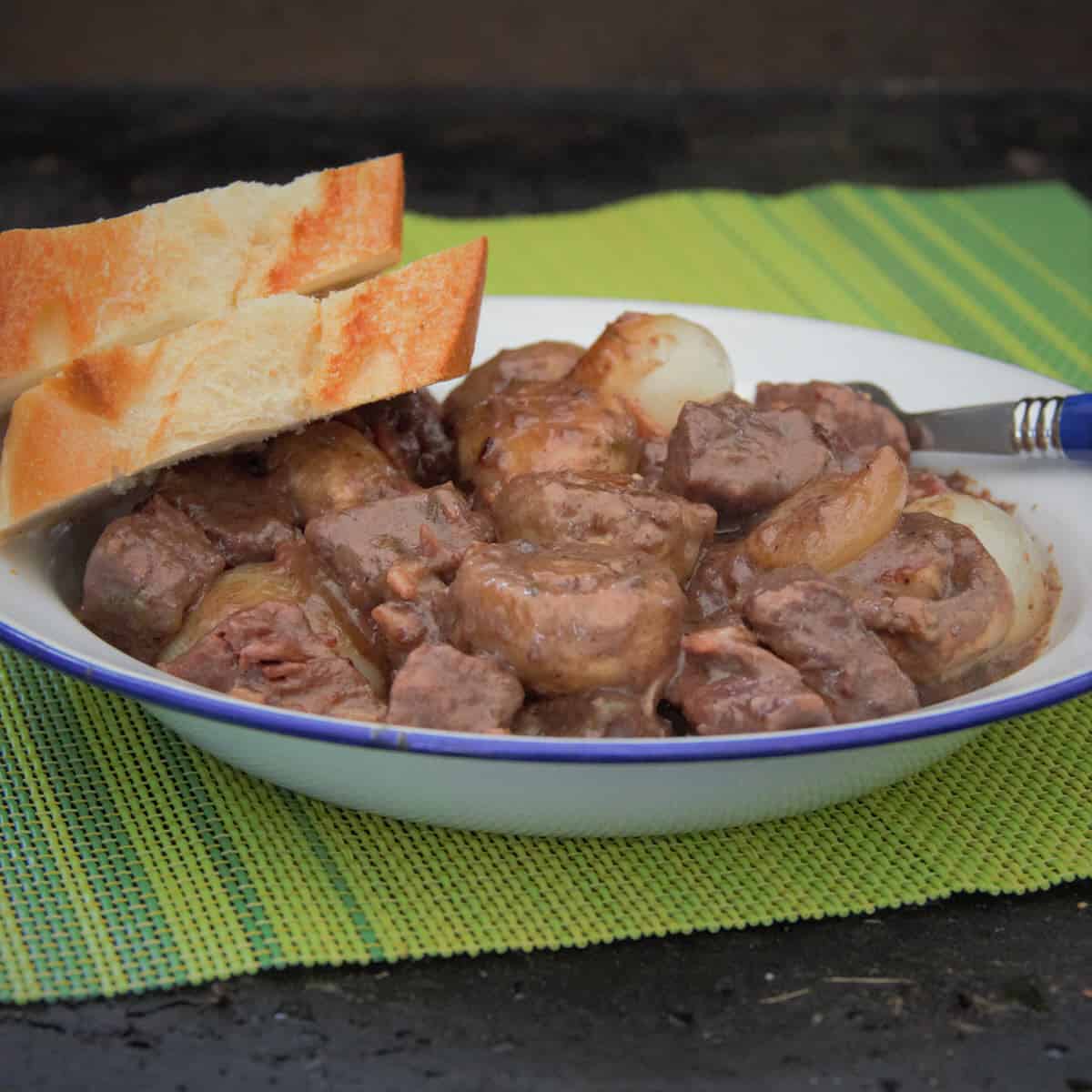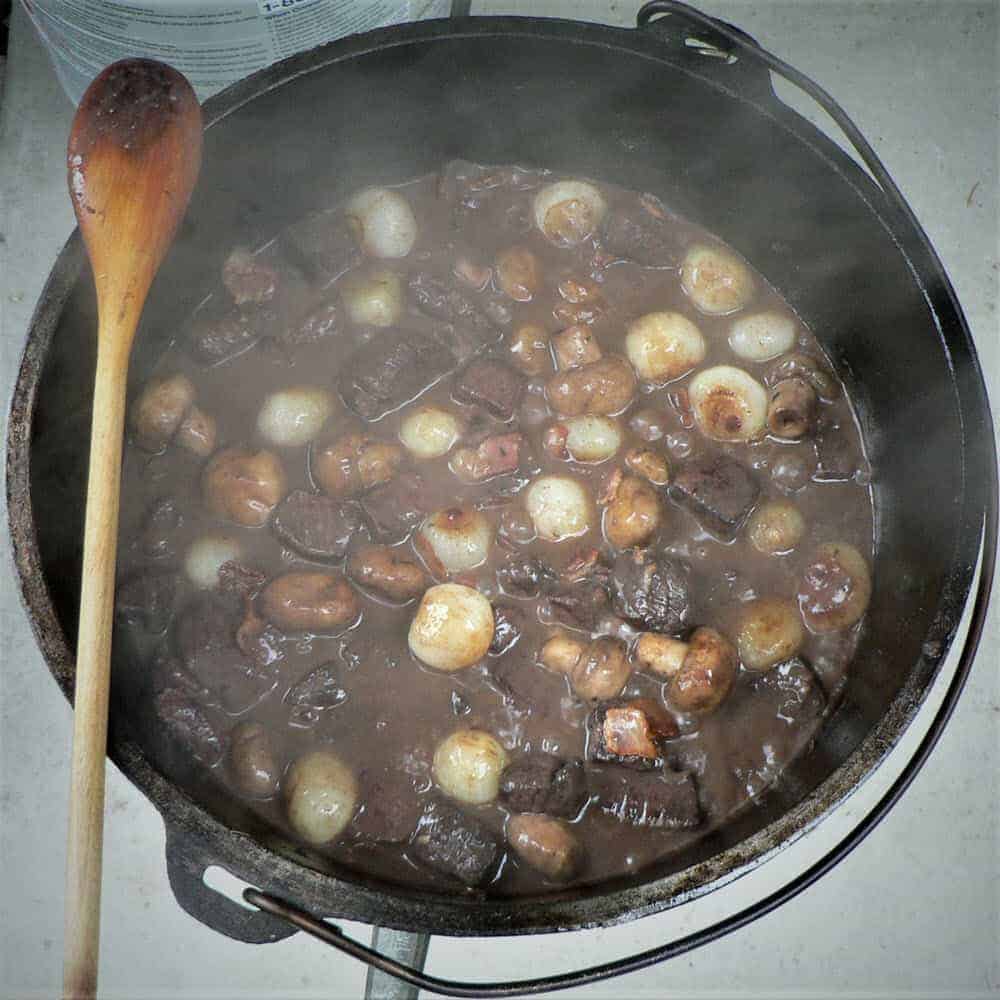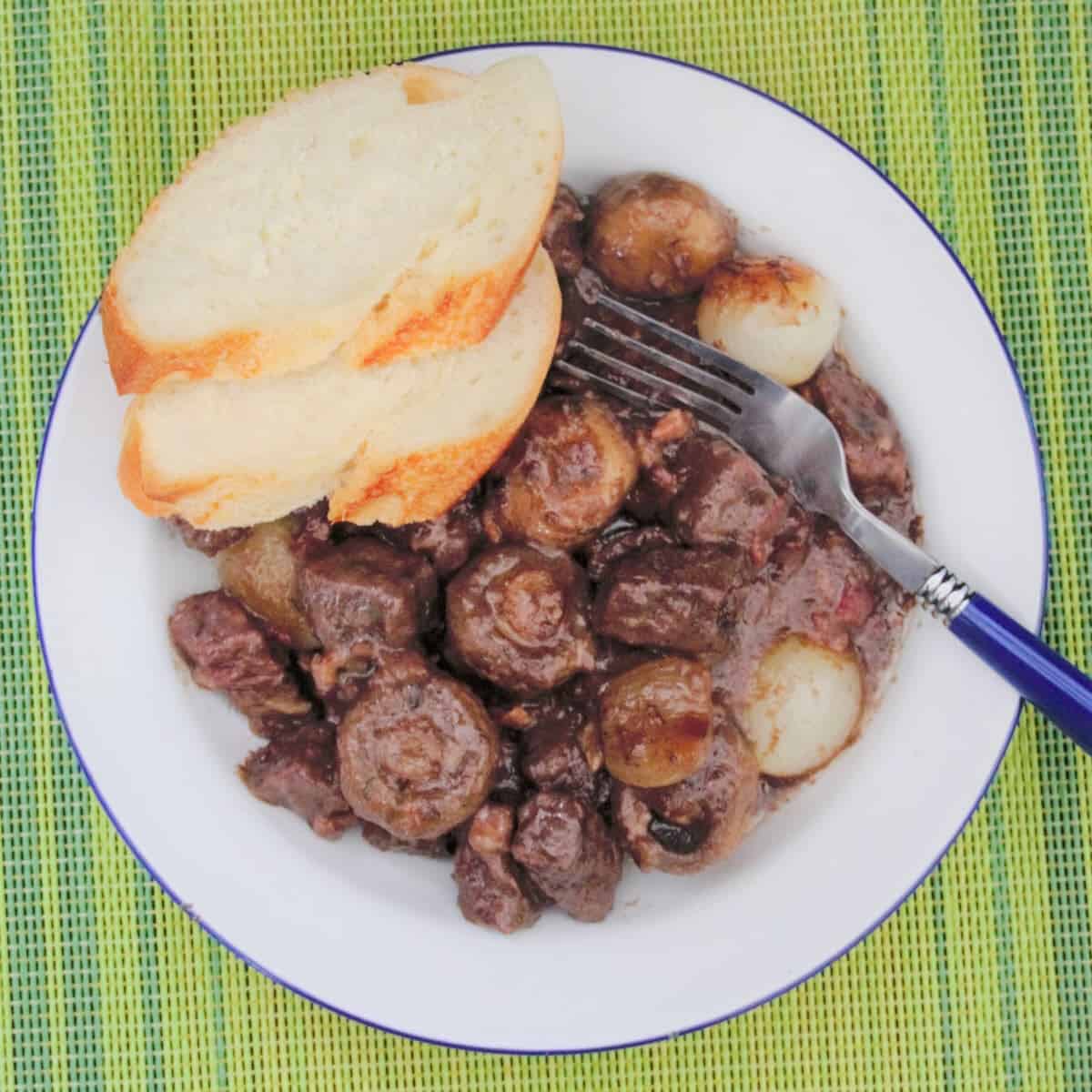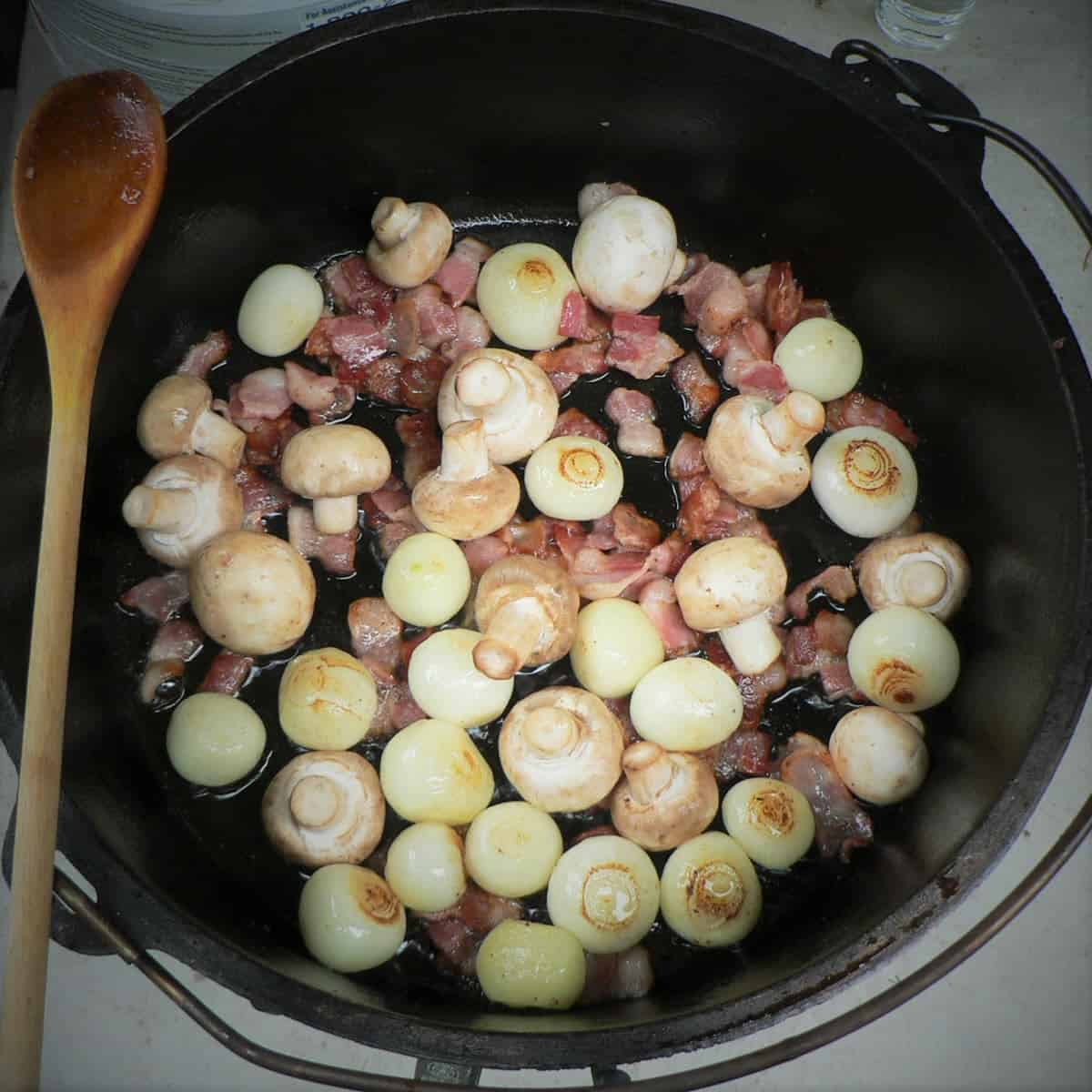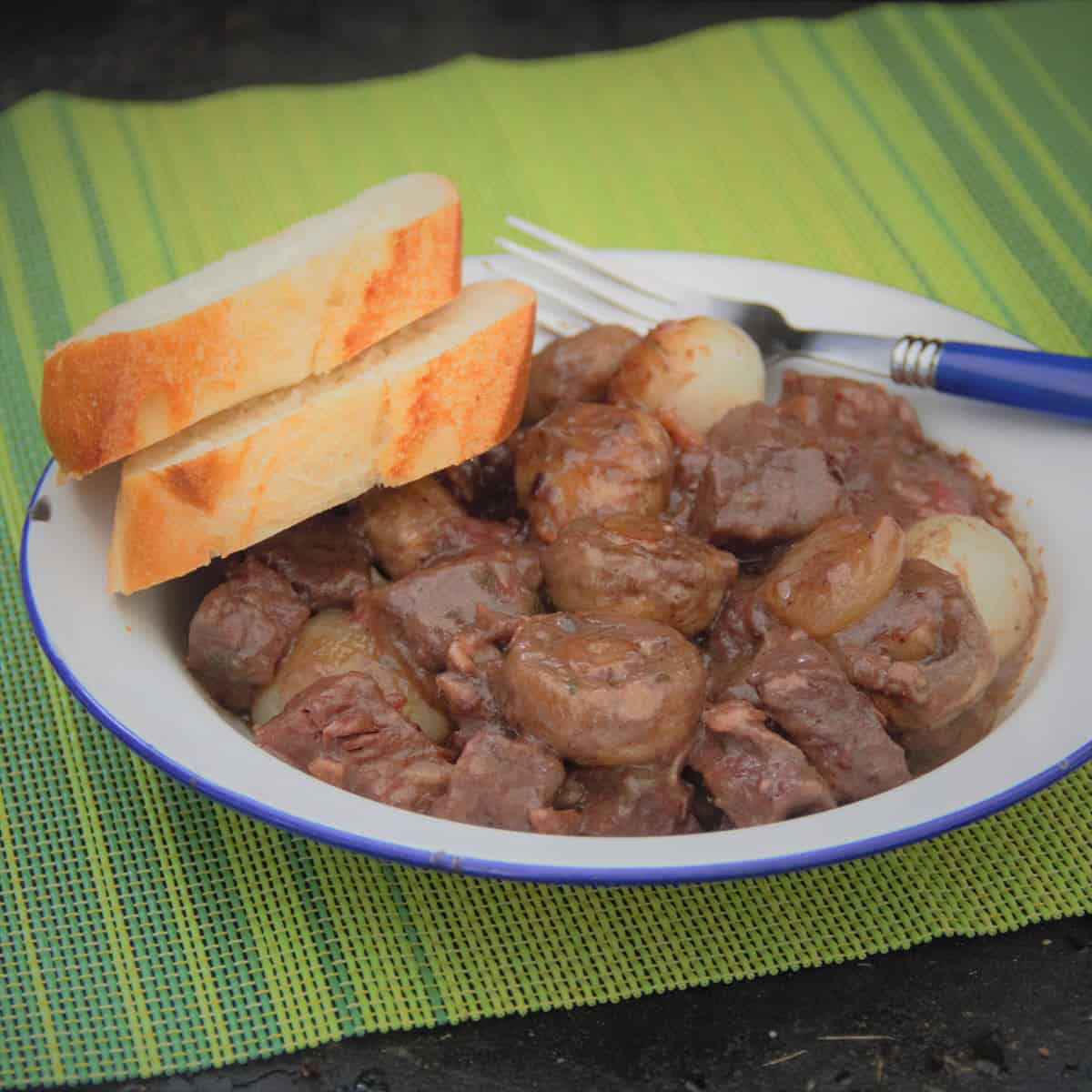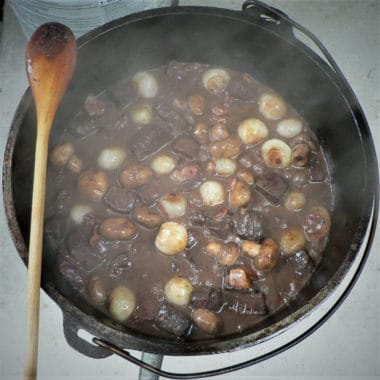 If you are looking for a hearty stew on your next camping trip, don't look past this traditional French Beef Bourguignon recipe.
This recipe uses small pearl onions and small mushrooms, but feel free to substitute with the ingredients available to you.
Even when eating this at home, I picture a Dutch oven simmering over an open fire, while bread bakes off to the side to accompany it. This dish just oozes with rustic traditional beefy flavor.
Ingredients
Beef Marinade
2 pounds (1kg) stewing beef
Stew
4 oz (115g) streaky bacon, diced
1/2 pound (225g) small white or button mushrooms
1/2 pound (225g) pearl onions, or similar small onions
1 tablespoon all-purpose (plain) flour
1 cup beef broth or stock
Equipment
Recipe Directions
Marinade

Dice the stewing beef into pieces about 1 inch (2cm) square. Place in a plastic bag the add the onions, diced, thyme, parsley, bay leaf, and red wine.

Place in a cooler and leave to marinade for 3 to 6 hours.

Stew

In the Dutch oven over a moderate heat, add the diced bacon and let cook down until soft and translucent but not browned. Remove.

In the bacon fat, gently cook the mushrooms until brown and the fluids are released. Remove.

In the bacon fat, cook the whole peeled onions and cook gently until browned all over. Remove.

Drain the red wine from the marinade, reserving it for latter use. Place the beef in the Dutch oven and gently brown on all sides. 

Add the butter. When melted add the flour and create a roux.

When the roux is formed add the reserved drained red wine. When thickened and simmering, add the beef stock. Add the whole herb sprigs and garlic then let simmer for 2 hours.

Remove the herbs and garlic from the stew. Add the cooked bacon, mushrooms, and onions. Cook for an additional 30 minutes, then serve.