Based on the traditional sweet potato casserole, this version returns the mixture to the potato skin, creating a stuffed potato. These can be served as either a side dish or a dessert.
The marshmallow topping is a bit of an unexpected addition but surprisingly complements this savory dish quite well without being overpoweringly sweet. Browning the marshmallows gives them a caramelized flavor.
Although traditionally being related to American Thanksgiving, it is perfect for eating all year round, especially while camping! They are a great individual portion making serving evenly easy.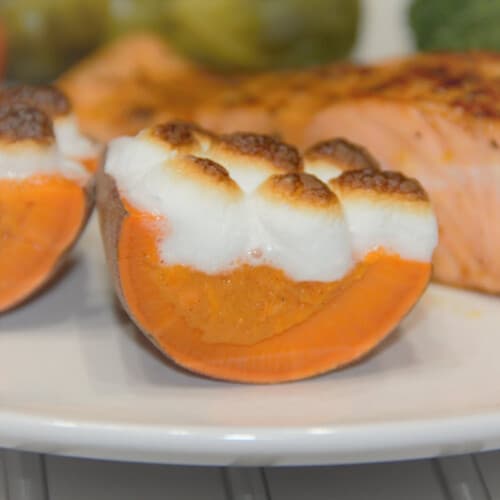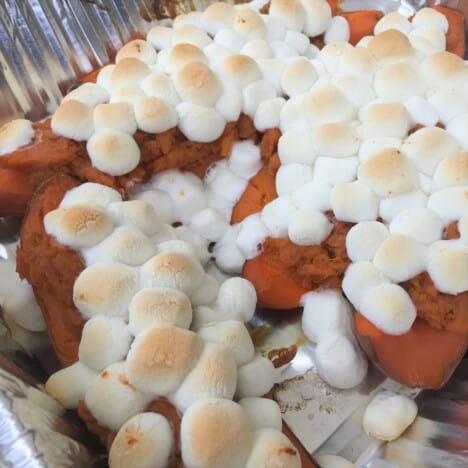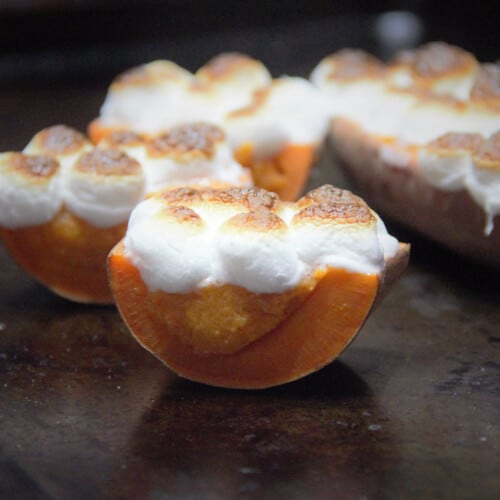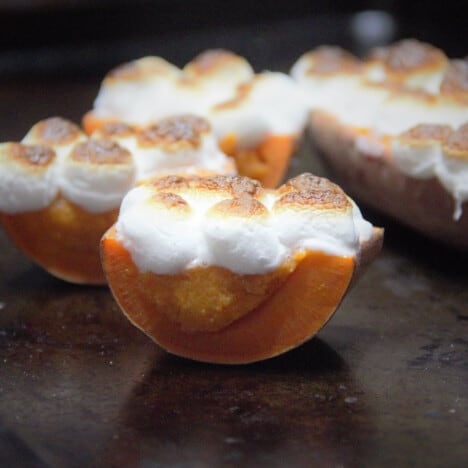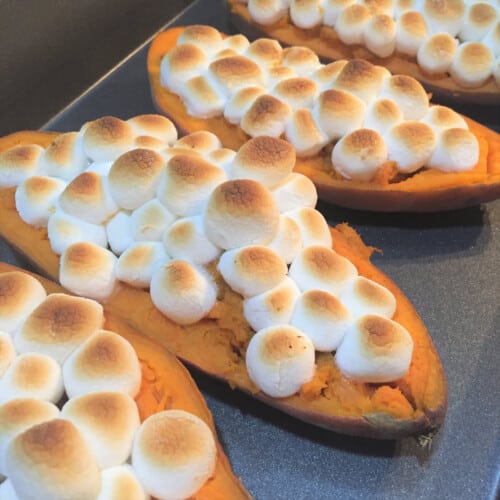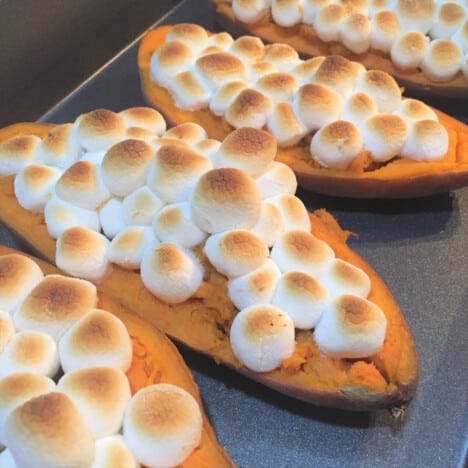 Stuffed Sweet Potato Recipe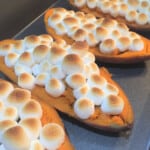 Based on the traditional American Thanksgiving Sweet Potato Casserole, this camp version returns the mixture to the skin, creating a deluxe stuffed potato.
Ingredients
4

small

sweet potatoes

1/4

cup

brown sugar

2

tablespoons

salted butter

1/4

cup

orange juice

1/2

teaspoon

ground cinnamon

5

ounces

mini marshmallows
Directions
Bake or roast the sweet potatoes until cooked through, about 30 minutes at 350 degrees F (180 degrees C). They may also be wrapped in foil and placed in the coals.

When the sweet potatoes are cool enough to touch, slice in half longways and scoop out the center, leaving enough potato and skin that it still holds its shape.

In a bowl combine the sweet potato center, brown sugar, butter, orange juice, and cinnamon, then combine well. Taste and adjust the taste with additional sugar, orange juice, cinnamon, or salt.

Return the stuffing to the sweet potato then top with the marshmallows.

To finish the marshmallows on top they need to be browned. Place in a Dutch oven and place charcoal only on top to create a broiler effect.

Other Options: Use a chef's torch or similar gas flame to brown the top. Use a camp oven to brown or broil the stuffed sweet potatoes, this will vary based on the style and functionality of the camp oven being used.

When browned, serve immediately as the marshmallows can dissolve and become soggy.
Nutritional Information
Calories:
335
kcal
Carbohydrates:
70
g
Protein:
3
g
Fat:
6
g
Saturated Fat:
4
g
Polyunsaturated Fat:
1
g
Monounsaturated Fat:
2
g
Trans Fat:
1
g
Cholesterol:
15
mg
Sodium:
149
mg
Potassium:
492
mg
Fiber:
4
g
Sugar:
40
g
Vitamin A:
18650
IU
Vitamin C:
11
mg
Calcium:
57
mg
Iron:
1
mg
More Sweet Potato Recipes
Grilled Side Dish
Grilled sweet potatoes are a sweet and satisfying side dish to any cookout. Like other root vegetables, such as beets…
Grilled Side Dish
BBQ sweet potato and apple casserole is a unique dessert that combines grilled slices of sweet potato and apples. It…
Dutch Oven
Although traditionally associated with Thanksgiving and Southern American BBQ restaurants this sweet potato casserole makes a wonderful side dish while…