Desserts don't need to be complicated when camping, and kids love being involved in making them, so that makes jello cups a perfect option. Made in individual serves and with bright colors, they bring a spark of joy to all who eat them.
At the most basic, all you need to do is put jello in a cup. But there is a range of ways to add a bit more fun and portability to the idea. Set different colors before adding the next layer, alternatively add fruit or even cake.
Colors and flavors of jello can be swapped to meet any theme, such as sporting team colors, holiday themes, or brand colors. The choice of fruit can also be matched to your favorites such as pear, peach, and apple, or you can go fruit 'cocktail' and get a variety.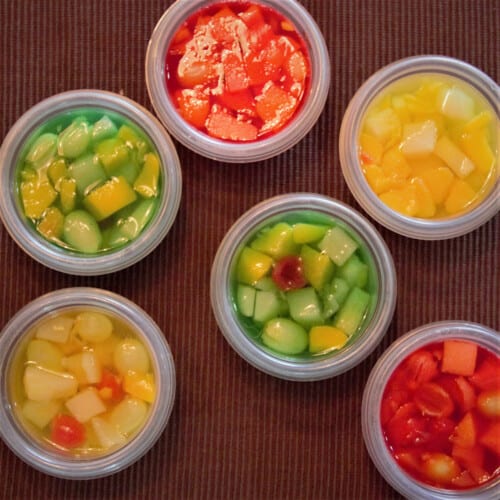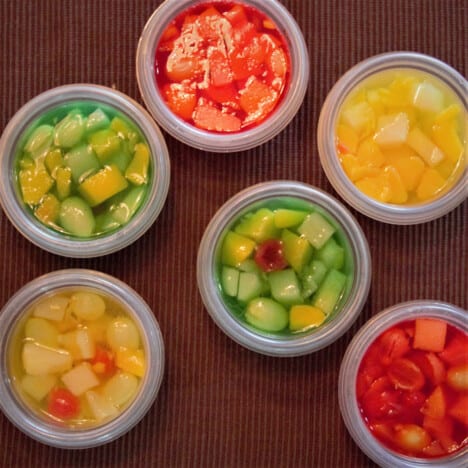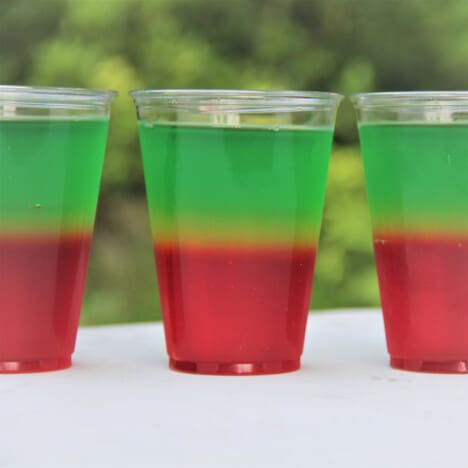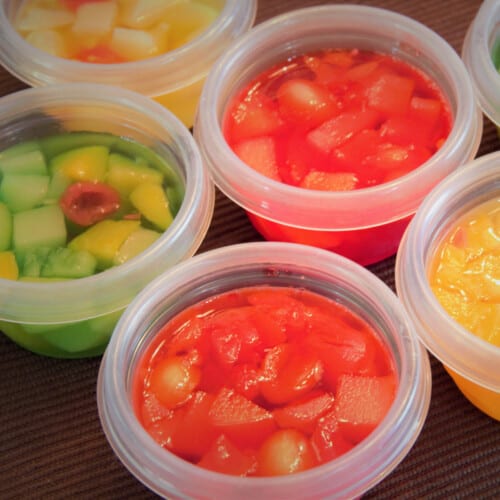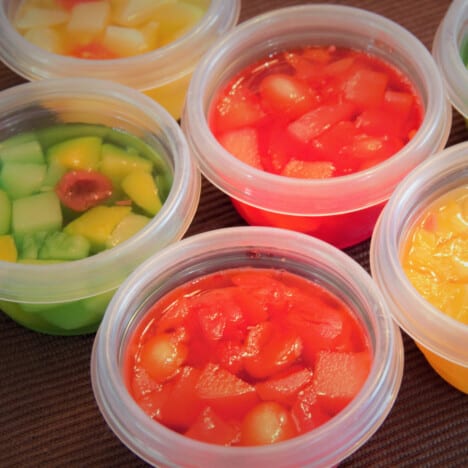 Jello Cups Recipe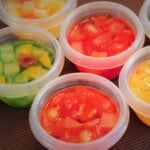 Camping and picnic desserts don't need to be complicated, and kids love being involved in making them, so that makes Jello cups a perfect family option.
Ingredients
1

packet

jello flavor

of choice

1

can

tinned fruit

1

soft cake
Directions
Plain Jello
Choose a container that will allow you to travel and serve your jello, such as plastic containers or jars.

Boil the required water as per packet directions, then make the jello. Divide among the selected containers.
Layered Jello
Layering jello is easy but takes time. Each layer must be created and then allowed to set. Make the first layer.

When the first layer is set, make the second color of jello and allow it to cool. If it is too hot when poured onto the first layer of jello it will melt and create a blurry line. This process can be repeated many times, creating multiple layers.

For a twist, you can set the jello on an angle to create more complex layer patterns.
Fruit Jello
Open the tin of fruit and strain off all the juices. Divide the fruit among the containers.

Make the jello and pour it over the fruit.
Cake Jello
This creates an interesting texture, jello soaks into the cake and sets creating textured jello. Break the cake up and distribute it between the containers.

Make the Jello and pour it over the cake then allow it to set.
Combinations Layer Jello
Using the different methods above complex layered jello can be created. For example, the base layer can be a red cake layer, the next layer can be an orange fruit layer, and then a top plain jello layer of green.
Nutritional Information
Calories:
316
kcal
Carbohydrates:
70
g
Protein:
5
g
Fat:
2
g
Saturated Fat:
1
g
Polyunsaturated Fat:
1
g
Monounsaturated Fat:
1
g
Cholesterol:
77
mg
Sodium:
542
mg
Potassium:
121
mg
Fiber:
1
g
Sugar:
40
g
Vitamin A:
117
IU
Vitamin C:
1
mg
Calcium:
74
mg
Iron:
2
mg
Camp Oven
Pavlova is a traditional dessert from Australia and New Zealand that is a large meringue-like base filled with cream and…
Camp Oven
One of many apple dessert variations, apple crisp has a flour with the addition of other elements such as oats,…
Picnic
Nowadays anything that has a cookie, chocolate, and marshmallow combination seems to get the name smore. So here is a…