Pavlova is a traditional dessert from Australia and New Zealand that is a large meringue-like base filled with cream and topped with fruit. Traditionally the fruit is canned passion fruit.
This is a VERY hard dish to cook outdoors but is possible. The hardest part is getting the egg whites to a thick enough consistency which almost always is normally done with an electric beater. 
Once prepared it can be cooked in a camp oven or Dutch oven. You can top it with cream and any fresh fruit that you may have available.
An easier alternative is to make the shells and whip the cream at home then assemble them on your picnic, camping trip, or similar as a dessert treat.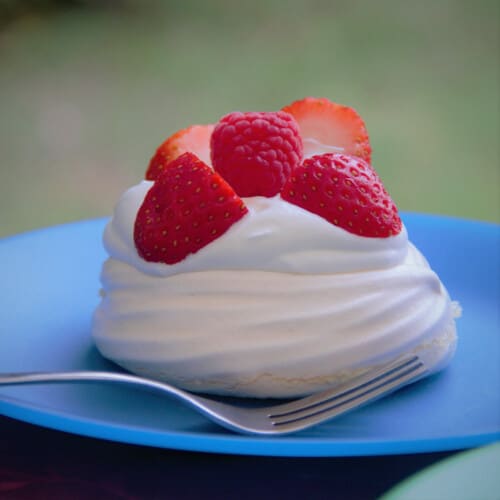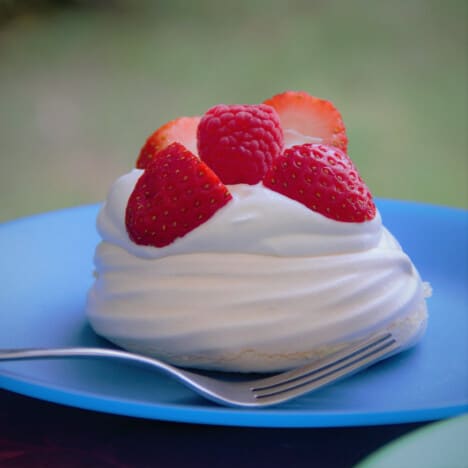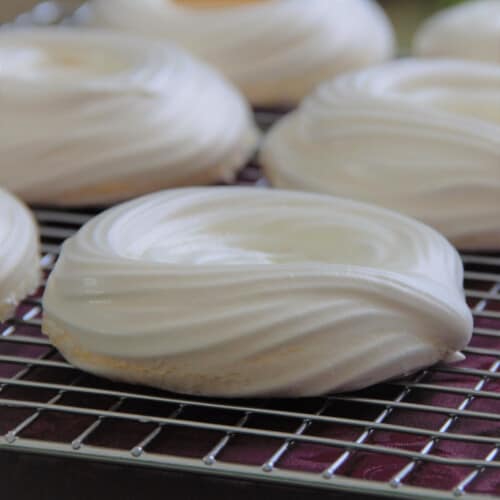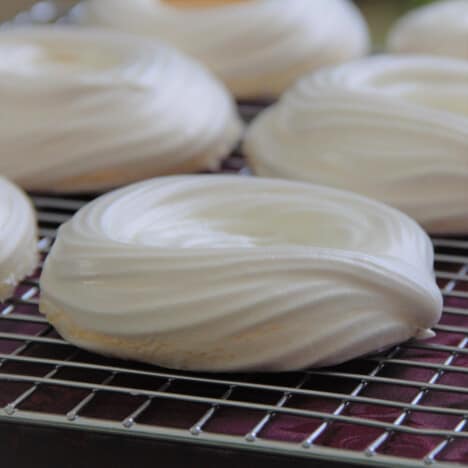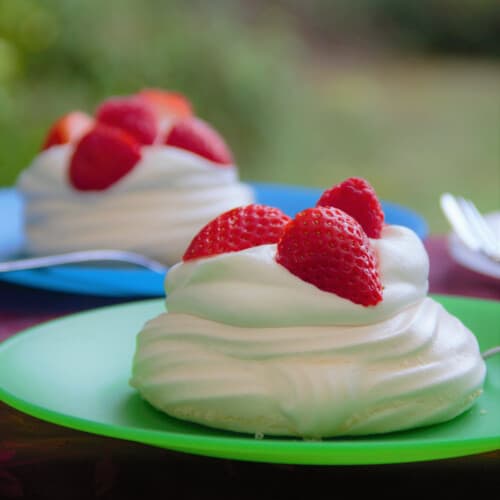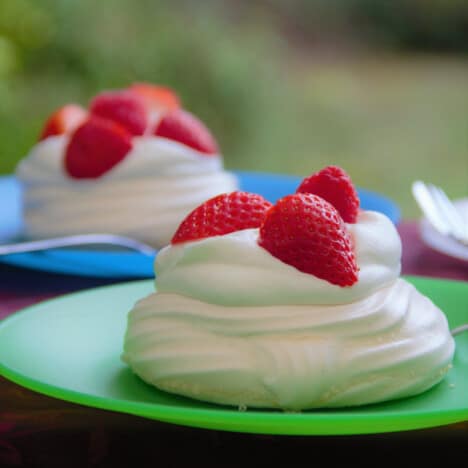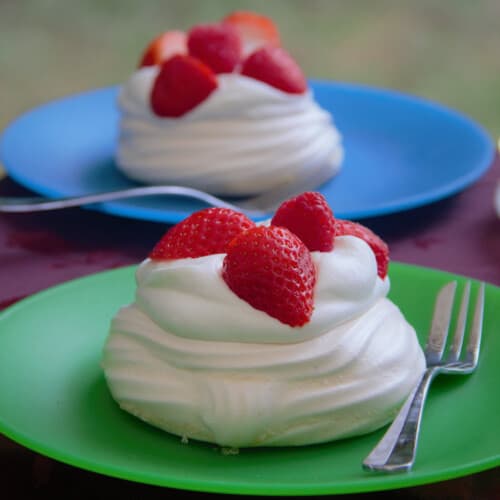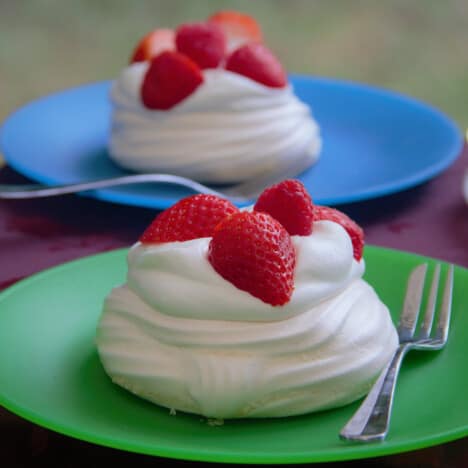 Individual Pavlovas Recipe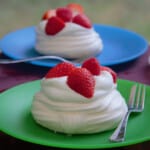 Pavlova is a traditional dessert from Australia and New Zealand that is a large meringue-like base topped with cream and fruit. It's a light summer dessert.
Ready in
2

hours
30

minutes
Ingredients
Pavlova Base
4

egg whites

pinch

salt

1 1/4

cups

white sugar

2

teaspoons

cornstarch

1

teaspoon

vanilla essence

or rose extract
To Assemble
2

cups

whipped cream

(Chantilly cream is ideal)

seasonal fruit

although use of canned passion fruit is also traditional
Equipment
whisk or electric beaters
Directions
Pavlova Base
Beat the egg whites with the pinch of salt until stiff peaks form, then add the sugar slowly while still beating. If you add the sugar too early the pavlova may not be able to keep its shape. Mix in the cornstarch and vanilla or rose extract.

Continue beating for 10 minutes ensuring all the sugar is fully dissolved. When ready the egg white mix will hold its shape and be shiny.

To create the individual pavlova cups, transfer the mixture to a piping bag. On baking paper starting in the center, pipe in a single stream in ever-growing circles for the base. When it reaches the desired size, continue piping the circles upwards making the sides. For consistency, you can trace or draw on the baking paper the desired base size, then pipe out to this.

When all the pavlovas are made transfer the tray to a camp oven preheated to 250 degrees F (120 degrees C) and cook for 1 hour. Turn off the camp oven and allow it to cool with the pavlova in it. In cold weather leave the door closed as the oven will cool fairly quickly anyway. In hot weather crack the door open to help the temperature reduce in a shorter time.

When cool remove from the oven and store in a cool dry place until needed. As making the pavlova base is a more difficult step, it can be done at home and then the dessert assembled at the campsite.
To Assemble
Lay out the pavlova shells on their serving tray(s). Pipe in the cream and top with the fruit of your choice. Serve as soon as practical so the pavlova shell doesn't go soggy.
Nutritional Information
Calories:
249
kcal
Carbohydrates:
51
g
Protein:
3
g
Fat:
5
g
Saturated Fat:
3
g
Polyunsaturated Fat:
1
g
Monounsaturated Fat:
1
g
Cholesterol:
15
mg
Sodium:
37
mg
Potassium:
99
mg
Fiber:
1
g
Sugar:
48
g
Vitamin A:
256
IU
Vitamin C:
1
mg
Calcium:
24
mg
Iron:
1
mg
Two Pot Meal
If you are looking for a no-hassle dessert try this toasted cake with warmed berries. It is a delicious balance…
Picnic
Nowadays anything that has a cookie, chocolate, and marshmallow combination seems to get the name smore. So here is a…
Dutch Oven Dessert
An Australian family classic, golden syrup dumplings are also a traditional dessert closely associated with camping. If in America these…