A steak's flavor can be enhanced by using a simple rub. With the standard foundation of salt and pepper along with a few aromatics and/or color enhancers, it can make a big difference.
Unlike more common smoking rubs, a direct heat grilling rub doesn't have any sugar which would burn and give the steak a bitter taste. If concerned about singeing the rub it can alternately be added after the cooking, still providing flavor but avoiding potential burning.
When traveling or camping, rubs also travel well unlike fresh herbs or similar that are more difficult to carry. However, be careful not to keep too long in the outdoors as the more dynamic temperatures tend to dilute the flavor quicker and the high humidity can make them clag.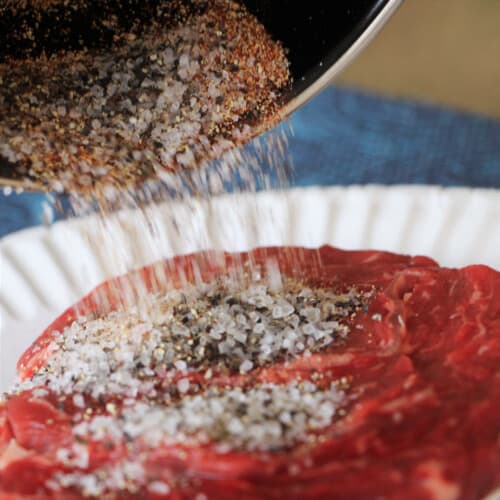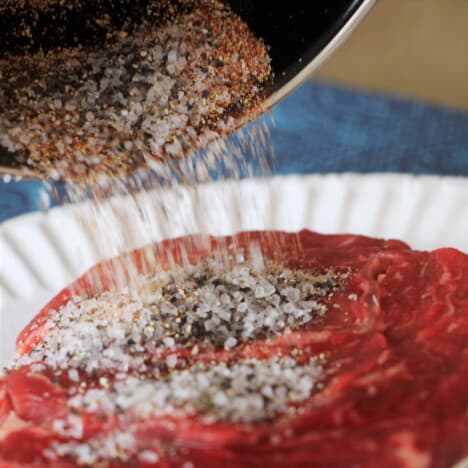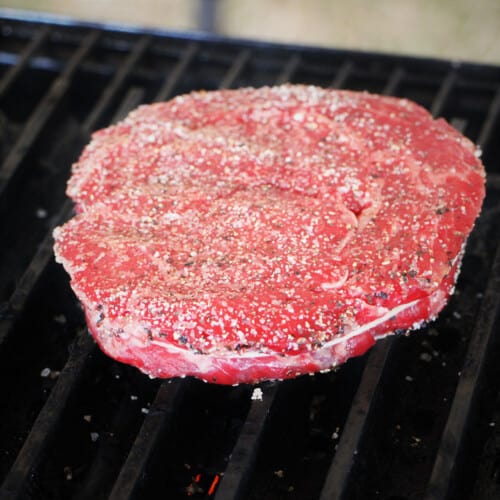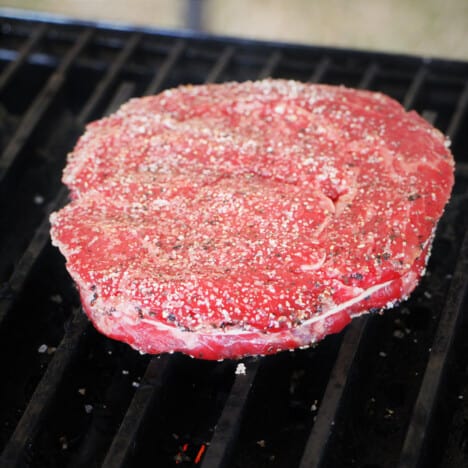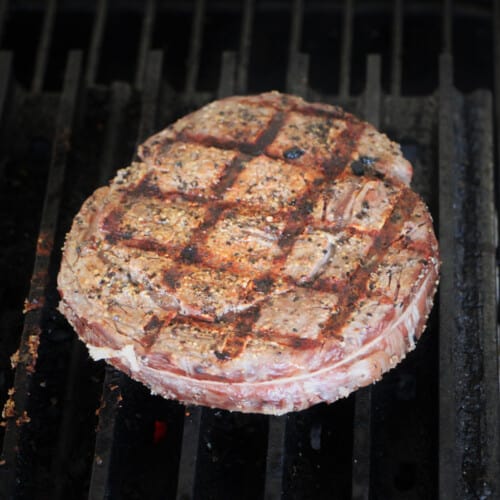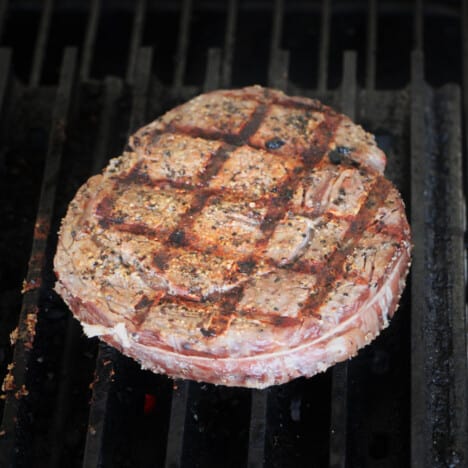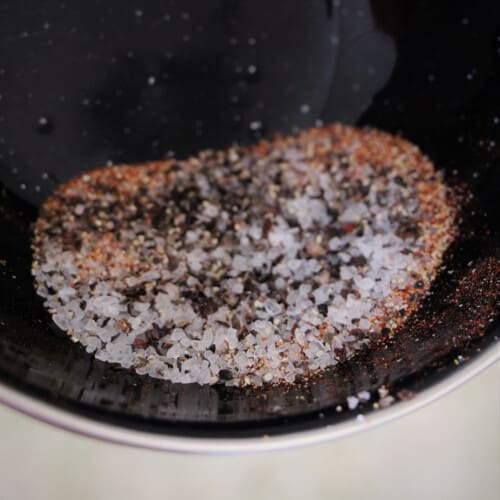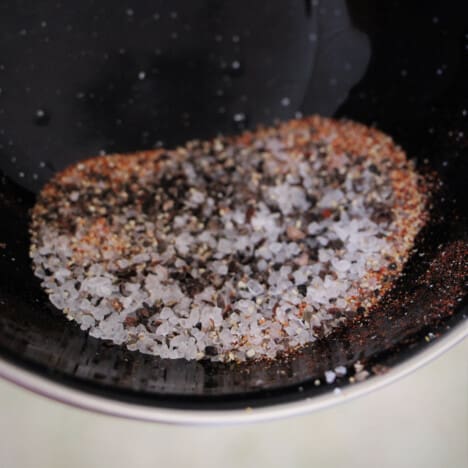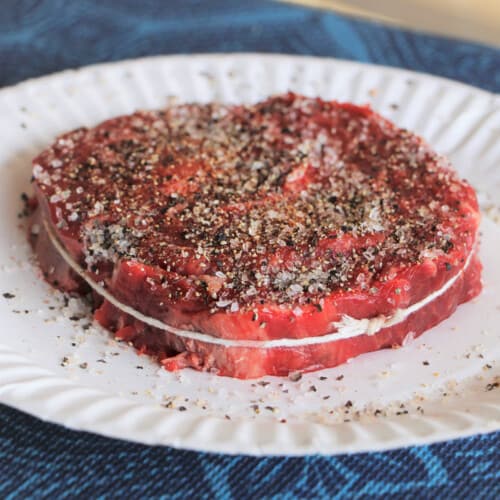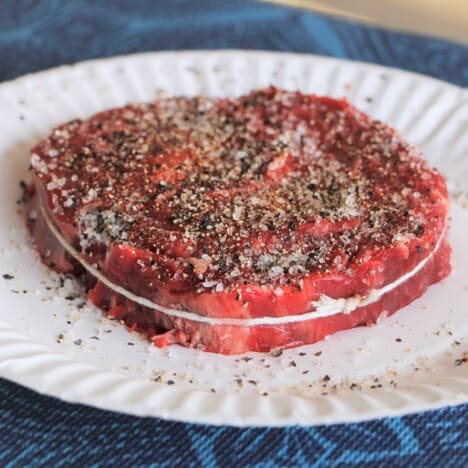 Steak with Rub Recipe
This recipe is for brand affiliate Grillgrates.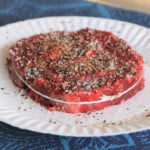 A steak can be enhanced using a simple rub. Rubs are easy to take outdoors and the steak can be cooked on a gas grill, charcoal grills, or even open fires.
Ingredients
Basic Steak Rub
2

teaspoons

kosher salt

1

teaspoon

coarse black pepper

1/2

teaspoon

granulated garlic

1/2

teaspoon

paprika
Steak
2

steaks

of personal preference

oil

as required
Directions
Basic Steak Rub
In a bowl combine the salt, pepper, garlic, and paprika.

Mix all the ingredients until well combined.
Steak
Preheat the grill grates to medium-hot.

Gently sprinkle a layer of rub on the steak, then either cook immediately or leave for a minimum of 45 minutes.

Tip: if using an aged steak or one that has a dry surface rub down with a little oil to create a tacky surface for the rub to stick to.

Place the steak on the preheated grill and cook to get grill marks of your liking.

Check the internal temperature of the steak, if not cooked to your desired temperature, move to a cooler part of the grill and let slowly come up to your desired temperature.

Rest for 5 minutes before serving.
Nutritional Information
Calories:
491
kcal
Carbohydrates:
1
g
Protein:
46
g
Fat:
34
g
Saturated Fat:
14
g
Polyunsaturated Fat:
2
g
Monounsaturated Fat:
17
g
Trans Fat:
1
g
Cholesterol:
138
mg
Sodium:
2444
mg
Potassium:
618
mg
Fiber:
1
g
Sugar:
1
g
Vitamin A:
72
IU
Vitamin C:
2
mg
Calcium:
18
mg
Iron:
4
mg
BBQ Grilled Meat
This steak marinade is easy to whisk together with common ingredients making in perfect for a backyard or camping preparation.…
BBQ Grilled Meat
Grilled hanger steak is a flavorful and tender cut of beef that many cooks don't know about. The flavor is…
BBQ Grilled Meat
Yes, you are reading that title correctly. This cooking method has the meat sit in the marinade after it is…