Marshmallows toasted over the fire is an ever-popular camping experience. But you don't need to buy them from the shop, you can make your own! You can roast these to make smores, add them to hot cocoa, or just eat them for fun.
Unlike some candy recipes, marshmallow is relatively easy to make and can be done in any kitchen. Just make sure you have a sugar thermometer (or another thermometer) to manage the heat of the sugar. This recipe is also easy as it does not use the traditional method of egg whites.
Once you have made it a few times and get confident in your skills you can change out the vanilla for other flavors. Try fun and unusual flavor options like rose, raspberry, and mint. Or keep the marshmallows simple for cooking s'mores or adding to hot chocolate.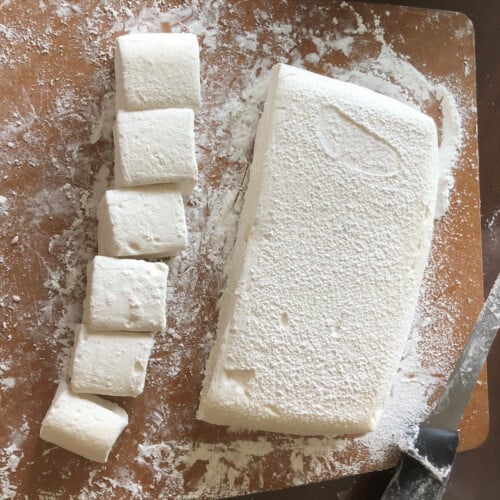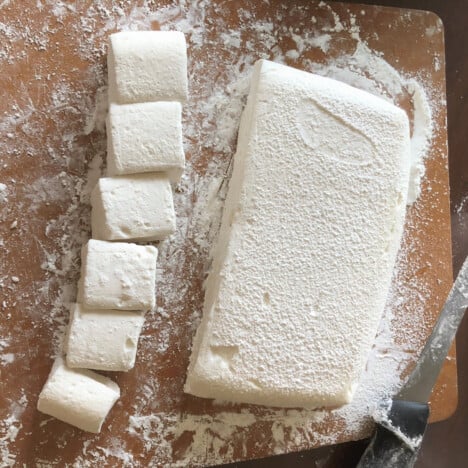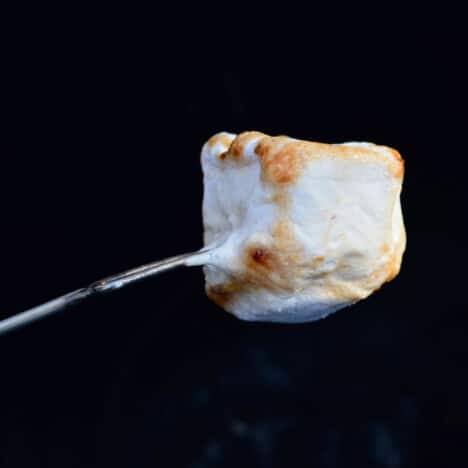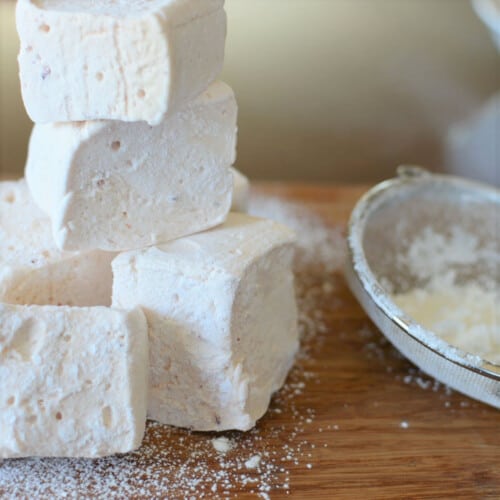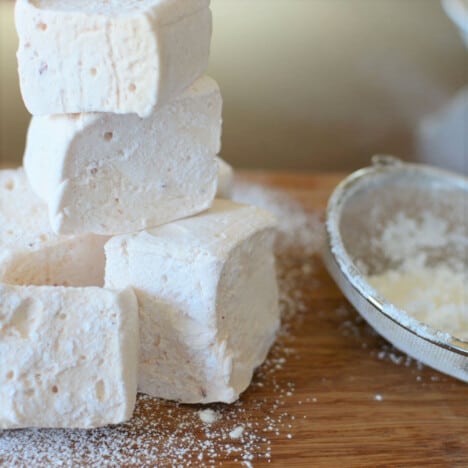 Homemade Marshmallows Recipe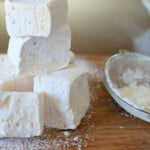 Marshmallows toasted over the fire is an ever-popular camping experience, but you don't need to buy them from the shop when you can make your own!
Preparation
4

hours
10

minutes
Ready in
4

hours
25

minutes
Ingredients
cooking spray

2

cups

white sugar

1/4

cup

corn syrup

1

cup

water

divided

3

tablespoons

gelatin

1

teaspoon

vanilla extract

1/4

cup

cornstarch

(cornflour)

1/4

cup

confectioner's sugar

(icing sugar)
Equipment
9×13 inch (23x33cm) tray

pot

mixer

with large heatproof bowl
Directions
Prepare a 9×13 inch (23x33cm) tray, by spraying with cooking spray.

Place the sugar, corn syrup, and ½ cup of water in a pot to heat over medium heat. Gently stir once to ensure the sugar mixture is wet. Do not stir after the initial mix, to eliminate sugar crystals from forming. Heat the sugar mixture to the 'soft ball' stage of candy at 240 to 245 degrees F (115 to 118 degrees C) on a sugar thermometer or instant-read thermometer. This will take 8 to 12 minutes.

While the sugar mixture is heating, in a large heatproof mixer bowl add the gelatin and ½ cup water together (no stirring necessary). This blooms the gelatin (initiates the gelatin to absorb water).

When the sugar mixture is at the 'soft ball' candy stage, set the mixer bowl with the gelatin at a low speed. Slowly pour the sugar mixture into the mixing bowl. Turn the speed up to high and mix for about 3 minutes until the volume of the marshmallow starts to grow.

Add the vanilla then continue to mix on high speed for another 2 minutes. When the marshmallow fluff has doubled in volume and is glossy and thick, (it will slowly slide off the mixer blades), pour it into the greased tray. Set aside for 4 to 6 hours at room temperature to set.

Mix equal parts of cornstarch and icing sugar, then sift over the top of the marshmallow.

Flip the marshmallow onto a cutting board. With a sharp knife cut into squares using the cornstarch-icing sugar mixture to keep the slices and squares from sticking to each other.

Store in an airtight container until ready to toast over the campfire.
Nutritional Information
Serving:
12
g
Calories:
176
kcal
Carbohydrates:
44
g
Protein:
2
g
Fat:
1
g
Saturated Fat:
1
g
Polyunsaturated Fat:
1
g
Monounsaturated Fat:
1
g
Sodium:
10
mg
Potassium:
2
mg
Fiber:
1
g
Sugar:
41
g
Calcium:
3
mg
Iron:
1
mg
Picnic
Who said you can't play with your food before cooking and eating it? These marshmallow snowmen add a little fun…
Picnic
A chocolate-coated sandwich cookie that is packed with marshmallows and jam, the wagon wheel is from Europe but popular in…
Campfire
The best flavor of smores is chocolate, chocolate, and more chocolate. You can use store-bought cookies for this recipe, but…