A grilled rack of lamb is a special treat when cooked properly. It turns the meat into super succulent and flavorful.
This recipe uses the reverse sear technique and basic seasonings for an easy recipe. The lamb is slowly cooked to a specific internal temperature first, then seared and brought to the final temperature right before serving.
Ask your butcher to remove the fat cap and "French" the bones for you, for a nicer presentation. You can also French the bones yourself, by removing all of the meat, fat, and connective tissue.
Reverse Sear Lamb Rack Recipe
This recipe is for brand affiliate Grillgrates.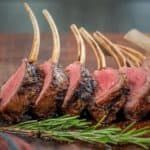 A grilled rack of lamb, using the reverse sear technique, is a special treat when cooked properly. It turns the meat into super succulent and flavorful.
Ready in
1

hour
45

minutes
Ingredients
1

rack of lamb

1

tablespoon

Dijon mustard

1/2

tablespoon

garlic powder

1

teaspoon

dried thyme

kosher salt and freshly ground black pepper
Equipment
4 ounces hickory pellets

or oak pellets

aluminum foil

instant read thermometer

sharp knife
Directions
Remove the fat cap from the lam, peeling gently using your hands. Use a knife to make the final separation of the fat cap.

To french the bones: Turn the rack over so the bones are curled up towards you. Using the tip of your knife, carefully make an incision along the whole length of each bone through the membrane. Using your fingers, peel away the membrane, fat, and connective tissue from in between each bone. Use a dish towel to get a better grip. Scrape any remnants from the bones until they are clean.

Rub the lamb with the mustard. Sprinkle with garlic, thyme, salt, and pepper. Wrap the bones with aluminum foil, so they do not burn while grilling.

Preheat the grill to 250 degrees F (120 degrees C). Light your pellets to smoke.

Place the lamb on the GrillGrates and close the lid. Slowly cook the lamb until the internal temperature is 110 to 115 degrees F (45 degrees C).

Remove the lamb to a pan or cutting board and let rest, tented with aluminum foil.

Thirty minutes before you are ready to eat, increase the grill temperature to 650 degrees F (345 degrees C) for the final sear.

Place the lamb back on the GrillGrates and sear well. Rotate every minute or so, to get an even brown crust. Cook the lamb until a final internal temperature of 130 degrees F (55 degrees C).

Remove from the grill and place on a cutting board. Let rest for 2 to 3 minutes before slicing into individual chops.
Nutritional Information
Calories:
936
kcal
Carbohydrates:
2
g
Protein:
37
g
Fat:
86
g
Saturated Fat:
38
g
Polyunsaturated Fat:
7
g
Monounsaturated Fat:
35
g
Cholesterol:
189
mg
Sodium:
223
mg
Potassium:
511
mg
Fiber:
1
g
Sugar:
1
g
Vitamin A:
24
IU
Vitamin C:
1
mg
Calcium:
53
mg
Iron:
4
mg
Camp Oven
A rack of lamb is a very impressive-looking cut of meat that is relatively easy to cook on a closed…
Gas Stove
Lamb cutlets are a nice change to cook while camping. With a lot of various cooking options, this recipe uses…
BBQ Smoked
Smoked lamb rack is dry marinated in a homemade spice mixture overnight. Then it is smoked in the grill to…