Cooked on a closed grill, this grilled butterfly chicken has the same flavors and tenderness of a smoked chicken. The closed grill can be charcoal, gas, or pellet. Though the recipe only calls for a few simple ingredients, it packs a lot of flavors. It is both seasoned before cooking and glazed during cooking.
The act of butterflying a whole chicken helps to flatten it, creating a more even meat. This results in a chicken that will cook evenly rather than having some parts cooked while other parts are still raw. This method ensures your chicken won't dry out in some places while being raw in others.
The flavors are easily added to the chicken by selecting a good quality BBQ rub and sauce that you enjoy eating. Be conservative when adding the seasonings, however, as chicken is mild meat and can be easily overpowered.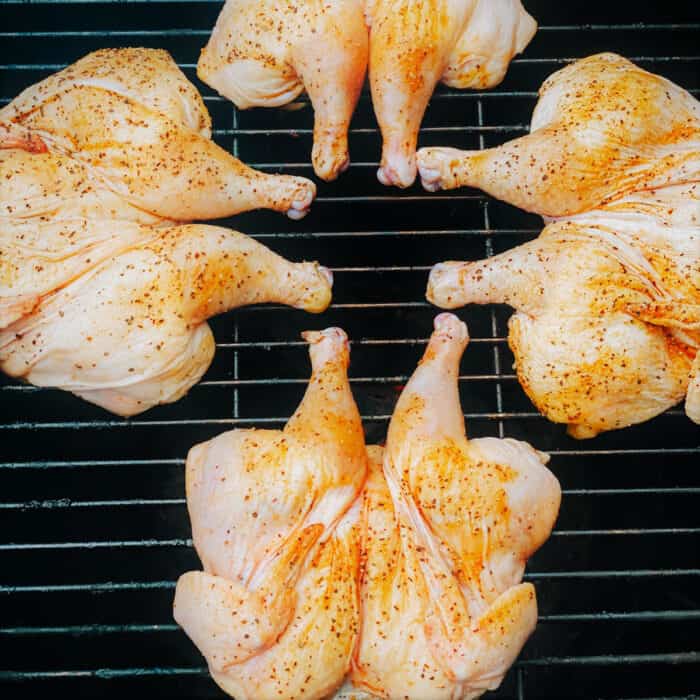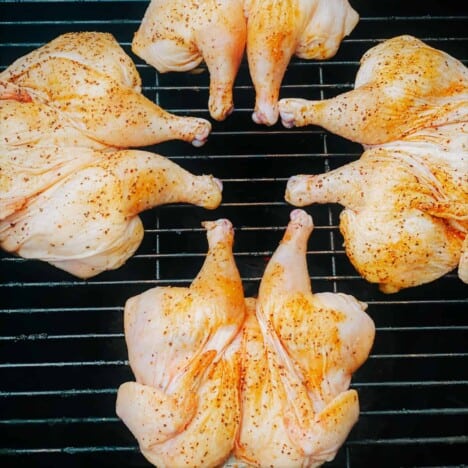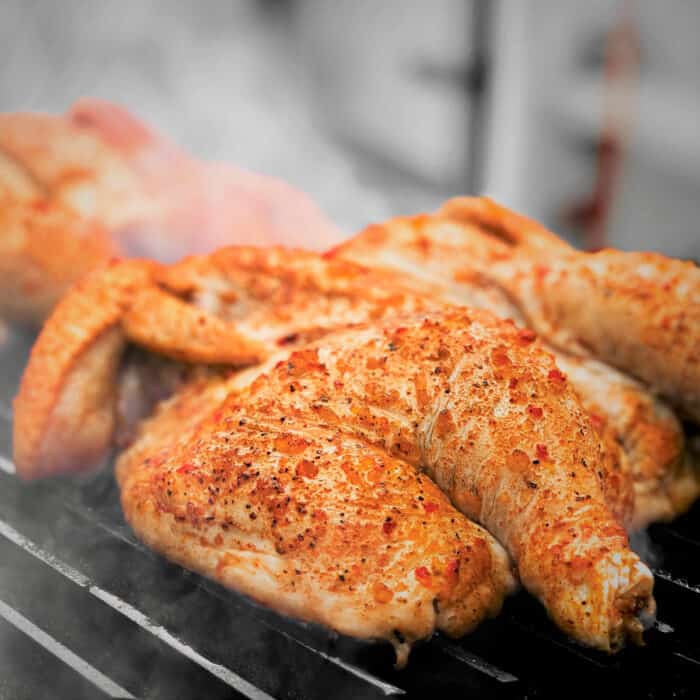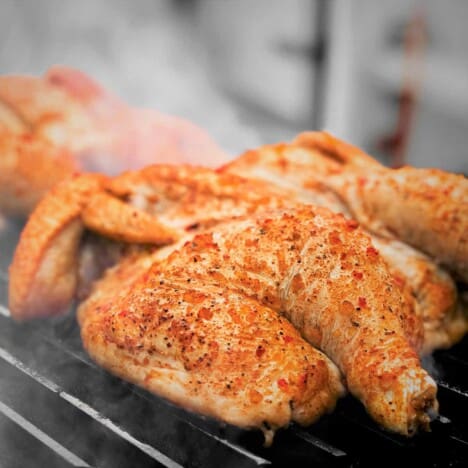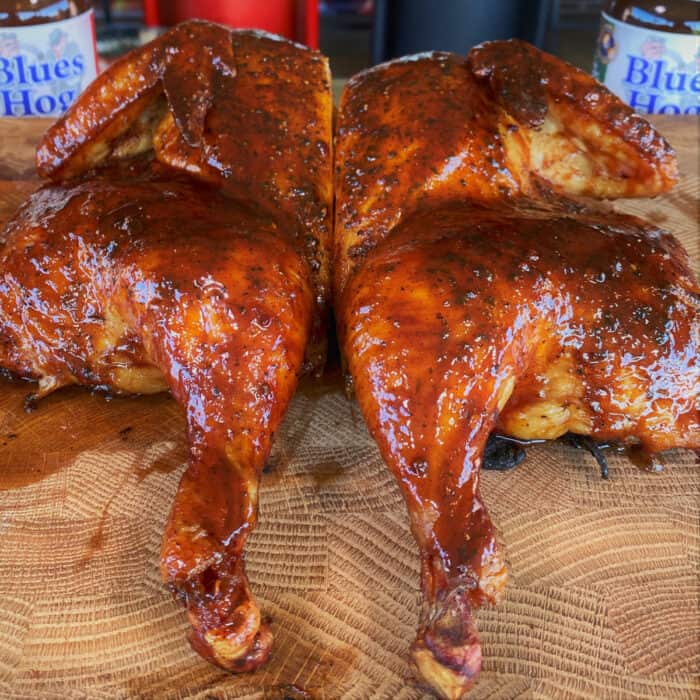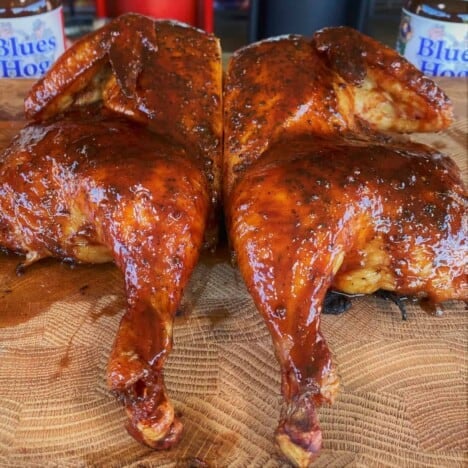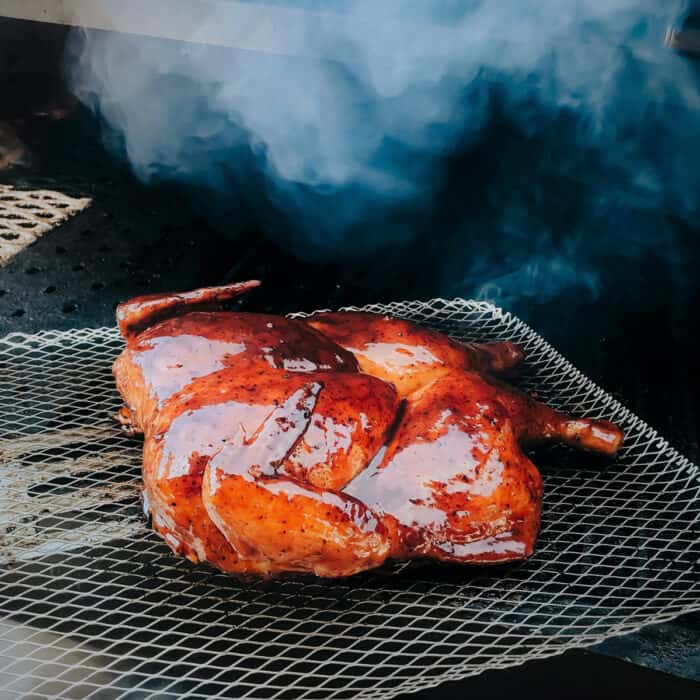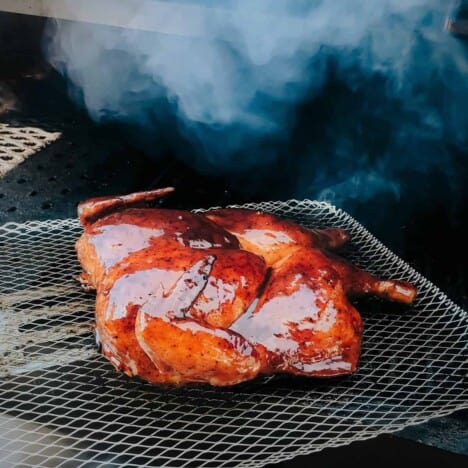 Grilled Butterfly Chicken Recipe
This recipe is sponsored by Blues Hog.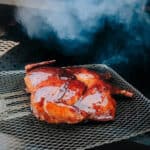 Cooked on a closed grill this grilled butterfly chicken has the same flavors and tenderness as a smoked chicken.
Ready in
1

hour
20

minutes
Directions
Preheat a closed grill to 300 degrees F (150 degrees C).

Lay the butterflied chicken flat on a work surface, then lightly sprinkle with the sweet and savory seasoning. Flip and repeat on the other side.

Place the chicken bone side down on the grill and close. Cook until the chicken reaches an internal temperature of 165 degrees F (71 degrees C), about 45 minutes.

Combine the BBQ sauce and apple juice in a small saucepan, then warm until almost ready to boil.

Glaze the chicken with your smokey Blues Hog Barbecue Sauce and apple juice combination.

Close the grill and cook for an additional 10 minutes until the glaze has set.

Remove and let rest until you are ready to serve.
Nutritional Information
Serving:
6
g
Calories:
319
kcal
Carbohydrates:
11
g
Protein:
24
g
Fat:
19
g
Saturated Fat:
5
g
Polyunsaturated Fat:
4
g
Monounsaturated Fat:
8
g
Trans Fat:
1
g
Cholesterol:
95
mg
Sodium:
334
mg
Potassium:
306
mg
Fiber:
1
g
Sugar:
9
g
Vitamin A:
231
IU
Vitamin C:
2
mg
Calcium:
23
mg
Iron:
1
mg
BBQ Grilled Appetizer
Perfect finger food for your next backyard BBQ these crispy grilled chicken wings are great in texture and flavor. Make…
BBQ Grilled Meat
Grilled Huli Huli chicken is a tropical-inspired grilled dish that is perfect with a cold beer. This is a perfect…
BBQ Grilled Kebab
Cooked over direct heat, these grilled Asian chicken satays are fun and flavorsome meals or finger food. You can serve…