Why make a lot of small cinnamon rolls when you can save time and effort and make a cool-looking, show stealing giant cinnamon roll?
This roll uses traditional elements, making a yeast dough, homemade cinnamon filling, and finally topped with soft spreadable frosting.
Perfect as a shareable breakfast or morning/afternoon treat.
Giant Cinnamon Roll Recipe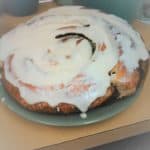 Why make a lot of small cinnamon rolls when you can save time and effort and make a cool-looking, show stealing giant cinnamon roll?
Ready in
4

hours
50

minutes
Ingredients
Dough
1

package

active dry yeast

7g

1 1/4

cups

warm water

(110 degrees F / 43 degrees C)

2

tablespoons

salt

4

cups

water

or as needed
Cinnamon Filling
1/2

cup

softened butter

3/4

cup

brown sugar

2

tablespoons

ground cinnamon

1

cup

chopped nuts

or raisins
Frosting
2

cups

confectioners sugar

(icing sugar)

3

tablespoons

softened butter

3

tablespoons

milk

or as required
Equipment
skillet or 12″ Dutch oven
Directions
Dough
Place the yeast and warm water in a bowl to proof for 5 minutes. It is proven when it has become frothy.

Combine the proofed yeast mixture with the salt and 4 cups of flour, it will be a sticky dough.

Use the remaining ½ cup of flour on a solid work surface and kneed, slowly combing the remaining flour until smooth and no longer sticky. This will take about 8 to 10 minutes.

Place the dough into a greased bowl, cover with plastic and leave to proof for 1 ½ to 2 hours.

Tip: When cooking outside it is critical to place the dough in a warm location out of the wind, this may in some weather include placing it in a covered warm box.

After proofing the dough will have about doubled in size. Remove from the bowl and shape it into a shape (or roll) into a large long rectangle.
Cinnamon Filling
In a small bowl combine the butter, brown sugar, cinnamon, and nuts/raisins if using. Combine well, the resulting mixture will be a grainy paste.

Cut the rectangle of dough into 4 long strips then spread the filling evenly over all the pieces.

Start rolling one of the pieces of dough, when this is used add the next strip of dough and continue rolling. continue adding and rolling until all the dough is used. Place the giant roll into the greased Dutch oven.

Let the giant cinnamon roll rise in the Dutch oven for 30 minutes.

Bake the giant cinnamon roll at 350 degrees f (180 degrees C) for 45 to 50 minutes, or until the center tests as done at 190 degrees F (88 degrees C).
Frosting
When the giant roll is cooked, leave to cool for 15 minutes and make the frosting.

In a bowl combine the confectioner's sugar, softened butter, and 1 tablespoon of milk. Combine well until smooth. Add the remaining milk in small additions until the frosting is at the desired thickness. Thick enough to give a good coating, yet thin enough to spread or drizzle the giant cinnamon roll.
Nutritional Information
Calories:
441
kcal
Carbohydrates:
54
g
Protein:
3
g
Fat:
26
g
Saturated Fat:
11
g
Polyunsaturated Fat:
8
g
Monounsaturated Fat:
5
g
Trans Fat:
1
g
Cholesterol:
42
mg
Sodium:
1886
mg
Potassium:
123
mg
Fiber:
2
g
Sugar:
50
g
Vitamin A:
504
IU
Vitamin C:
1
mg
Calcium:
69
mg
Iron:
1
mg
Dutch Oven Baking
Muenster rolls get their name from the type of cheese used, although it can be substituted for other cheeses. Muenster…
Dutch Oven Baking
This recipe for jalapeño popper rolls isn't for the faint-hearted. With five separate cooking elements that must be completed to…
Dutch Oven Baking
Though they look like cinnamon rolls, Cajun Crabby Rolls are a savory treat. This bread recipe was the first place…