Onion rings can be cooked easily outdoors without the hassle and fat content of oil. This fried-not-fired version uses the hot airflow from a barbecue in the non-direct cooking area. Though not deep-fried, the onion rings turn out crisp on the outside and tender on the inside, just as though they were cooked the more traditional way.
The onion ring recipe is prepared as if frying, using a basic batter base, but then gets an additional flavoring kick and heat from Sriracha. The recipe can in fact be deep-fried if desired. 
The onion rings make a great snack, side dish, or even an addition to a burger. These ones are think cut to make them easier to handle while cooking on a barbecue and handling with tongs. However, they can be cut thinner if desired.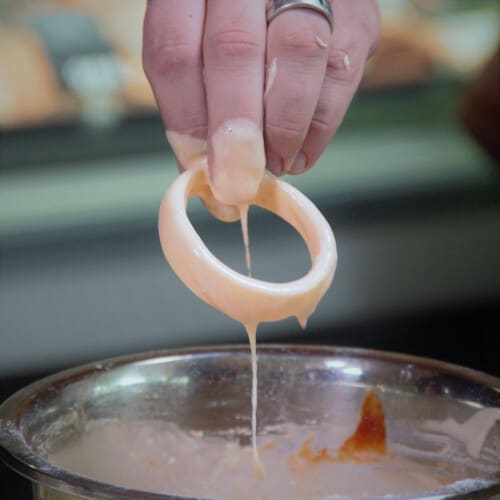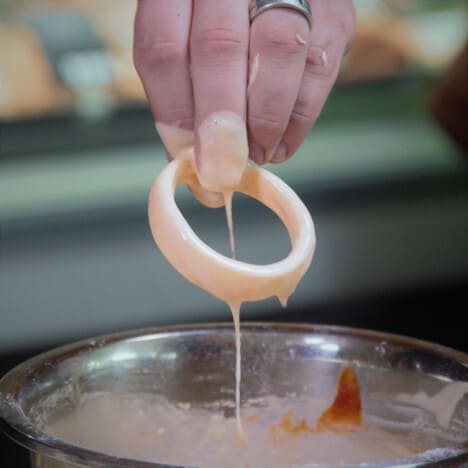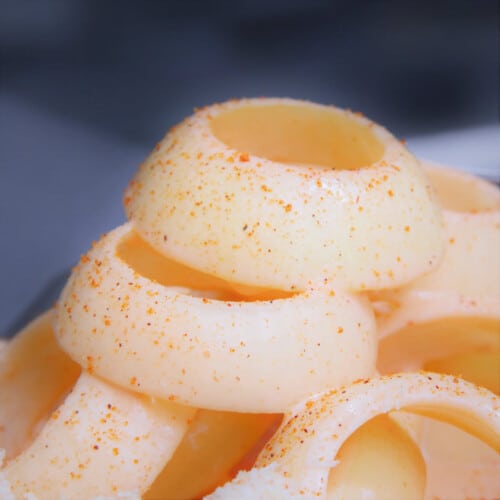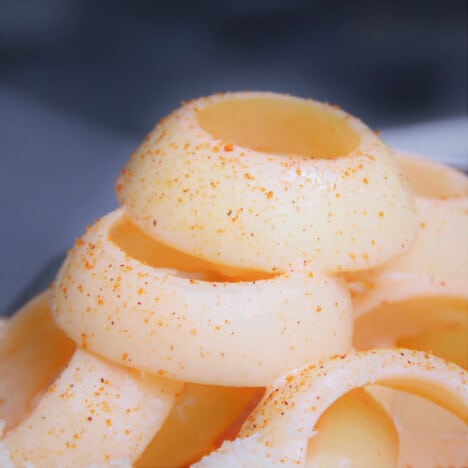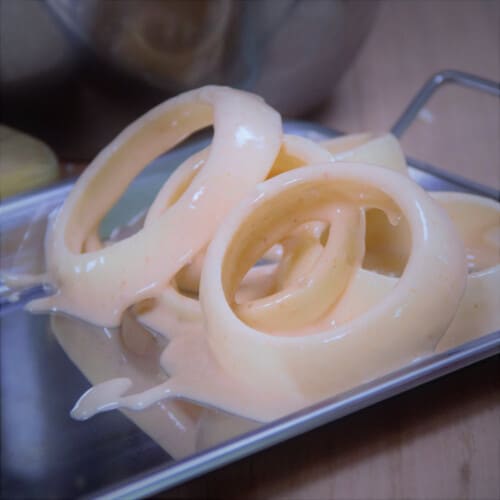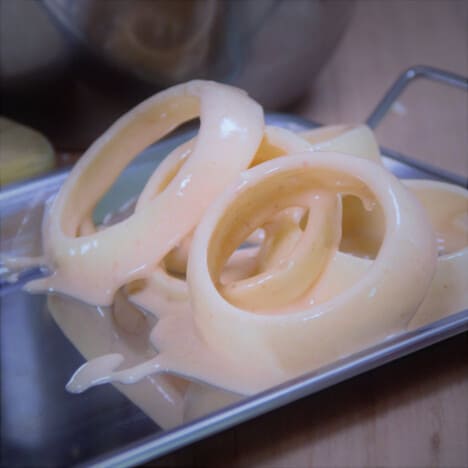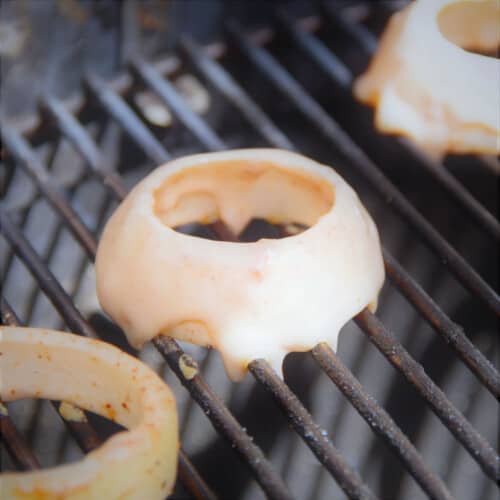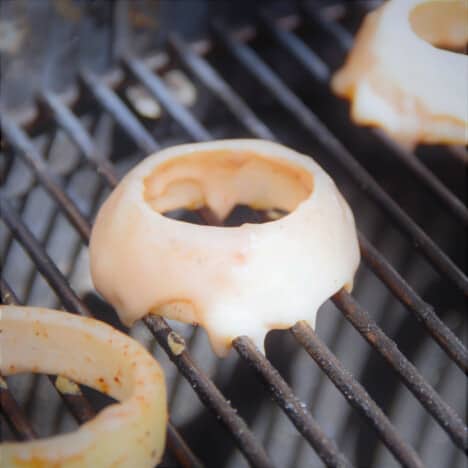 Fried-Not-Fried Onion Rings Recipe
This recipe is provided by Dipper's Backyard BBQ Wars.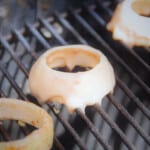 Onion rings can be cooked easily outdoors without the hassle and fat content of oil in this fried-not-fried version.
Ingredients
Beer Batter
1

cup

all-purpose flour

(plain flour)

1/2

cornstarch

(cornflour)

salt

to taste

1

can

pale ale beer

Sriracha sauce

to taste

sweet paprika

for color (optional)
Onion Rings
2

yellow onions

all-purpose BBQ rub

to taste
Directions
Preheat a grill to a high temperature in the indirect heat zone, about 500 degrees F (260 degrees C). The grill needs to be ready to go so the onion rings can be battered and cooked with as little rest time in the process as possible.
Beer Batter
In a bowl combine the flour, cornstarch, and salt.

Slowly pour in the pale ale while whisking continually to keep as smooth as possible. Stop adding the beer when it gets to the desired thickness.

Add the Sriracha sauce to your desired taste or heat level. If you want it to have a red color but not add too much Sriracha sauce you can add a small amount of sweet paprika.
Onion Rings
Thickly slice the onions then dip them in the batter.

Sprinkle the onion rings lightly with the all-purpose BBQ rub.

Place the battered onion rings on the preheated grill as soon as practical and cook for up to 20 minutes, or until the batter is crisp and the onions are soft. Serve immediately, otherwise, the batter will soften.
Nutritional Information
Calories:
176
kcal
Carbohydrates:
33
g
Protein:
4
g
Fat:
1
g
Saturated Fat:
1
g
Polyunsaturated Fat:
1
g
Monounsaturated Fat:
1
g
Sodium:
33
mg
Potassium:
143
mg
Fiber:
2
g
Sugar:
2
g
Vitamin A:
16
IU
Vitamin C:
5
mg
Calcium:
26
mg
Iron:
2
mg
More Fried Not Fried Recipes
BBQ Grilled Seafood
This flathead tails recipe shows that you can cook crumbed items outdoors easily without the need for a deep fryer.…
BBQ Grilled Appetizer
Falafel doesn't need to be deep-fried, it can be cooked on a barbecue in a method called 'fried-not-fried' which uses…
BBQ Grilled Appetizer
This fried-not-fried method of cooking chicken wings takes advantage of the hot dry air moving in a barbecue to cook…