Falafel doesn't need to be deep-fried, it can be cooked on a barbecue in a method called 'fried-not-fried' which uses circulating hot air. These falafel are a healthy and tasty option for your next barbecue. They are also an option when considering dishes for vegetarian and vegan guests, or if you are looking for something a little different.
Falafel is a very versatile and hearty meal option. You can eat it as-is, with salad, rice, or bread. You can also make it into a sandwich and stuff it inside pita bread. We like to serve it with sliced tomatoes, shredded lettuce, and plain yogurt to add a little fat and moisture.
By setting up the barbecue with the heat in the center, or using a kettle cone or vortex if you have one, it creates a hot airflow mimicking the same cooking environment found in an air fryer. Setting up your grill like this can allow you to cook many recipes typically deep-fried. This is often a healthier and safer option than deep frying outdoors.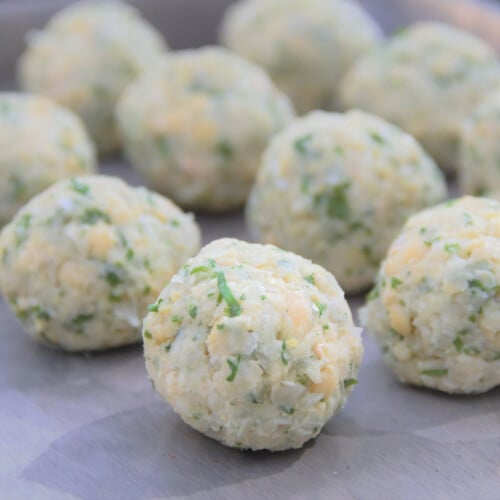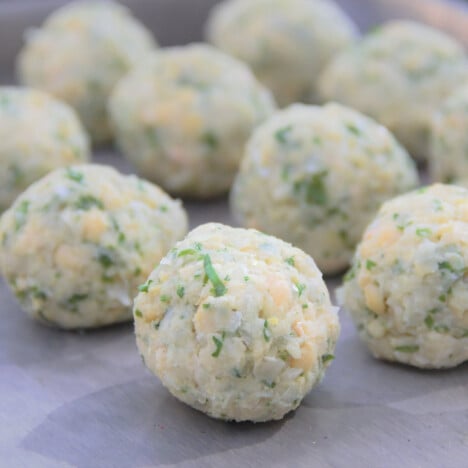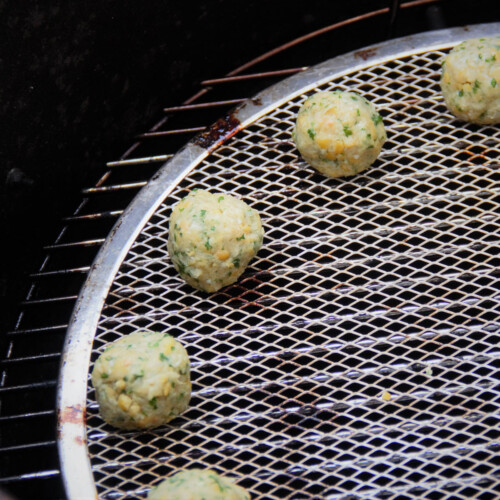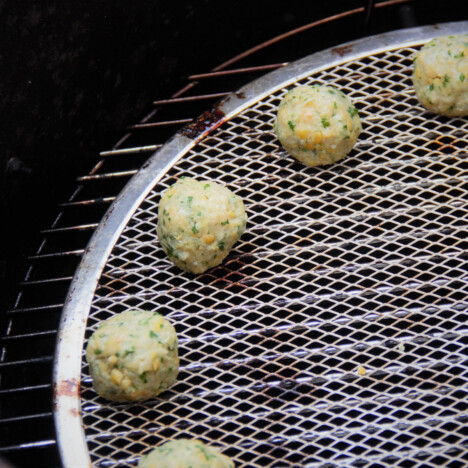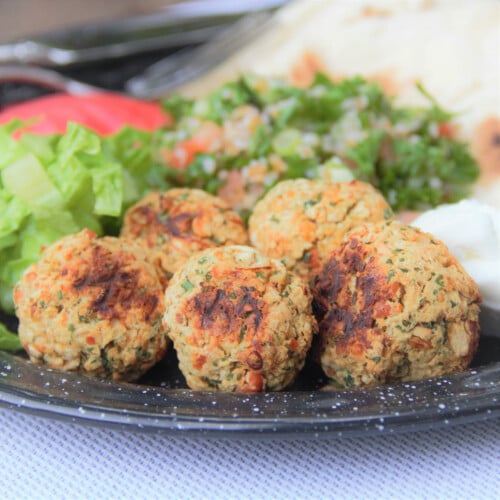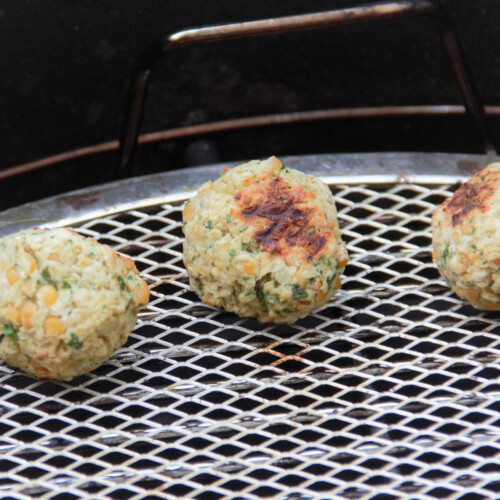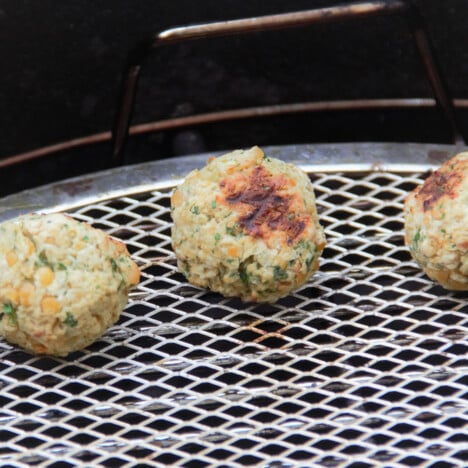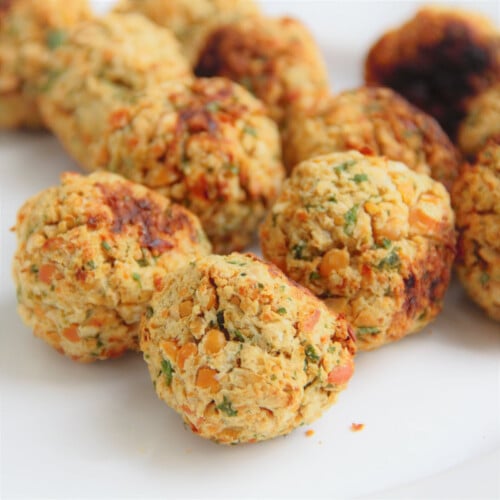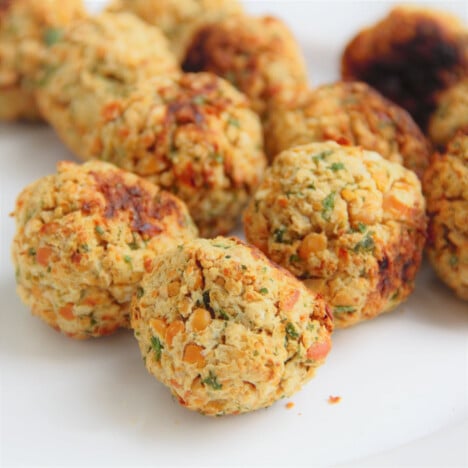 Fried-Not-Fried BBQ Falafel Recipe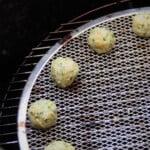 Falafel doesn't need to be deep-fried, they can be cooked on a barbecue in a method called 'Fried-Not-Fired' which uses circulating hot air.
Ingredients
1

can

chickpeas

drained

1

small

yellow onion

finely diced

2

cloves

garlic

minced

3

tablespoons

chopped fresh parsley

1

teaspoon

ground cumin

1

teaspoon

ground coriander

salt

to taste

4

tablespoons

all-purpose

or plain flour

oil

as needed
Equipment
closed grill

kettle cone

vortex or similar, optional
Directions
In a large bowl add the drained chickpeas and mash with a fork or potato masher.

Add the onions, garlic, parsley, cumin, coriander, salt, and flour. Mash all the ingredients together to create a thick paste.

Form the mixture into small balls, a little smaller than a ping-pong ball.

Brush or spray all the falafels with oil.

Set up the BBQ for a fried-not-fried style cook. This method of cooking works particularly well in a kettle-style or round BBQ. Place the hot coals in the center only. You can use a vortex or kettle cone to help produce drier air circulation while minimizing the direct heat cooking. If you have a rectangular grill, place the coals to one side creating a hot zone and cool zone. If using gas, only light one side of the grill.

Place the falafel around the edge of the barbecue if using a round set-up or in the cool zone if using a rectangular grill. Cook for 30 minutes, rotating the falafel every 10 minutes. Serve hot.
Nutritional Information
Calories:
72
kcal
Carbohydrates:
9
g
Protein:
1
g
Fat:
4
g
Saturated Fat:
1
g
Polyunsaturated Fat:
1
g
Monounsaturated Fat:
2
g
Trans Fat:
1
g
Sodium:
4
mg
Potassium:
72
mg
Fiber:
1
g
Sugar:
1
g
Vitamin A:
260
IU
Vitamin C:
6
mg
Calcium:
20
mg
Iron:
1
mg
More Fried Not Fried Recipes
BBQ Grilled Seafood
This flathead tails recipe shows that you can cook crumbed items outdoors easily without the need for a deep fryer.…
BBQ Grilled Appetizer
This recipe and technique allows you to cook Mozzarella Sticks on the barbecue using a method similar to an air…
BBQ Grilled Appetizer
This fried-not-fried method of cooking chicken wings takes advantage of the hot dry air moving in a barbecue to cook…