Steaks are easy to cook up on the grill or BBQ, whether you're at home or in the bush. Take your steak from ordinary to extraordinary by adding topping them with crispy onion straws tossed in truffle salt.
You can prepare the straws ahead of time, cool them completely, and store them in an airtight container for a day or two. These straws are also a great snack, or delicious served on top of grilled chicken or fish.
To really impress, top your grilled meat with Brandy and Green Peppercorn Sauce, along with the onion straws.
Onion Straws with Truffle Recipe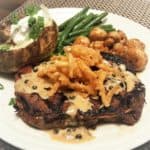 Onions straws with truffle salt are a fancy yet easy-to-make garnish that can be used on steaks or burgers. The little extra effort is definitely worth it.
Ingredients
1

small

sweet yellow onion

thinly sliced

1

cup

buttermilk

1

gallon

canola oil

1

cup

flour

1/2

teaspoon

salt

1

tablespoon

Hungarian paprika

truffle salt

to taste
Directions
Place the onions and buttermilk in a sealable plastic bag. Give it a toss and release all of the air. Roll up the bag so the onions are fully submerged.

Heat 3-inches of oil in a large pot to 375 degrees F (190 degrees C). (Try to maintain an accurate and consistent temperature, otherwise, the onion straws get soggy. If the temperature is too high, the onion straws will burn.)

Mix the flour, salt, and paprika in a bowl.

Remove the onions from the bag with a pair of tongs (make sure they are broken up) and place them in the flour mixture. Fully coat the onions and toss to prevent clumping.

Place the coated onions in the oil for 2 minutes or until golden brown. Do not overcrowd the pot; cook in batches if necessary.

Remove the onions from the fryer to a metal bowl and toss with a pinch of truffle salt. A little goes a long way, so be careful. Once salted place them on a wire rack to cool a bit and drain any excess oil. This will make them crispier.
Nutritional Information
Calories:
213
kcal
Carbohydrates:
34
g
Protein:
6
g
Fat:
6
g
Saturated Fat:
1
g
Polyunsaturated Fat:
1
g
Monounsaturated Fat:
3
g
Trans Fat:
1
g
Cholesterol:
7
mg
Sodium:
362
mg
Potassium:
253
mg
Fiber:
2
g
Sugar:
7
g
Vitamin A:
962
IU
Vitamin C:
4
mg
Calcium:
94
mg
Iron:
2
mg
Deep Fry
These beer battered onion rings make a tasty side or addition to a burger. Although deep frying isn't a common…
BBQ Grilled
Onion rings can be cooked easily outdoors without the hassle and fat content of oil. This fried-not-fired version uses the…
BBQ Grilled Kebab
Cooking your vegetables on skewers is a convenient way to cook vegetables while camping or doing a backyard cook as…