This is an old camping favorite because it creates no dirty dishes as the cake is cooked in an orange. Chocolate and orange are a natural fit for one another. 
Traditionally the orange is fully scooped out and a cake batter is added. This version leaves some of the fruit and its juice in the orange. Then powdered cake mix is added on top making it even easier to make. This method is similar to a dump cake.
The result is a beautiful combination of chocolate and orange creating a Jaffa-like flavor. It is wonderful to eat as-is or pair it with a mild cream, ice cream, or custard.
Popular with children as they can easily make, cook, and eat all by themselves.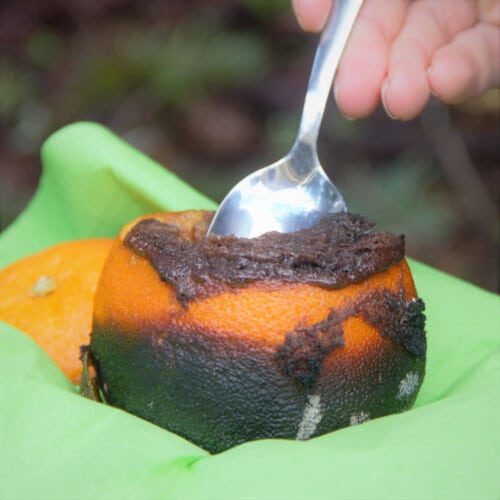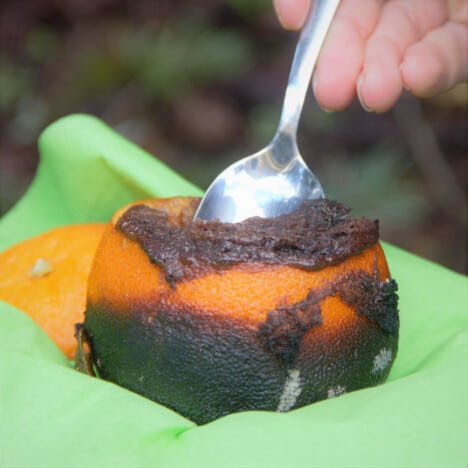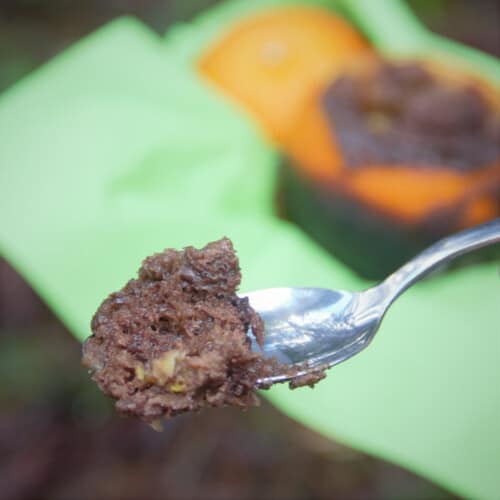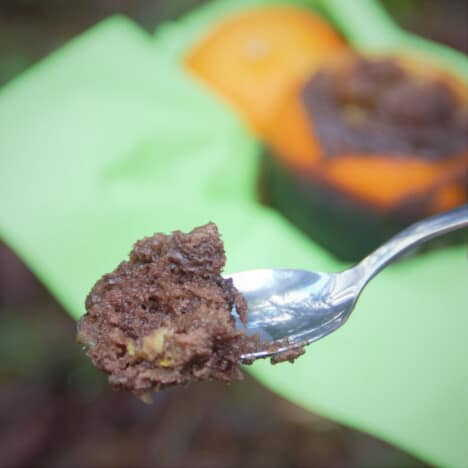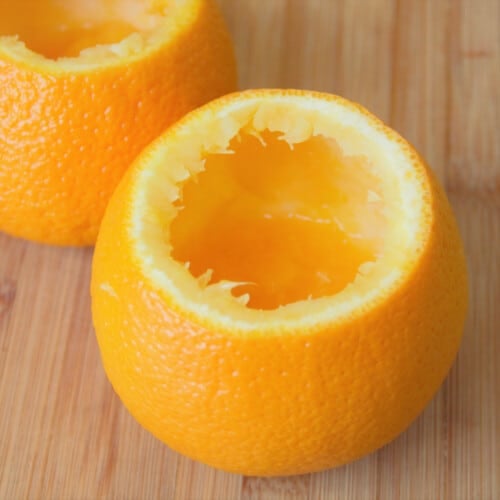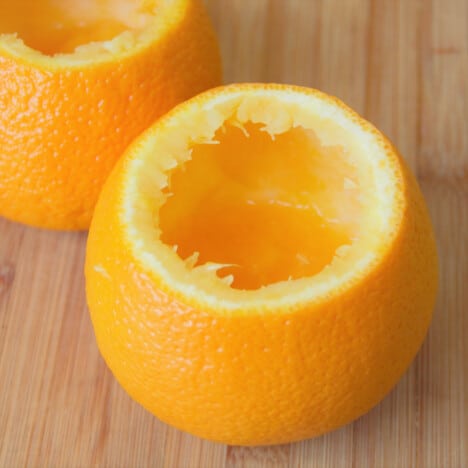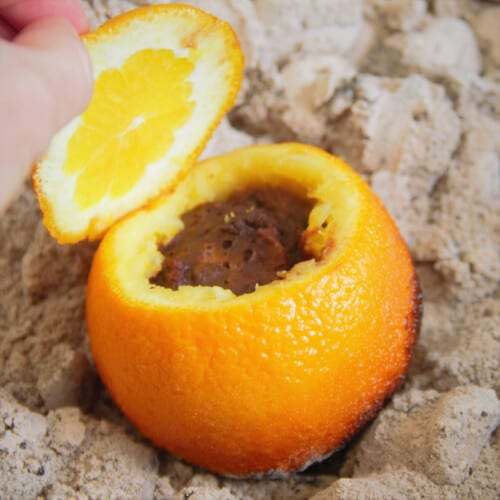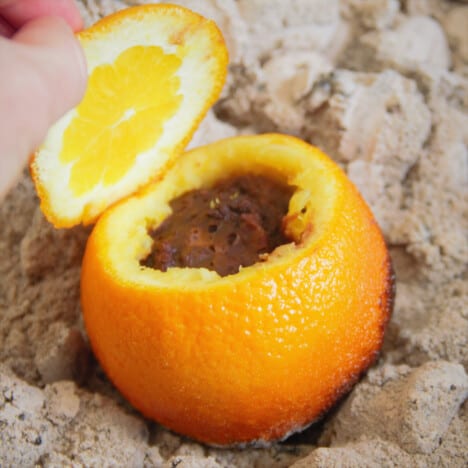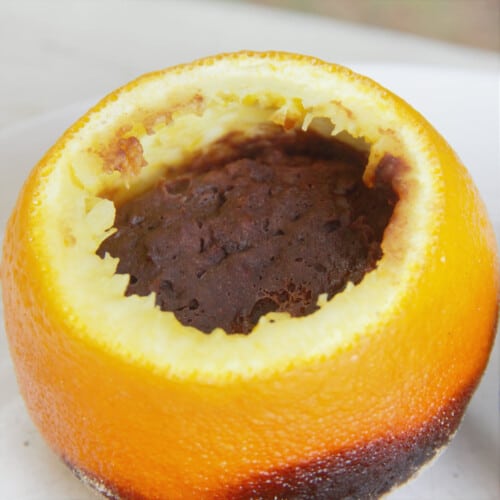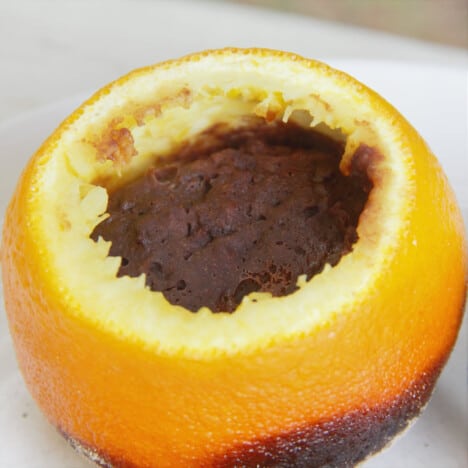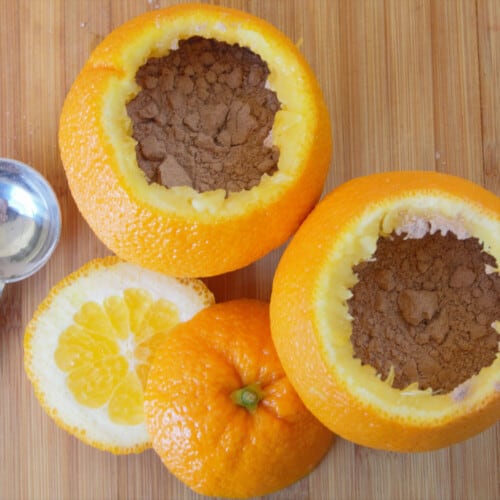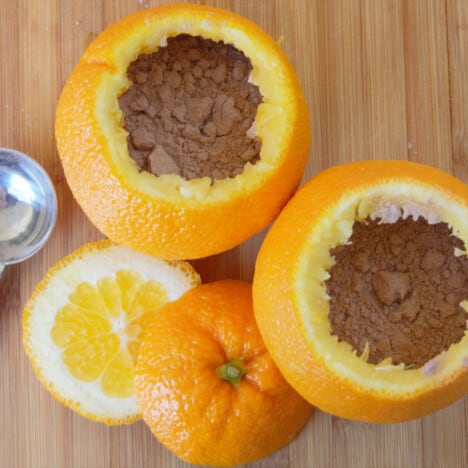 Chocolate Orange Cake Recipe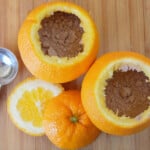 An old camping favorite because it creates no dirty dishes, similar to a dump cake, the chocolate cake mix is added to an orange then cooked in the coals.
Ingredients
1

orange

1

packet

chocolate cake mix
Directions
Slice the top off the orange and keep it for later.

Using a sharp spoon scoop out the orange, being careful not to put a hole in the side, or expose the bitter pith. Leave the base of the orange's fruit about a quarter way up, filled with orange juice.

Scoop in 3 tablespoons of chocolate cake mix. This may be more or less depending on the size of the orange.

Place the lid on the orange, then position in the coals. Try to achieve a hot heat, about 350 degrees F (180 degrees C). It is not necessary to bury the orange.

After 10 minutes take off the lid and check if the cake is cooked through. If cooked remove and serve, if not, continue cooking until done.
Nutritional Information
Calories:
251
kcal
Carbohydrates:
48
g
Protein:
4
g
Fat:
7
g
Saturated Fat:
1
g
Polyunsaturated Fat:
2
g
Monounsaturated Fat:
3
g
Sodium:
366
mg
Potassium:
384
mg
Fiber:
4
g
Sugar:
29
g
Vitamin A:
296
IU
Vitamin C:
70
mg
Calcium:
119
mg
Iron:
2
mg
More Chocolate Cake Recipes
Camp Oven
This is a nice chocolate cake that is easy to make and tastes great. It is perfect for any style…
Dutch Oven Dessert
Dump cakes are a very popular and easy dessert to make in a Dutch oven while camping and seem synonymous…
Camp Oven
This is a chocolate lover's dream, rich warm chocolate cake, served with a decadent hot chocolate sauce. It is a…