This novel treat from the grill of a bacon pineapple donut also includes mozzarella cheese. All these elements are carefully arranged with the bacon wrapping around it to hold everything together and shield the contents from the heat of the charcoal.
The inspiration comes from the family favorite of a Hawaiian pizza with it effectively being a tasty gluten-free version with only the pizza dough missing. This delight is also easily eaten by hand like its pizza cousin.
Although it can take some time to assemble the elements and wrap them it is well worth the effort and will be appreciated by all those who eat them. To help with the wrapping bring the bacon to room temperature before wrapping as it is more valuable when warm.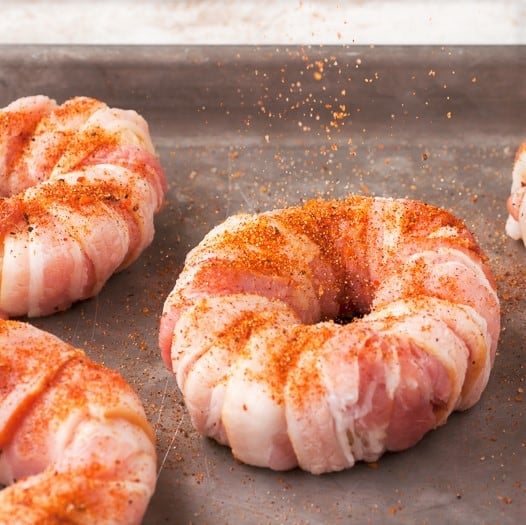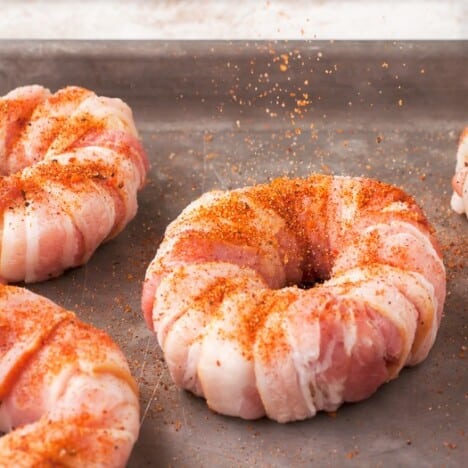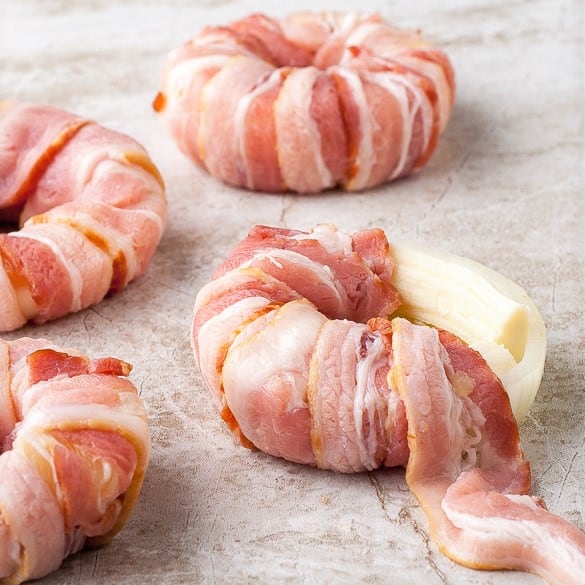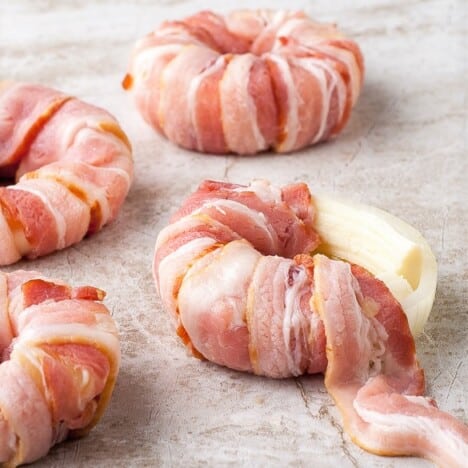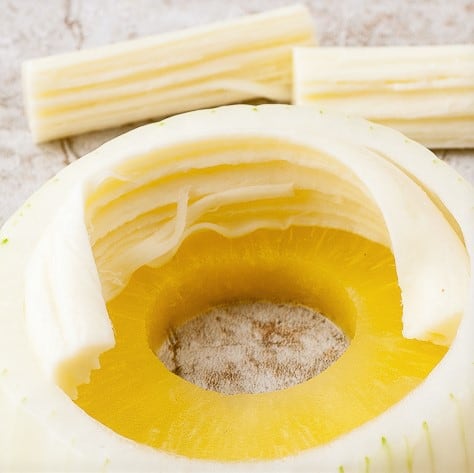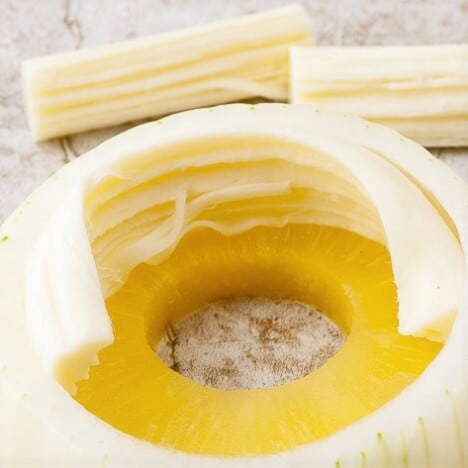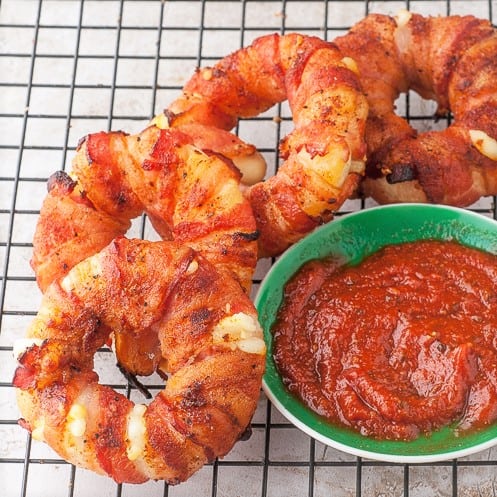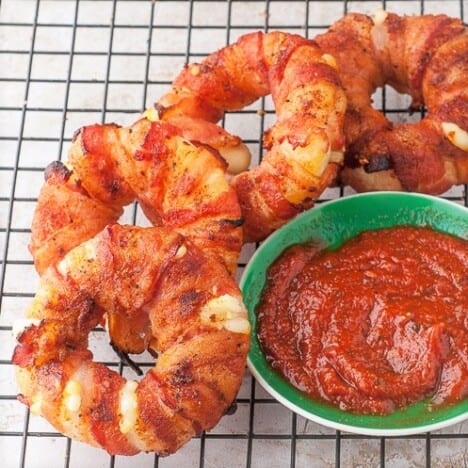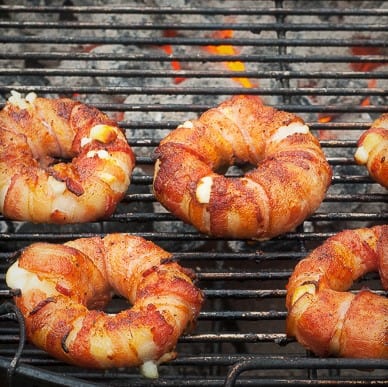 Bacon Pineapple Donuts Recipe
This recipe is sponsored by Slap Yo' Daddy.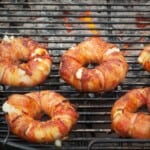 Bacon donuts are pieces of gooey mozzarella wrapped in salty bacon and perfectly balanced by the fruity sweetness of pineapple. Serve these grilled appetizers with a marinara sauce for dipping.
Directions
Peel the onions. Cut them into slices 1-inch (2cm) thick.

Drain the juice from the pineapple rings and set aside 8 slices.

Match the onion rings to the size of the pineapple slices—choose rings that have more of a bowl shape to help hold the string cheese in place.

Tear the mozzarella string cheese in half. Place one half of the mozzarella in the onion ring and cut the other half to fill in the remaining gap. Place the cut piece filling in the gap.

Stack the mozzarella-lined onion ring on the pineapple and start wrapping it with bacon slices. Use two to three slices of bacon per ring. Just take it slow and keep it all in place and it will eventually wrap – sometimes it takes some repositioning or re-stuffing of the string cheese into the ring.

Once wrapped, sprinkle each piece with the rub.

Preheat the grill to 400 degrees F (205 degrees C).

On the indirect side of the grill place the bacon pineapple donuts and cook for 30 minutes, turning occassionally.

Let cool down for a few minutes before serving with your favorite dipping sauce, such as marinara.
Nutritional Information
Calories:
447
kcal
Carbohydrates:
24
g
Protein:
16
g
Fat:
33
g
Saturated Fat:
12
g
Polyunsaturated Fat:
4
g
Monounsaturated Fat:
12
g
Trans Fat:
0.1
g
Cholesterol:
59
mg
Sodium:
741
mg
Potassium:
424
mg
Fiber:
2
g
Sugar:
17
g
Vitamin A:
180
IU
Vitamin C:
14
mg
Calcium:
80
mg
Iron:
2
mg
More Bacon Wrapped Recipes
BBQ Grilled Sandwich
Looking for a twist on your boring hot dog meal, then why not try wrapping in bacon? It is a…
Grilled Side Dish
Potatoes are boring no more! Wrapped in bacon and then sprinkled with pork rub, they are so good you might…
Grilled Side Dish
Grilling vegetables all alone just doesn't seem right, so wrapping them in bacon is always a tasty solution. These green…