Instead of a large burger languishing on the grill, the idea of a smash burger is to place the patty on the grill and then "smash" it as it cooks, resulting in a crisp exterior. Cooked on a flat top grill these Aussie smash burgers take full advantage of the space with multiple fried elements. You can cook up the burger, bacon, eggs, and buns all at the same time.
In addition to the smash burger itself, this ultimate sandwich also has fried eggs, bacon, tomatoes, lettuce, and condiments. The Australian-influenced salad toppings include beetroot, also known in some places as pickled beets. If you've never had pickled beet on your burger, we suggest you give it a try – it adds an earthy, sweet, and tangy element. 
It is common in Australia to cook the onion separately from the patty. It is often grilled until deeply caramelized, then added to the burger as a topping. In this recipe, the onion is cooked with the smash burger patty to save time and space.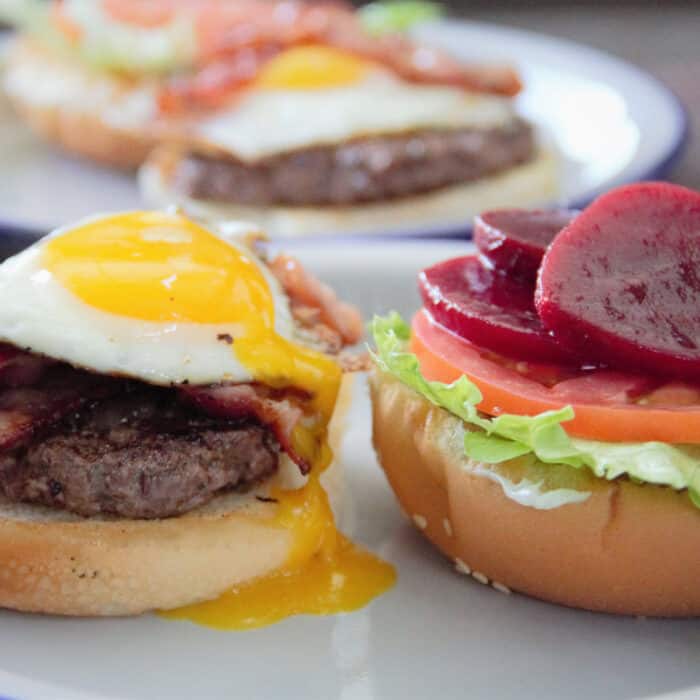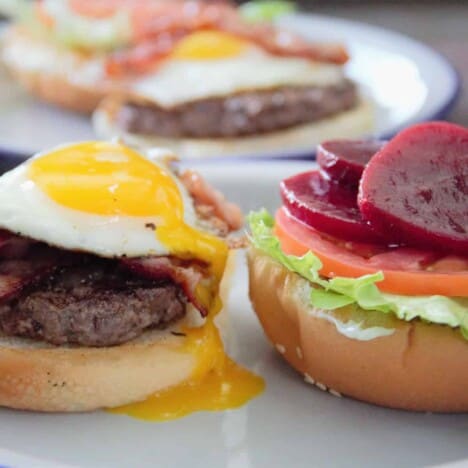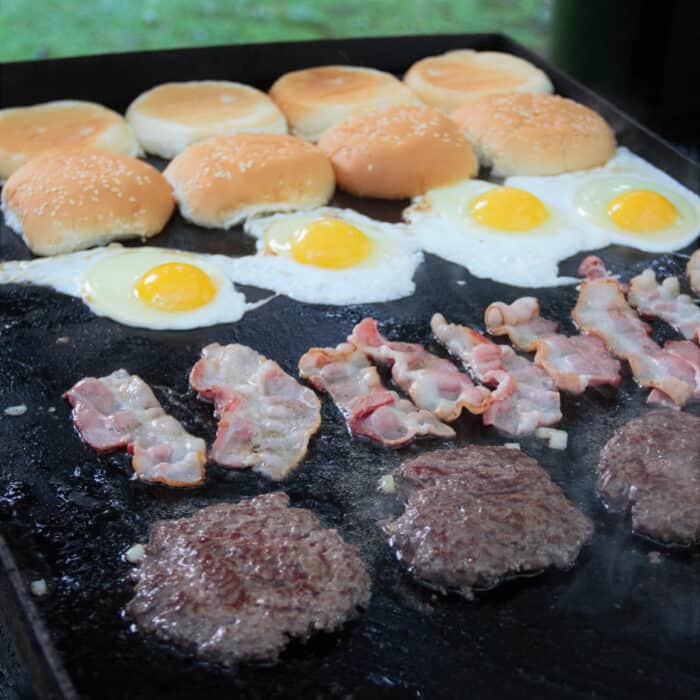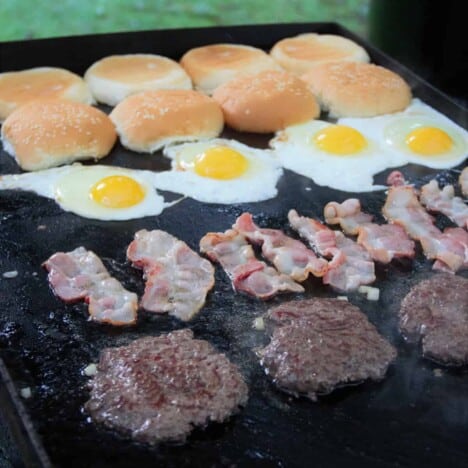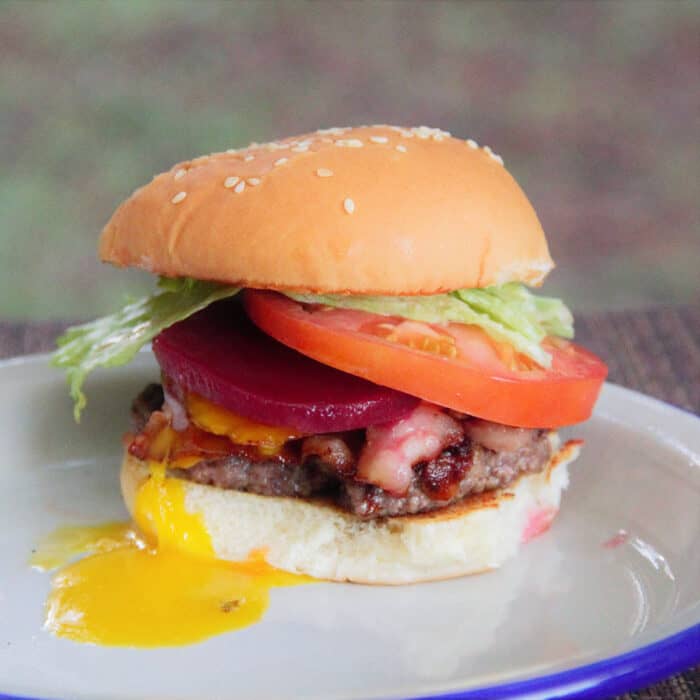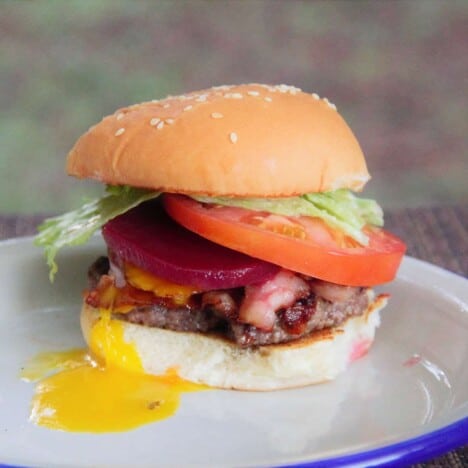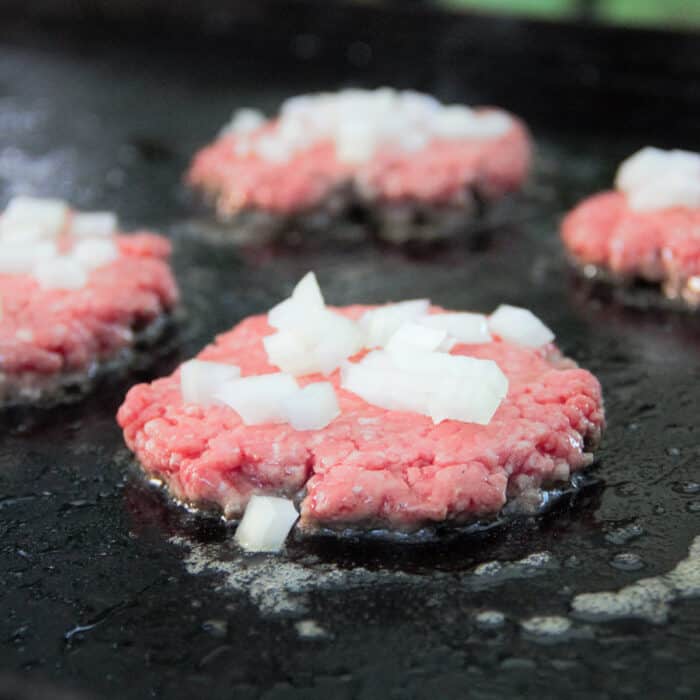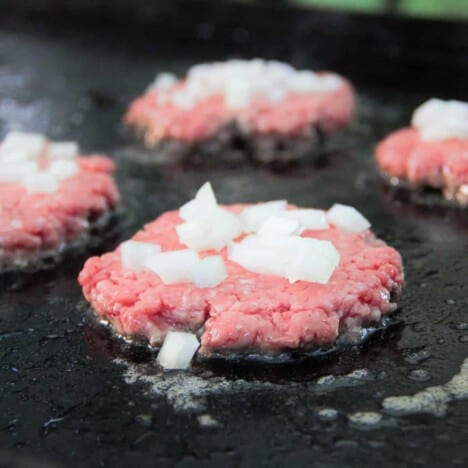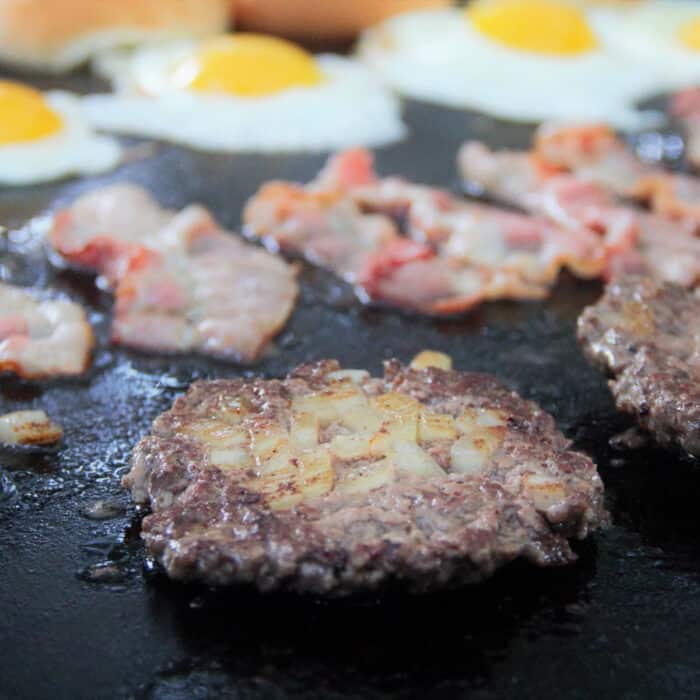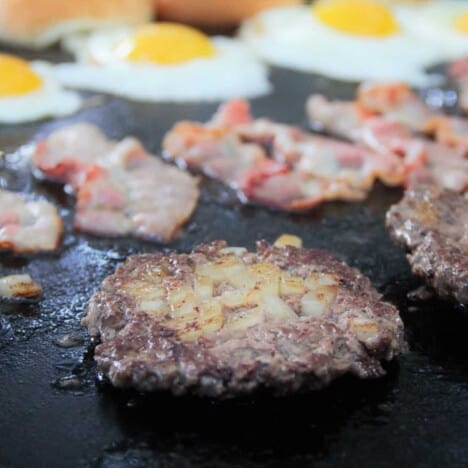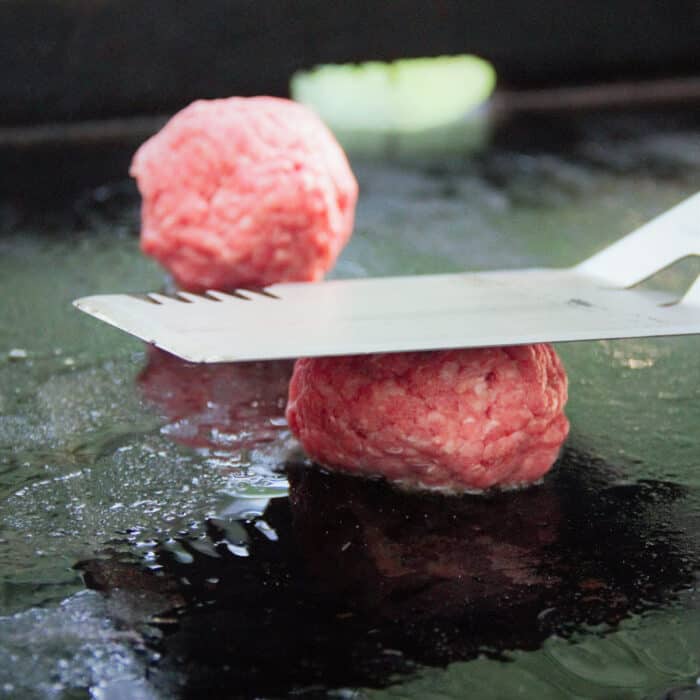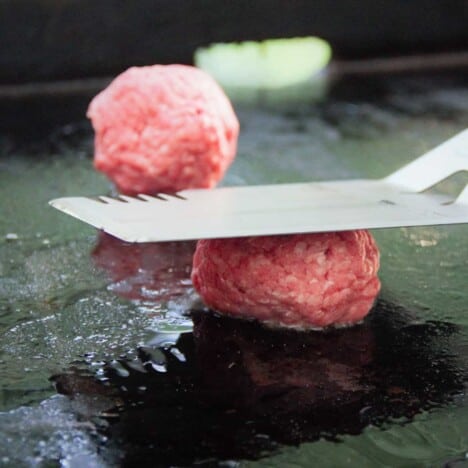 Aussie Smash Burger Recipe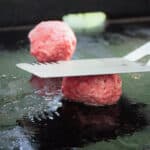 Cooked on a flat top grill these Aussie Smash Burgers take full advantage of the space with multiple fried elements.
Ingredients
Smash Burger
1

pound

ground beef

(beef mince)

1

yellow onion

diced

salt and pepper

to taste
To serve
8

slices

bacon

4

eggs

4

hamburger buns

mayonnaise

lettuce

1

tomato

sliced

1

can

pickled beets

beetroot

ketchup

(tomato sauce)
Equipment
flat top grill

large grilling spatula
Directions
Smash Burger
Preheat the flat top grill to medium heat.

Break the beef into four pieces then form them into balls. 

Place the balls on the preheated flat top grill and flatten with the spatula. Sprinkle the top with the diced onions, salt, and pepper.

Cook until browned then turn and cook on the other side until your desired doneness.
To Serve
Add to the flat top grill the bacon and eggs; cook until your desired doneness. Lightly toast the hamburger buns.

For each burger layout the toasted buns on a work surface. On the top half add the mayonnaise, lettuce, tomatoes, and a few slices of pickled beets. On the top half add the ketchup, smash burger, bacon, and fried egg. Close both sides together to complete the burger.

Tip: If using a soft yolked egg, break the yolk before assembling otherwise it can burst while biting and become quite messy.
Nutritional Information
Calories:
528
kcal
Carbohydrates:
31
g
Protein:
30
g
Fat:
31
g
Saturated Fat:
11
g
Polyunsaturated Fat:
2
g
Monounsaturated Fat:
13
g
Trans Fat:
1
g
Cholesterol:
246
mg
Sodium:
647
mg
Potassium:
643
mg
Fiber:
3
g
Sugar:
9
g
Vitamin A:
512
IU
Vitamin C:
10
mg
Calcium:
140
mg
Iron:
6
mg
BBQ Griddle
A Smash Burger is a ground beef patty that is smashed (squashed) after it's placed on the grill. Not so…
BBQ Griddle
The budget-friendly Australian Nangari Burger Patties are a unique in that the mixture is runny and ladled rather than firm…
Gas Stove
If you're looking for something a bit different than your traditional beef burger, give kangaroo burgers a try. These are…