Basted in herb butter, Twice Cooked Filet Mignon is a decadent and delicious dinner for a special occasion. Fresh herbs tied together with twine are used to "paint" butter on tender steaks, to infuse them with a ton of flavor. The steaks are then finished on a hot grill, for beautiful char marks and a hint of smoke.
Filet mignon is from the upper end of the tenderloin, which means it doesn't get much exercise. This results in a cut of steak that is super tender and flavorful. You can often find it at the grocery store, also referred to as beef tenderloin. If none is available, or the cut is out of your budget, you can substitute it with a top blade or top sirloin roast.
It's key to use fresh herbs as the basting brush in the recipe. They impart a subtle flavor when dipped into the butter for basting. If you can't find thyme and rosemary, try using oregano or sage. Save the leftover butter to cook vegetables, to serve alongside the steaks, if desired.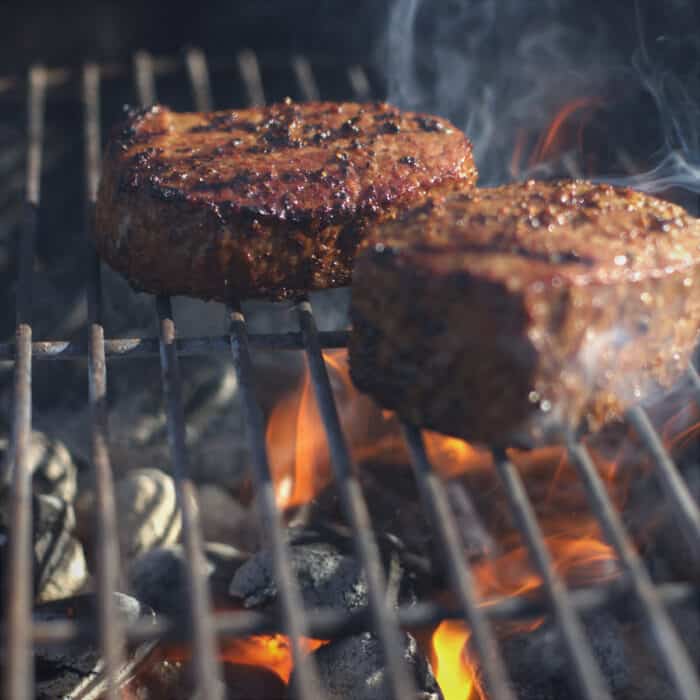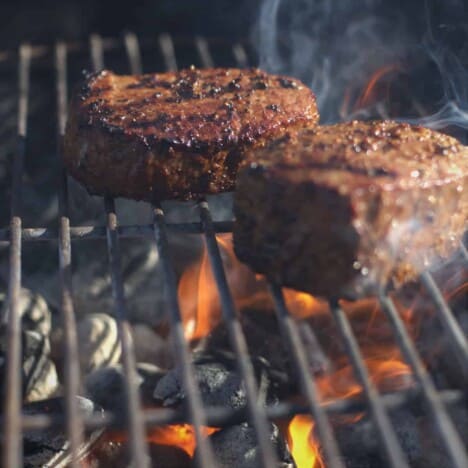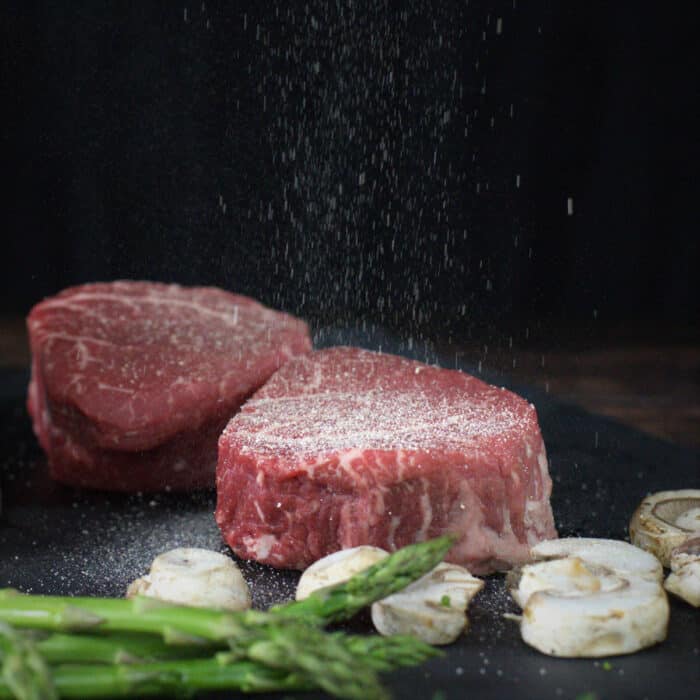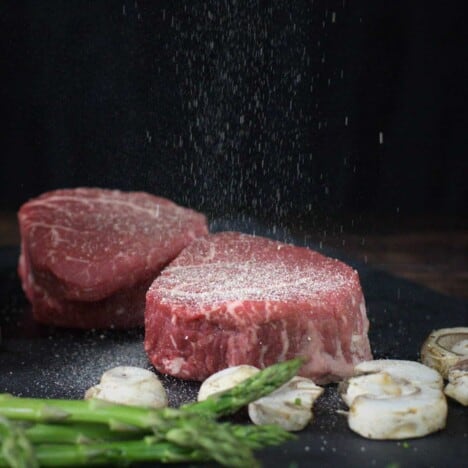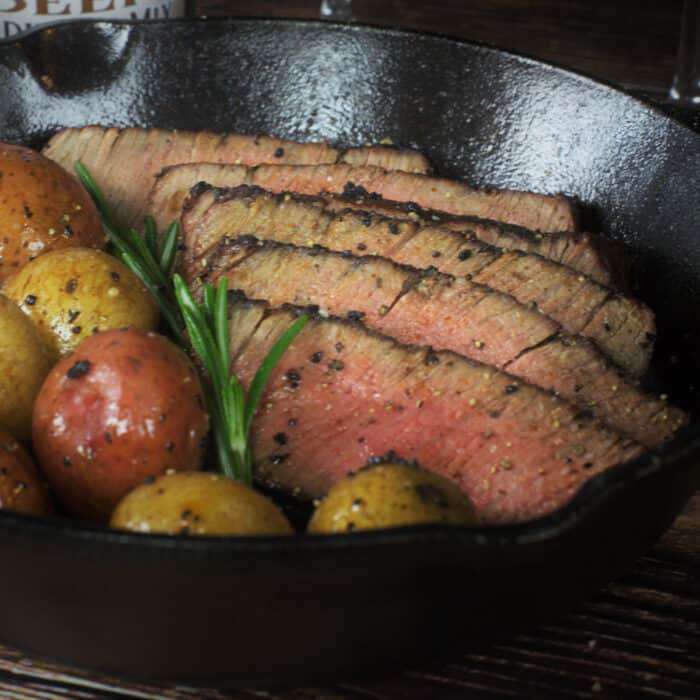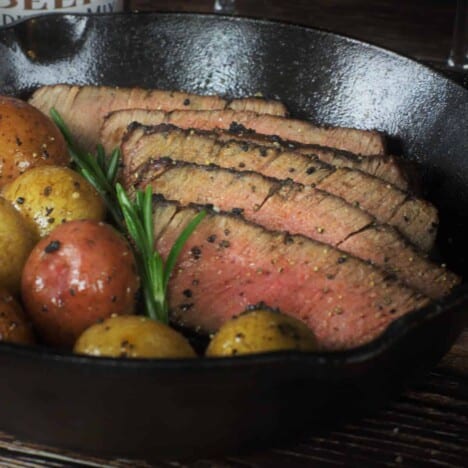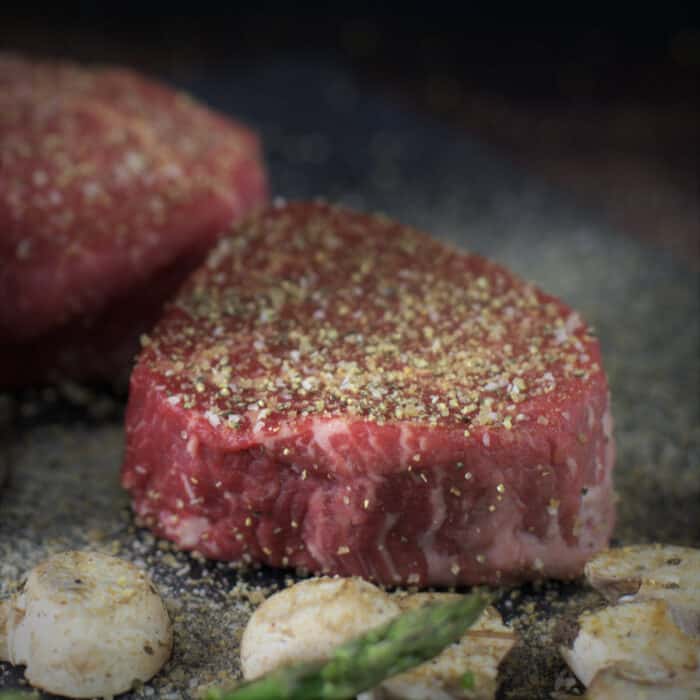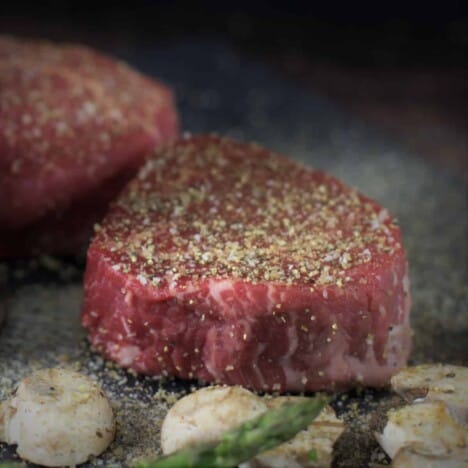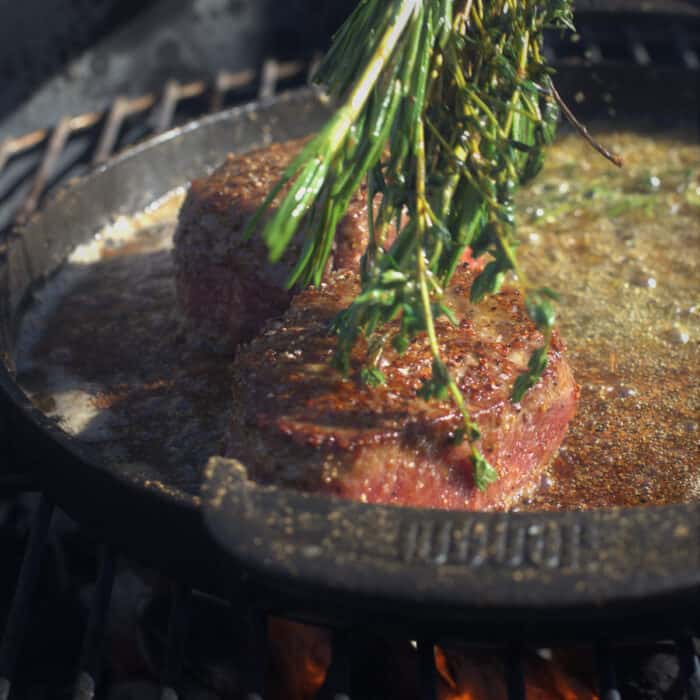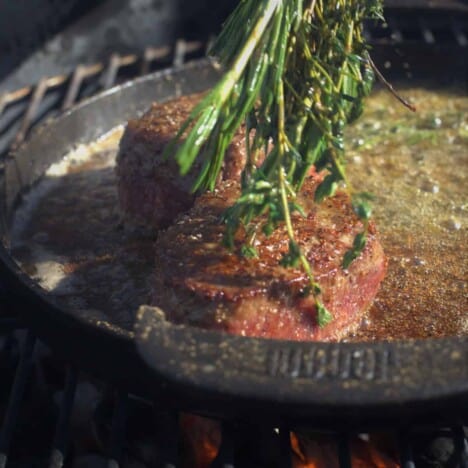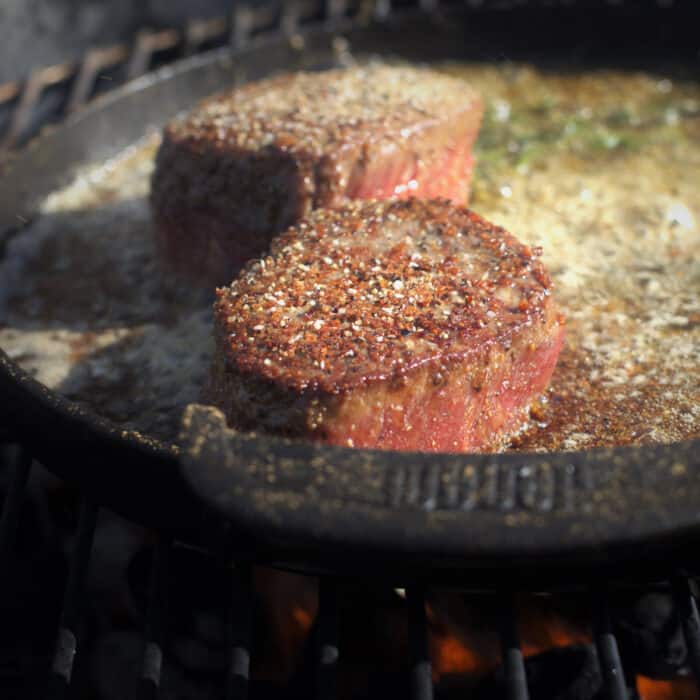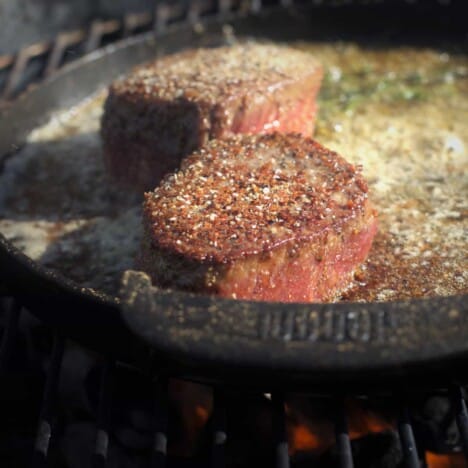 Twice Cooked Filet Mignon Recipe
This recipe is sponsored by Marble Ridge.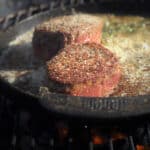 Basted in herb butter, twice cooked filet mignon, is a decadent and delicious dinner for a special occasion.
Directions
Marinate the steak in the Blues Hog Beef Marinade overnight in the refrigerator. 

Remove the steaks from the refrigerator and sprinkle them with the Blues Hog Bold & Beefy Seasoning. Let sit at room temperature for 30 minutes. 

Preheat a skillet to 275 degrees F (135 degrees C). Preheat the grill to 600 degrees F (315 degrees C). 

Tie the fresh thyme and rosemary together with kitchen twine, to form a basting brush. 

Melt the butter in the hot skillet. Add the steaks and cook until your preferred doneness, basting them frequently with the herb bundle dipped in butter. Rare (125 degrees F) (50 degrees C), will take 8 to 10 minutes.  

Remove the steaks from the skillet and transfer them to the hot grill. Sear the steaks for 2 minutes per side to create grill marks. Let the steaks rest for 10 minutes before serving. 
Nutritional Information
Serving:
2
g
Calories:
1028
kcal
Carbohydrates:
1
g
Protein:
42
g
Fat:
95
g
Saturated Fat:
49
g
Polyunsaturated Fat:
4
g
Monounsaturated Fat:
33
g
Trans Fat:
2
g
Cholesterol:
279
mg
Sodium:
164
mg
Potassium:
711
mg
Fiber:
1
g
Sugar:
1
g
Vitamin A:
1438
IU
Vitamin C:
1
mg
Calcium:
33
mg
Iron:
5
mg
BBQ Smoked
Tender filet mignon steaks are wrapped in applewood smoked bacon and served with herbed butter and Gorgonzola cheese for a…
Camp Cooking
The steak is first marinated in an Asian-influenced marinade before being braised to create this Asian Beef and Cucumber dish.…
BBQ Smoked
Beef cheeks are the hidden gem of all the beef cuts. With a bit of preparation and time, they could…