There is something special about a simple cook of your fish complemented with a rich topping like in this Surf Perch and Pineapple Salsa.  Not only is this dish super fresh, but it is also bright and fun to look at. 
The fish undergoes a basic dry brine to firm up what would otherwise be quite a soft and potentially mushy fish. After this, it is placed in a simple fish fry dusting and fried in a skillet.
The pineapple salsa, using grilled pineapple, is a flavorful accompaniment that complements yet doesn't overpower the fish. The earlier it is made the better the flavors meld together, it can even be made at home and taken on your fishing trip.
Surf Perch and Pineapple Salsa Recipe
This recipe is provided by VIP Outdoors.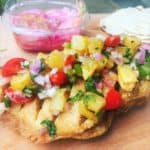 There is something special about a simple cook of your fish complemented with a rich topping like in this surf perch and pineapple salsa.
Preparation
12

hours
30

minutes
Ready in
12

hours
45

minutes
Ingredients
Perch
1

perch

or other white fish, scaled, cleaned and gutted

salt

as needed
Pineapple Salsa
1

fully ripened pineapple

olive oil

as needed

1/4

medium

red onion

diced

2

cloves

garlic

minced

1

handful

fresh cilantro

chopped

1

cup

cherry tomatoes

halved

1

jalapeño

or Serrano pepper

1/2

lime

Tajin

or all-purpose rub, to taste
Fried Perch
1

cup

all-purpose batter mix

1

cup

fish fry mix

canola oil

to fry
Equipment
large skillet

grill

plastic bag
Directions
Perch
Score the sides of the fish about 1/2-inch (1cm) deep and 1 inch (2.5cm) apart to allow the salt to react with the fish.

Rub salt into the flesh and skin of the fish then place uncovered to chill for at least 2 hours and preferably overnight. This is a form of dry-brining to create a firmer texture for the fish.
Pineapple Salsa
Remove the exterior skin of the pineapple. Thinly slice rounds of pineapple then coat with olive oil. 

Place the pineapple on the grill cooking both sides evenly until you have caramelized grill marks. Put aside until needed then dice.

Place all the diced pineapple, onion, garlic, and cilantro in a bowl along with the tomatoes.

When it comes to the chili, put as much or as little as you would like. Serrano is a late heat that sneaks up on you. If you like the chili flavor but not the heat, remove the seeds and ribs.

Squeeze into the pineapple mixture the lime. Season with Tajin. Stir and leave for the flavors to combine while cooking the fish.
Fried Perch
Take the fish then wipe dry and remove any excess salt. The fish will still be tacky.

In a gallon plastic bag add the batter mix and fish fry mix, then shake to combine.

Place the fish in the powder mix and make sure the fish is completely covered inside, outside, and in the scores.

Heat oil in a skillet to 325 degrees F (163 degrees C). This oil is cooler than the typical frying temperature to allow the fish to cook all the way through without burning the outside.

Place the fish in the heated oil and cook for about 5 minutes, or until brown, then turn and cook the other side for 5 minutes. It is generally a good practice to cook wild-caught fish all the way through as they don't undergo the safety steps and checks that commercial fish does. 

Serve by placing the hot cooked perch on a serving dish then top with the cold pineapple salsa. Serve immediately.
Nutritional Information
Calories:
387
kcal
Carbohydrates:
83
g
Protein:
12
g
Fat:
1
g
Saturated Fat:
1
g
Polyunsaturated Fat:
1
g
Monounsaturated Fat:
1
g
Cholesterol:
38
mg
Sodium:
184
mg
Potassium:
481
mg
Fiber:
4
g
Sugar:
24
g
Vitamin A:
436
IU
Vitamin C:
125
mg
Calcium:
76
mg
Iron:
1
mg
BBQ Grilled Salad
Ideal to top grilled chicken, seafood, or tacos, this is a fresh grilled corn and peach salsa that adds a…
Camp Cooking
Pico de Gallo is a flavorful, fresh, and healthy meal accompaniment or side. Packed with tomatoes, onions, and a little…
Picnic
Taking the ingredients of a standard salsa and grilling them gives this popular Mexican salsa a deeper rich flavor. The…