Smokey and aromatic, dried red beans and ham hocks are slowly smoked for many hours in this rich stew. Topped with rice, this is a comforting and hearty dish for a cold campout. The leftovers are even better the next day, once the stew has a chance to sit and develop more flavor.
Often called the "holy trinity" in Cajun and Creole cuisine, onions, bell peppers, and celery are the aromatic base of this stew. Not only are they used in this dish, but you will find this mixture in other traditional American Southern dishes like gumbo, jambalaya, and étouffée.
Ham hocks are also a key ingredient in this recipe. To save a bit of time, you can purchase smoked ham hocks at the store, but home-smoked is the best. If you can't find ham hocks, you can swap them out with shank or bacon.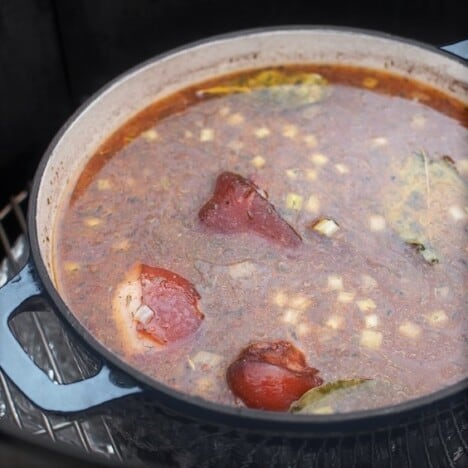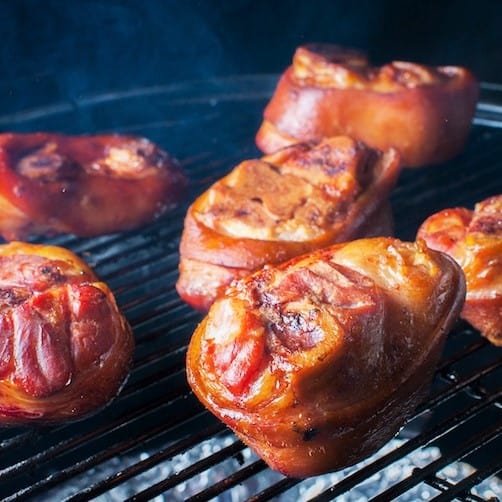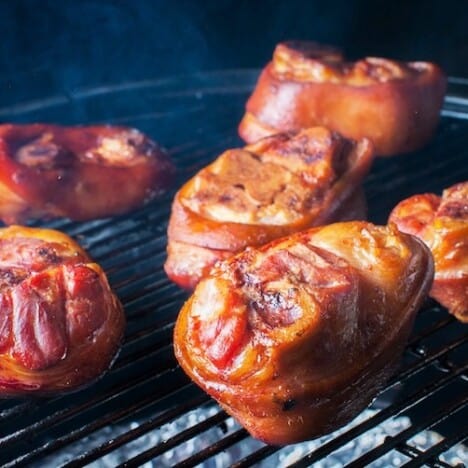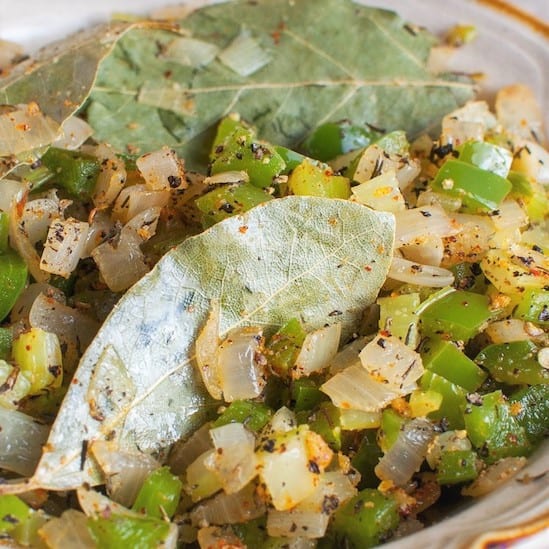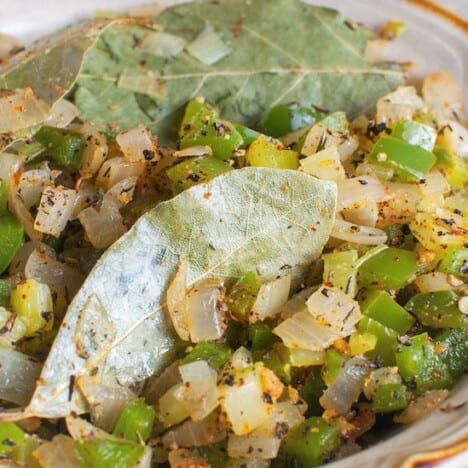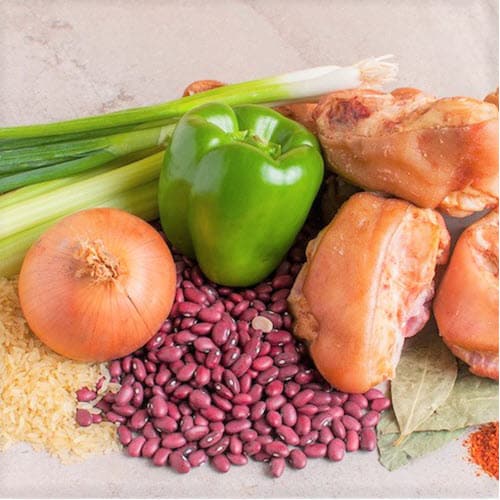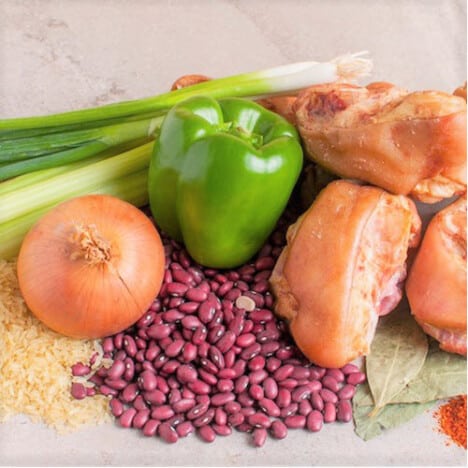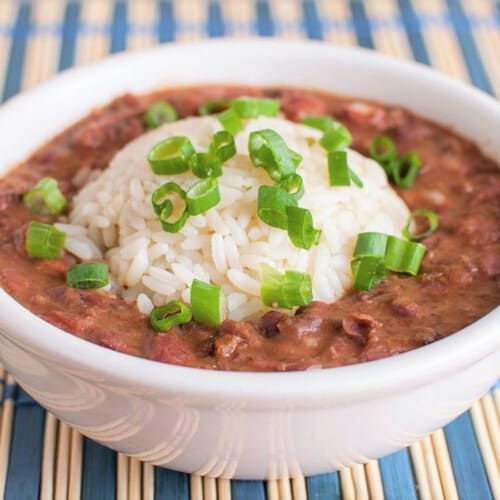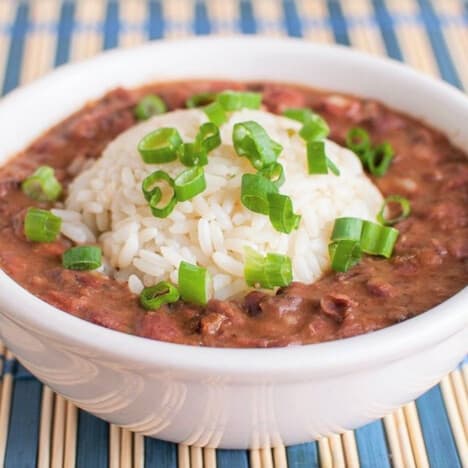 Red Bean Ham Stew Recipe
This recipe is sponsored by Slap Yo' Daddy.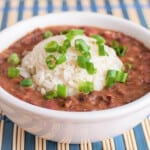 Smokey and aromatic, dried red beans and ham hocks are slowly smoked for many hours in this rich stew.
Ready in
10

hours
45

minutes
Ingredients
Red Beans
1

pound

dried red beans

6

cups

water
Smoked Ham Hocks
3

ham hocks

(about 1 ½ pounds)
Base
1

medium

onion,

diced

1

green bell pepper,

diced

3

ribs

celery,

diced

1

tablespoon

lard,

bacon grease, or oil
Seasoned Rice
1

cup

white rice

2 1/4

cups

water

1

tablespoon

salted butter

1

tablespoon

minced green bell peppers

1

tablespoon

minced onions

1

tablespoon

minced celery
Equipment
smoker

2 applewood chunks

Dutch oven

skillet
Directions
Red Beans
Soak the beans in plenty of water for 8 hours or overnight, then drain.
Smoked Ham Hocks
Set up a smoker to burn for around 10 hours at 250 degrees F (121 degrees C). Once your smoker is stable, add a couple of apple wood chunks.

Smoke the ham hocks for 1 hour in your pit. The internal temperature will be around 140 degrees F (60 degrees C).

Pour the soaked and drained red beans into a 6-quart Dutch oven. Add the double-smoked hocks and 6 cups of water. Put the pot on a burner on high heat and bring it to a boil, then reduce to a simmer. Skim off any scum off the top and dispose.
Base
In the skillet, saute the onions, bell peppers, and celery in the lard with the all-purpose rub until the mixture is soft, translucent, and slightly caramelized, about 10 minutes.
Aromatics
Add the sauteed onion mixture and the bay leaves, thyme, pepper, and garlic to the pot of simmering red beans. Return the temperature to high heat, bring to a boil, then turn off the heat.

Transfer the Dutch oven to the smoker.

Smoke the beans in the Dutch oven uncovered for 5 hours. Using tongs, remove the ham hocks and set aside. This will keep the hocks from breaking into tiny pieces and minimize leaving small annoying bone fragments that would be hard to pick out later.

Cover the Dutch oven with a lid and close the smoker back up. Continue cooking until the beans are tender, 3 hours or more.

After the reserved hocks are cooled, pick off all the meat and cut into pieces; reserve.

Pull the finished beans out of the smoker and add the reserved pieces of hock meat. Put the beans on the stove over high for a few minutes, stirring constantly. This will help break up the beans and create a velvety consistency. Adjust the thickness of the beans to your liking by either adding a little water, if too thick, or reducing it a bit if too watery. When you have your desired consistency, add 2 tablespoons of all-purpose hot rub and salt to taste.
Seasoned Rice
Place the rice, water, butter, bell peppers, onions, and celery in a saucepan. Bring to a boil, reduce to low, cover, and steam for 20 minutes. Open and fluff gently with a fork.
Nutritional Information
Calories:
721
kcal
Carbohydrates:
79
g
Protein:
44
g
Fat:
25
g
Saturated Fat:
10
g
Polyunsaturated Fat:
3
g
Monounsaturated Fat:
10
g
Trans Fat:
0.1
g
Cholesterol:
100
mg
Sodium:
667
mg
Potassium:
1560
mg
Fiber:
14
g
Sugar:
4
g
Vitamin A:
436
IU
Vitamin C:
24
mg
Calcium:
180
mg
Iron:
9
mg
Dutch Oven
Omar's Pinto Beans have been a crowd favorite across America in various Dutch Oven and Chuck Wagon Competitions and cookouts.…
Gas Stove
A great one-pot meal while camping, this smoked sausage and black bean rice both look and taste amazing. A great…
Skillet
Sweet peaches, smoky bacon, and spicy jalapeños are mixed together with baked beans in Peach Bourbon Beans. The ultimate side…