Pork chops are an easy item to grill or sear in a skillet while camping. The traditional accompaniment is apple sauce, this version includes savory seasonings of thyme and butter.
Unlike the modern sweet dessert-style apple sauces, the original apple sauces were a savory element to meat, with the fruit acid in the apples helping to cut through the fat in the pork while eating and during digestion.
This apple and pork relationship is now mainly visualized through the apple in the mouth of a whole hog, while the sauce is rarely served or so overpowering sweet it has no choice but to be relegated to dessert. No sugar is added to this version.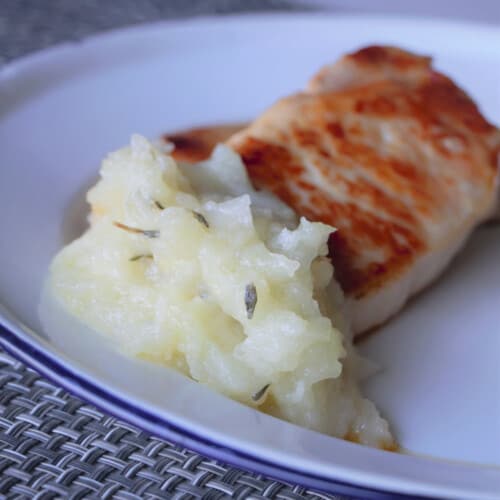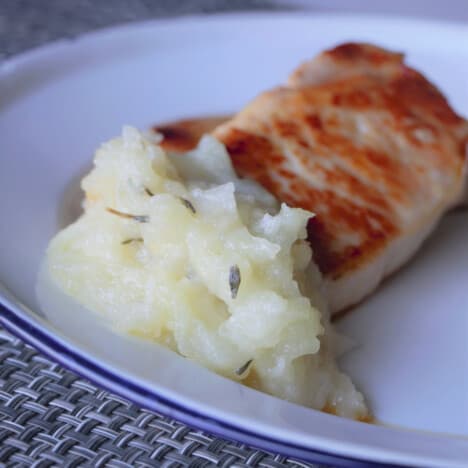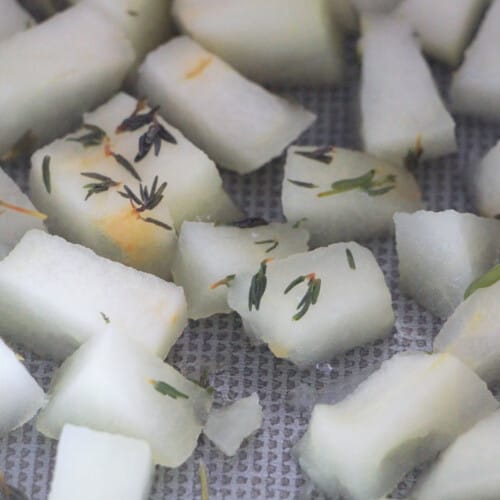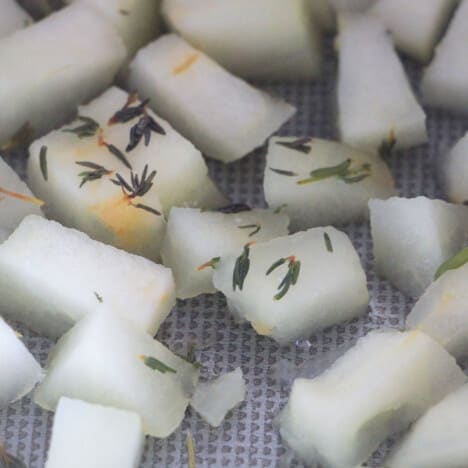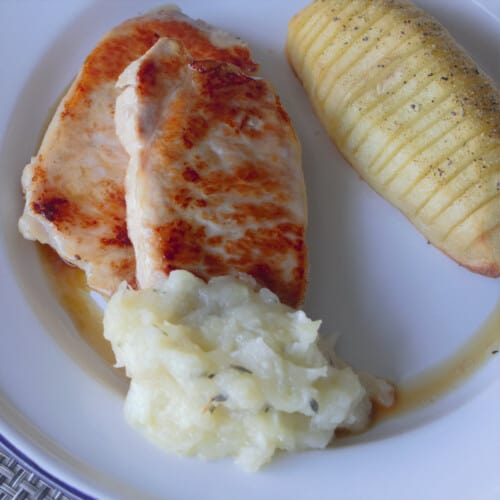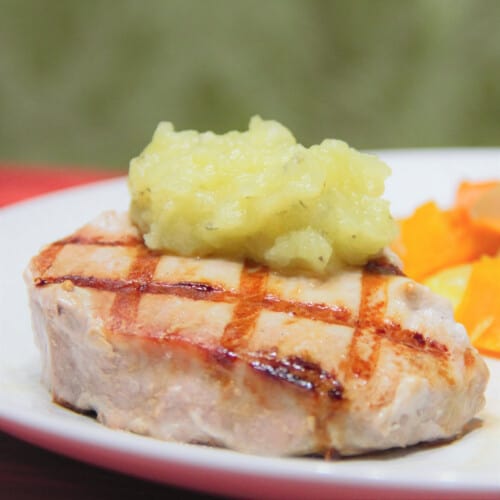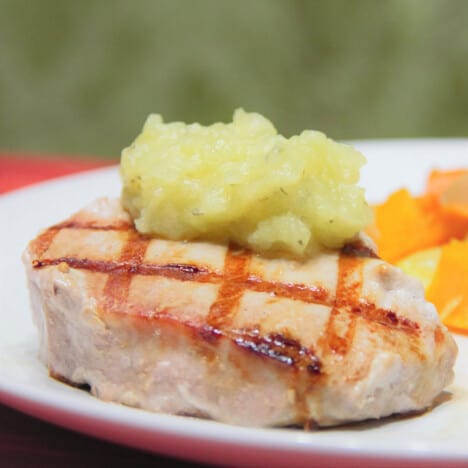 Pork Chop with Apple Sauce Recipe
This recipe is for brand affiliate Grillgrates.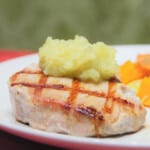 Pork Chops are an easy item to grill or sear while camping, to make it great though here is a twist on the traditional Apple Sauce accompaniment.
Ingredients
Apple Sauce
2

apples

1

sprig thyme

or to taste

1

tablespoon

salted butter

salt and white pepper
Directions
Apple Sauce
Peel and dice the apples then cube them into small pieces.

Place the apples into a pot with a small amount of water and simmer until the apple is soft.

In a small bowl, add the apple, thyme leaves, butter, salt, and white pepper. Combine well and leave for the flavors to infuse while cooking the pork chops. Taste before serving and adjust the seasoning if necessary.
Pork Chops
Cook the pork chops to personal preference, this may be on a grill, griddle, or skillet. The pork only needs to be seasoned with salt, as the flavor comes from the apple sauce.
Nutritional Information
Calories:
280
kcal
Carbohydrates:
13
g
Protein:
29
g
Fat:
12
g
Saturated Fat:
5
g
Polyunsaturated Fat:
1
g
Monounsaturated Fat:
5
g
Trans Fat:
1
g
Cholesterol:
97
mg
Sodium:
88
mg
Potassium:
600
mg
Fiber:
2
g
Sugar:
9
g
Vitamin A:
154
IU
Vitamin C:
5
mg
Calcium:
17
mg
Iron:
1
mg
BBQ Grilled
Though marinated pork chops may seem like an ordinary recipe, these chops are anything but. Marinated in soy and lemon…
BBQ Grilled Meat
Pork chops are kicked-up with a sweet and tart marinade. Honey, apple cider vinegar, and pork rub are mixed together,…
BBQ Grilled Meat
Thick-cut pork from the Boston Butt is perfect for grilled pork steaks. Visit your local butcher to get these unusual…