A homemade vanilla slice is a wonderfully satisfying baked dessert item perfect for picnics, packed lunches, and day trips. With its layers of puff pastry, cream filling, and white and pink icing, it is as pretty to look at as it is to eat. The texture is really pleasing with a bit of flaky crust and a creamy center.
Even though it seems complicated, there is just a little effort to make the three core elements. The puff pastry is store-bought, the vanilla custard is a basic recipe, and the icing is very simple. Once all the layers are made and assembled, it is worth the bit of effort, as it looks and tastes great.
The custard is not the traditional homemade egg version, but rather one made of custard powder and cornstarch. This version is very firm, so it holds together better while traveling and is more stable and less likely to break or ooze.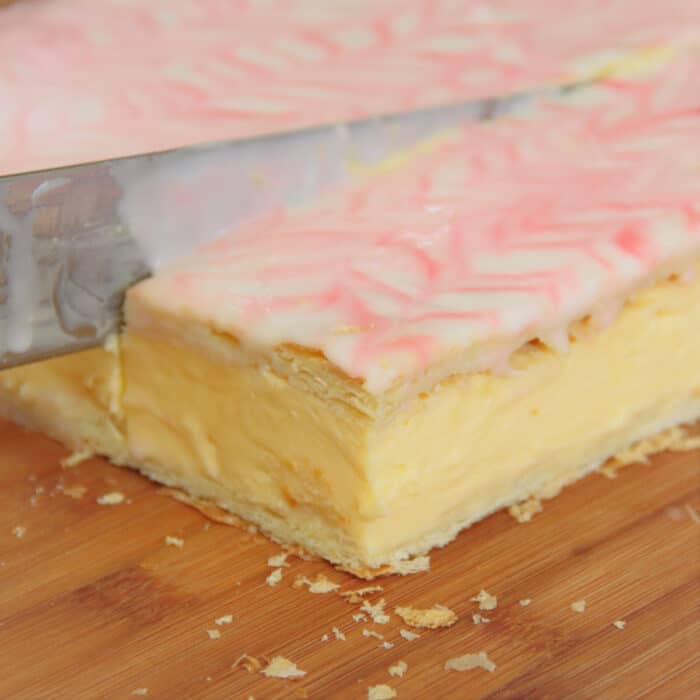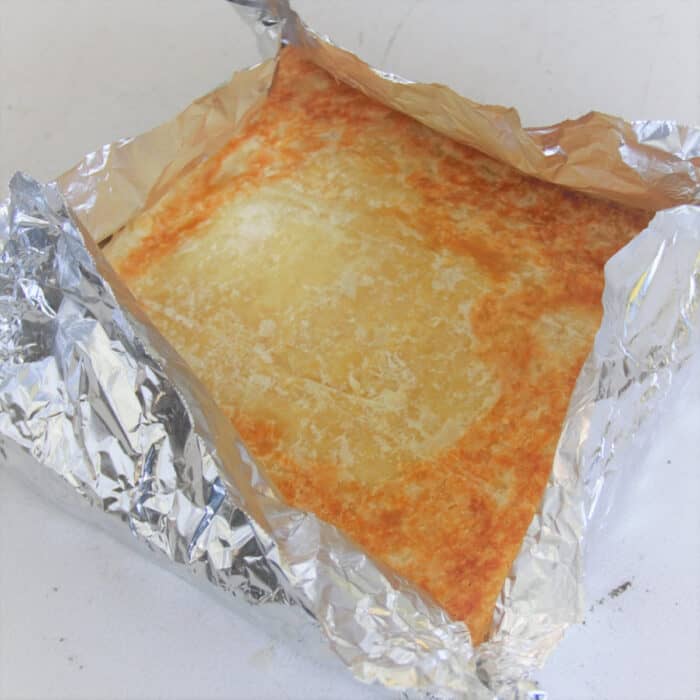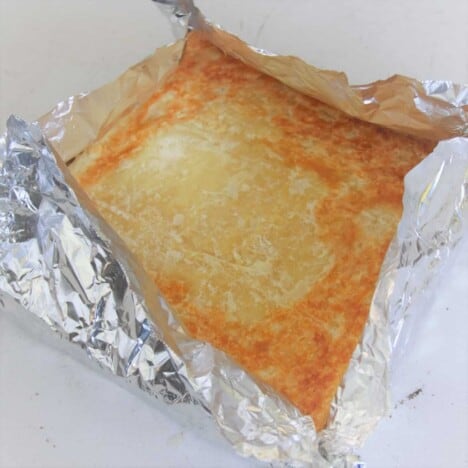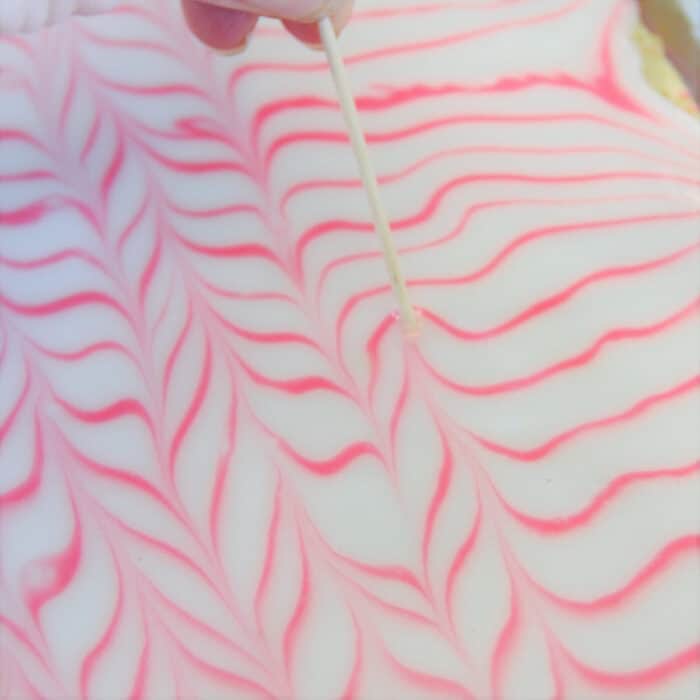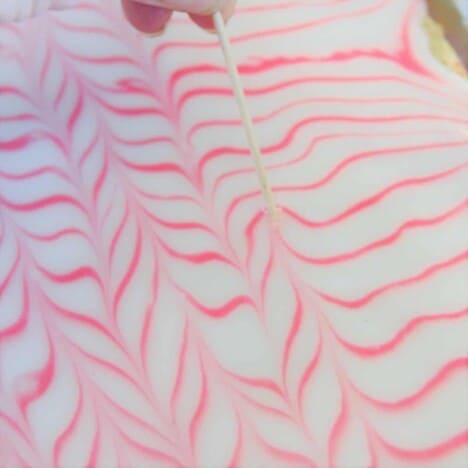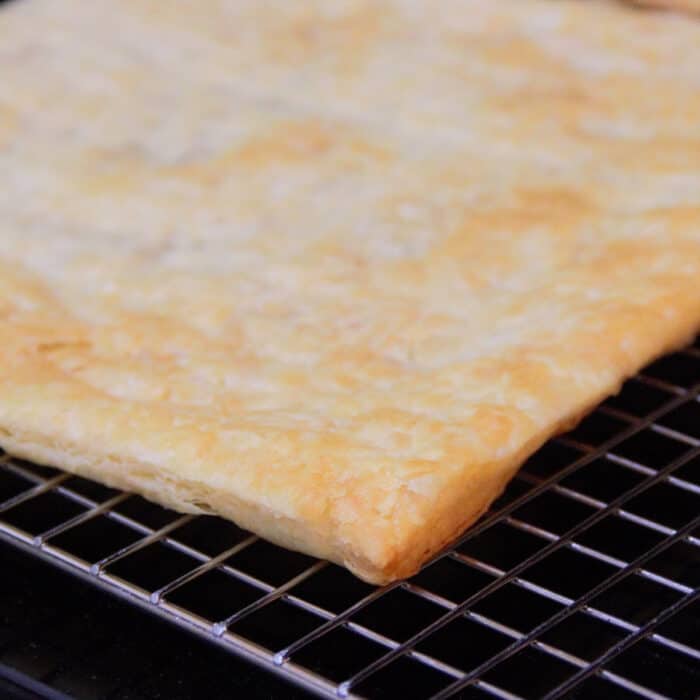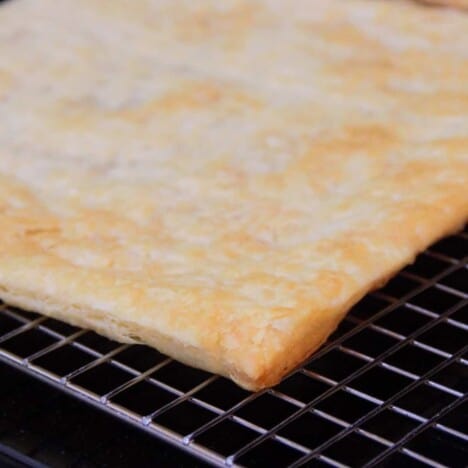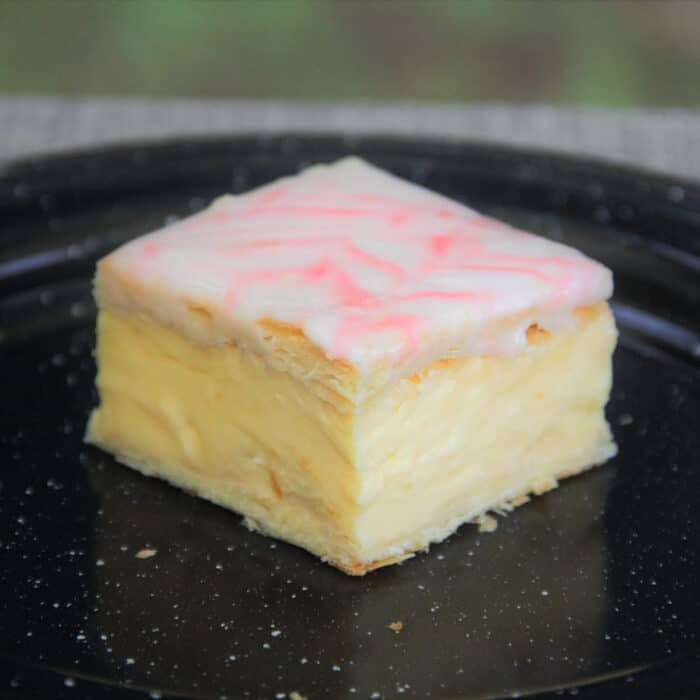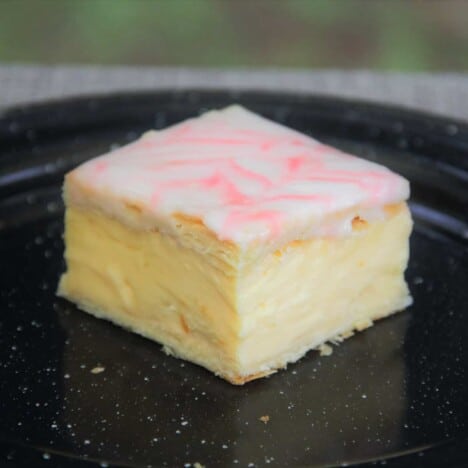 Homemade Vanilla Slice Recipe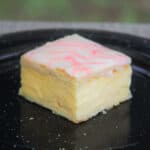 Homemade Vanilla Slice is a wonderfully satisfying baked dessert item perfect for picnics, packed lunches, and day trips.
Preparation
3

hours
20

minutes
Ingredients
Pastry
2

sheets

pre-made puff pastry

thawed
Vanilla Custard
4

cups

cream

1

cup

white sugar

3/4

cup

cornstarch

(cornflour)

1/2

cup

custard powder

1

tablespoon

unsalted butter

2

teaspoons

vanilla extract
Icing
1 1/2

cups

confectioner's sugar

(icing sugar)

2

tablespoons

water

1 to 2

drops

red food coloring
Equipment
2 baking tray(s)

foil
Directions
Pastry
Preheat the oven to 425 degrees F (210 degrees C).

Take the puff pastry and pierce it multiple times with a fork to help reduce the amount of puff, thus creating a firmer shell for the vanilla slice.

Lay the sheets of puff pastry on a lightly greased baking tray. Place in the oven and cook for 8 minutes or until golden brown. Remove and place on a cooling rack until needed.
Vanilla Custard
Add the cream, sugar, cornstarch, and custard powder to a saucepan. Whisk until well combined and completely smooth.

Start to heat the cream mixture, continually mixing, until warm and starting to slightly thicken. Add the sugar and mix in. Continue heating and stirring until boiling (the custard will be very thick).

Tip: It is important to make sure the mixture has boiled otherwise the cornstarch will create a gritty texture.

When thickened take off the heat then stir in the butter and vanilla until well combined. Continue stirring until cooled to room temperature.
Icing
Combine the confectioner's sugar with the water and stir until well combined and smooth.

Transfer a small amount, about 2 tablespoons, to a plastic bag. Add a few drops of red food coloring to create a pink color. Squish in the bag to create a consistent color.
To Assemble
If you have a cake tin the same size as the puff pastry use that. Otherwise use a sheet of pastry and foil to create a cake tin of the same size. 

The first sheet of puff pastry is placed in the foil cake tin flat side down (same way as cooked).

Top the puff pastry with all the vanilla custard and spread evenly making sure there are no air pockets.

Top the vanilla custard with the second sheet of pastry flat side up (opposite to how it was cooked), this creates a flat surface for the icing.

Tip the white icing on top of the puff pastry and spread evenly to cover the top.

Cut a tiny corner off of the plastic bag. Run the pink icing back and forth to create parallel lines across the top of the slice.

Use a toothpick or skewer to drag the icing at right angles to the pink lines going from one side to the other back and forth to create a traditional pattern.

Place in the fridge for at least 2 hours, overnight if possible, to set before slicing.

Using a large knife, cut the vanilla slice into square or rectangle serving pieces. If the edges are messy they may be trimmed to create a cleaner serving slice.
Nutritional Information
Calories:
662
kcal
Carbohydrates:
60
g
Protein:
5
g
Fat:
45
g
Saturated Fat:
23
g
Polyunsaturated Fat:
3
g
Monounsaturated Fat:
16
g
Trans Fat:
1
g
Cholesterol:
94
mg
Sodium:
127
mg
Potassium:
107
mg
Fiber:
1
g
Sugar:
34
g
Vitamin A:
1198
IU
Vitamin C:
1
mg
Calcium:
59
mg
Iron:
1
mg
Camp Oven
Chocolate caramel slice is a popular Australian bakery item that is great for picnics, packed lunches, and desserts. The firm…
Camp Oven
Inspired by the Australian chocolate, the Cherry Ripe, this picnic cherry slice is a decadent dessert. Layers of cookie base,…
Hiking and Trekking
This is definitely a sweet treat that is loved by adults and kids alike. The slice is effectively a Rice…