Including the breakfast favorites of bacon, sausage, and egg this grilled breakfast pizza is a great way to start the day outdoors. Instead of red sauce, the base of this pizza is country gravy. 
If camping you can pre-prepare all the toppings at home then simply add them to the pre-made pizza base. Then it's as simple as adding the pizza to the grill for a quick and easy breakfast. Alternatively, it isn't much trouble to make from scratch onsite.
Serving breakfast as a pizza has the added advantage of being able to eat it with your hands, meaning no dishes. Most people would agree that no dishes puts you in a much better mood for the rest of the day.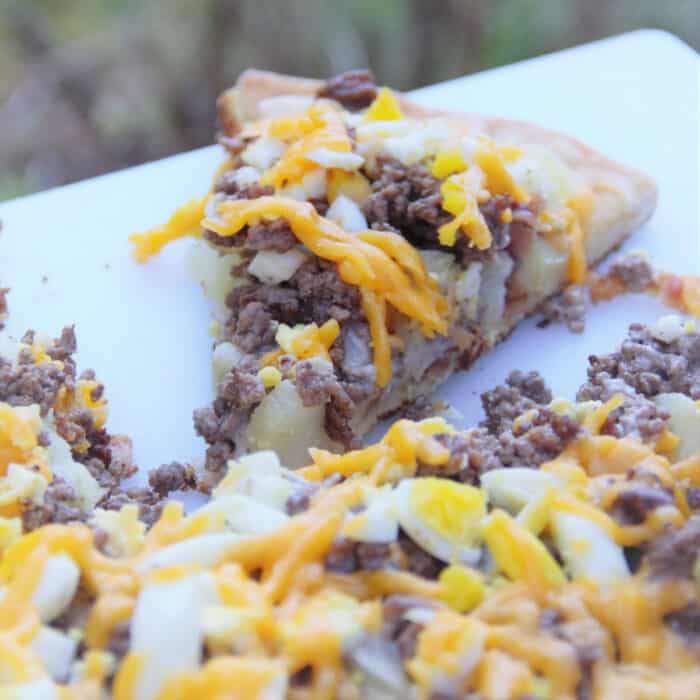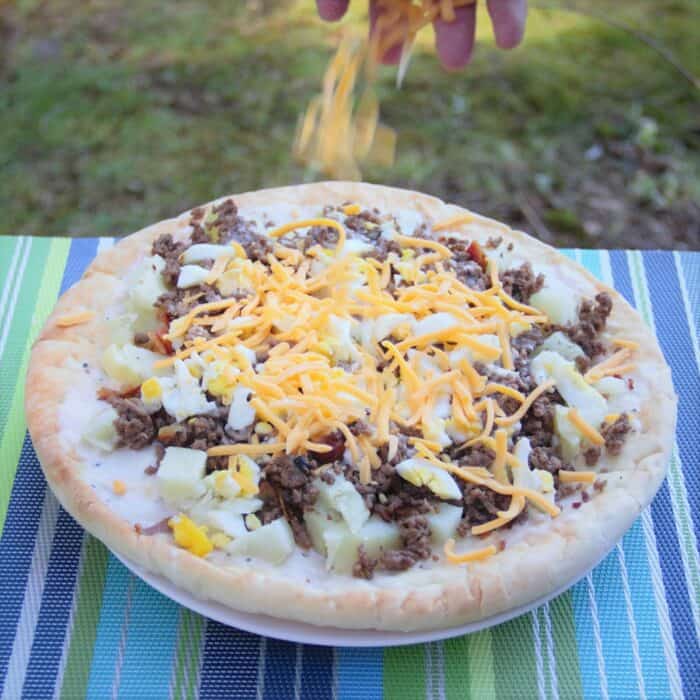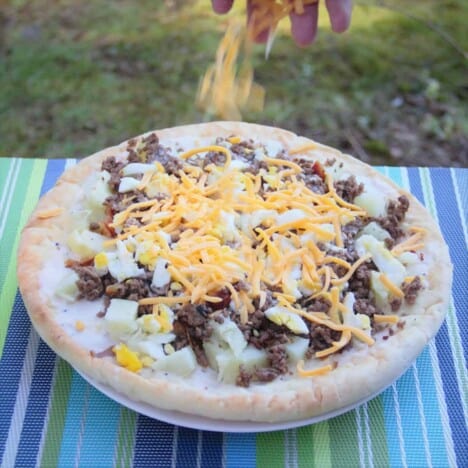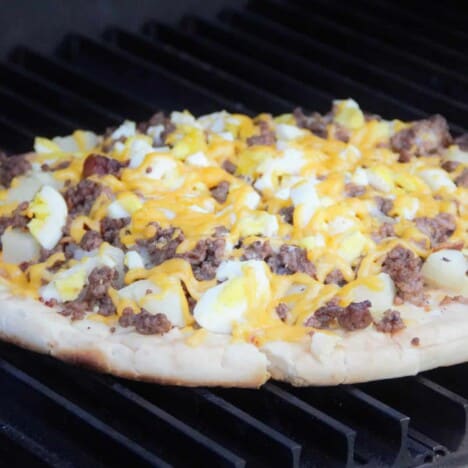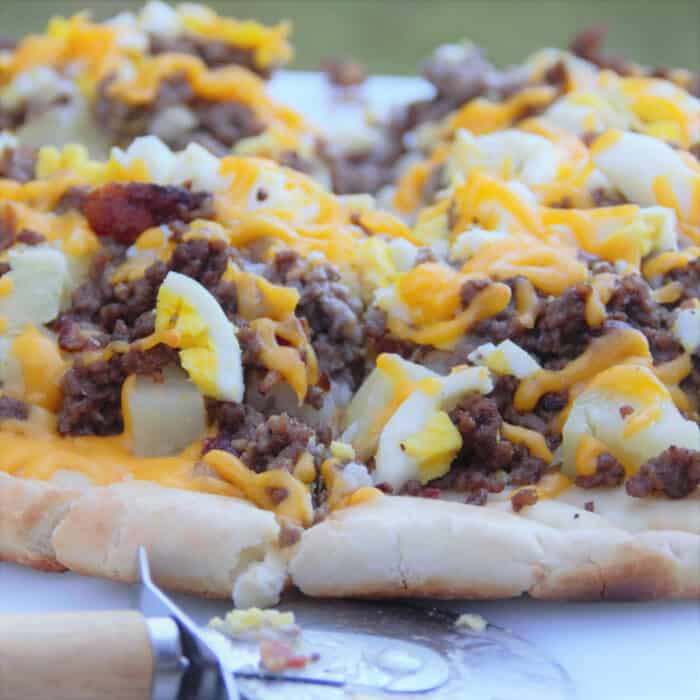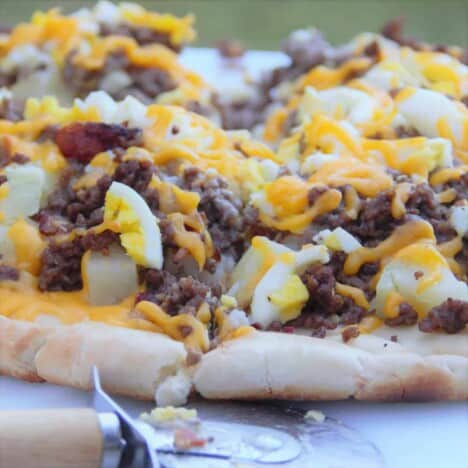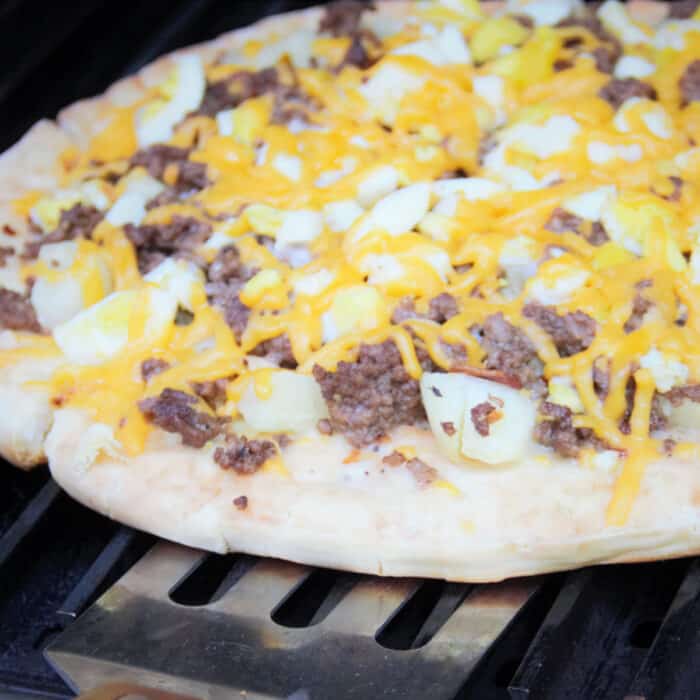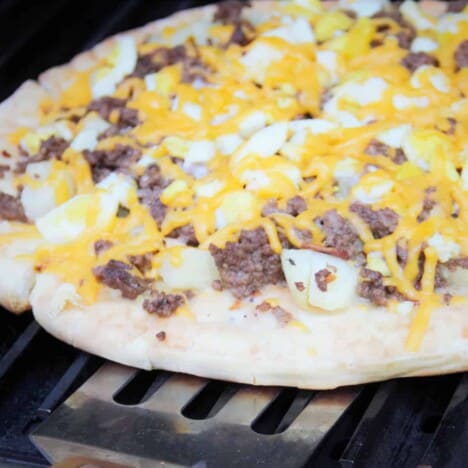 Grilled Breakfast Pizza Recipe
This recipe is for brand affiliate Grillgrates.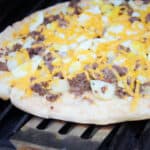 Including the breakfast favorites of bacon, sausage, and egg this Grilled Breakfast Pizza is a way to start the day outdoors.
Ingredients
1

packet

white country sausage flavor gravy

oil

for grilling

1

pre-made pizza crust

3

hardboiled eggs

chopped

6

strips

cooked bacon

crumbled

6

cooked spicy sausage

or mild sausage patties,crumbled

3

cooked red potatoes

cut into chunks

1

cup

shredded cheddar cheese
Directions
Make the gravy according to package directions.

Preheat a grill to medium-low heat.

Rub oil onto the bottom side of the premade pizza base then place on a cutting board ready to add the toppings.

Spread half the gravy over the pizza crust. Add the eggs, bacon, sausage, and potatoes evenly around the pizza. Dollop the remaining gravy over the toppings. Sprinkle with the cheese.

Place the pizza on the preheated grill, close the lid, and cook for 20 minutes rotating it every 5 minutes to ensure the grill marks don't turn into burn marks. Check the base each turn to make sure it isn't cooking too quickly, if so then reduce the temperature. 

Remove the pizza from the grill and let stand for 5 minutes to let the toppings stabilize before slicing.
Nutritional Information
Calories:
587
kcal
Carbohydrates:
73
g
Protein:
26
g
Fat:
21
g
Saturated Fat:
9
g
Polyunsaturated Fat:
2
g
Monounsaturated Fat:
6
g
Trans Fat:
1
g
Cholesterol:
181
mg
Sodium:
1183
mg
Potassium:
859
mg
Fiber:
4
g
Sugar:
9
g
Vitamin A:
495
IU
Vitamin C:
14
mg
Calcium:
236
mg
Iron:
4
mg
The grilled cheeseburger pizza combines two favorite fast foods into one! This is where a juicy cheeseburger meets a cheesy…
Dutch Oven One Pot Meals
This is a novel yet very effective way to cook outdoors. The Dutch Oven Ham Pizza actually uses the Dutch…
Barbecue
Everything you love about the traditional BLT (bacon, lettuce, and tomato) sandwich, but in pizza form. This BBQ BLT Pizza…