English style pancakes make for a delicious start to a rustic morning. They're straightforward to make and require a minimal number of ingredients. Though they are perfect with lemon and sugar, you can also add a dollop of jam or a drizzle of syrup.
The trick to making these in the great outdoors is to have a very steady temperature and the right kind of tool for flipping. Offset icing spatulas tend to work well for this dish. Use a thick cast iron skillet to hold an even temperature.
Lighter and thinner than their American cousins, they are a happy middle ground between flapjacks and crepes. You can get creative with toppings, including fresh or canned fruit. Or spread a bit of nut butter or chocolate on top.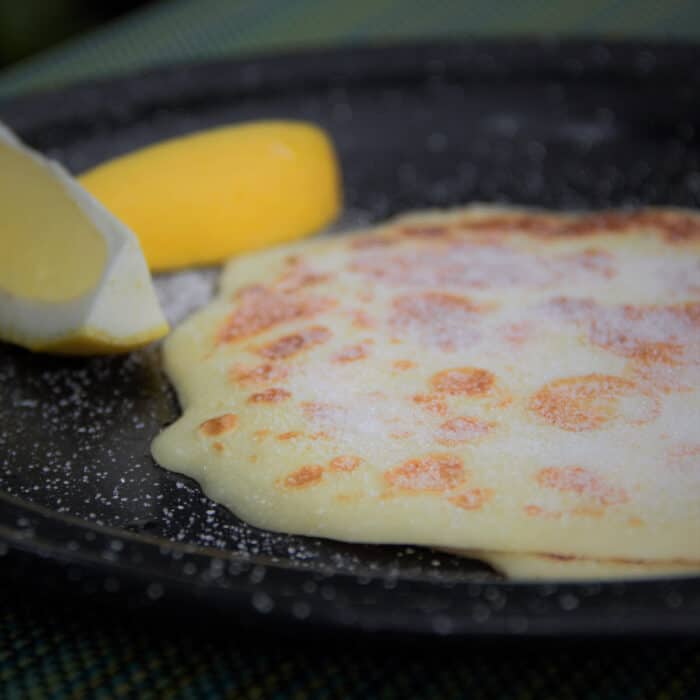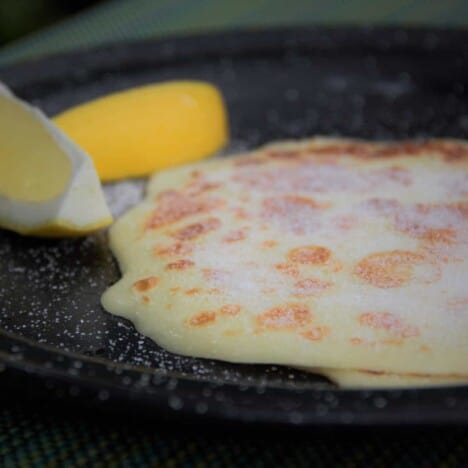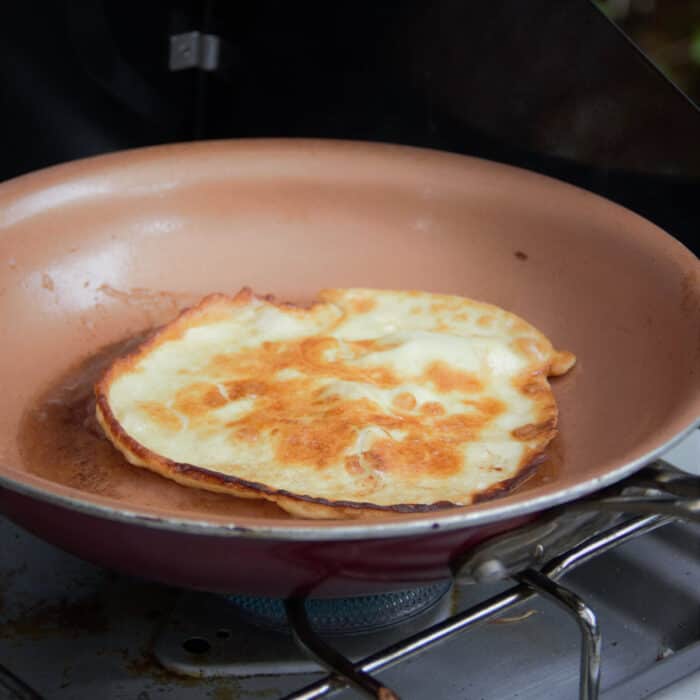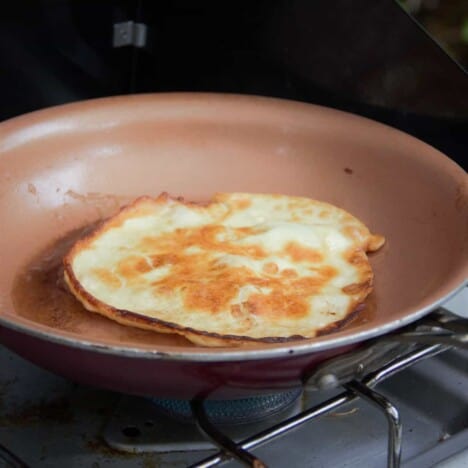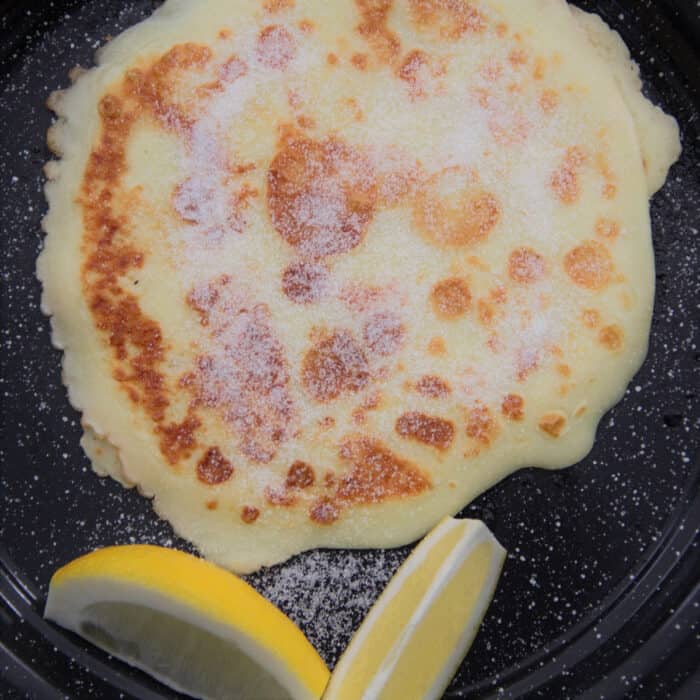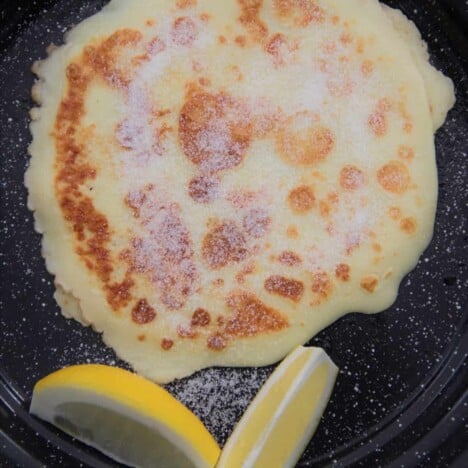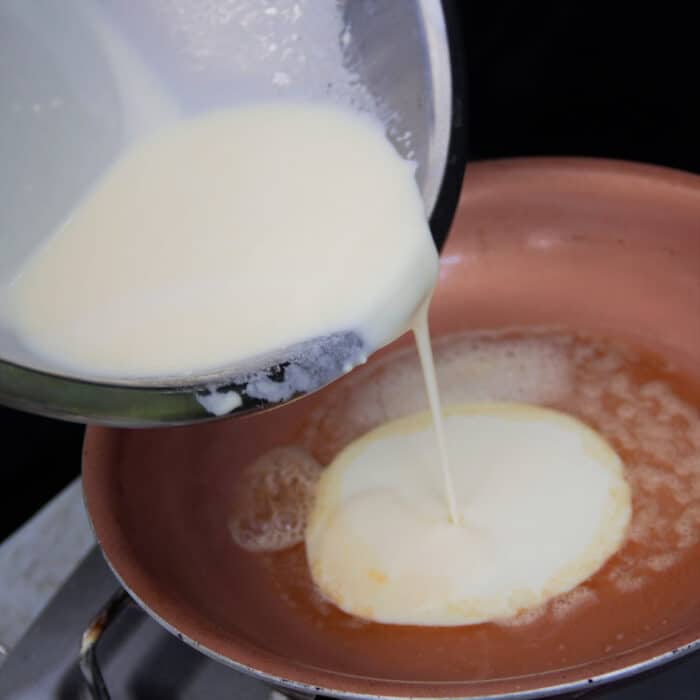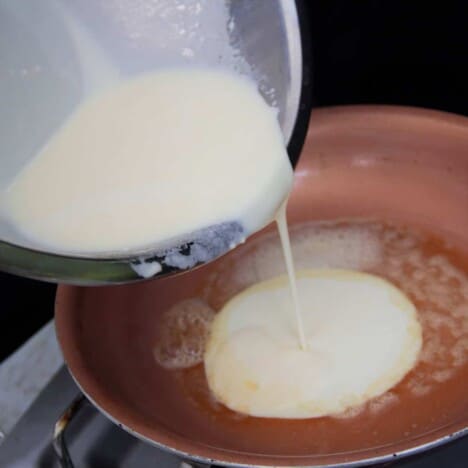 English Pancakes with Lemon Recipe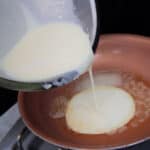 English Style Pancakes make for a delicious start to a rustic morning. They're straightforward to make and require minimal ingredients.
Ingredients
English Pancakes
3/4

cup

all-purpose flour

plain flour

pinch

salt

2

eggs

1 1/4

cups

milk

1

tablespoon

melted butter

or oil plus some for frying
Topping
1

lemon

juiced

sugar

as needed
Directions
English Pancakes
Mix the flour and a pinch of salt in a large mixing bowl.

Make a well in the center of the flour mixture then crack the eggs into the middle. Pour in about one-sixth of the milk and add all the butter. 

Start whisking from the center, gradually drawing the flour into the eggs, milk, and butter. Once all of the flour is incorporated, whisk until you have a smooth, thick paste.

Pour in more of the milk and whisk to loosen the thick batter. While still whisking, pour in a steady stream of the remaining milk. Continue pouring and whisking simultaneously until the batter is the consistency of heavy cream.

Heat the frypan over medium heat, then add butter to grease the surface.

Pour or ladle some batter onto the skillet, tilting the skillet to make a thin, even layer. Return the frypan to the heat.

Let the pancake cook undisturbed for 30 seconds. If the frypan is at the right temperature, the pancake will turn golden underneath in about 30 seconds and be ready to flip.

Hold the skillet and ease the spatula under the pancake, then quickly flip it over. Make sure that the pancake is lying flat with no folds, then cook for another 30 seconds before turning it out onto a plate.

Continue with the rest of the batter, serving them as you cook or stacking them on a plate to serve at once. Sprinkle them with the lemon juice and sugar before serving.
Nutritional Information
Calories:
102
kcal
Carbohydrates:
12
g
Protein:
4
g
Fat:
4
g
Saturated Fat:
1
g
Polyunsaturated Fat:
1
g
Monounsaturated Fat:
2
g
Trans Fat:
1
g
Cholesterol:
45
mg
Sodium:
33
mg
Potassium:
97
mg
Fiber:
1
g
Sugar:
2
g
Vitamin A:
124
IU
Vitamin C:
7
mg
Calcium:
55
mg
Iron:
1
mg
BBQ Grilled
We all love a cold refreshing drink of lemonade while outdoors. But if you are getting a little tired of…
Dutch Oven Main Dish
Looking for a simple main for your next camping dinner? Look no further than this easy yet flavorful Dutch Oven…
Picnic
Popular in many desserts and baked goods, fresh lemon curd offers a tart element to balance the frequent sweetness found…