Fresh fillets of salmon are coated in a flavorsome coat of seasoned crackers before being baked in a camp oven to create a wonderful main dish for a hearty meal.
The cracker crumbs are combined with grated parmesan, finely diced parsley, and all-purpose rub to create a deep flavor profile. A slight addition of cayenne is also an option but be careful not to overpower the delicate nature of the fish.
The instructions are for the salmon to be baked in a camp oven, however, it may also be cooked in a Dutch oven or gently fried with butter in a skillet or frypan, if that is the equipment that you have available to you.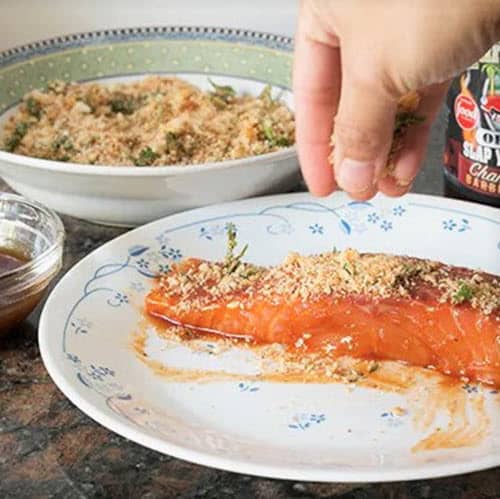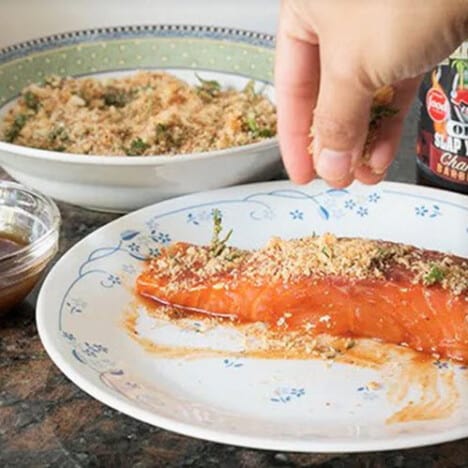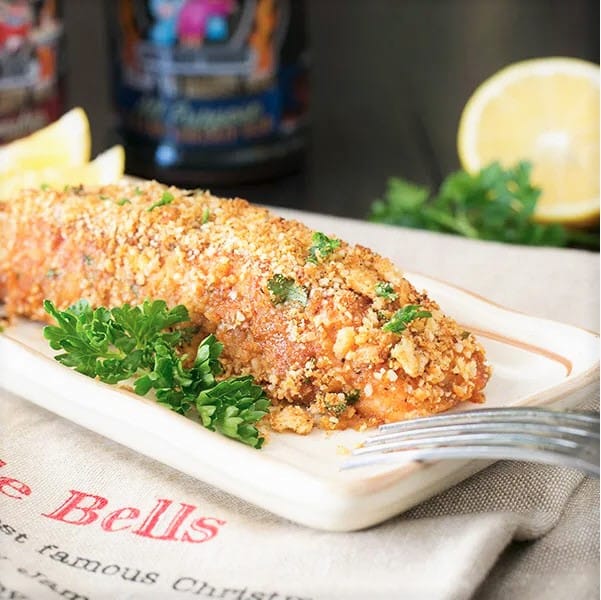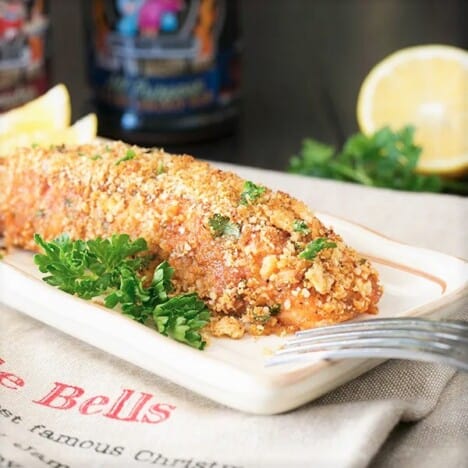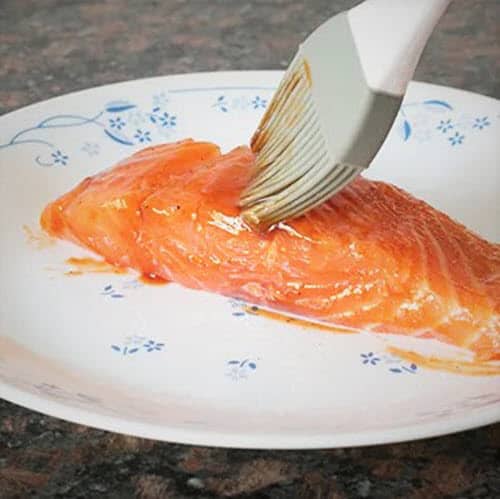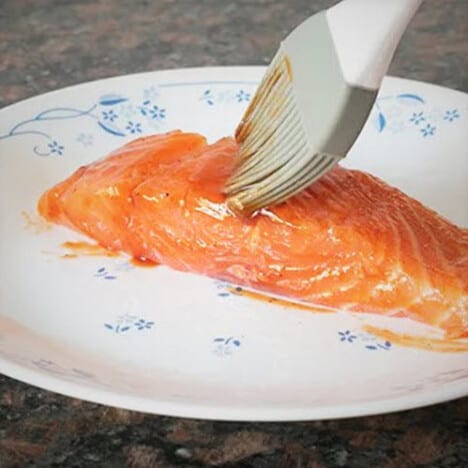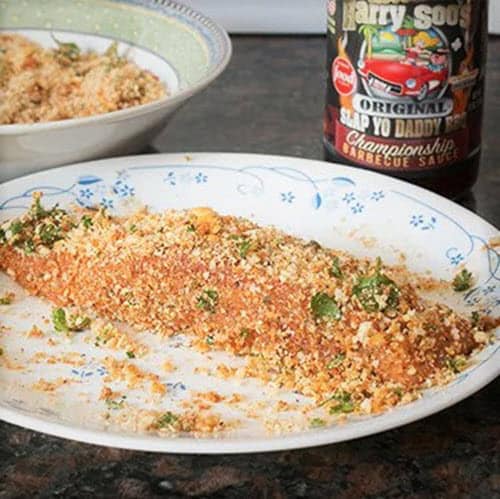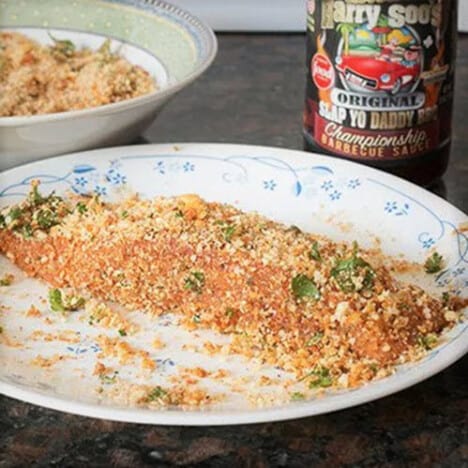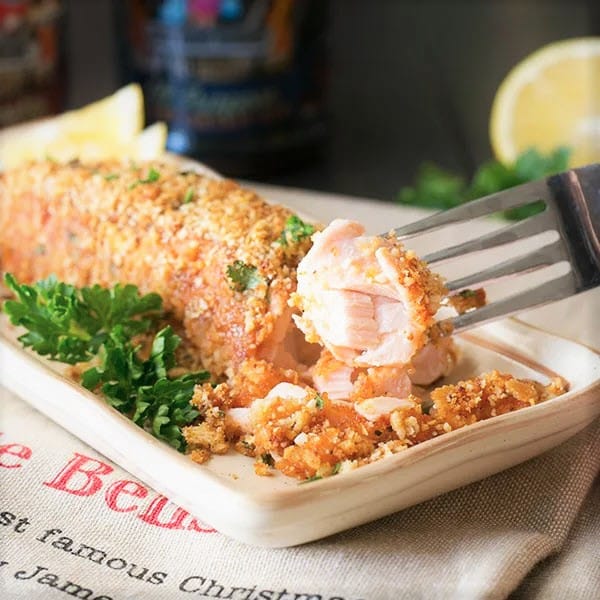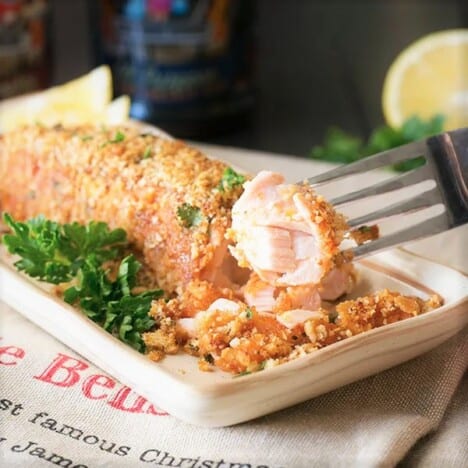 Cracker Crusted Salmon Recipe
This recipe is sponsored by Slap Yo' Daddy.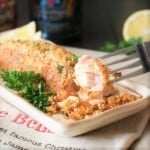 This is a tasty camp oven baked salmon that uses crushed crackers rather than breadcrumbs.
Ingredients
Crumbed Salmon
4

skinless salmon fillets
Directions
Crumbed Salmon
Preheat the camp oven to 375 degrees F (190 degrees C). Line a baking dish with foil.

Place the salmon in the preheated camp oven on the foil-lined baking dish.

Cook for 12 to 16 minutes until the fish flakes easily with a fork.
To Serve
To serve an additional drizzle of BBQ sauce or sprinkle with fresh parsley for a touch of color may be added.
Nutritional Information
Serving:
4
g
Calories:
333
kcal
Carbohydrates:
15
g
Protein:
35
g
Fat:
14
g
Saturated Fat:
3
g
Polyunsaturated Fat:
5
g
Monounsaturated Fat:
4
g
Trans Fat:
0.1
g
Cholesterol:
96
mg
Sodium:
383
mg
Potassium:
910
mg
Fiber:
1
g
Sugar:
7
g
Vitamin A:
315
IU
Vitamin C:
2
mg
Calcium:
82
mg
Iron:
3
mg
BBQ Grilled Seafood
Perfect for a weekend cookout, herbal smoked salmon is impressive but so easy to make. Wild-caught salmon is marinated in…
BBQ Grilled Seafood
Whether using a skillet or flat top grill there is a lot of flavor in a blackened grilled salmon. For…
Campfire
This is a very basic fried salmon recipe that can be used while camping. The rub can be your favorite…