This decadent dessert of a chocolate and raspberry ricotta toastie is easily cooked in a pie iron over a campfire. The crust turns golden brown, while the filling is oozy and delicious. Sweet chocolate chips and bright raspberries are the perfect complement to the creamy ricotta cheese.
You can use a variety of bread for this recipe. However, note that sweetbreads (such as fruit loaf, cinnamon bread, and similar) will brown quicker due to their high sugar content. They may require a slightly lower cooking temperature to heat the insides without burning the outside.
If you do not have a sweet tooth the sugar can be left out of the ricotta and not dusted on the top. Some raspberries can be super sweet, so sometimes additional sugar is not needed. Make sure to try a few berries before you add them to the sandwich.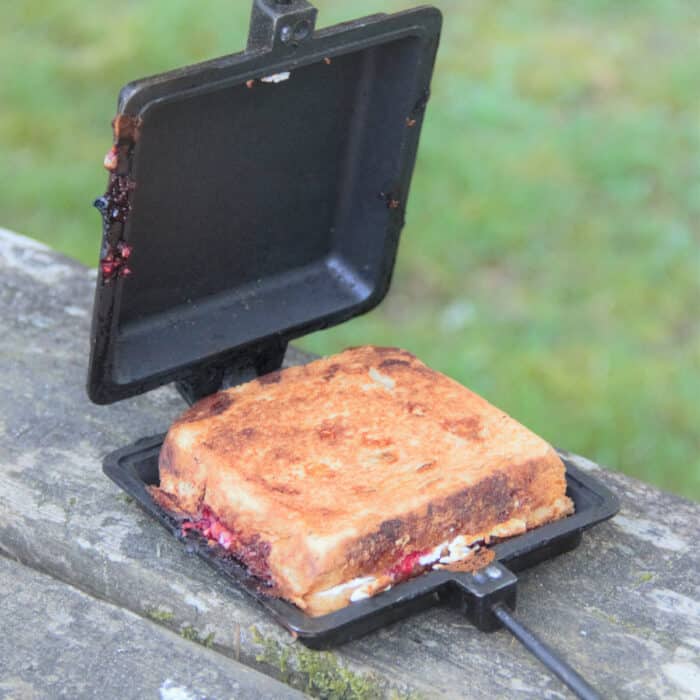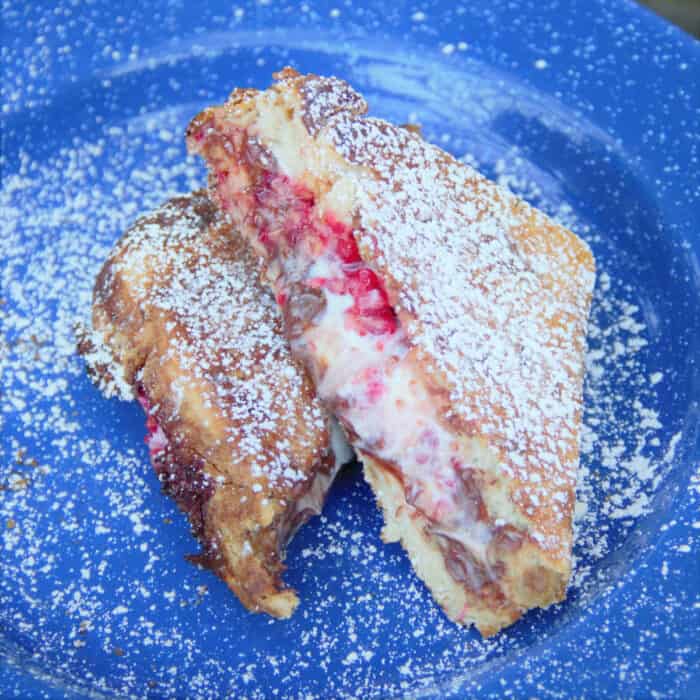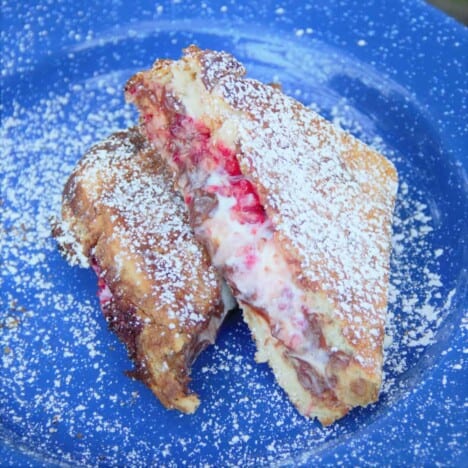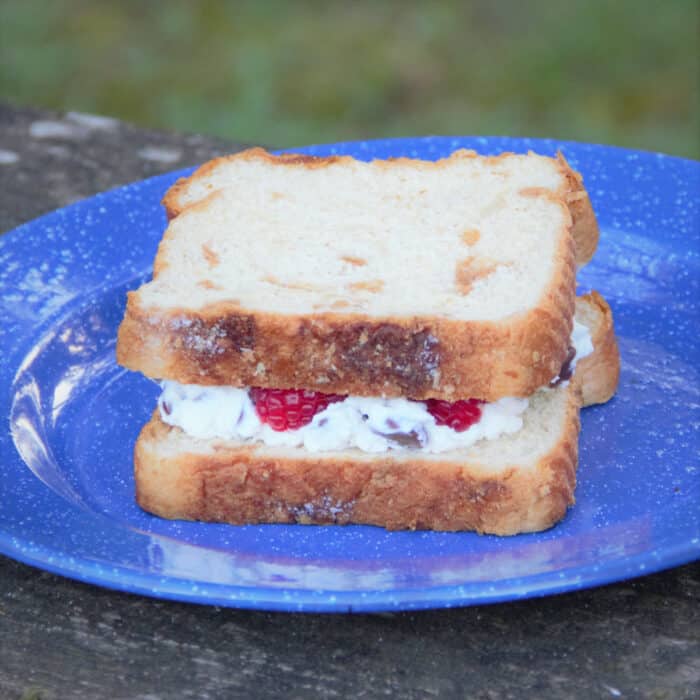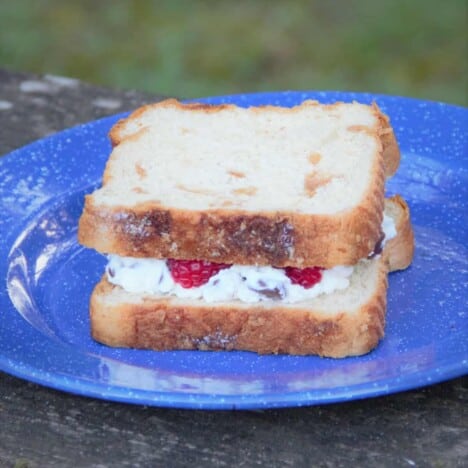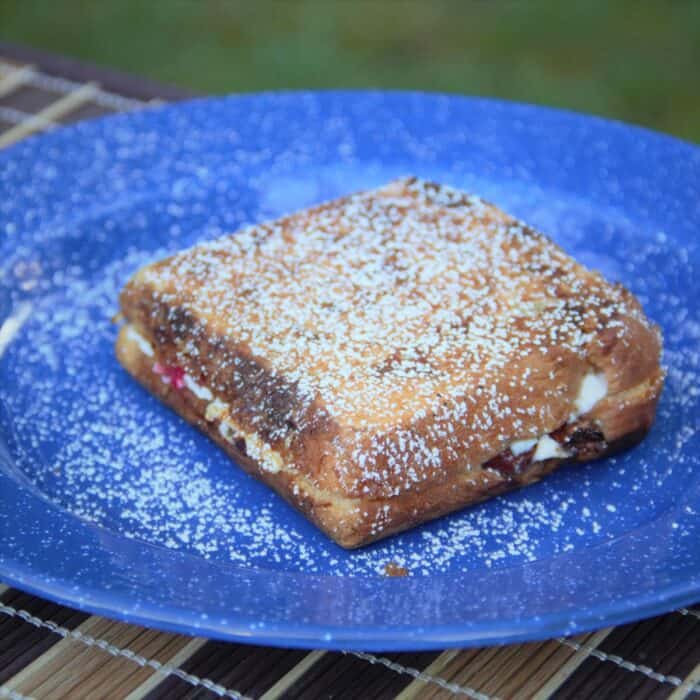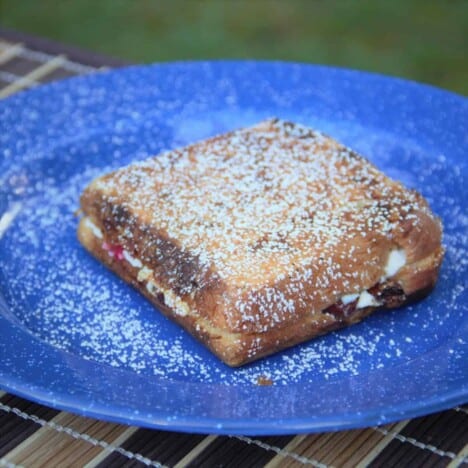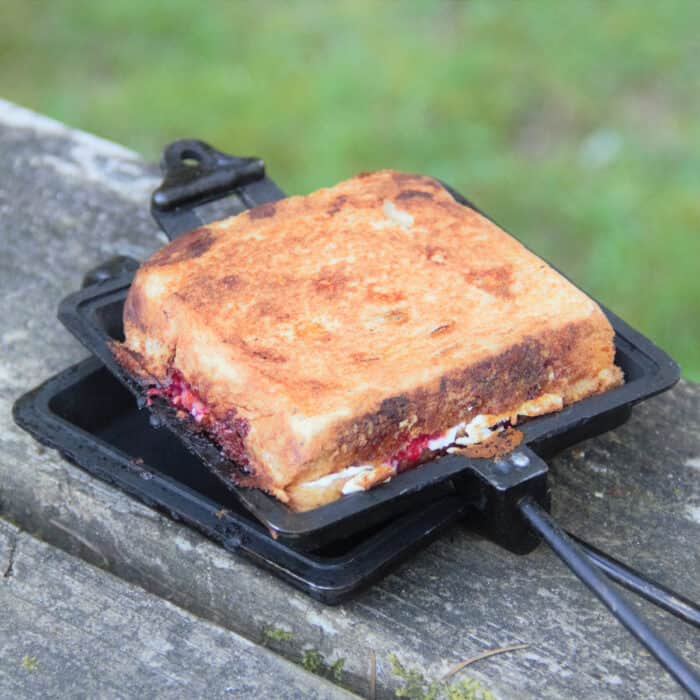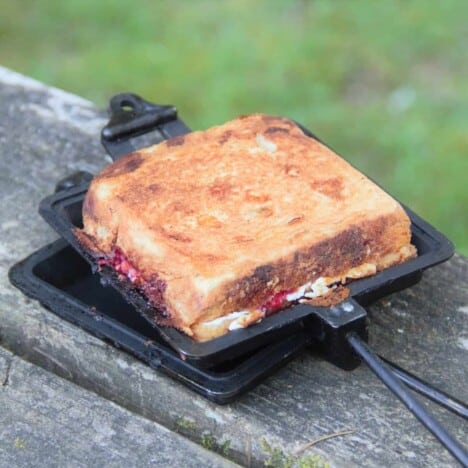 Chocolate Raspberry Ricotta Toastie Recipe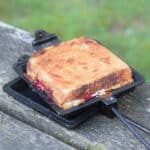 This decadent dessert of a Chocolate Raspberry Ricotta Toastie is easily cooked in a pie iron over a campfire.
Ingredients
3

tablespoons

fresh ricotta

1

teaspoon

confectioners sugar

icing sugar

2

slices

fruit loaf

or French toast bread, or white bread

1

tablespoon

milk chocolate pieces

2

tablespoons

raspberries

fresh or frozen

confectioners sugar

to dust
Directions
Preheat the pie iron to moderate heat.

In a small bowl combine the ricotta and the sugar and stir until dissolved.

Lay out the two slices of bread and spread the ricotta over both.

On one slice of the bread add the chocolate and raspberries then place the other slice on top to make a sandwich.

Place the sandwich in the pie iron and close. Cook over the fire, turning regularly, until golden brown, about 5 minutes. At this point, the chocolate inside will be melted.

Dust the toastie with powdered sugar and serve.
Nutritional Information
Calories:
271
kcal
Carbohydrates:
36
g
Protein:
10
g
Fat:
10
g
Saturated Fat:
5
g
Polyunsaturated Fat:
1
g
Monounsaturated Fat:
2
g
Trans Fat:
1
g
Cholesterol:
25
mg
Sodium:
286
mg
Potassium:
149
mg
Fiber:
3
g
Sugar:
10
g
Vitamin A:
211
IU
Vitamin C:
8
mg
Calcium:
231
mg
Iron:
2
mg
Pie Iron
If you are looking for a simple make-it-yourself meal, look no further than this easy ham and cheese toastie sandwich…
Pie Iron
Popular with kids, this campfire pop tart toastie makes a quick and easy breakfast while camping. At its simplest, this…
Pie Iron
The camping meat pie is cooked over a campfire in a pie iron. This traditional cooking method produces wonderful outdoor…