Super rich in both fruit and chocolate, these tasty chocolate and apricot bites are a sweet treat. Layers of a cookie base, a dense apricot filling, and a chocolate drizzle leave this slice as pretty to look at as it is to eat. If you have a sweet tooth, you'll want a few pieces for dessert.
In attempting to recreate the South Australian confection of Fruchocs (owned by Robert Menz) this apricot slice was created and served as bites. It is great finger food or can also be served as a larger slice. However, it is very rich so this option may not be for everyone unless you're very hungry or really love sweets.
When I compared the original candy and this slice side-by-side, they are very similar, but with a few notable differences. The original has more peach than apricot in it. Also, the original uses milk chocolate, whereas this uses dark chocolate. Feel free to use either chocolate that you prefer.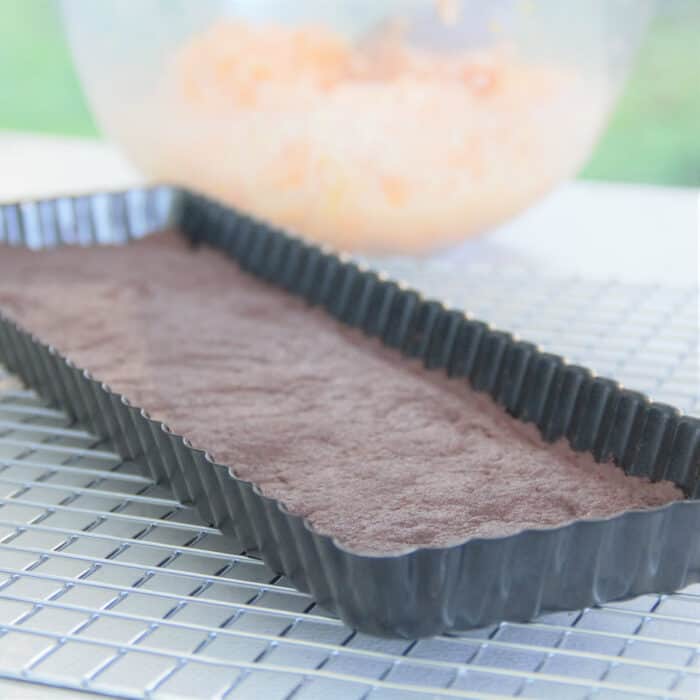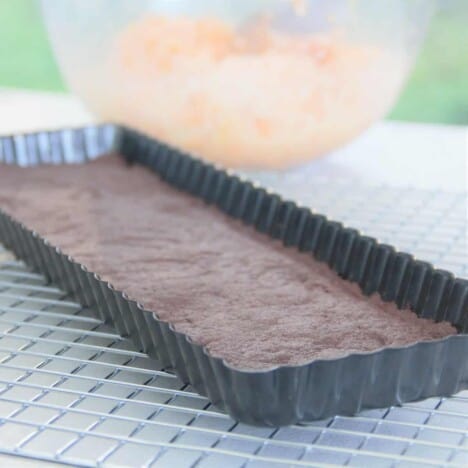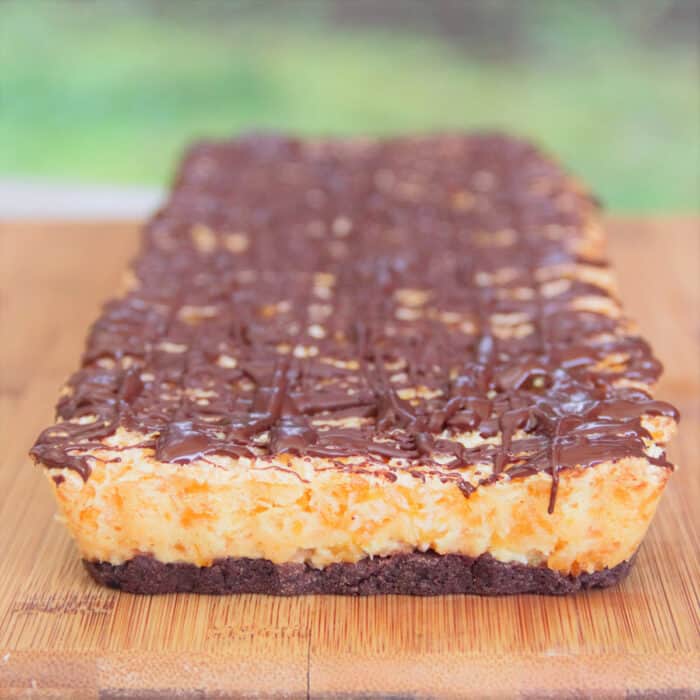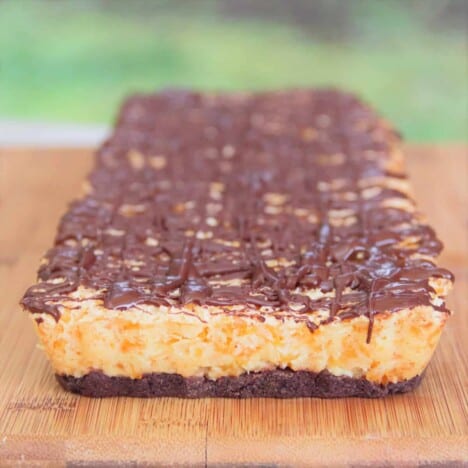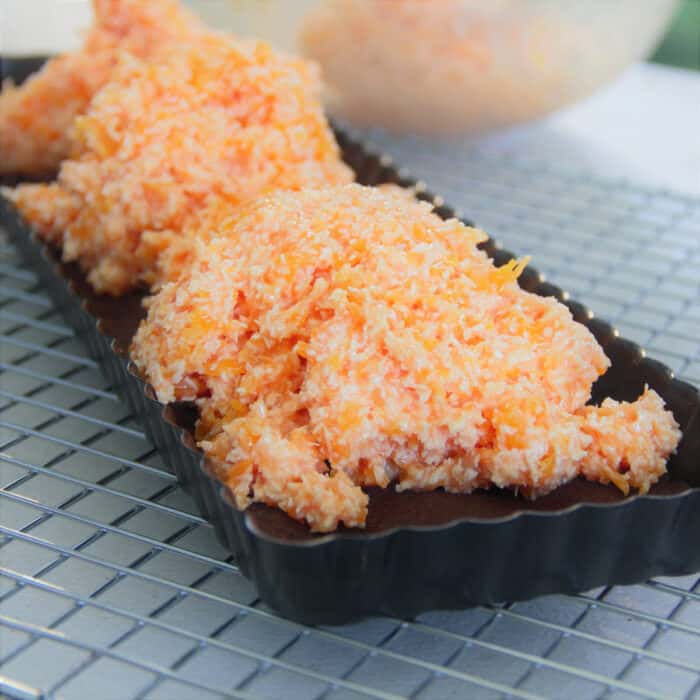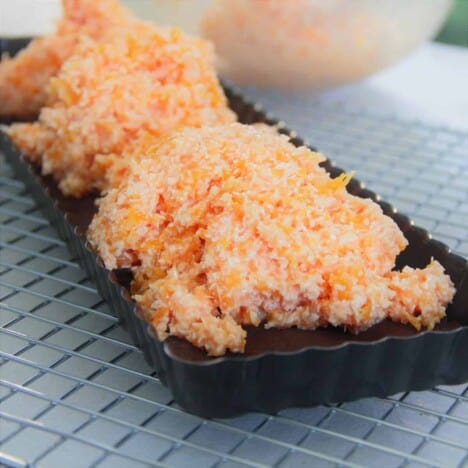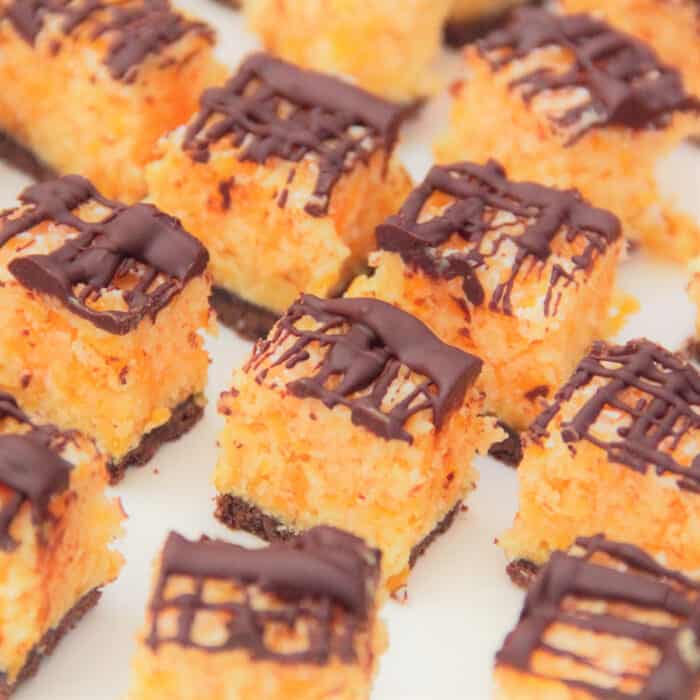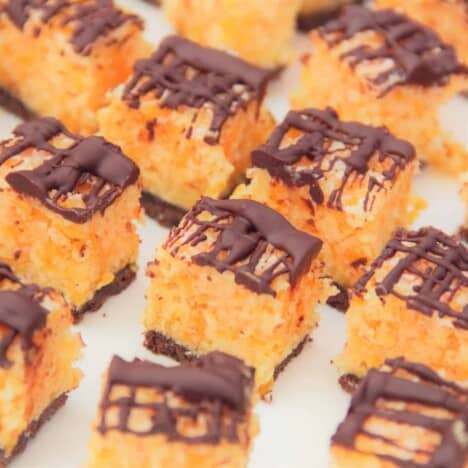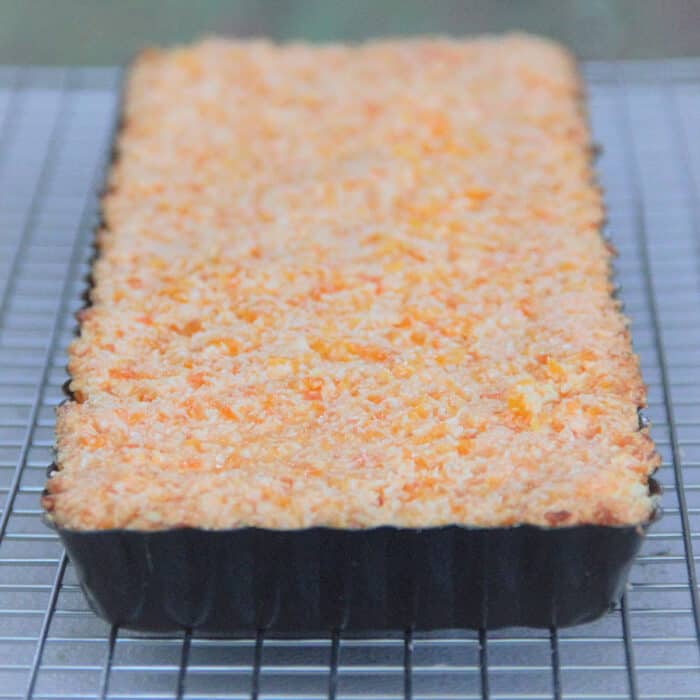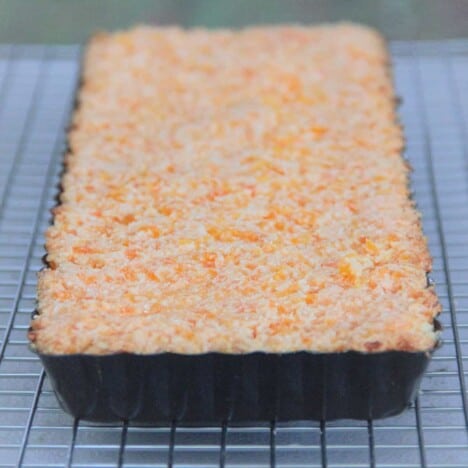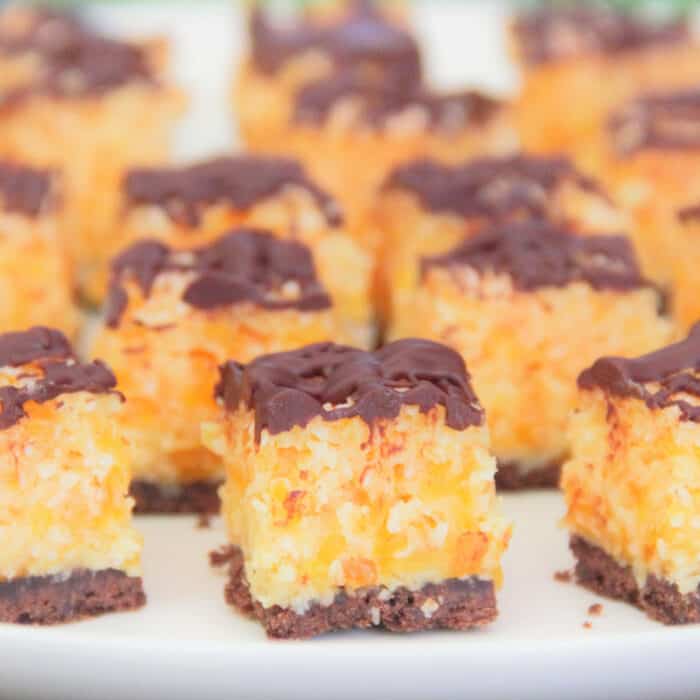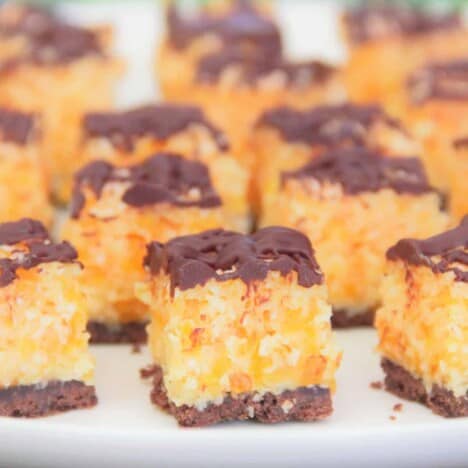 Chocolate Apricot Bites (Fruchocs) Recipe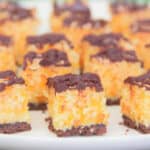 Super rich in both fruit and chocolate, these tasty Chocolate and Apricot Bites are a sweet treat.
Ingredients
Chocolate base
2/3

cup

all-purpose flour

2

tablespoons

white sugar

2

tablespoons

cocoa powder

4

tablespoons

butter, melted
Apricot Filling
14

ounces

sweetened condensed milk

orange food coloring

as needed

10

ounces

dried apricots

chopped

2

cups

desiccated coconut
Chocolate Topping
3 1/2

ounces

dark chocolate

1

tablespoon

butter
Directions
Chocolate Base
Preheat the oven to 350 degrees F (180 degrees C).

In a bowl combine the flour, sugar, and cocoa powder.

Mix the butter into the bowl with the dry ingredients. Stir until well combined, the mixture is dry, and doesn't form a dough.

Lightly grease the small slice tray then add the base and press down so it is flat.

Bake the base in the oven for 8 minutes then remove and let cool.
Apricot Filling
In a bowl add the condensed milk and orange food coloring. This step is done here so you can easily mix and adjust the color. Often food colors are bought in packs of four and the orange color requires 1 drop of red to 3 of yellow. Check packets for specific instructions.

Add the apricots and coconut and stir well so well distributed.

Add the apricot mixture to the slice pan on top of the chocolate base. Smooth and press down to create an even layer.

Bake in the oven for 20 minutes, it will look slightly dry but will not brown. Leave aside to cool for at least 30 minutes before adding the chocolate layer.
Chocolate Topping
Place the chocolate and butter in a heatproof bowl over a pot with about 1 inch of water. Slowly heat the water which will heat the chocolate. Stir occasionally and monitor so it doesn't overheat.
To Assemble
Using a butter knife drizzle the chocolate back and forth over the top of the apricot slice. This can be in parallel lines, crisscrossed, or similar. Continue to add until all the chocolate is gone. Leave for 30 minutes for the chocolate to set.

Cut the slice to serve. This is a very rich slice so small bite-sized pieces work best, but if desired it can also be cut into more generous serving proportions as a dessert slice.
Nutritional Information
Calories:
210
kcal
Carbohydrates:
29
g
Protein:
4
g
Fat:
10
g
Saturated Fat:
8
g
Polyunsaturated Fat:
1
g
Monounsaturated Fat:
2
g
Trans Fat:
1
g
Cholesterol:
8
mg
Sodium:
35
mg
Potassium:
332
mg
Fiber:
3
g
Sugar:
21
g
Vitamin A:
583
IU
Vitamin C:
1
mg
Calcium:
71
mg
Iron:
2
mg
Camp Oven
Chocolate caramel slice is a popular Australian bakery item that is great for picnics, packed lunches, and desserts. The firm…
Camp Oven
A homemade vanilla slice is a wonderfully satisfying baked dessert item perfect for picnics, packed lunches, and day trips. With…
Camp Oven
Inspired by the Australian chocolate, the Cherry Ripe, this picnic cherry slice is a decadent dessert. Layers of cookie base,…