Asian Rice Paper Fish is an easy yet impressive lunch or dinner to prepare at home or while camping. It's a delicious and different way to cook your catch on a fishing trip or to make using a purchase from a local fish market. 
Wrapping the fish in rice paper creates a crispy, edible envelope while keeping the fish moist. It infuses the fish with the flavors of five pepper mix, curry, and fresh cilantro. The golden-brown packets of succulent and flavorful fish make a beautiful presentation with steamed or sautéed vegetables. 
Cod, halibut, sea bass, or similar white fish all work well in this recipe. Be sure to follow directions on the rice paper packet to avoid over-soaking the sheets, which can make them harder to handle.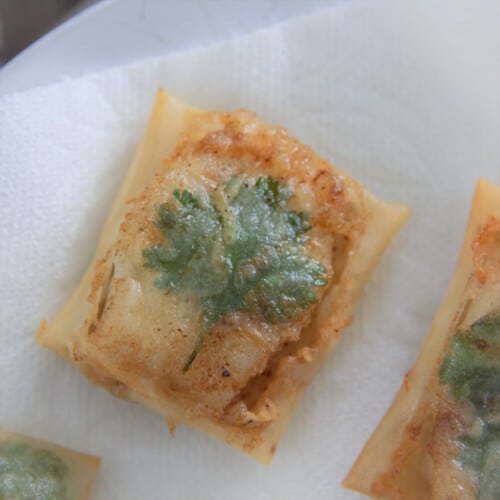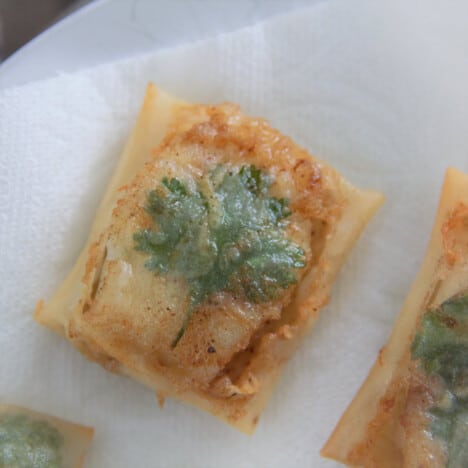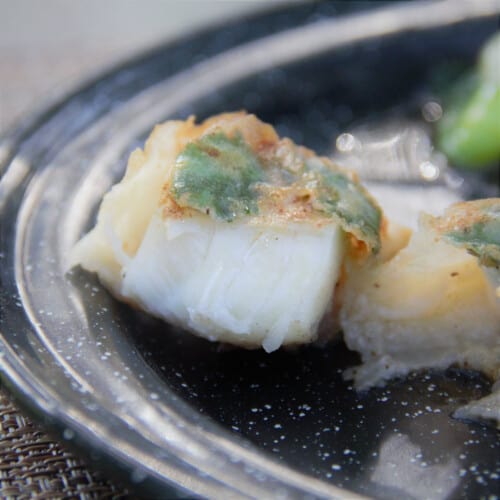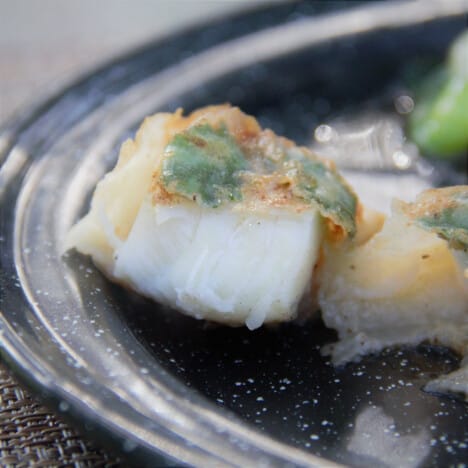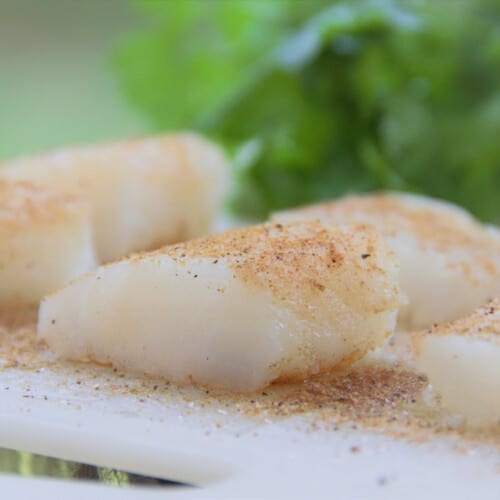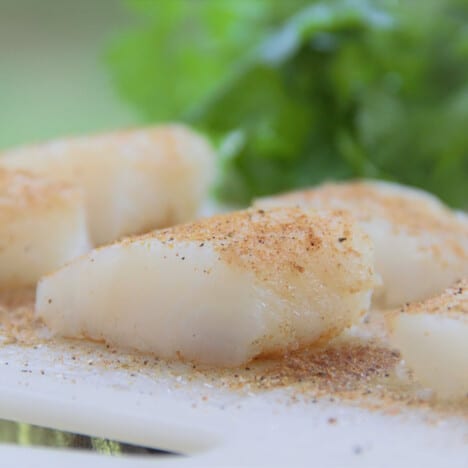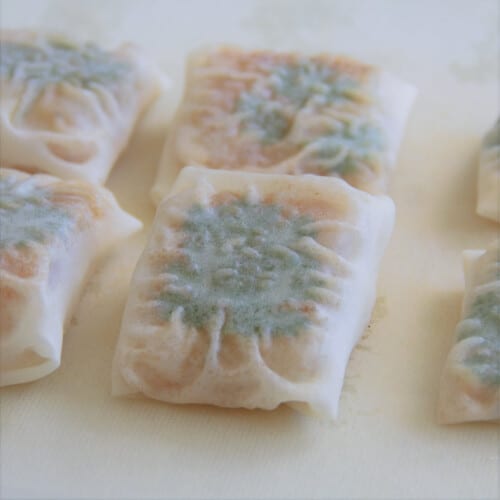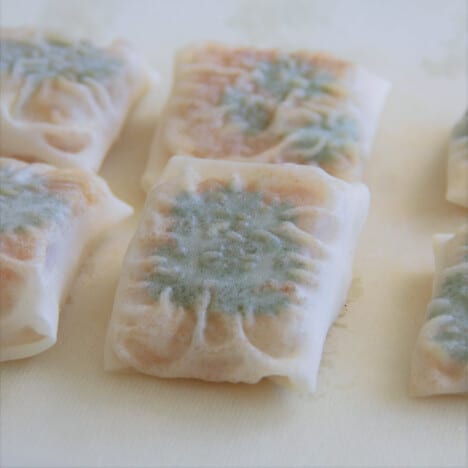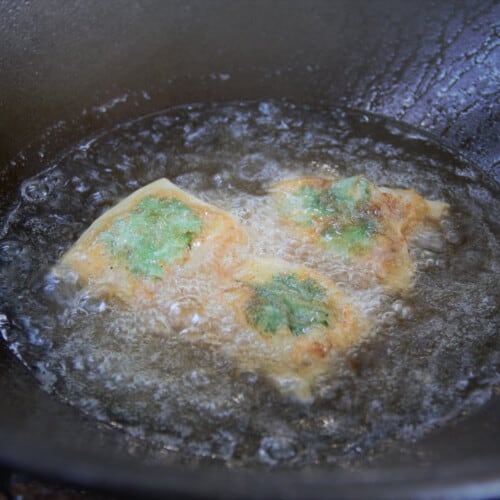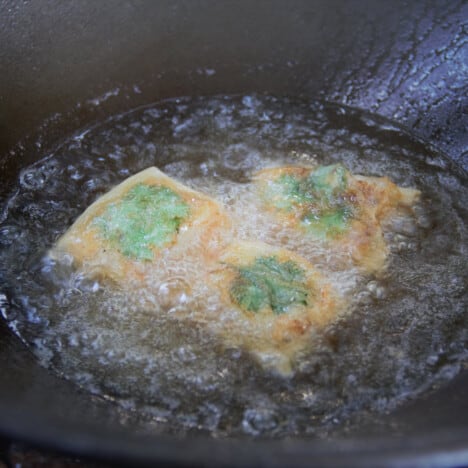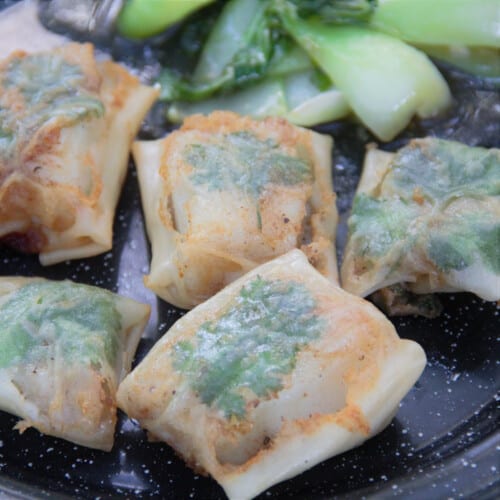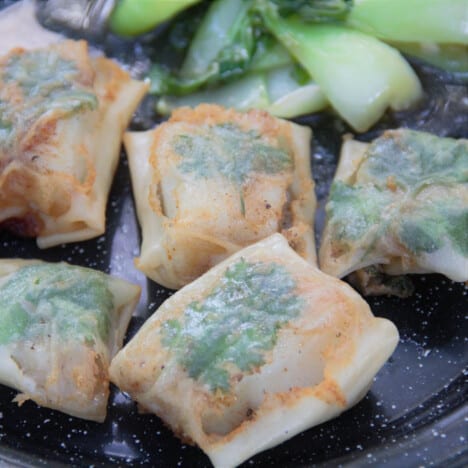 Asian Rice Paper Fish Recipe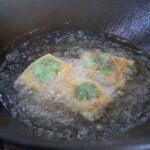 Asian rice paper fish is an easy yet impressive lunch or dinner to prepare after a successful day of fishing while camping. 
Ingredients
1

pound

cod

halibut, or sea bass

2

teaspoons

garam masala curry powder

1

teaspoon

salt

1/2

teaspoon

five pepper mix

2

tablespoons

all-purpose flour

2

tablespoons

water

1

packet

dried rice paper

8

fresh cilantro leaves

2

tablespoons

peanut oil
Equipment
frying pan,

wok, Dutch oven, or deep fryer

spatula
Directions
Divide the fish into four pieces, each about 3- by 3-inches (7.5 x 7.5 cm).

Sprinkle the fish with the garam masala, salt, and five pepper mix.

Mix the flour and water together; set aside.

Soften the rice paper in water per the directions on the packet.

Place a single piece of fish on a sheet of softened rice paper. Top with two cilantro leaves, then fold the paper to enclose. Seal with the flour mixture. Repeat with the remaining pieces of fish.

Heat the oil in a wok until medium-hot. Fry the fish until the rice paper is golden brown and crispy, 2 to 3 minutes. Flip and cook the other side. Drain on paper towels before serving.
Nutritional Information
Calories:
501
kcal
Carbohydrates:
69
g
Protein:
32
g
Fat:
10
g
Saturated Fat:
2
g
Polyunsaturated Fat:
3
g
Monounsaturated Fat:
4
g
Cholesterol:
59
mg
Sodium:
1289
mg
Potassium:
608
mg
Fiber:
3
g
Sugar:
1
g
Vitamin A:
344
IU
Vitamin C:
2
mg
Calcium:
82
mg
Iron:
5
mg
Deep Fry
Battered fish is a popular component of the English fish and chips partnership. This variation uses the popular variation of…
Cast Iron Cooking
Perfect after a long day of fishing, this Bread Fish Bake uses stale bread and delicate seasonings to cook any…
Deep Fry
Walleye fish tacos are beer-battered and deep-fried, then topped with fresh veggies then a creamy mayonnaise and sour cream sauce.…