This preparation of a Smoked Turkey Breast with Stuffing creates a moist yet flavorful dinner. It is an elegant presentation perfect for a holiday meal or for a weekday dinner. The main and side dish is literally wrapped into one meal.
A melding of the old-fashioned stuffed whole turkeys and the modern turkey breast with the stuffing on the side, this version combines the best of both worlds. It is a traditional style of stuffing wrapped in turkey, then smoked.
The sweet smoke combines with the earthy stuffing to enhance yet not overpower the turkey breast. The stuffing also keeps the turkey breast moist during the smoking process. The entire meal is cooked through to a safe temperature and evenly cooked.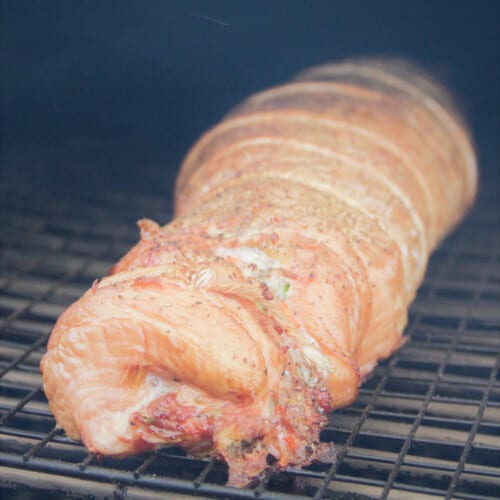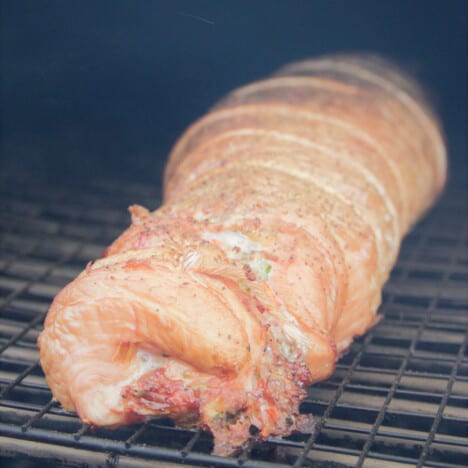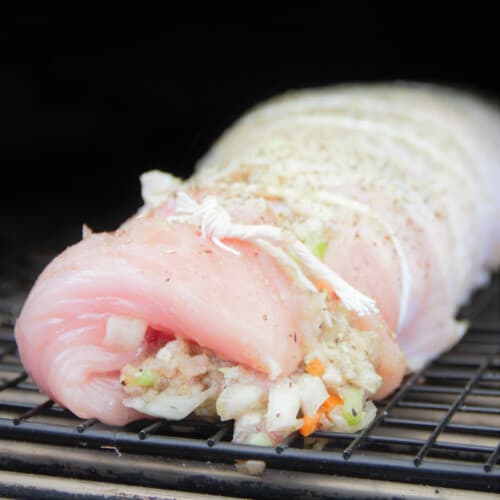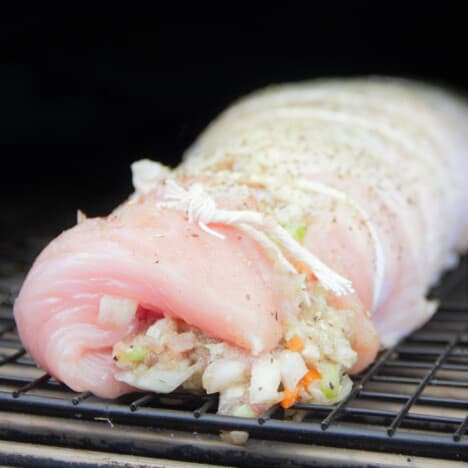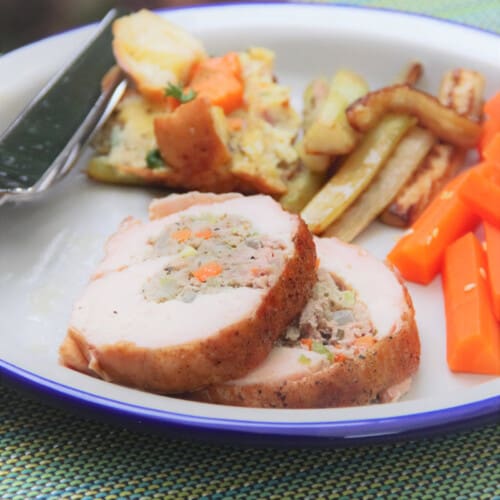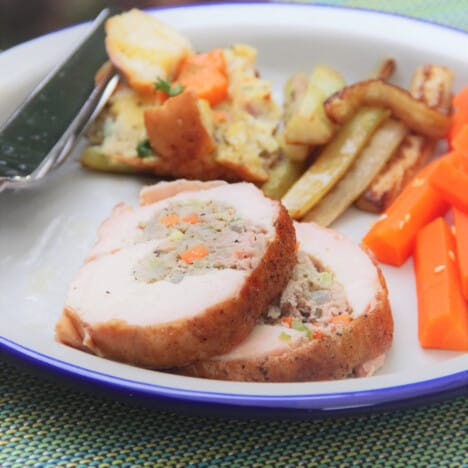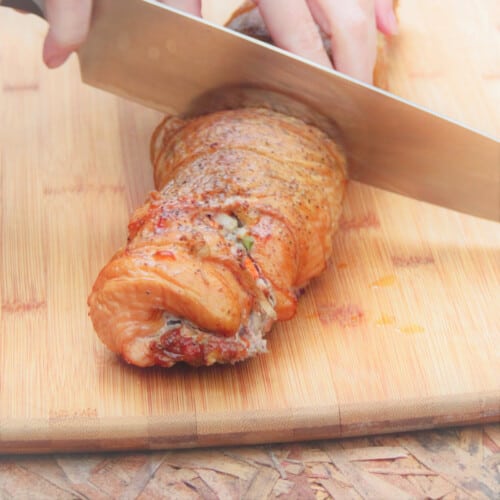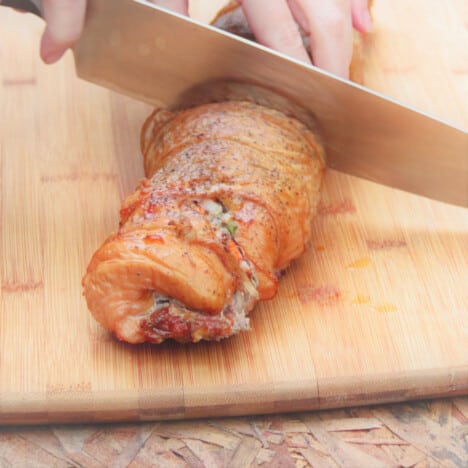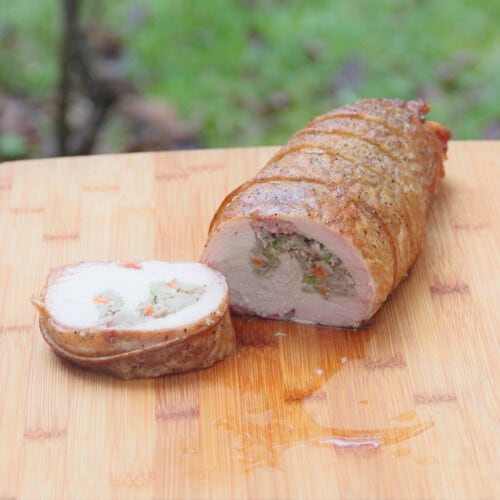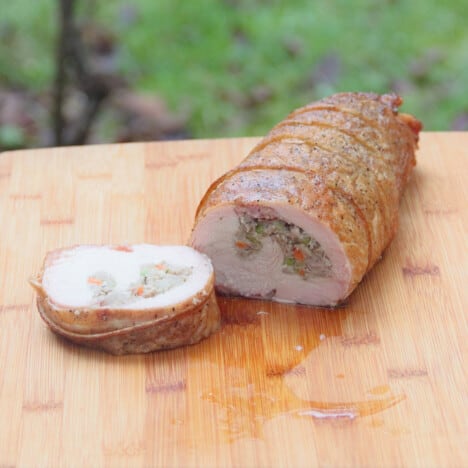 Smoked Turkey with Stuffing Recipe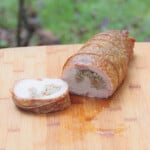 This preparation of a Smoked Turkey Breast with Stuffing creates a moist yet flavorful dinner.
Ready in
4

hours
20

minutes
Ingredients
Stuffing
6

slices

white bread

1/2

onion

finely diced

1

small

carrot

finely diced

1

rib

celery

finely diced

1

teaspoon

dried sage

salt and pepper

to taste

1

egg

water

as needed

1

large

turkey breast

herb rub

to taste
Directions
Stuffing
In a bowl break up all the bread into small pieces. Add the onions, carrots, celery, sage, salt, and pepper.

Mix together the egg and 1 tablespoon of water. Pour onto the bread mixture. Using your hands or a wooden spoon combine well so the bread further breaks up and absorbs the moisture. If still dry add additional water a tablespoon at a time until moist but not runny.
Turkey Roll
Preheat the smoker to 225 degrees F (107 degrees C); add a chunk of hickory and apple wood.

Prepare the turkey breast by removing any skin or fat. Taking a knife, start cutting the breast in half, but don't go all the way through (thus butterflying the turkey breast to create a larger, flatter piece of meat).

Layout 5 pieces of string evenly on a chopping board then place the turkey evenly over it. 

Place the stuffing evenly across the center of the turkey. Gently roll the turkey making sure not to push too hard otherwise the stuffing will be squeezed out. 

Starting at one end, gently tie the twine around the turkey breast. The twine is just to help the meat hold its shape and does not need to be very tight.

Sprinkle the turkey breast with the herb rub.

Add the turkey roll to the preheated smoker and cook for 3 hours. The turkey is ready when it is at 165 degrees F (74 degrees C).

Rest for 5 minutes before slicing and serving.
Nutritional Information
Calories:
328
kcal
Carbohydrates:
22
g
Protein:
47
g
Fat:
6
g
Saturated Fat:
1
g
Polyunsaturated Fat:
2
g
Monounsaturated Fat:
2
g
Trans Fat:
1
g
Cholesterol:
146
mg
Sodium:
614
mg
Potassium:
621
mg
Fiber:
2
g
Sugar:
3
g
Vitamin A:
2247
IU
Vitamin C:
2
mg
Calcium:
129
mg
Iron:
3
mg
BBQ Grilled
Rusty's Turkey Log is stuffed with fresh herbs, lemon, and sausage for a tasty and impressive dinner. The turkey is…
Dutch Oven Main Dish
Roasting a Turkey in a Dutch oven isn't any harder than roasting a chicken, the trickiest part is having a…
BBQ Grilled Meat
Turkey breasts are a very lean piece of meat, this is a unique seasoning method, bathing the turkey in herb-infused…