Pork loin with belly and skin is stuffed with garlic, herbs, citrus zest, and olives then rolled and cooked on a spit to make Pork Porchetta. The resulting Italian-inspired meat main is a flavorful and spectacular meal option.
It takes a little time to set up on a spit but it is well worth the effort. Roasting the porchetta on the rotisserie spit leaves the pork perfectly crisp on the outside and juicy and tender on the inside. The herb and zest mixture penetrates flavor all throughout the meat.
Completed porchetta makes a spectacular centerpiece at any dinner party. To cut the richness and fattiness of the pork, serve it with a bright and crisp salad. Should there be any leftovers they can be sliced and fried to make pork roll steaks that add even more dimension to the flavor.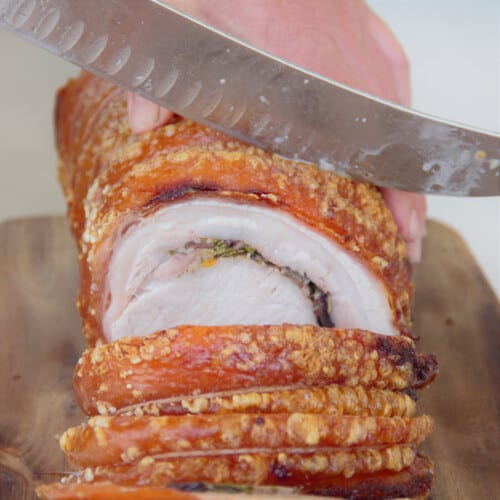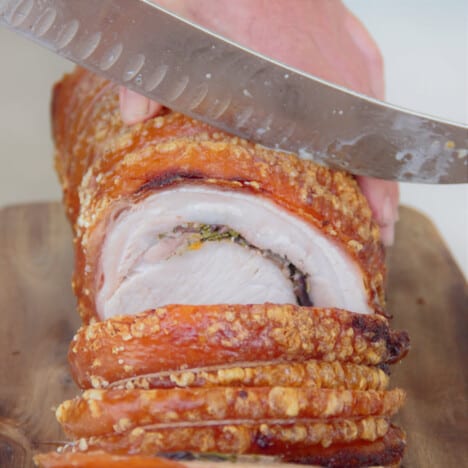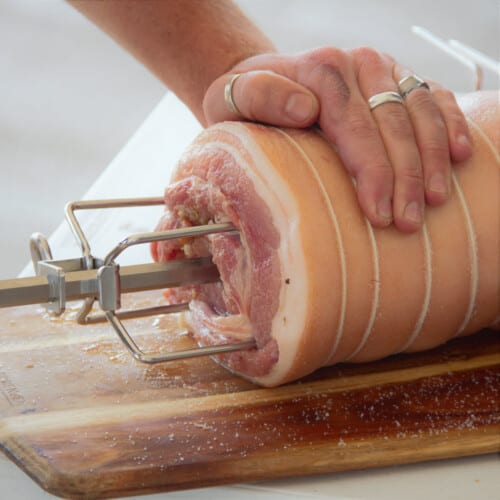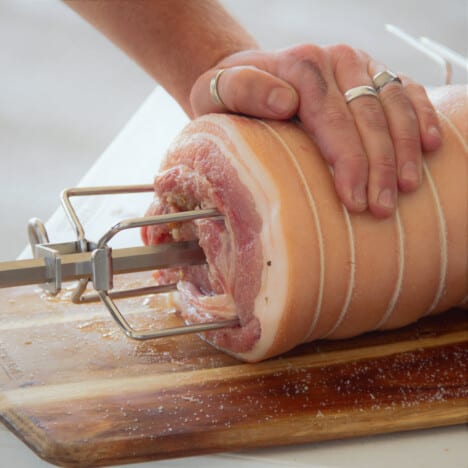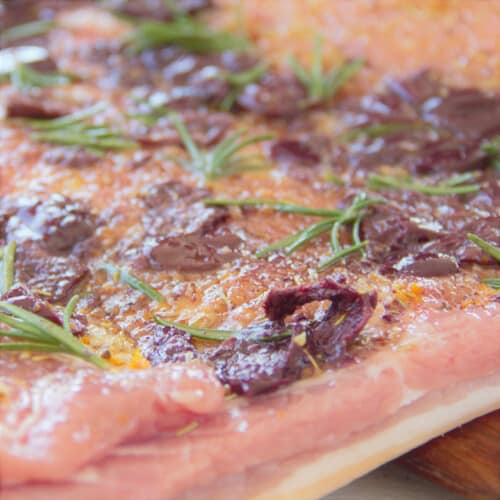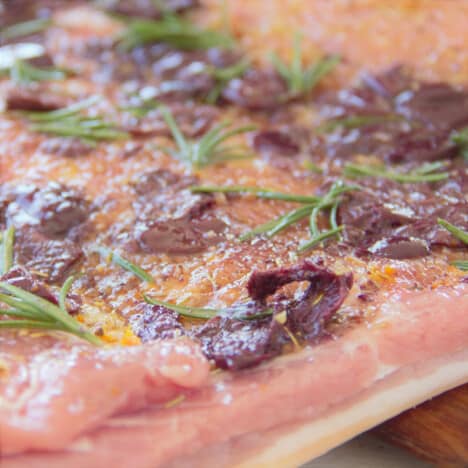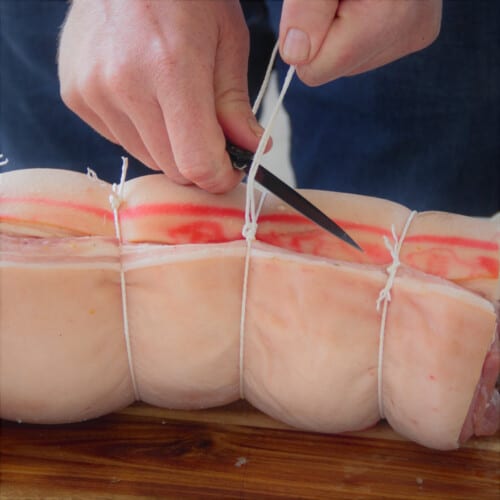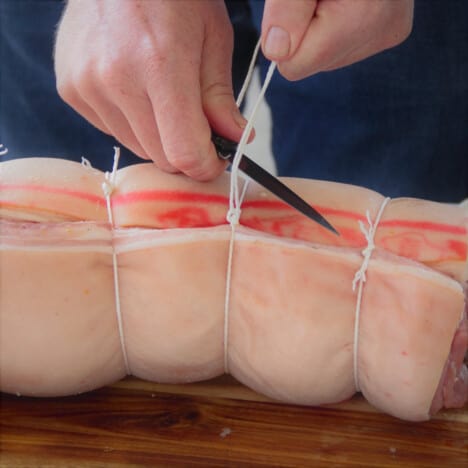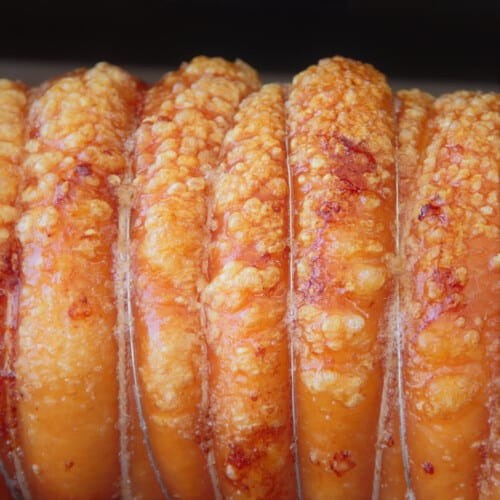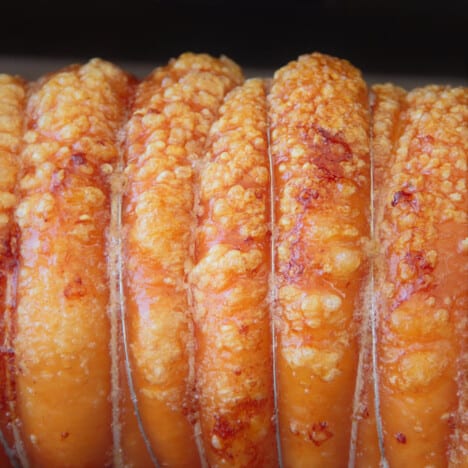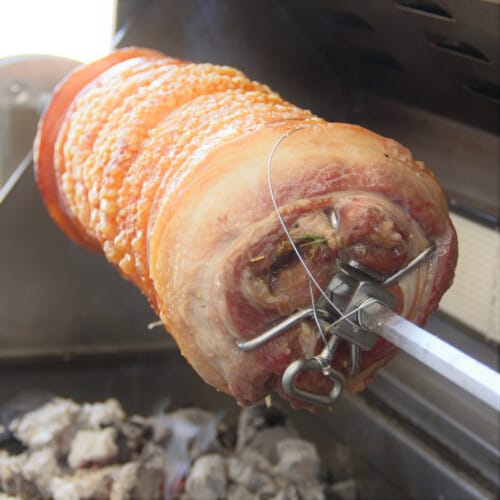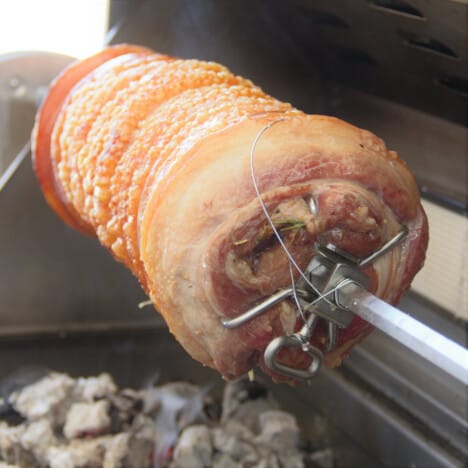 Pork Porchetta Recipe
This recipe is provided by Dipper's Backyard BBQ Wars.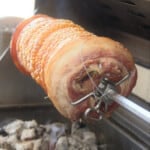 Pork loin with belly is stuffed with garlic, herbs, citrus zest, and olives then rolled and cooked on a spit to make Pork Porchetta.
Ingredients
2

heads

garlic

1

cup

lemon thyme

1/2

cup

rosemary

1

orange

zested

1

lemon

zested

salt and pepper

to taste

1

cup

olives

pitted and crushed

12

pounds

pork loin

with the belly
Equipment
butcher's string

thin wire
Directions
Smash the garlic, thyme, rosemary, orange zest, and lemon zest in a mortar and pestle to a coarse paste. Stir through the olives and season with salt and pepper. Set aside until needed.

Dry the skin of the pork loin then use a jacquard to pierce hundreds of small holes in the skin. If there is time, rub with salt and chill overnight with the skin exposed to the air to dry it out.

Layout the pork loin with belly skin side up. Wipe dry then rub the skin with the residual lemon skins from juicing and sprinkle generously with salt, rubbing in as much as possible.

Flip the pork loin so the meat side is up. Spread the herb and olive mixture evenly across the meat.

Roll the belly flap over the loin to form a log. Tie tightly with the butcher's twine, evenly spaced about 2-inches (5cm) apart to hold it together.

Slide the rolled pork on the spit rod through the center of the meat. Secure with the spit prongs. Using fine wire, bind the meat a second time for additional insurance in case the string breaks.

Roll the spit in your hands to see if it spins evenly, if not adjust the counterweight to make it smooth and even, which will help for an even cook and place less stress on the motor.

Cook the pork until a meat thermometer reads 167 degrees F (75 degrees C), about 3 hours, or to your preferred doneness.

Remove the pork from the spit rod and let rest for 15 to 20 minutes before slicing.
Nutritional Information
Calories:
764
kcal
Carbohydrates:
7
g
Protein:
123
g
Fat:
25
g
Saturated Fat:
7
g
Polyunsaturated Fat:
2
g
Monounsaturated Fat:
10
g
Cholesterol:
343
mg
Sodium:
479
mg
Potassium:
2141
mg
Fiber:
2
g
Sugar:
2
g
Vitamin A:
337
IU
Vitamin C:
22
mg
Calcium:
86
mg
Iron:
4
mg
Backyard
An aromatic pork tenderloin marinade that combines garlic, herbs, wine, and oils. Once marinated, you can cook the pork on…
BBQ Grilled Meat
Pork chops are an easy item to grill or sear in a skillet while camping. The traditional accompaniment is apple…
BBQ Smoked
This recipe is a replica of the wonderful barbecue pork that can be seen hanging in Chinese restaurant windows known…