This honey ginger barbecue chicken is heavily influenced by Vietnamese flavors. It is nestled in a sweet marinade before being smoked and then grilled. The marinade has ginger, garlic, honey, fish sauce, and a bit of heat from red pepper flakes. 
Very sweet marinade preparations like this work well with the low temperatures that come with indirect cooking, such as smoking. If the barbecue is too hot or you try to grill it then the sugars will caramelize quickly and go very dark or even burn.
This barbecued chicken goes well with a simple cooked white rice and Asian-style green vegetables. Try grilling baby bok choy or cabbage alongside the chicken. Or keep it fresh and serve it with slaw.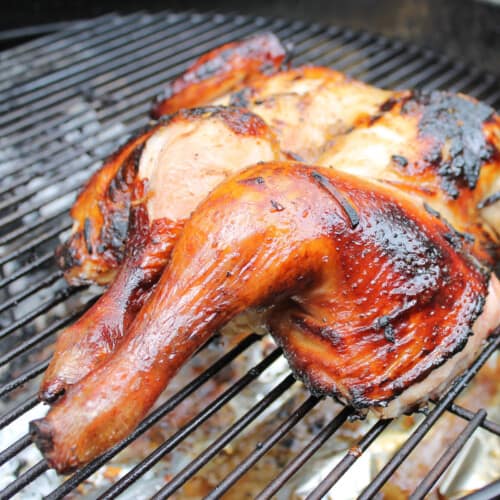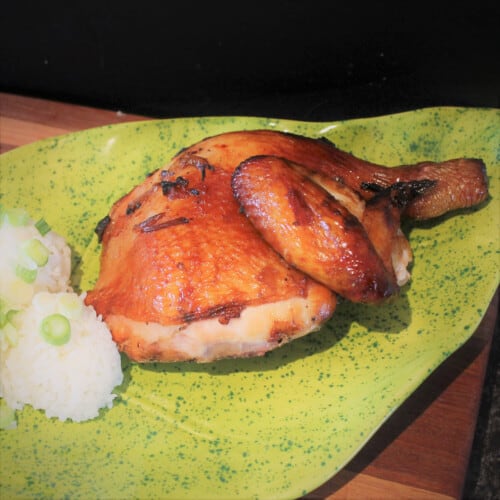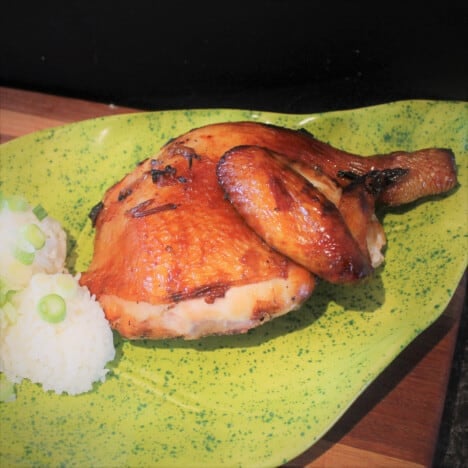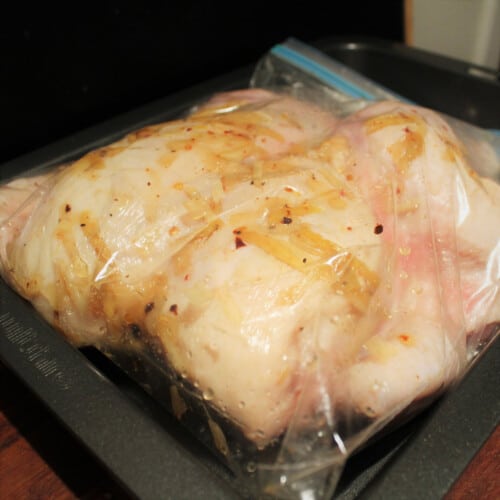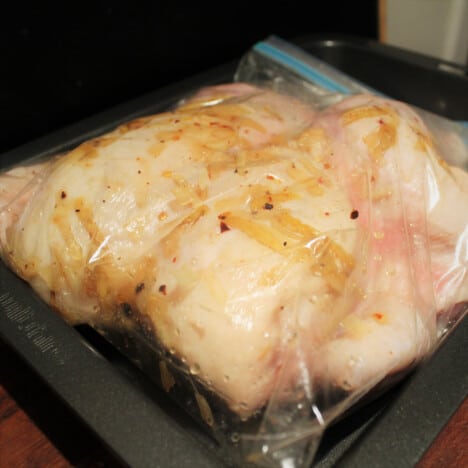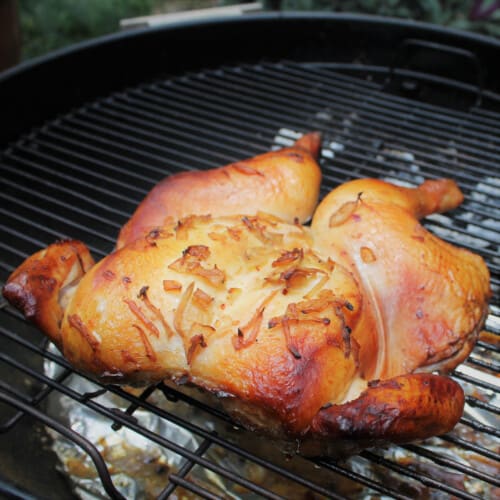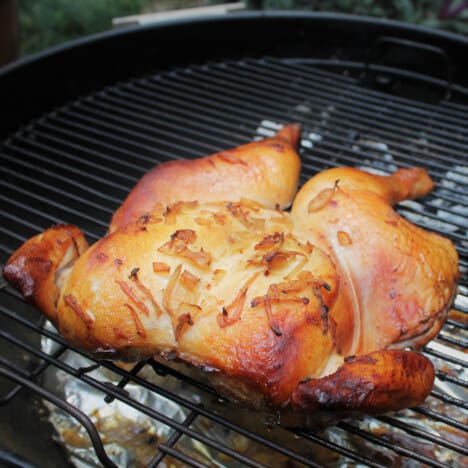 Honey Ginger Barbecue Chicken Recipe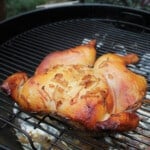 This Honey Ginger Barbecue Chicken is heavily influenced by Vietnamese flavors in a sweet marinade before being smoked and then grilled.
Ready in
2

hours
40

minutes
Ingredients
3

tablespoons

canola oil

1

medium

yellow onion

finely diced

1

thumb

fresh ginger

cut into matchsticks

4

cloves

garlic

finely sliced

1/2

cup

honey

1/2

cup

water

1

teaspoon

pink Himalayan rock salt

1

teaspoon

freshly cracked black pepper

2

tablespoons

fish sauce

1

teaspoon

red pepper flakes

2

extra large

whole chickens

spatchcocked (butterflied)
Equipment
smoker

or barbecue set-up for indirect heating

applewood

(chunk, chip or pellet depending on you grill/smoker)
Directions
In a saucepan over mild heat add the canola oil, then add the onion, garlic, and ginger. Cook until translucent, about 10 minutes.

Add to the oil the honey, water, salt, pepper, fish sauce, and chili flakes. Stir well over the heat until the marinade is well combined, but do not boil. Put aside to cool.

Place each spatchcocked chicken in a large ziplock bag. Add one-third of the cooked marinade into each bag, and put the remaining third aside to use later. Seal the bag and gently massage the marinade into the chicken then chill for 2 to 24 hours.

Set up your barbecue (grill or smoker) for indirect cooking at a temperature of 225 degrees F (107 degrees C). Add smoke to the barbecue with applewood.

Remove the chickens from the marinade and place skin side up on the pre-heated barbecue. After 1 hour check your chicken and rotate 180 degrees if needed.

At the 2-hour mark, the chicken will be about 150 degrees F (66 degrees C). At this point in time place the chicken over direct heat for about 1 minute for the top and the bottom. Return to the indirect heat and glaze with the remaining third of the marinade. Cook for an additional 15 minutes or until the chicken is cooked through.

When done rest the chicken for 5 minutes, then serve in large joint pieces.
Nutritional Information
Calories:
531
kcal
Carbohydrates:
20
g
Protein:
36
g
Fat:
34
g
Saturated Fat:
9
g
Polyunsaturated Fat:
8
g
Monounsaturated Fat:
15
g
Trans Fat:
1
g
Cholesterol:
143
mg
Sodium:
784
mg
Potassium:
419
mg
Fiber:
1
g
Sugar:
18
g
Vitamin A:
343
IU
Vitamin C:
5
mg
Calcium:
33
mg
Iron:
2
mg
BBQ Grilled Appetizer
Chicken spare ribs are the scapula bones, which have a better per pound meat ratio than wings or drumettes. These…
BBQ Grilled Meat
Cooked on a closed grill, this grilled butterfly chicken has the same flavors and tenderness of a smoked chicken. The…
BBQ Grilled
This flavorsome dinner is comprised of two elements, a grilled glazed chicken served on a bed of seasoned apricot couscous.…