These chocolate cups may be small but they are packed with intense chocolaty goodness. They are so sweet and rich that you may need to serve them with some simple wafers or cookies to balance the dessert.
The chocolate mixture is created by gently heating cream and mixing in chocolate before cooling to serve. Taking the time to continually stir ensures a pleasurable and smooth texture.
Made in jars, it is perfect to seal and take on a picnic or hike. Just pack them well to make sure they keep cold. A decorative top can be created with a small amount of additional cream, but the plain version tastes exactly the same.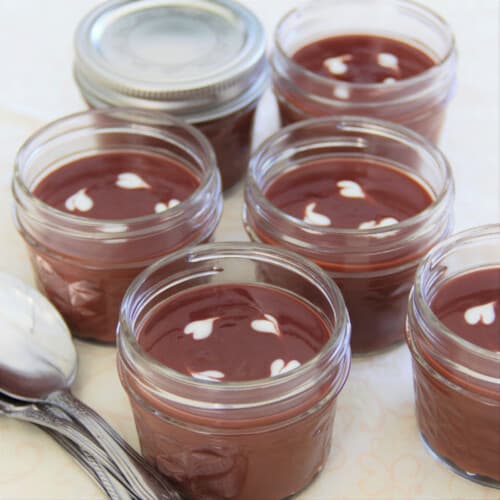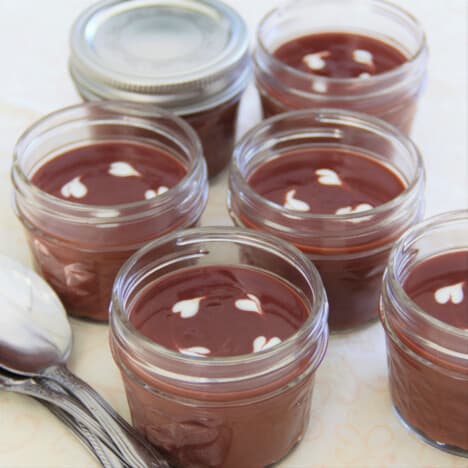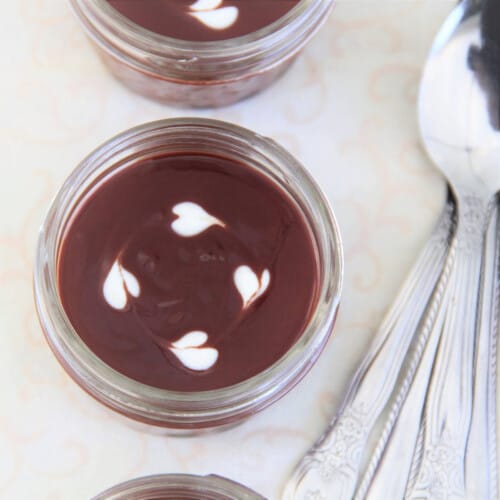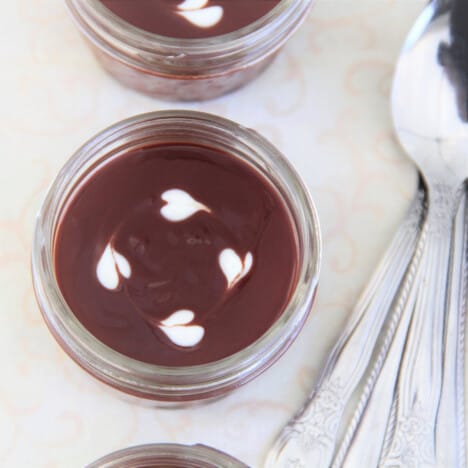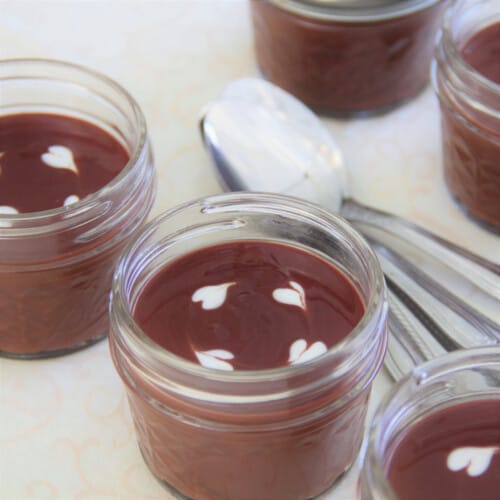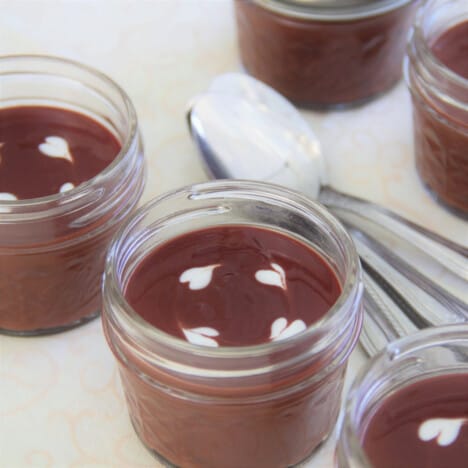 Picnic Chocolate Cups Recipe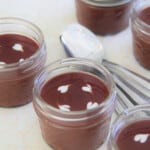 These Chocolate Cups may be small but they are packed with intense chocolaty goodness. They are the perfect dessert for a picnic or hike.
Ready in
1

hour
15

minutes
Ingredients
9 1/2

ounces

whipping cream

7

ounces

dark chocolate

2

egg yolks

3

tablespoons

brandy

(optional)

1

tablespoon

salted butter

1

tablespoon

cream

to garnish
Equipment
1 pot

6 jars

cups, or similar single-serving dishes
Directions
In a heavy pot heat the cream until nearly boiling then remove from the heat.

Add the dark chocolate and continue stirring until melted and smooth.

Mix in the egg yolks and brandy stirring until still smooth and well combined.

Stir through the butter. The temperature can be a little tricky here. The chocolate cream needs to cool enough that it doesn't cook the egg yolks, but after being combined still warm enough to melt the butter.

Evenly divide the chocolate mixture among the individual serving dishes.

Drip the garnish cream in the chocolate, then run a toothpick through to create hearts. This step may be skipped if desired.

Place the chocolate cups in a cooler to set for at least 30 minutes before serving.
Nutritional Information
Calories:
412
kcal
Carbohydrates:
17
g
Protein:
5
g
Fat:
35
g
Saturated Fat:
21
g
Polyunsaturated Fat:
1
g
Monounsaturated Fat:
10
g
Trans Fat:
1
g
Cholesterol:
124
mg
Sodium:
37
mg
Potassium:
289
mg
Fiber:
4
g
Sugar:
9
g
Vitamin A:
854
IU
Vitamin C:
1
mg
Calcium:
64
mg
Iron:
4
mg
BBQ Grilled Dessert
This multi-layered dessert grilled quesadilla is filled with chocolate, raspberries, and ricotta. It is a great option to end a…
Camp Oven
Chocolate caramel slice is a popular Australian bakery item that is great for picnics, packed lunches, and desserts. The firm…
Campfire
The best flavor of smores is chocolate, chocolate, and more chocolate. You can use store-bought cookies for this recipe, but…