Hearty soups are a wonderful option while camping, being a simple and warming one-pot meal.
This is a Mexican-inspired recipe using a flavor profile traditional to the region, and a masa harina, a Mexican flour that is also used in the making of tortillas and tamales.
Serving ideas include topping with corn tortilla chips, sour cream, and/or shredded/grated cheese.
Chicken Enchilada Soup Recipe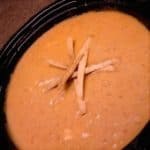 Hearty soups are a wonderful option while camping, being a simple one-pot meal. This Mexican xhicken enchilada Soup uses masa harina, a Mexican flour.
Ingredients
1/2

cup

vegetable oil

1/4

cup

chicken base

3

cups

diced yellow onion

2

teaspoons

finely diced garlic

2

teaspoons

ground cumin

2

teaspoons

chili powder

chili blend

1/2

teaspoon

cayenne pepper

2

cups

masa harina

(Mexican flour)

4

quarts

water

2

cups

crushed tomatoes

1

pound

processed cheese

cubed

3

pounds

chicken

cooked and cubed
Directions
In the Dutch oven place the oil, chicken base, diced onion, garlic, cumin, chili, and cayenne. Saute until the onions are soft and clear, about 5 minutes.

In a bowl, combine Masa Harina with 1-quart water. Stir until all lumps dissolve and it looks like a paste.

Tip: The Masa Harina must be mixed into the 1 quart of water completely. If the masa harina is added directly into the soup it is difficult to mix and will become lumpy.

Add the masa harina to the Dutch oven with the sauteed onions then bring almost to a boil. Once the mixture starts to bubble, continue to simmer for 2-3 minutes, stirring constantly.Tip: This step eliminates any raw taste from Masa Harina.

Slowly add to the Dutch oven the remaining 3 quarts of water while stirring to incorporate the paste and water.

Add the crushed tomatoes then let the soup return to a gentle boil while stirring occasionally.

Add the diced cheese to the soup while continuing to simmer and stirring occasionally, until the cheese melts.

Add chicken then simmer to heat through. Leave on a gentle simmer until ready to serve.
Nutritional Information
Calories:
452
kcal
Carbohydrates:
24
g
Protein:
21
g
Fat:
31
g
Saturated Fat:
11
g
Polyunsaturated Fat:
8
g
Monounsaturated Fat:
9
g
Trans Fat:
1
g
Cholesterol:
79
mg
Sodium:
1924
mg
Potassium:
411
mg
Fiber:
3
g
Sugar:
5
g
Vitamin A:
699
IU
Vitamin C:
8
mg
Calcium:
474
mg
Iron:
3
mg
Backyard
If you have never heard of dill pickle potato chip soup then you haven't lived! Definitely give it a go…
Camping Soup
This super easy three ingredient chicken and corn soup makes a great outdoor appetizer or light meal. Similar to egg-drop…
Camping Soup
Perfect for when the weather starts to cool, this hearty autumn vegetable soup is packed with fresh ingredients. It is…