Pork steaks are stuffed with homemade sausage before being topped with fresh sage and thyme then sprinkled with a hot and sweet rub. Smoked and then broiled it has many layers of flavor.
The sausage seasoning is subtle yet complements the pork flavors including additions of nutmeg, cayenne, and white pepper. Try frying off a small amount and tasting before stuffing to see if you like the flavor balance.
Fresh sage and thyme are used to cover the sausage stuffing, if you don't like these try other fresh herbs or simple don;t do and sprinkle with the rub.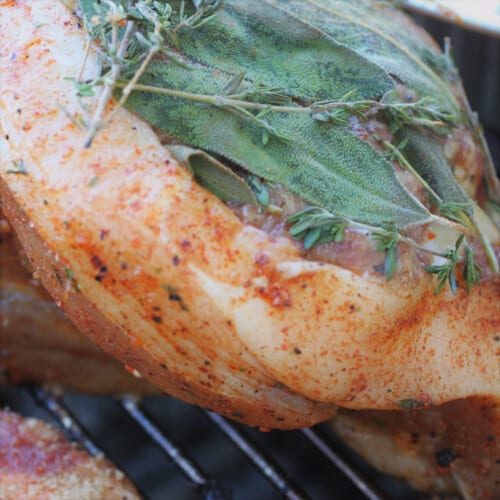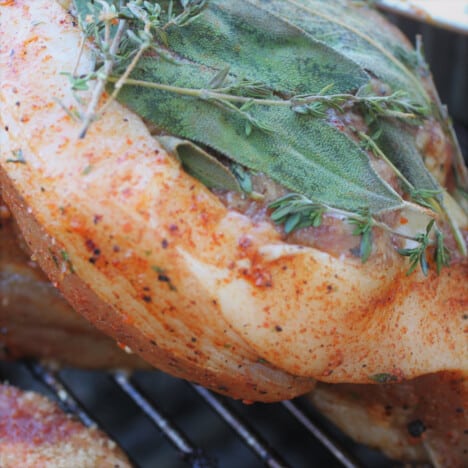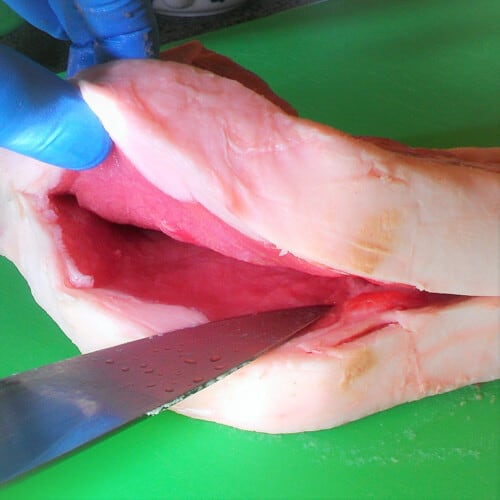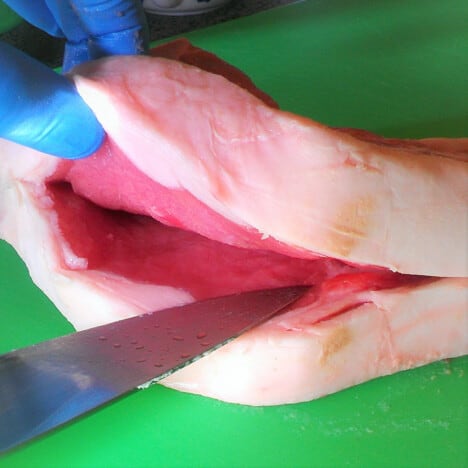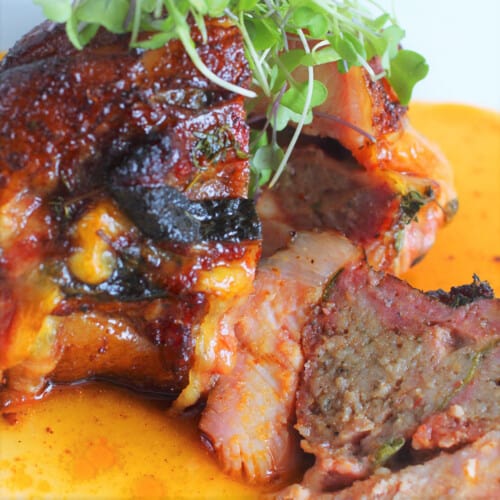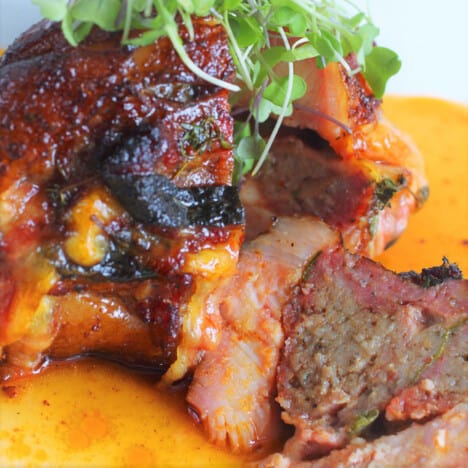 Stuffed Pork Steaks Recipe
This recipe is sponsored by Slap Yo' Daddy.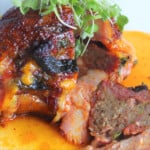 Pork steaks are slit and then stuffed with a homemade pork sausage before being smoked and broiled.
Ready in
1

hour
45

minutes
Ingredients
Sausage
1

pound

pork

25% fat content

1/4

teaspoon

freshly grated ground nutmeg

1/4

teaspoons

white pepper

1/4

teaspoon

cayenne pepper

1

teaspoon

sugar

1/2

teaspoon

pink curing salt

4

sprigs

sage

4

sprigs

thyme
Mop
1/4

cup

apple juice

1

stick

butter

melted

2

tablespoon

brown sugar
Equipment
1-gallon ziplock bag

smoker

foil half pan

2 applewood chunks
Directions
Pork Brine
Lightly mash the garlic with the side of a heavy knife, remove the garlic peel, and rough chop. Crush the black peppercorns lightly to release their aroma. Remove the leaves from the fresh thyme and rough chop.

Place the garlic, peppercorns, thyme, sugar, salt, hot rub, and bay leaf in a gallon ziplock bag, then add the water and shake well to combine.

Make a slit in each of the pork steaks suitable for stuffing.

Place the pork steaks into brining bag then press out excess air and chill for at least one hour but not more than 8 hours. Flip the bag at least once during this time to ensure an even brine.
Sausage
In a large bowl add the pork, fresh nutmeg, hot rub, white pepper, cayenne pepper, sugar, and curing salt. Combine well by hand or with a sturdy spoon.

Cover the bowl with sausage mix with plastic wrap then chill while you brine your chops
Stuffed Pork Steak
Preheat the smoker to 275 degrees F (135 degrees C). When at temperature add two tennis-sized applewood chunks.

Remove pork chops from the brine then scrape away any brine ingredient adhering to the pork chop. Pat dry.

Divide the sausage mixture into four portions, one for each pork steak. Stuff the cut of each pork steak with the pork sausage mixture.

Lay sage leaves and thyme over the exposed sausage stuffing.

Mix the hot rub and brown sugar. Season the stuffed chops with this rub mixture evenly on all sides.

Place the stuffed pork steaks into the preheated smoker.

Smoke the stuffed pork steaks until the internal temps in the sausage and the chop is at about 140 degrees F (60 degrees C). This takes about 45 to 75 minutes depending on your pit and how cold the chops were when you put them in.
Wrapping Liquid
Combine the apple juice, butter, and brown sugar.

Remove the stuffed pork steaks from the smoker and place them in a half aluminum foil pan. Add the wrapping liquid by drizzeling lightly over the pork steaks.

Place the foil pan under a kitchen broiler until you get a nice char on the surface of the chops.

Flip over and repeat on the other side to get a nice char from your broiler.

Remove and let rest for 5 minutes.

Plate the stuffed pork steaks and drizzle the foil pan liquids. Garnish with some greens and serve hot.
Nutritional Information
Calories:
715
kcal
Carbohydrates:
53
g
Protein:
22
g
Fat:
48
g
Saturated Fat:
24
g
Polyunsaturated Fat:
3
g
Monounsaturated Fat:
17
g
Trans Fat:
1
g
Cholesterol:
143
mg
Sodium:
7631
mg
Potassium:
546
mg
Fiber:
3
g
Sugar:
40
g
Vitamin A:
1193
IU
Vitamin C:
5
mg
Calcium:
212
mg
Iron:
7
mg
BBQ Grilled Meat
St Louis BBQ Pork Steaks is a unique way of barbecuing that is only found in St Louis, Missouri. Normally,…
BBQ Grilled Meat
Thick-cut pork from the Boston Butt is perfect for grilled pork steaks. Visit your local butcher to get these unusual…
BBQ Grilled Meat
If you are looking for a different flavor for your next barbecue try this grilled Asian pork belly. Using a…