Smoked Turkey Roll is a great new way to cook turkey breasts and thighs. It has seasoning both on the outside and on the inside, creating a flavorful and moist turkey main dish. The roll makes for a beautiful presentation at your next gathering.
Many pre-packed turkeys come with both the breast and the thigh, they just need to be unassembled from the pre-prepared cooking mesh. Alternately you can buy a full turkey and butcher it down yourself. There are many recipes for the drumsticks and the bones can be used for stock.
Poultry can be a little tricky to smoke so a low temperature is used to slowly bring it to up to temperature. Similar to steak, it isn't very forgiving if overcooked. If you have a thermometer that can be used throughout the cooking process this would be advantageous.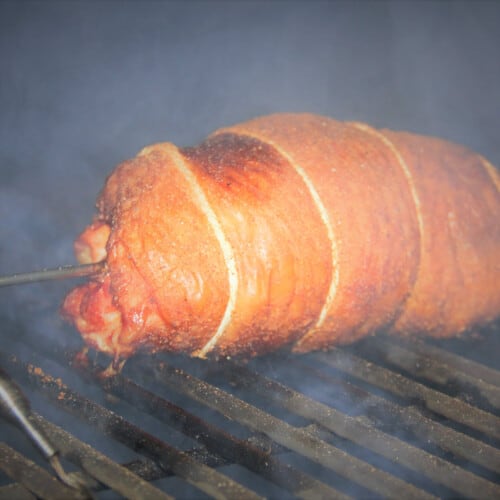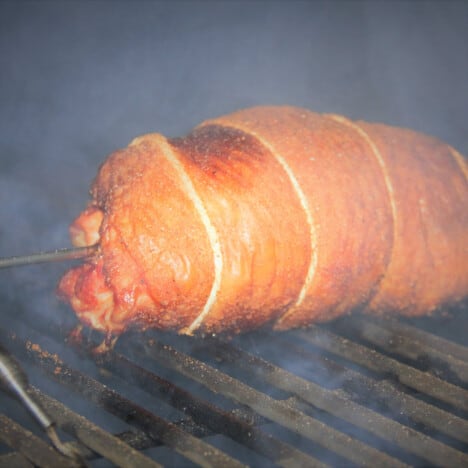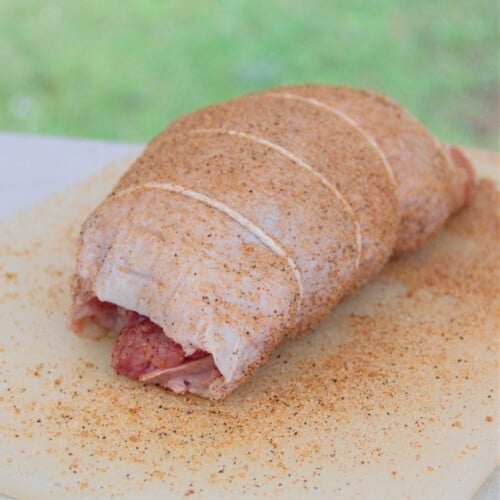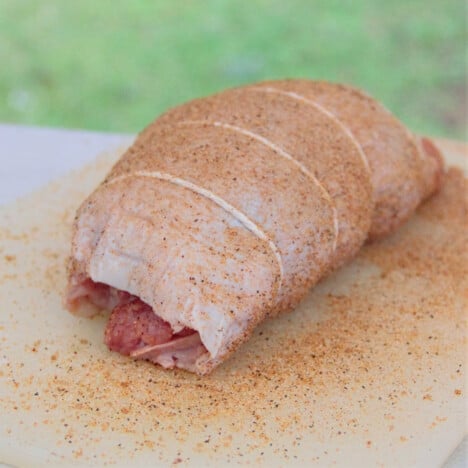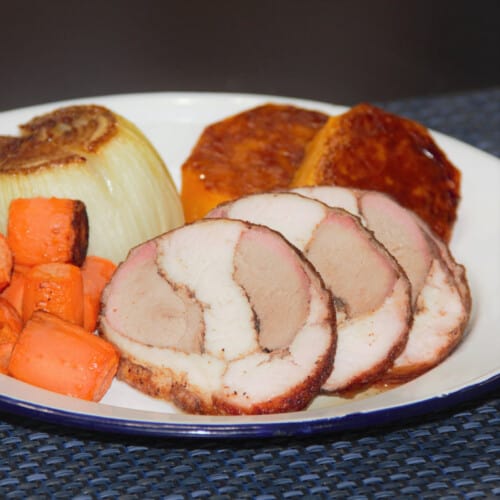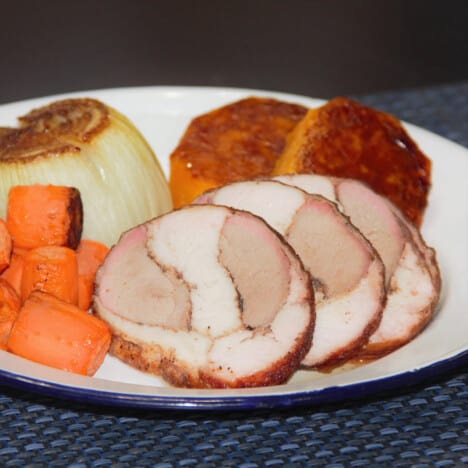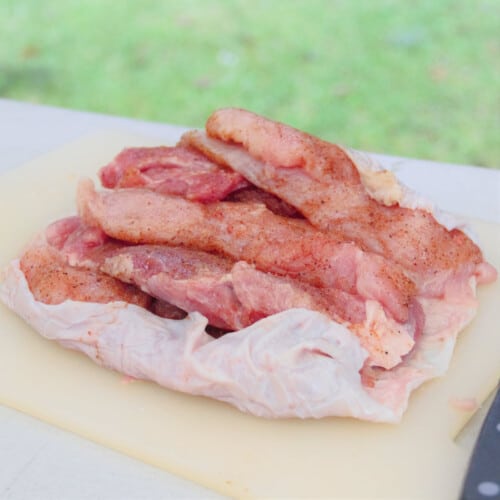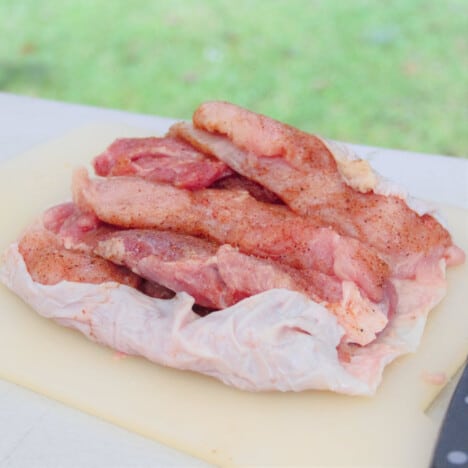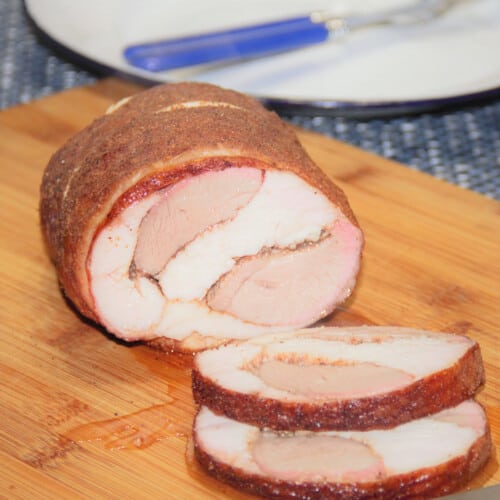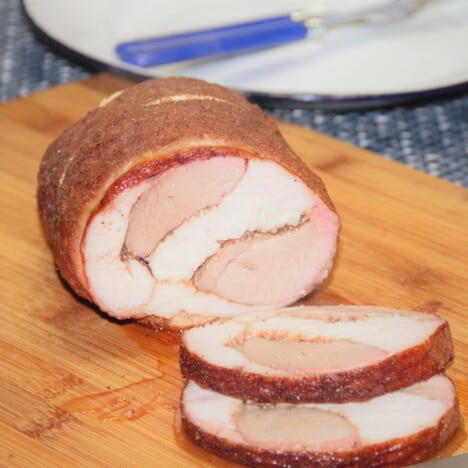 Smoked Turkey Roll Recipe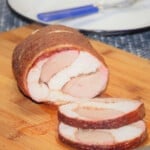 Smoked Turkey Roll is a great way to cook a moist turkey breast and thigh with flavorful seasoning both on the outside and inside.
Ready in
4

hours
20

minutes
Ingredients
2

turkey breasts

2

turkey thighs

1

tablespoon

dessert rub

1

tablespoon

meat rub

1

turkey skin
Directions
Preheat the smoked to 250 degrees F (120 degrees C) then prepare the turkey while waiting to heat up.

Prepare the turkey breast and thighs by removing any skin or fat. Lay the turkey pieces out together. Cut the turkey breast so that it is the same size as the thigh.

Sprinkle the turkey with a light dusting of the dessert and meat rubs. Turn the turkey over and repeat on the other side until all of the surfaces are covered.

Lay 4 pieces of butches twine out on a cutting board then top with the turkey skin.

Place the seasoned turkey on the turkey skin with consideration of how it is spaced and how it will look when rolled, cooked, and sliced. Roll the turkey skin, then lightly tie to secure so holds its shape.

Sprinkle the tied turkey skin with a light sprinkle of the dessert and meat rubs.

Place the turkey roll in the preheated smoker and cook for 3 hours, or until it is 165 degrees F (75 degrees C).

Remove the cooked turkey roll and rest for 5 minutes before slicing and serving.
Nutritional Information
Calories:
395
kcal
Protein:
84
g
Fat:
7
g
Saturated Fat:
1
g
Polyunsaturated Fat:
2
g
Monounsaturated Fat:
2
g
Trans Fat:
1
g
Cholesterol:
211
mg
Sodium:
806
mg
Potassium:
945
mg
Sugar:
1
g
Vitamin A:
78
IU
Calcium:
55
mg
Iron:
2
mg
BBQ Smoked
Bacon-wrapped turkey lollipops are a unique and delicious way to serve turkey legs. There are many recipes for chicken lollipops,…
Dutch Oven Main Dish
Roasting a Turkey in a Dutch oven isn't any harder than roasting a chicken, the trickiest part is having a…
Deep Fry
Whether you're getting ready to celebrate Thanksgiving, or just want a large meal to impress your guests, try deep-fried turkey.…