When cooking chicken it is important to cook quickly, such as with these hot and fast chicken drumsticks, to get perfect skin. Too low and the skin will become rubbery and too hot and the skin will be cooked while the meat will still be raw.
Known as hot and fast smoking, this uses a higher temperature in the range of 300 to 325 degrees F to cook. This is higher than a traditional smoking temperature but can still create similarly, or arguably better, flavors.
The brine is a basic version that is easy to remember and easy to execute. Don't be tempted to brine for longer than 2 hours otherwise, the chicken can start to get rubbery. The rubs and sauces are a personal choice and can be picked based on your preferred flavors.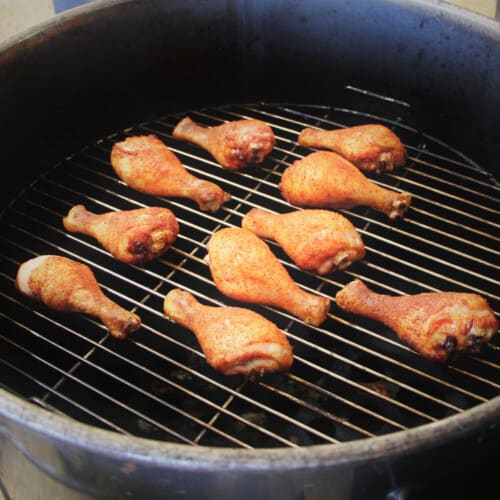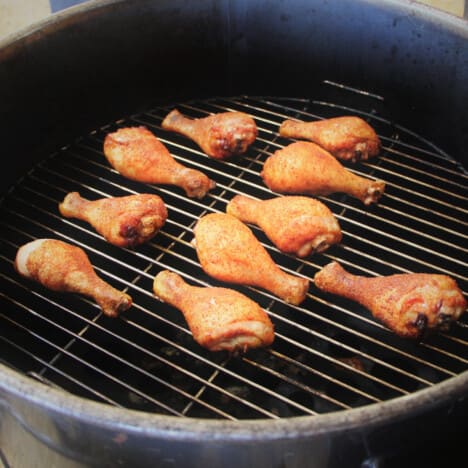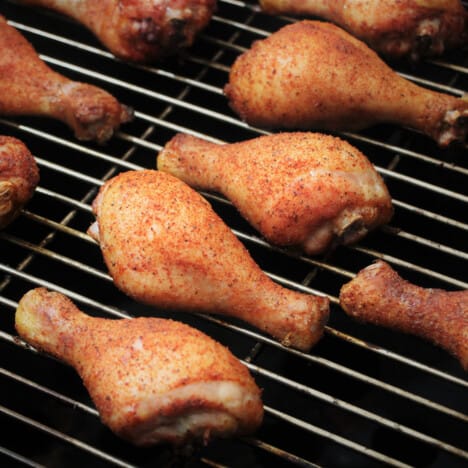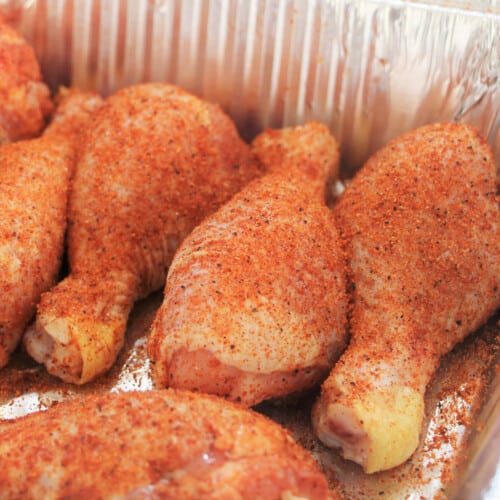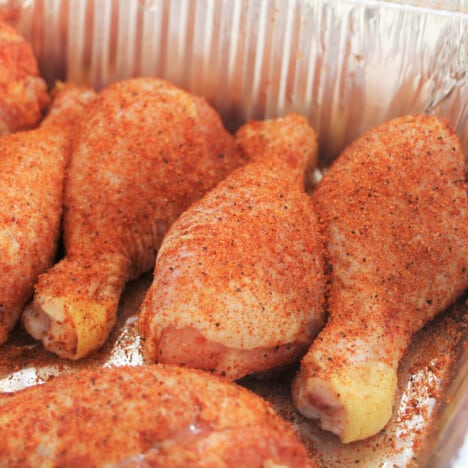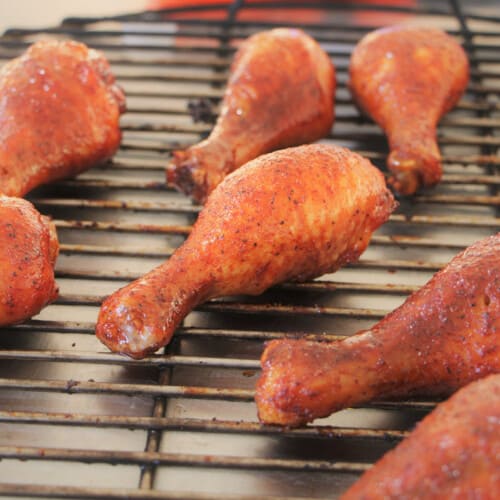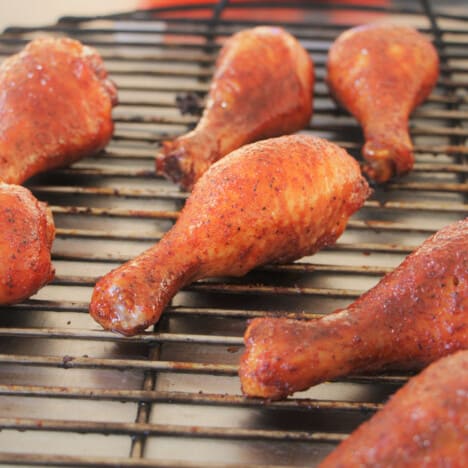 Hot and Fast Chicken Drumsticks Recipe
This recipe is sponsored by Gateway Drum Smokers.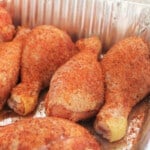 When cooking chicken it is important to cook it quickly, such as with these hot and fast chicken drumsticks, to get perfect skin.
Ready in
1

hour
40

minutes
Ingredients
Brine
1/4

cup

salt

2/3

cup

brown sugar

2

cups

water

1

pound

ice

1

quart

cold water
To Cook
2

tablespoons

sweet and savory style rub

1/4

cup

traditional style BBQ Sauce
Directions
Check each chicken drumstick and pull the skin smooth over the meat. Cut away the excess skin.
Brine
Add to a pot the salt, brown sugar, and 2 cups of water. Warm over low heat until all the ingredients are dissolved.

Add the warm liquid to a large bowl then add the ice and cold water, stir to combine then add the prepared chicken legs. Leave to brine for 2 hours.
To Cook
Preheat the smoker, such as a Gateway Drum Smoker, to 325 degrees F (163 degrees C).

Remove the chicken from the brine and pat dry with a paper towel. Season both sides generously with your rub.

Place the chicken evenly with space for airflow on the preheated smoker. Close the lid and leave for 30 minutes.

After the first 30 minutes, turn the chicken over and cook for an additional 30 minutes.

Take the barbecue sauce and slowly heat it, the sauce should be a nice coating thickness. If too thick add some water or apple juice to thin it out. The sauce should be warm but still cool enough to touch.

Remove the chicken drumsticks off the smoker and completely dip them in the BBQ sauce to create an even glaze all over. Return to the smoker and cook until the glaze is set, about 5 minutes. Serve straight away.
Nutritional Information
Calories:
185
kcal
Carbohydrates:
16
g
Protein:
14
g
Fat:
7
g
Saturated Fat:
2
g
Polyunsaturated Fat:
2
g
Monounsaturated Fat:
3
g
Trans Fat:
1
g
Cholesterol:
70
mg
Sodium:
2510
mg
Potassium:
216
mg
Fiber:
1
g
Sugar:
14
g
Vitamin A:
113
IU
Vitamin C:
1
mg
Calcium:
50
mg
Iron:
1
mg
BBQ Smoked
When it comes to making barbecue chicken, the drumstick is a great option being a self-contained meat delight. Though a…
BBQ Grilled Meat
Spicy Indonesian Grilled Drumsticks are a fresh new twist on the classic American barbecued chicken. Aromatic and spicy, a homemade curry…
BBQ Smoked
These bacon-wrapped chicken legs are smoked slowly to create a tender moist chicken with the bacon adding both flavor and…