This Hawaiian Kalua pork shoulder is dry marinated, smoked, and finished with a pineapple mopping liquid, infusing it with flavor. Once cooked, you can shred the pork and use it in any number of ways. Serve it piled on buns with lettuce and fresh herbs, over cooked rice, or next to a bowl of macaroni salad.
Traditionally, Kalua pork is smoked in an underground pit for a large luau (a Hawaiian party to celebrate an event). In lieu of a pit, this recipe uses a smoker, which is much easier to prepare. To add even more smoky flavor, both mesquite wood and a touch of liquid smoke are used in the cooking process.
You can use either bone-in or boneless pork shoulder for this recipe. Some cooks think that keeping the bone in adds a bit more flavor to the meat. Either way, you'll end up with a succulent smoked shredded pork with the brightness and sweetness of pineapple.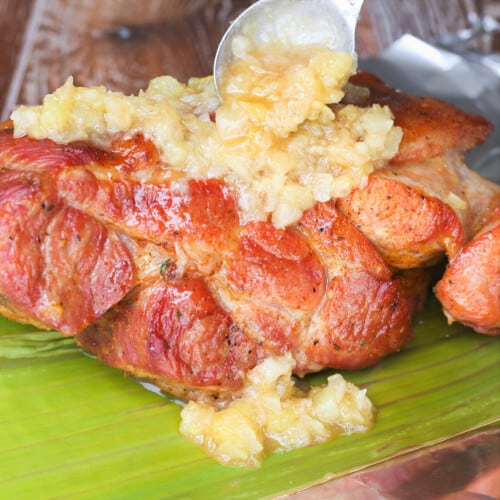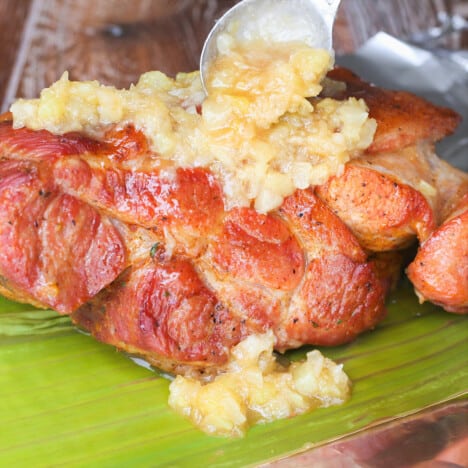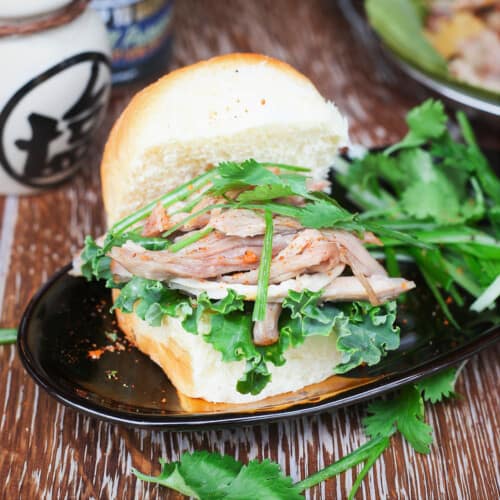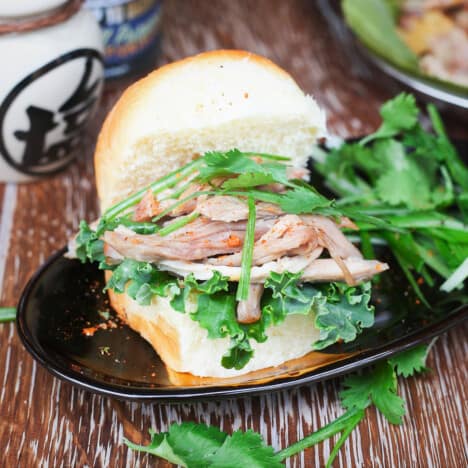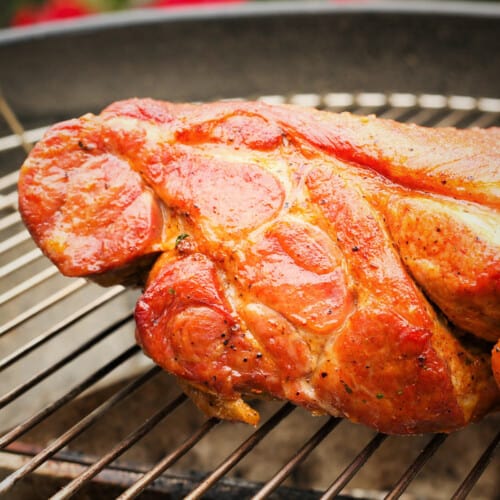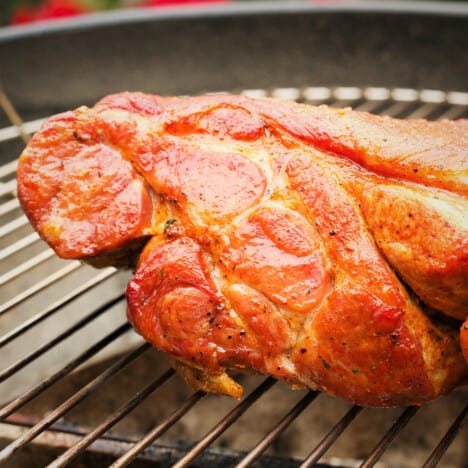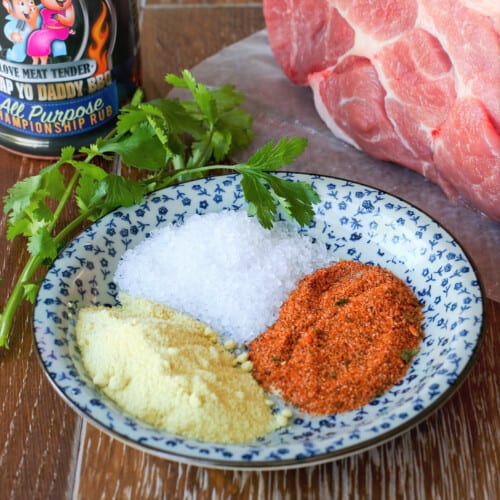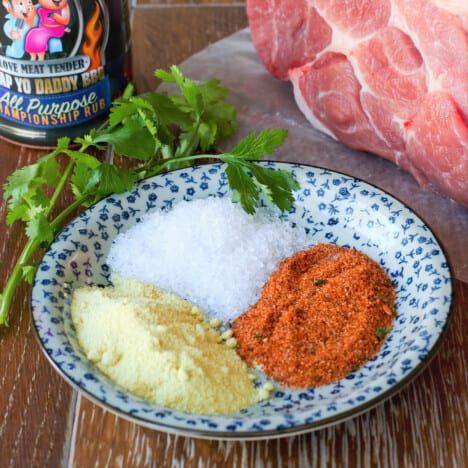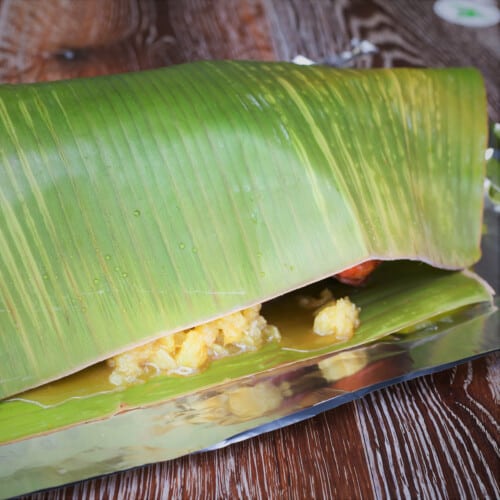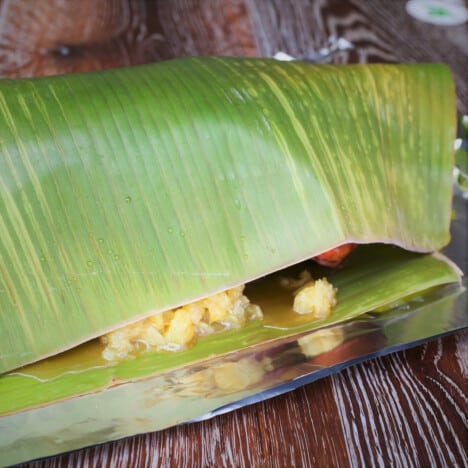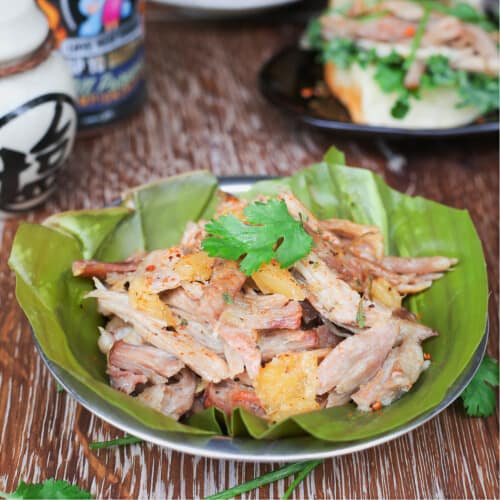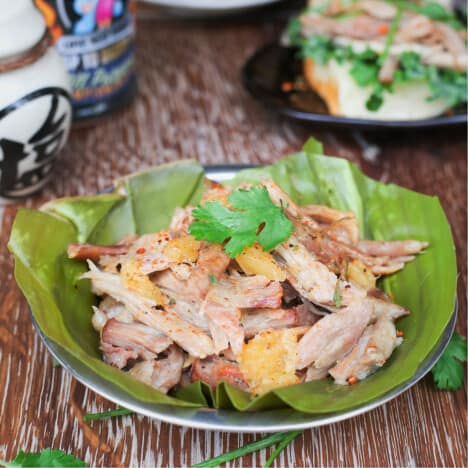 Hawaiian Kalua Pork Shoulder Recipe
This recipe is sponsored by Slap Yo' Daddy.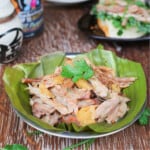 This Hawaiian Kalua pork shoulder is dry marinated, smoked, and finished with a pineapple mopping liquid, infusing it with flavor.
Ready in
4

hours
30

minutes
Ingredients
Mopping Liquid
1/4

cup

golden brown sugar

1

(13-ounce)

can crushed pineapple

4

tablespoons

unsalted butter,

melted

3

tablespoons

apple

or pineapple juice

1

tablespoon

liquid smoke

(optional)
Pork Shoulder
2

tablespoons

powdered chicken bouillon

1

tablespoon

Slap Yo' Daddy "Love Me Tender" All Purpose Rub

2

teaspoons

Hawaiian red sea salt

1

tablespoon

Worcestershire sauce

1

(7-pound)

bone-in pork shoulder

2

pieces

banana leaf,

9 x 9 inch (23x23cm)
Equipment
smoker

plastic wrap

foil

2 chunks mesquite wood
Directions
Mopping Liquid
Combine the brown sugar, crushed pineapple, melted butter, fruit juice, and liquid smoke in a small bowl. Set aside.
Pork Shoulder
Create a pork rub by combining the chicken powder, all-purpose rub, and coarse Hawaiian salt.

Sprinkle a couple of dashes of Worcestershire sauce to wet the pork butt so the rub will stick and be tacky. Apply a generous layer of the pork rub all over the butt.

Wrap in plastic and refrigerate for at least 1 hour or overnight.

Preheat a kettle style BBQ to 275 degrees F (135 degrees C) using briquettes with a hot zone and a cool zone for indirect smoking.

Remove the meat from the fridge and discard the plastic wrap.

Add to the BBQ a tennis-sized chunk of mesquite wood. Add another after 30 minutes. (Two chunks are enough.)

Smoke until the crust forms on the pork butt and it passes the scratch test. For a 7-pound (3kg) butt, it should take 4 to 6 hours to reach this stage.

Scratch Test: If you gently scratch the surface of the meat, the rub should not come off on your fingernail.

Spray with water using a plastic spray bottle every 30 minutes starting at the 3-hour mark.

Lay out aluminum foil on a counter. Place the banana leaves on the foil.

Remove the pork butt from the smoker, let cool enough to handle, then shred the meat.
Nutritional Information
Calories:
90
kcal
Carbohydrates:
9
g
Protein:
0.5
g
Fat:
6
g
Saturated Fat:
4
g
Polyunsaturated Fat:
0.3
g
Monounsaturated Fat:
2
g
Trans Fat:
0.2
g
Cholesterol:
15
mg
Sodium:
915
mg
Potassium:
51
mg
Fiber:
0.2
g
Sugar:
8
g
Vitamin A:
225
IU
Vitamin C:
1
mg
Calcium:
31
mg
Iron:
1
mg
BBQ Smoked
Pork shoulder butt is seasoned with a homemade rub, then smoked for many hours. The resulting meat is flavorful and…
BBQ Smoked
Injected, smoked, and then finished in sangria wine, this smoked sangria pork butt is perfect for sandwiches or eating as-is.…
BBQ Grilled Meat
Thick-cut pork from the Boston Butt is perfect for grilled pork steaks. Visit your local butcher to get these unusual…