Grilled eggplant is a healthy and tasty appetizer that can easily be made on the grill. As a bonus, it is a great option for your vegetarian or vegan friends. It is simple to prepare, but makes an elegant presentation and has a fresh and bright taste.
The step of salting and resting the eggplant is important to remove the bitterness which significantly improves the flavor. The blackening of the bell pepper is also a great way to add flavor and is worth taking the time to do properly.
The balsamic vinegar reduction can be purchased or made yourself. However, adding it to the finished dish should be left to the last minute. All the elements can be pre-prepared and assembled just before serving.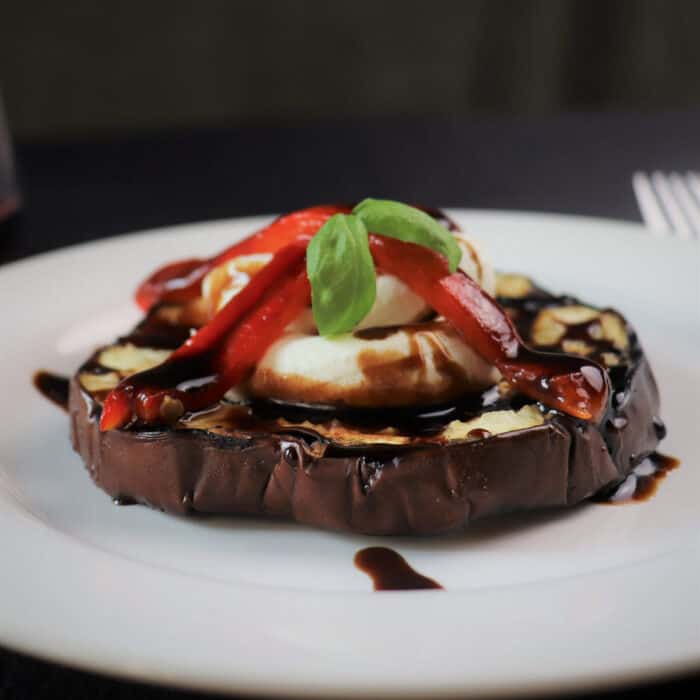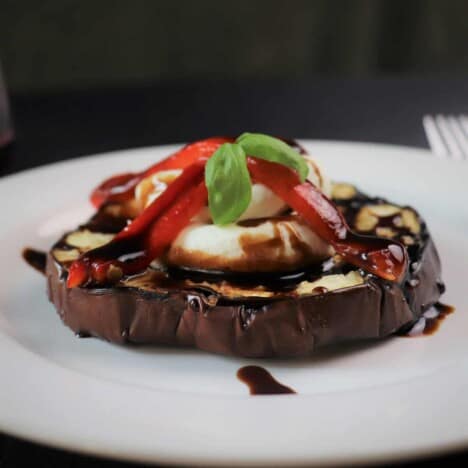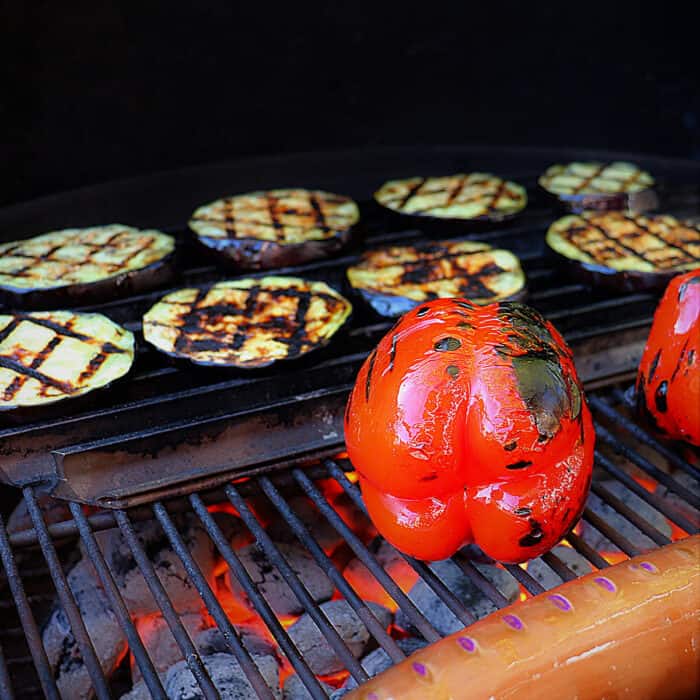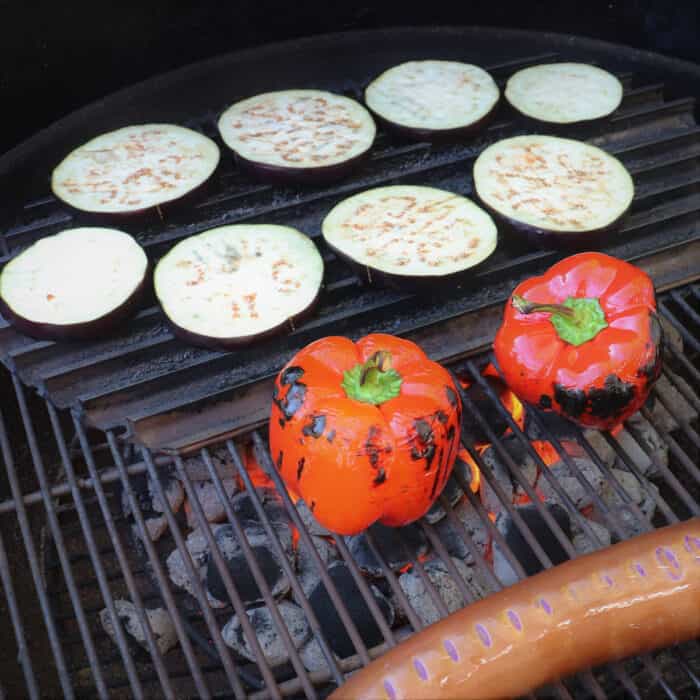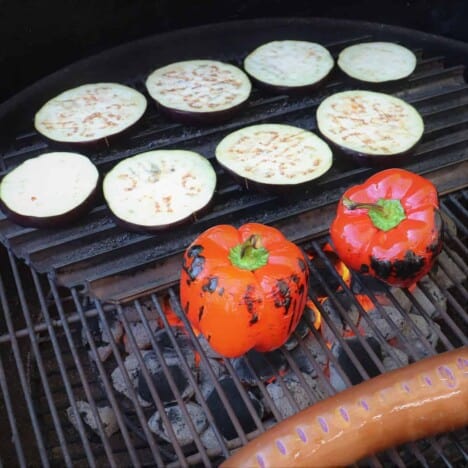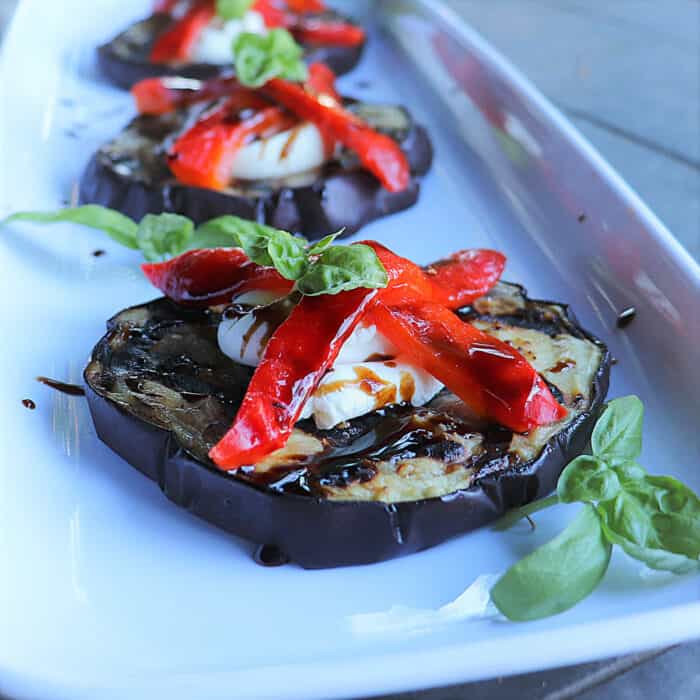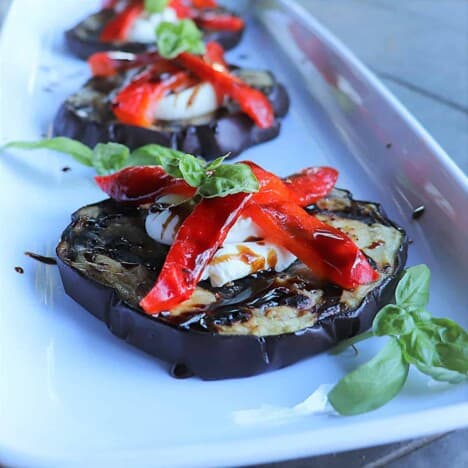 Grilled Eggplant Appetizer Recipe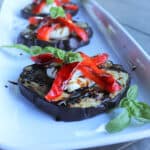 This is a healthy and tasty Grilled Eggplant Appetizer made on the grill. As a bonus, it is a great option for your vegetarian or vegan friends.
Ingredients
1

large red bell pepper

olive oil

for brushing eggplant and bell pepper

1

globe eggplant

2

tablespoons

coarse salt

1/2

cup

goat cheese

softened

balsamic reduction

basil leaves

for garnish
Equipment
barbecue, set for direct grilling
Directions
Preheat the BBQ to medium-high heat for direct grilling.

Slice the eggplant into about ⅜ inch (1cm) slices. Not too thin or they will get mushy when you grill them.

Coat the red pepper all over with olive oil then place directly over the direct heat grill. Cook to get a good black char all over, turning the pepper over the grill as needed. Once well charred, place the bell pepper in a bowl covered with plastic wrap or in a resealable type plastic bag. Let the pepper steam for about 30 minutes. Remove the charred skin and slice lengthwise into ¼ inch (6mm) strips. Set aside.

Sprinkle the salt evenly over both sides of the eggplant to help remove some of the bitterness and draw out some of the moisture. Let sit for 10 or 15 minutes, shake off any excess salt, then pat dry with paper towel.

Brush the oil on the eggplant. Place over the direct heat and grill each side until you have nice color, 5 or 6 minutes per side.

To assemble start with a base of eggplant then add about 1 tablespoon of goat cheese, 2 strips of bell pepper, then drizzle with the balsamic reduction and garnish with a basil leaf. Serve immediately.
Nutritional Information
Serving:
6
g
Calories:
100
kcal
Carbohydrates:
7
g
Protein:
4
g
Fat:
7
g
Saturated Fat:
3
g
Polyunsaturated Fat:
1
g
Monounsaturated Fat:
3
g
Cholesterol:
9
mg
Sodium:
2398
mg
Potassium:
225
mg
Fiber:
3
g
Sugar:
4
g
Vitamin A:
887
IU
Vitamin C:
27
mg
Calcium:
38
mg
Iron:
1
mg
Skillet
In Australia, the variation of Parmigiana is often shortened to simply parma. This is lucky, because to the majority of…
Camp Cooking
Fresh eggplant is sliced and grilled before being placed on homemade pizza dough and baked in a cast-iron skillet. Simple…
Gas Stove
Ratatouille these days is most often associated with the children's movie of the same title, but it is a great…